Itinerary
Day 1 - Arrival in Arequipa, Peru (AQP)
Enjoy the city and welcome to Peru! A briefing will be held in the evening to introduce everyone and plan for the trip ahead.
Day 2 - Arequipa to Puerto Inka
Out of Arequipa and to the Pacific Coast, we spend the day on twisties and turns on the Panamerican Highway headed north toward Nazca.
Day 3 - Puerto Inka to Nazca
Enjoy the fascinating and well-preserved Chauchilla Cemetery along the coast and on the way to the city of Nazca, where you can choose to fly over the famous "Nazca Lines" once carved by an ancient civilization.
Day 4 - Nazca to Chalhuanca
Climbing the Andes Mountains begins today, at a gradual pace to help everyone acclimate to the the elevation change. Our overnight stop in the small town of Chalhuanca only happens after this incredible day of twists and turns like the famous "Tail of the Dragon" in the U.S.....only much, much longer!
Day 5 -Chalhuanca to Cuzco
Welcome to the "gateway" to Machu Picchu! Enjoy this charming city bustling with shops and restaurants, and the historic Plaza de Armas which the city centers around.
Day 6 - Rest Day in Cuzco
A proper "walking tour" of the city is offered so you can learn more about the history of Cuzco, or perhaps you'll want to visit the nearby ruins of Saksaywaman for a deeper historical experience. Relax and rest up for sure though!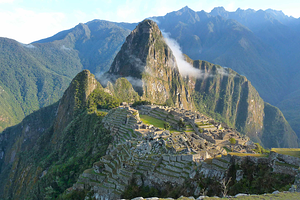 Day 7 - Cuzco to Ollantaytambo -
Riding throught the Sacred Valley of the Incas, could there be a more dignified motorcycle travel experience? Shrouded in ruins and mountains and a valley setting the whole way, Ollantaytambo lies ahead.
Day 8 - Finally...Machu Picchu!
Perhaps the most famous site in all of South America, the roadless path is traversed only by foot or train. We'll have the train passes arranged for your day trip to the Lost City of the Incas for an experience like few others.
Day 9 - Ollantaytambo to Quince Mil
Descending from higher altitudes, we RIDE down some of the most fantastic roads on the trip into the Amazon Rainforest Basin to stay in a hotel with a beautiful tropical garden and setting.
Day 10 - Quince Mil to Azangaro
Now ascending again to the High Plains (Alti Plano) heights of the Andes Mountains, more great riding and sweeping turns makes for motorcycle heaven!
Day 11 - Azangaro to Puno
On our way to Lake Titicaca, this fun and vibrant city of Puno sits on its shores and gives us the chance for a boat tour of the Floating Islands of the Uros people, and a cultural experience not to be forgotten.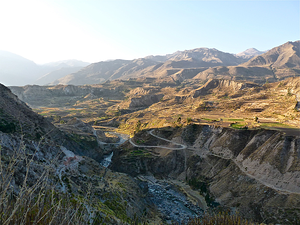 Day 12 - Puno to Chivay & the Colca Canyon -
Actually deeper than the Grand Canyon of Arizona, the Colca Canyon boasts 4,160 meters (13,650 feet) and should not be missed. Also, if you'd like to see the Andean Condor in flight, there are few greater places to do so.
Day 13 - Colca Canyon to Arequipa
Descending now from the altitude of the Andes, more sweeping turns and twisties bring us home, with cameras full of memories and plenty of bragging rights as an adventure rider!
Day 14 - Departure Day
Only if you must! Hopefully you can enjoy Arequipa a bit more before we take you to the airport. It's not uncommon to feel like you need some time off after such a "rich" motorcycle riding experience!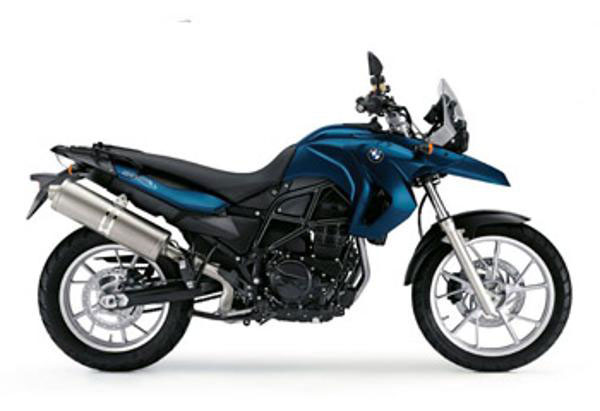 BMW F650GS (twin cylinder)
A famous option for adventure travelers, the F650GS is a mid-weight motorcycle manageable by all riders, and a great option for covering terrains everywhere. Sharing essentially the same engine as its big brother the F800GS, a more smooth and moderate powerplant with 71 horsepower is ready to help you tour anywhere.
X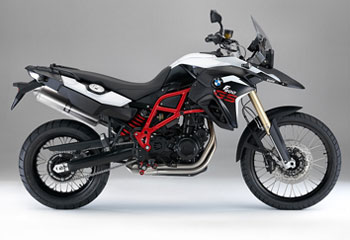 BMW F800GS
Certainly considered the "athlete" of the BMW team, the F800GS can be counted on to carry all your travel gear and still maintain the awesome feeling of a pure off-road machine when you're in the dirt. With over 215mm of suspension travel, the F800GS boasts 85 horsepower from its twin-cylinder engine, and is sure to give an adrenaline rush when you unleash it!
X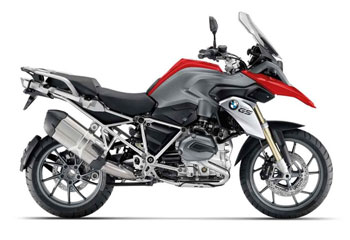 BMW R1200GS - Liquid Cooled 2013
Revised for the model year 2013, BMW it seems has done it once again in the world of adventure motorcycles. The new liquid-cooled version of the famous R1200GS comes with a more "upright" stance and off-road friendly positioning. Now with a wet clutch, a higher air intake perfect for river crossings, and a 10% horsepower increase, BMW has clearly made improvements on what was already a great adventure bike.
X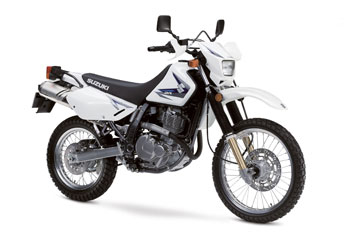 Suzuki DR650
Chosen by adventure riders around the world, Suzuki's DR650, is an excellent bike for adventures rides anywhere. It'll maintain it's power well at altitude, and handle all the dirt and rocks you can throw it's way while still feeling comfortable on those stretches of pavement in between. With a seat height of only 885mm (34.8 inches) its accommodating stature makes this manageable machine easy to handle no matter what the situation.


X