Contact us for your patagonia motorcycle rentals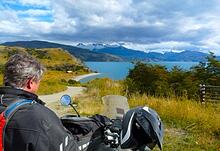 Fill out the form to the right so we can start putting together your adventure motorcycle riding plans for beautiful Patagonia!
Please Note: You should be doing this as soon as possible, as the Patagonia sells out quite early each year!
Be sure to include information about your Pickup & Dropoff dates, as well as origin and destination
Get ready for some of the most fun, and highly sought after adventure motorcycle riding anywhere in the world!
*Please note: For riding plans between October and April, reservations for Argentina rentals (or tours) should be made 8+ months in advance to assure availability.