Motorcycle Trip through the Addo Reserve, Garden Route, and Karoo to Cape Town, South Africa
Itinerary
---
Day 1: Arrival in Port Elizabeth and the Eastern Cape
Welcome to South Africa! It's Arrival Day in the seaside city of Port Elizabeth, dubbed "The Friendly City," and the second oldest city in South Africa. It is one of South Africa's largest cities and a major historic seaport along Algoa Bay. You will be met at the International airport on arrival by your tour guide. In the afternoon we'll complete check-in and introduction to your rental motorcycle of choice, followed by an important pre-tour information and safety briefing that evening. Dinner is at a popular local restaurant; one of the best seafood establishments in town.
Day 2: Addo Elephant National Park - 175km

After breakfast, the RIDE begins with a journey to the Addo Elephant National Park; motorcycles will be left at the hotel as the park will be explored by 4x4 trucks. The park is home to more than 350 elephants, leopards, rhinoceroses, and Cape Buffalo. Additionally, it boasts a myriad of other wildlife and at least 400 different bird varieties. Later this afternoon will include visiting a private lion reserve and we'll end the evening with a traditional boma dinner under African skies.
Day 3: The Garden Route and Tsitsikamma National Park - 360km
From Addo, the Garden Route part of this RIDE begins just down past the Laangkloof Mountains. Our hotel is situated in the Storms River Village tucked away in the lush Tsitsikamma forest, close to Storms River Mouth, in the Tsitsikamma National Park. For lunch, take a journey back in time with Elvis and Marilyn Monroe at Marilyn's 60's Diner. The on-site Micro Brewery is a must for those interested in craft beers.
The afternoon features a ride to Storms River Mouth in the national park and you should have time later in the afternoon to enjoy a tree top canopy tour or take a walk in the indigenous forest. Dinner tonight is in an original hunting lodge pub featured in 101 Beloved Bars of Southern Africa.
Day 4: Knysna and the Garden Route - 110km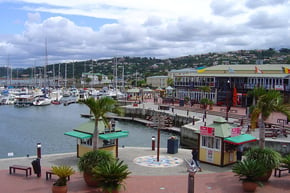 Head off to the coastal town of Knysna, well known for its seafood and especially for its oysters. On route, stop at the well sign-posted "Big Tree," a 500 metre pathway through indigenous bush leading to an ancient, yellow wood 36.6m tall giant. Knysna is a somewhat bohemian town built on the Northern shores of a warm water estuary fed by the Knysna River.
We head straight to the waterfront and board a ferry, which will transport us to the Featherbed Nature Reserve on the Knysna Lagoon. On arrival a 4x4 vehicle will drive up the headland, stopping at some of the most spectacular scenic viewpoints along the way. A specialist guide will share some of his in depth knowledge and compelling information on the history, fauna and flora of the reserve. There is an optional guided 2.2km walk through coastal forest and fynbos into ancient sea caves.
Lunch today is a mouth-watering affair as a full buffet lunch awaits you at an outdoor restaurant, situated under a canopy of Milkwood trees. After lunch, we return to the waterfront via the ferry, where you have the remainder of the day to explore this charming town and surrounding area.
Day 5: Prince Albert and the Great Karoo - 340km
This morning you'll backtrack slightly before heading northwest along Route 62, then turn north for Willomore for lunch. From here it is a 148km gravel ride trans Karoo to get to Prince Albert, our destination for the night. We'll be staying at the Swartberg Hotel.
You can opt for a guided historical / architectural walk through the town that takes you past beautifully preserved Cape Dutch, Karoo and Victorian buildings. Of these, nineteen, including Dennehof, are National Monuments. Other activities include a 'koppie' trail with almost 100 listed plants, fossil hunting and a visit to the delightful Fransie Pienaar Museum.
The town is known for its sun-ripened fresh and dried fruit, especially figs and apricots. Karoo lamb, olives, olive oil and homemade cheeses are local delicacies. Needless to say, dinner will be a culinary delight!
Day 6: Oudtshoorn and the Klein Karoo
- 150km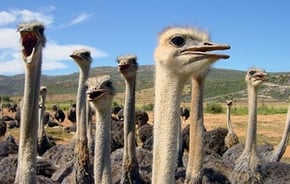 Ostrich country and the Klein Karoo. Today we'll be travelling to South Africa's ostrich farming capital, Oudtshoorn via Meiringspoort carved through the rock of the Swartberg mountain range. The route winds through De Rust and farmlands, and features a visit to an ostrich farm. We are all about RIDE Adventures, right? Well, if you're under approximately 80kg (~176lbs), interested parties could even trade in their motorcycles and try their hand at riding a feathered friend. We'll gladly post those photos for you!
You'll also visit the world famous Cango Caves with its breathtaking rock formations, followed by a jaunt to a game and nature reserve, then dinner at the Buffelsfontein restaurant.
Day 7: Barrydale and Route 62 - 200km
In the morning, you'll take a back route off road to the Karoo town of Calitzdorp. From there, it's down the scenic Route 62 through the desert landscape of Klein Karoo. Route 62 will take you along the longest wine route in the Western Cape and most likely the whole world. Innovation and pride, combined with a terrain and mild climate that are harmoniously balanced, results in the prominence of the outstanding wines on Cape Route 62.
The easily accessible towns, nestled along the valleys, all offer ample opportunity for discovery as you make a few scenic stops along the way with the option to purchase the fresh produce, organic fruits, and wines the area is renowned for. Wineries offer wine tasting and will arrange to have a case of the 'best' shipped back home.
Before arriving in Barrydale, your destination for the night, feel free to stop at the famous Ronnie's Sex Shop for a drink and some laughs about local culture and history.
Day 8: Cape Agulhas and the Whale Coast - 160km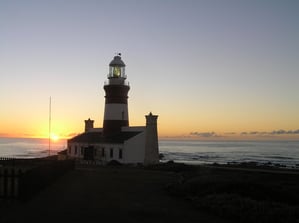 Leaving Barrydale, we get onto Tradouw Pass. The Tradouw Pass (which means Women's Path in the old Khoi language) is a 17 kilometre drive through an altitude range of 219 meters through some of the most beautiful and rugged mountain scenery on offer in the Langeberg. Shortly thereafter we hop onto the N2 for a short stretch before we turn left on the gravel to cross the Breede River at Malgas on a legendary ferry.
From there, you'll travel on minor roads to Arniston, your final stop for the day. Enjoy a lovely dinner at one of the town's fish restaurants and spend the night right on the beach at the Arniston Hotel.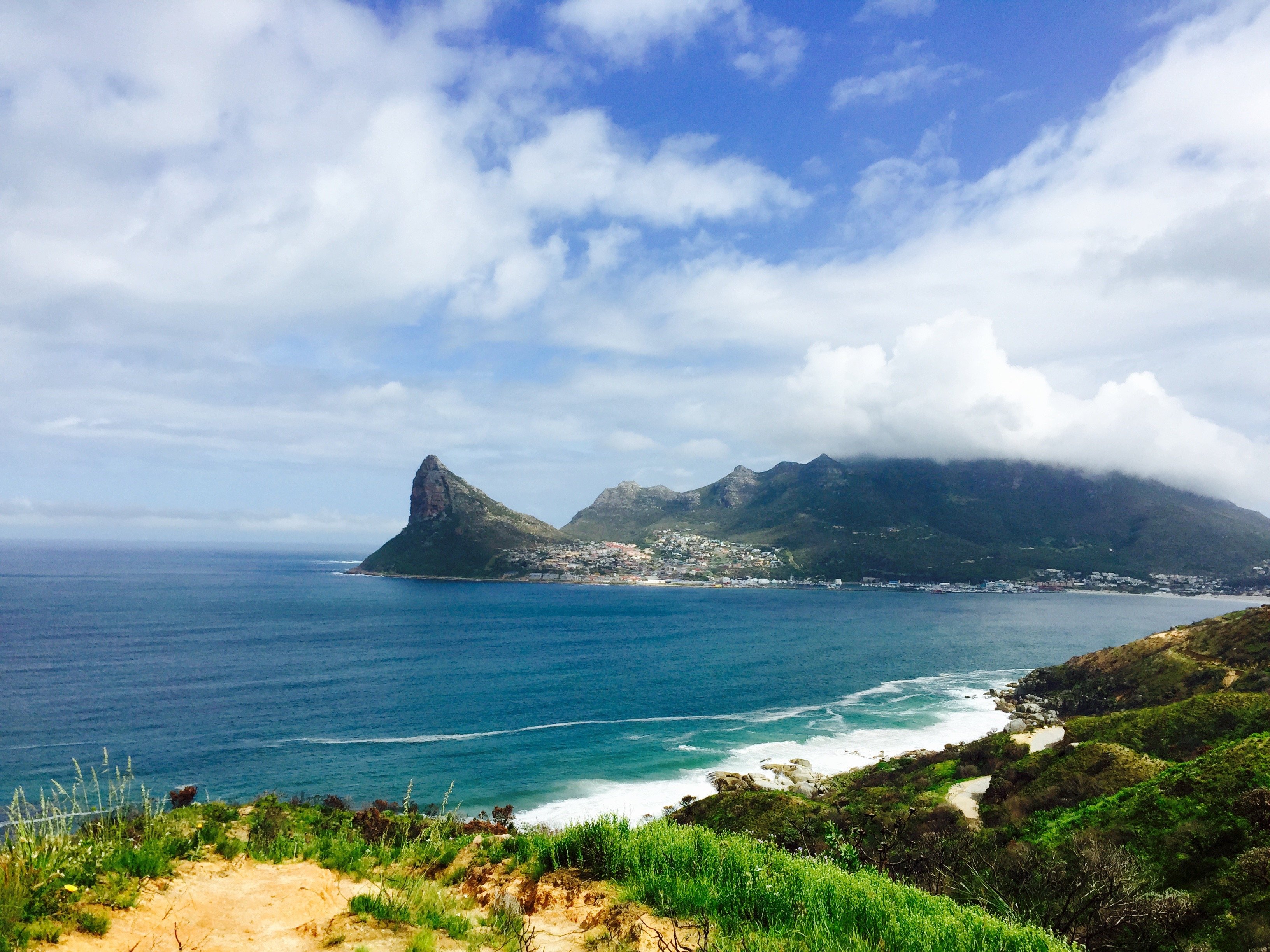 Day 9: Franschhoek and the Cape Winelands - 360km
Day 9 features the Cape Winelands, but not before visiting Africa's southern-most point, Cape Agulhas. After, head onto one of the world's most famous whale watching destinations, Hermanus, then on to Viliersdorp and the awe inspiring Franschhoek pass.
We check into our hotel then head for a Vineyards, Cellar & Wine Tour at Solms Delta Wine Estate. From vine to wine, enjoy a guided experience that takes you through the vineyards to the secrets behind the cellar door, and finally to tasting the finished product - the award-wining Solms-Delta wines. This all-encompassing experience allows you to take in spectacular forest, mountain and river scenery as this wine estate shares not only the unusual methods by which they tend their vines and make their wines, but also the true stories of the people who have lived in this unique place through time.
Included is a viewing of the famous cellar façade, inspired by Cape history, and created by world-renowned artist Joachim Schonfeldt. Dinner tonight is optional at one of the many culinary favorites that Franschhoek is famous for.

Day 10: Stellenbosch Cape Town and Table Mountain - 100km

An early morning stops in the old town of Stellenbosch, the second oldest European settlement in South Africa after Cape Town. After Stellenbosch, we make our way on to Cape Town. One of the world's greatest harbor cities, Cape Town is a stunning metropolitan area, snugly situated on the tip of the rugged Cape Coast. Its busy harbor port and rugged mountainous terrain are surrounded by the expansive sparkle of the Atlantic Ocean.
Beneath this emblematic landmark lies a cosmopolitan, multi-cultural hot spot, with trendy shops, cafes, idyllic beaches, comedy clubs, gourmet cuisines, classical theatres, historic museums, award winning winelands and a breath-taking coastline. We head straight to the base of the mountain where we embark on an excursion up the famous cable car to the top of Table Mountain plateau.
Spend the next couple of hours roaming the pathways and admiring the staggering aerial views of the Cape Peninsula, the city below, and the neighboring mountainous peaks of Devils Peak and Lions Head surrounded by the glittering Atlantic before heading down toward your lodge for the night. (Please note: This activity is weather dependent and we will deviate to visit another attraction if necessary). In the evening, we all set out to enjoy dinner at a traditional African themed restaurant.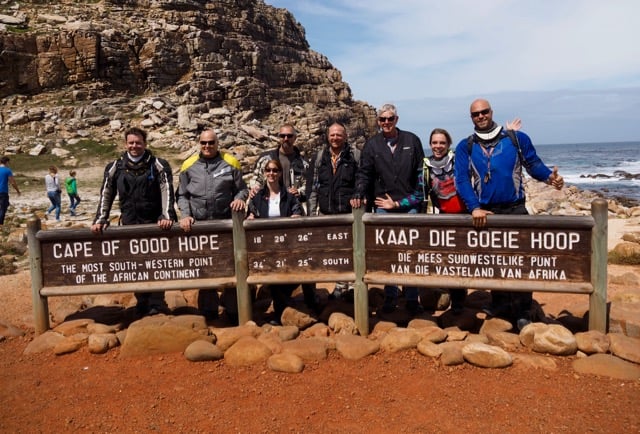 Day 11: The Cape Peninsula, Table Mountain National Park, and Cape Point - 150km
After breakfast, you'll depart on a full day tour of the Cape of Good Hope and the Cape Peninsula, one of the most breath-taking highlights you'll can experience when in Cape Town.
Pass the famous beaches of Clifton and Camps Bay. Follow Chapman's Peak Drive as it winds its way between Noordhoek and Hout Bay. Situated on the Atlantic Coast, at the southwestern tip of South Africa, it is one of the most spectacular marine drives anywhere in the world.
At the tip of the Cape Peninsula 60 km south-west of Cape Town, lies Cape Point, a nature reserve within the Table Mountain National Park; a declared Natural World Heritage Site which you'll explore by foot, then drive through Kalk Bay and enjoy lunch at a seaside restaurant.
Kalk Bay is one of Cape Town's trendiest seaside villages and reflects a cosmopolitan heritage and a long fishing history. There is a bohemian arty vibe, with great theater and the art, architecture and the cuisine here is much sought after.
End the day visiting a Constantia wine estate or the unique flora and fauna of the Kirstenbosch Botanical Gardens before returning to the city for the night.
Day 12: Depart home from Cape Town
After breakfast, you are taken to the airport for your flight home, and the end of an incredible journey! We hope you're glowing with the satisfaction that most riders are on the heels of such an adventure ride, and that you'll be sharing photos and stories with other riders who might want to follow in your tire tracks.
Want to browse a bit? We have more African motorcycle tours listed here.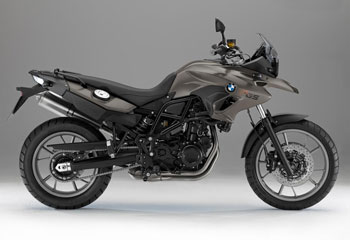 BMW F700GS (twin cylinder)
The new F700GS offers a larger windshield, enhanced braking system, Electronic Suspension Adjustment, Automatic Stability Control, and a handful more horsepower! As if the previous version (the F650GS) wasn't a good enough adventure bike, this mid-weight option continues to be the most versatile and popular motorcycle rental option.
X
Seat Height:
32.3 in
Curb Weight:
461.0 lb
Fuel Capacity:
4.2 gal
Displacement:
798 cc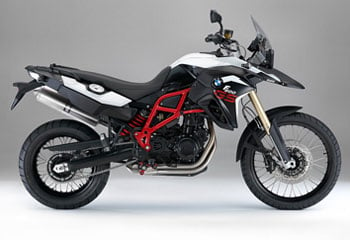 BMW F800GS
Certainly considered the "athlete" of the BMW team, the F800GS can be counted on to carry all your travel gear and still maintain the awesome feeling of a pure off-road machine when you're in the dirt. With over 215mm of suspension travel, the F800GS boasts 85 horsepower from its twin-cylinder engine, and is sure to give an adrenaline rush when you unleash it!
X
Seat Height:
34.6 in
Curb Weight:
472.0 lb
Fuel Capacity:
4.2 gal
Displacement:
798 cc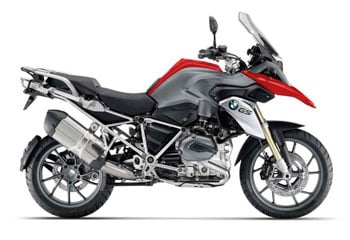 BMW R1200GS - Liquid Cooled
Revised back in 2013, BMW it seems has done it once again in the world of adventure motorcycles. The new liquid-cooled version of the famous R1200GS comes with a more "upright" stance and off-road friendly positioning. Now with a wet clutch, a higher air intake perfect for river crossings, and a 10% horsepower increase over the previous model, BMW has clearly made improvements on what was already a great adventure bike.
X
Seat Height:
33.5.0 in
Curb Weight:
538 lbs
Fuel Capacity:
5.3 gal
Displacement:
1170 cc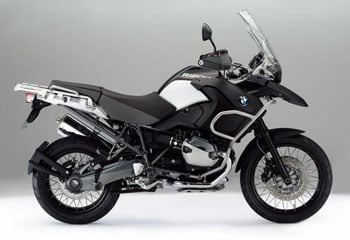 BMW R1200GS Adventure
Whereas the standard R1200GS was plenty of motorcycle, the Adventure model is just a little bit more. More fuel capacity, more wind protection, more suspension travel, more carrying capacity, and more crash protection. For the serious expedition rider: More motorcycle might be what you need!
X
Seat Height:
35.0 in
Curb Weight:
573.0 lb
Fuel Capacity:
7.9 gal
Displacement:
1170 cc