Guided Group Tour: The Thai-Laos Experience
Itinerary
Day 1 – Welcome to Thailand!
This beautiful country, rich with history and full of friendly, smiling faces awaits you for what will undoubtedly be a motorcycle trip that you'll never forget. A simple 15 minute transfer to your hotel in the Old City of Chiang Mai will remind everyone just how motorcycle-friendly this country is, and that you'll definitely be piloting a much "larger than average" bike throughout the region. Get settled in, and our staff will explain the rest about check-in, bike papers, and such.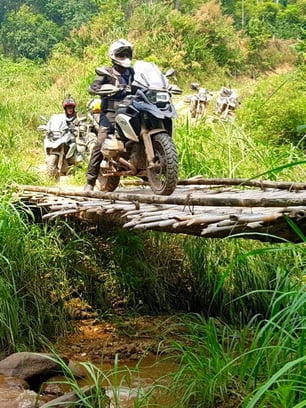 Day 2 – Chiang Mai to Mae Sariang
The much-anticipated riding begins! But only after a proper fitting and familiarization with the motorcycle reserved for your adventure. Leaving Chiang Mai and headed southwest, don't worry if a 2nd cup of coffee is needed as part of your daily routine, as even in the countryside, you'll see just how much the Thai people LOVE having coffee regularly available. With a bit of off-pavement riding en route to the Vachiratharn Waterfall and a climb to the top of Doi Inthanon (highest peak in Thailand at 2,565m) the entire route is designed to be as "rural" as possible without missing some major city attractions. Twisting and turning your way to Mae Sariang along the Yuam River near the Myanmar border, enjoy a relaxing look back on your first day's RIDE, and more great riding ahead!
Day 3 – Mae Sariang to Mae Sot
Heading toward a gateway city to Myanmar, the smallest backroads we know of will bring site to the biggest smiles we know of. Small villages, friendly people, and a simple way of life will remain somewhat of a "theme" for the rest of this trip, so settle in for some "travel nirvana," all by the twist of your wrist. Have you noticed how good the food is here yet?
Day 4 – Mae Sot to Sukhothai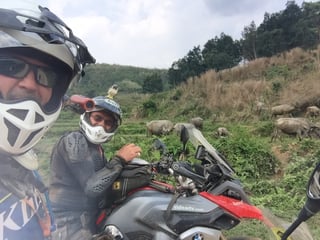 Riding near the Friendship Bridge connecting Myanmar and Thailand, it's possible to walk across to the local markets (if time allows.) Then eastbound through the countryside, long sweeping turns along Route 12 give way to more of an urban setting, and the UNESCO World Heritage Site and Heritage Park that Sukhothai is partly famous for. A sunset stroll through the park gives great photo opportunities for the 26 Buddhist temples that remain with stories of the "whispering Buddha" taking our minds away from the modern world. Relax for an evening in excellent accommodations, and ready yourself for more great riding ahead.
Day 5 – Sukhothai to Nan
A traditional Thai breakfast paves the way for more great coffee stops nestled amongst more twisting and winding roads. By this time in the trip, Riders may actually miss the opportunity to ride on a straight section of road! Witness the largest teak tree in the world in Ton Sak Yai National Park (estimated to be over 1,500 years old with nearly a 10m base circumference) en route to a lunch spot near the Sirikit Dam on the Nan River. A brief ferry crossing adds even more variety to this motorcycle adventure, as more tiny villages, smiling faces and great twisting roads lead you to Nan for a little relaxation.
Day 6 – REST DAY in Nan, Thailand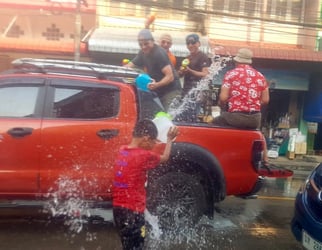 That's right, although some local riding amongst the mountains around Nan is possible this day, it's a good idea to have some rest as well to remain sharp and fresh for the riding ahead. Relax, soak-up and soak-in all the sites and scenery thus far, while enjoying shopping opportunities for local crafts here in Nan. Speaking of "soaking," did you choose our April trip date because of what we said about Songkran? If so, prepare for a day like no other in this world. Walk through a fun small city in Thailand, connecting with relaxed, fun, and warm people in this hottest month of the year. Belief is that, keeping a cool body, we keep a cool mind; therefore we remain peaceful and calm in our demeanor. Enjoy as virtually everyone in your part of the world strives to "keep you cool" in a time-honored tradition like no other!
Day 7 – Nan to Bo Kluea & Pak Beng
As the riding quite literally seems to somehow get better and better, say goodbye for now to some remote passages within Thailand on the way to the salt-based village of Bo Kluea near the Laotian border. The latter part of the day involves yet another reason to scream within one's helmet, as "I'm riding a motorcycle … in Laos!!!!" may race through one's mind upon crossing the border (where we switch from the left to right side of the road.) The friendly people of yet another beautiful country in Southeast Asia will be smiling upon you as new subtleties and traditions are discovered on this epic adventure ride.
Day 8 – Pak Beng to Luang Prabang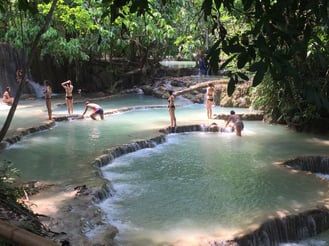 A shortish day of twisty riding takes riders even further into the heart of Laos, and the opportunity to explore another UNESCO World Heritage Site who's name literally means "Royal Buddha Image." The excellent pedestrian walking, shopping, and dining atmosphere in this well-preserved and beautiful city also serves as a launching point to reach the famous Kuang Si Waterfall, where multiple levels of cascading beauty make for an obvious visit.
Day 9 – REST DAY in Luang Prabang
While it was possible to visit Kuang Si waterfall setting yesterday, perhaps a full day of relaxation could use a little bit of riding, for which this short round trip ride should be saved. As mentioned, multiple other exploration opportunities from elephant rides to nearby cave attractions all allow us to enjoy some off-bike experiences as well.
Day 10 – Luang Prabang to Oudomxay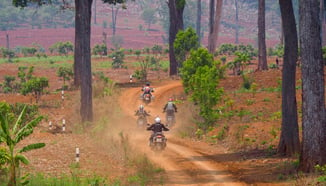 Sandwiched between the banks of the Ou River and limestone-rich mountains around Nong Khiaw, moments with a little bit of elevation will cool things off, while rich green foliage surrounds the path of the day. Notice that your total riding time in a straight line has been reduced to a mere moment or two of each day, before another beautiful overnight setting awaits you.
Day 11 – Oudomxay to Pak Beng
Looping back to a familiar and important overnight location on the Laotian side of this trip, this portion of the trip could change or be customized as other border crossing locations avail themselves in coming years. Until then, there will be no joy lost in re-visiting the "other side" of routes leading into this valley setting.
Day 12 – Pak Beng to Chiang Khong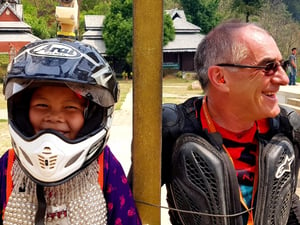 While the warmth of the weather and people in Laos might be tough to leave behind, at least you can say, "I've been there," and know that it's okay to leave with plans to return someday. For now, cross back into Thailand (and return to the left side of the road) while writhing your way toward the Golden Triangle and fun town of Chiang Khong along the shores of the Mekong River. Looking back across the water at Laos, a smile will undoubtedly adorn your face, as you think about the many people who cast similar in your direction these past days.
Day 13 – Chiang Khong to Thaton
Finally leaving the Mekong River behind, the ride heads further inland while remaining in these northernmost spaces of Thailand. With the newly paved "Paradise Road" (as dubbed by Mr. Unkovich and other local Golden Triangle Riders) redefining the meaning of "sweepers," today's ride is yet another that has Riders celebrating the fact that they ride!
Day 14 – Thaton to Pai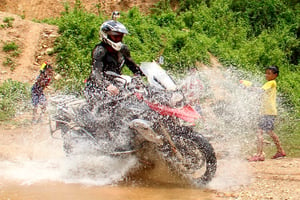 This celebration begins once again as both paved and dirt riding options lie ahead of you're the front wheel on the motorcycle rental included in your package. Choosing a town like Pai gives way to "international encounters," as the overnight plans in this fun town are an attraction to travelers from all around the world.
Day 15 – REST DAY – Pai, Thailand
We choose the best locations for these much-needed rest days, noting that if the itch to twist your wrist still exists, that just exploring the area around Pai will be a welcome experience. Just within this bouncing town though, there will be plenty to keep people busy with shopping, dining, and international faces. Short excursions to nearby caves and geological features are also available, but don't forget to rest-up for the big finish ahead!
Day 16 – Pai to Mae Hong Son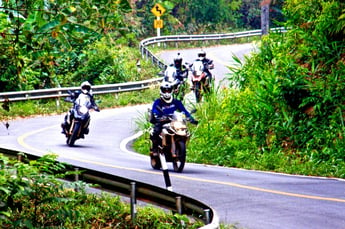 With 1864 curves spread out over the Mae Hong Son Loop, notice on some of the popular travel forums that even non-motorcycle riders recognize that this ride is one of the most exciting riding opportunities in the world. Pick your rhythm, find the apex, challenge yourself to achieve riding perfection, all while trying to focus on the path ahead instead of the surrounding scenery. With the end of the day bringing opportunity for a boat ride to see one of a few Longneck people's villages out in the remote countryside, perhaps even near the end of this trip, you're still amazed at the wide variety of experiences and joys this riding experience puts before us.
Day 17 – Mae Hong Son to Chiang Mai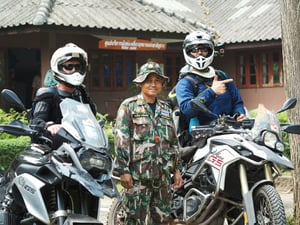 Weather permitting, a wild 80km ride nicknamed "The Elephant Track" over a wide variety of mixed and challenging terrains will make an incredible start to the riding day. Through very remote and isolated villages in mountain settings west of Chiang Mai, not every trip itinerary can be so perfect as this one, finishing with some of the greatest scenery and what is seemingly a "composite" of all the types of riding challenges you've bested up to this point. Pull into the Old City of Chiang Mai once again, raise your helmet to reveal smile wrinkles like no other, and congratulate yourself for having now ridden some of the very best routes in Thailand and Laos, or perhaps anywhere in the world!
Day 18 – Departure Day
Stay if you can or leave if you must, but we understand if you're already thinking about a return to Thailand and Laos or what other incredibly fun experiences can be had in Southeast Asia on 2 wheels. We congratulate you sincerely on a safe finish, and hope you'll share your thoughts, photos and videos on what it was like for you, riding this Thai-Laos Experience!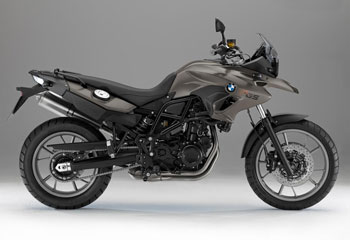 BMW F700GS (twin cylinder)
The new F700GS offers a larger windshield, enhanced braking system, Electronic Suspension Adjustment, Automatic Stability Control, and a handful more horsepower! As if the previous version (the F650GS) wasn't a good enough adventure bike, this mid-weight option continues to be the most versatile and popular motorcycle rental option.
X
Seat Height:
32.3 in
Curb Weight:
461.0 lb
Fuel Capacity:
4.2 gal
Displacement:
798 cc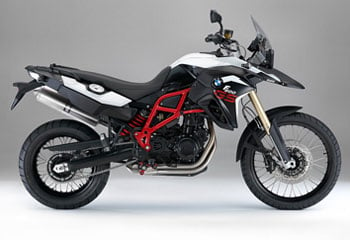 BMW F800GS
Certainly considered the "athlete" of the BMW team, the F800GS can be counted on to carry all your travel gear and still maintain the awesome feeling of a pure off-road machine when you're in the dirt. With over 215mm of suspension travel, the F800GS boasts 85 horsepower from its twin-cylinder engine, and is sure to give an adrenaline rush when you unleash it!
X
Seat Height:
34.6 in
Curb Weight:
472.0 lb
Fuel Capacity:
4.2 gal
Displacement:
798 cc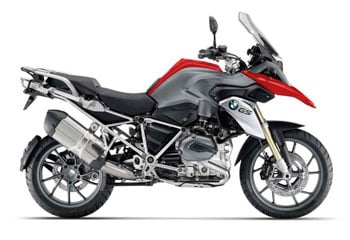 BMW R1200GS - Liquid Cooled
Revised back in 2013, BMW it seems has done it once again in the world of adventure motorcycles. The new liquid-cooled version of the famous R1200GS comes with a more "upright" stance and off-road friendly positioning. Now with a wet clutch, a higher air intake perfect for river crossings, and a 10% horsepower increase over the previous model, BMW has clearly made improvements on what was already a great adventure bike.
X
Seat Height:
33.5.0 in
Curb Weight:
538 lbs
Fuel Capacity:
5.3 gal
Displacement:
1170 cc