Patagonia: Self-Guided Motorcycle Tour in Chile and Argentina
Itinerary
How To Enjoy a Patagonia Motorcycle Trip on a Budget
Step 1: Choose your motorcycle from this list of options.
Step 2: Contact Us and tell us how many days and the specific dates you'd like to spend traveling (the Patagonia season is only mid-October through March, and some dates can often be sold out by July each year!)
7 Days in Patagonia is typically the minimum to get a feeling for the area
4 to 5 Days is possible, still with great riding if you stay in the north of Patagonia
Plan on having 1 "rest day" every 3-4 days. Trust us, Patagonia will tire you out!
Don't be concerned if you think that 200 miles / 320km per day isn't enough. If you're taking the routes we recommend, this will be

plenty

of riding, even for the most experienced adventure riders. Besides, slowing down to experience and enjoy Patagonia is important, and trust us, you won't want to leave anyway!
Step 3: Be prepared to answer our questions about what else you want included, for example printed notes and turn-by-turn directions, hotel reservation packages, or anything else. We know, the services you want included will probably depend on the prices, but we'll get to that.
Step 4: Our communications with you will make it easy to explain an exact cost based on the services you'd like included, and again, we can help you make sure you're doing this as low-cost as possible
Step 5: Reserve everything through RIDE Adventures right here in the U.S.!
CONTACT US FOR YOUR MOTORCYCLE TRIP and Tell Us When You Want to RIDE in Patagonia!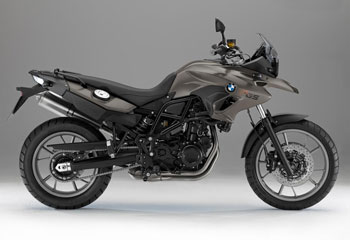 BMW F700GS (twin cylinder)
The new F700GS offers a larger windshield, enhanced braking system, Electronic Suspension Adjustment, Automatic Stability Control, and a handful more horsepower! As if the previous version (the F650GS) wasn't a good enough adventure bike, this mid-weight option continues to be the most versatile and popular motorcycle rental option.
X
Seat Height:
32.3 in
Curb Weight:
461.0 lb
Fuel Capacity:
4.2 gal
Displacement:
798 cc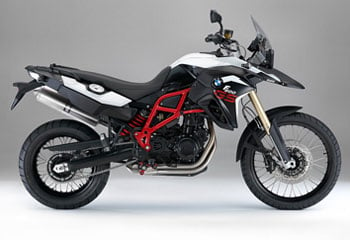 BMW F800GS
Certainly considered the "athlete" of the BMW team, the F800GS can be counted on to carry all your travel gear and still maintain the awesome feeling of a pure off-road machine when you're in the dirt. With over 215mm of suspension travel, the F800GS boasts 85 horsepower from its twin-cylinder engine, and is sure to give an adrenaline rush when you unleash it!
X
Seat Height:
34.6 in
Curb Weight:
472.0 lb
Fuel Capacity:
4.2 gal
Displacement:
798 cc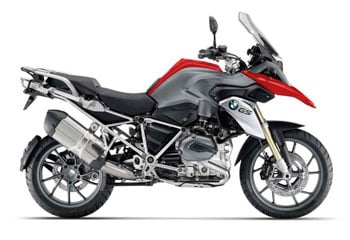 BMW R1200GS - Liquid Cooled
Revised back in 2013, BMW it seems has done it once again in the world of adventure motorcycles. The new liquid-cooled version of the famous R1200GS comes with a more "upright" stance and off-road friendly positioning. Now with a wet clutch, a higher air intake perfect for river crossings, and a 10% horsepower increase over the previous model, BMW has clearly made improvements on what was already a great adventure bike.
X
Seat Height:
33.5.0 in
Curb Weight:
525.0 lb
Fuel Capacity:
5.3 gal
Displacement:
1170 cc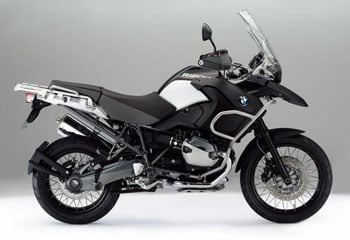 BMW R1200GS Adventure
Whereas the standard R1200GS was plenty of motorcycle, the Adventure model is just a little bit more. More fuel capacity, more wind protection, more suspension travel, more carrying capacity, and more crash protection. For the serious expedition rider: More motorcycle might be what you need!
X
Seat Height:
35.0 in
Curb Weight:
573.0 lb
Fuel Capacity:
7.9 gal
Displacement:
1170 cc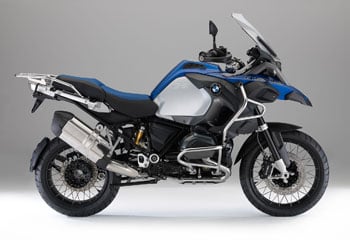 BMW R1200GS Adventure (2014+ Liquid Cooled)
Just a year after releasing the Liquid Cooled R1200GS, BMW's famous Adventure model or "GSA" was introduced, and for all the right reasons. Like its predecessor, the "GSA LC" as we tend to call it boasts 125 liquid cooled horsepower and has the fuel capacity and carrying capability to make the longest and most remote adventures a reality. At the same time, it's still a thrill when in tight mountain switchbacks and twisties!
X
Seat Height:
35.0 in
Curb Weight:
432.0 lb
Fuel Capacity:
6.1 gal
Displacement:
1170 cc