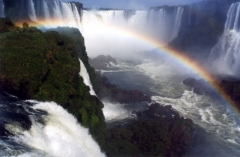 "Deal of the decade" maybe on a motorcycle tour??
Just posted on the RIDE Adventures site is the incredible last-minute offer for the "Taste of Brazil" motorcycle tour….now with a $2,000 discount!
For only $3,490 USD, adventure-minded motorcycle riders can still grab a few remaining spots for the May 19th, 2011 journey from Iguazu Falls to Rio de Janeiro on a new BMW F650GS. Am I kidding? I never "kid" about motorcycle riding…
This sure might qualify as "last-minute" for some of us, and a stretch to get the time away from our daily lives and jobs; however, we all need to push the limits of possibility sometimes. This amazing motorcycle touring opportunity through Brazil sure qualifies as one of them!
Read more about the Taste of Brazil Motorcycle Tour – May 19, 2011 and contact us at RIDE Adventures about reserving your F650GS now!!!