Contact Us About the "Top 7 Highlights of Bolivia" Motorcycle Tour!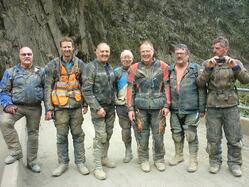 Fill out the form to the right, and let's start making your plans to join us in Bolivia! You don't need to worry about shipping your motorcycle, as we have the right dual sport bikes already in Cochabamba ready for your trip. We want to make sure this is the right trip for you, as the riding in between these highlights is not for everyone!
From the Salt Flats of Uyuni to the jungle below La Paz, this tour has an amazing combination of terrain and scenery througout the Andes Mountains
Don't let fear of the "Road of Death" get to you, we ride this amazing route regularly, descending from the elevations above
Almost feeling like you've "stepped back in time," Bolivian culture, attire, and tradition will be evident, remind us of our history books
Although it's a fairly remote, seldom-traveled and mysterious country, we make it easy for you to RIDE in Bolivia!