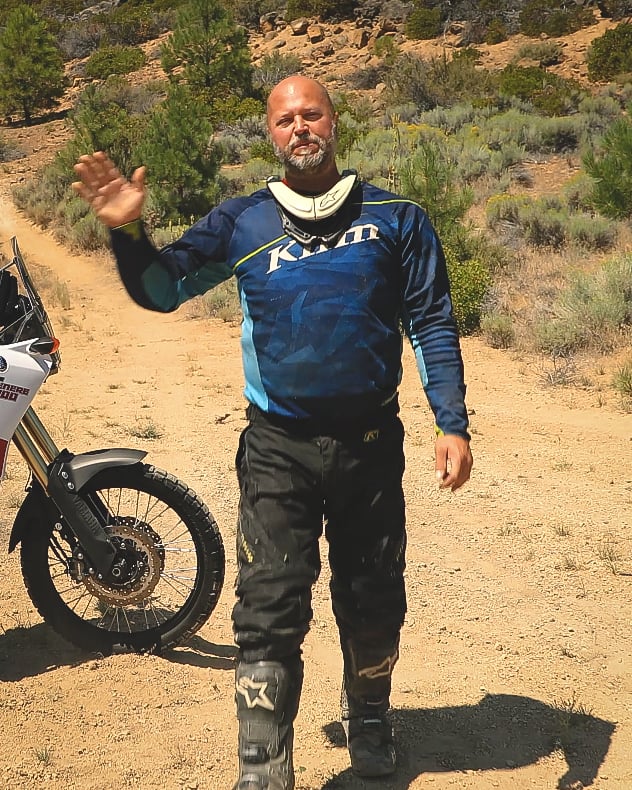 Eric Lange - Founder
Originally from Wisconsin in the United States, Eric set out on a long awaited adventure in the spring of 2008 and rode across the U.S., down through Mexico and Central America, eventually ending up in South America. Having covered 65,000 miles during this first 2+ year journey and having worked in motorcycle tourism along the way, Eric's passion for adventure was only fueled by what he saw: The incredible scenery and culture in places like Bolivia, unforgettable rides through the Andes mountains, and of course, the stunning and almost "heart-breaking" natural beauty of Patagonia. All the exploration, discovery, and reactions from touring customers left him with the recurring thought that, "more people need to experience this." That sentiment has propelled RIDE Adventures to become the reputable travel service provider that it is today.
Eric and the Team are busy building the RIDE Adventures YouTube Channel, and always researching more and better journeys that our Customers will enjoy. The history of Eric's initial travels through North and South America in 2008-2010 can be reviewed on his personal blog at http://travelswitheric.blogspot.com.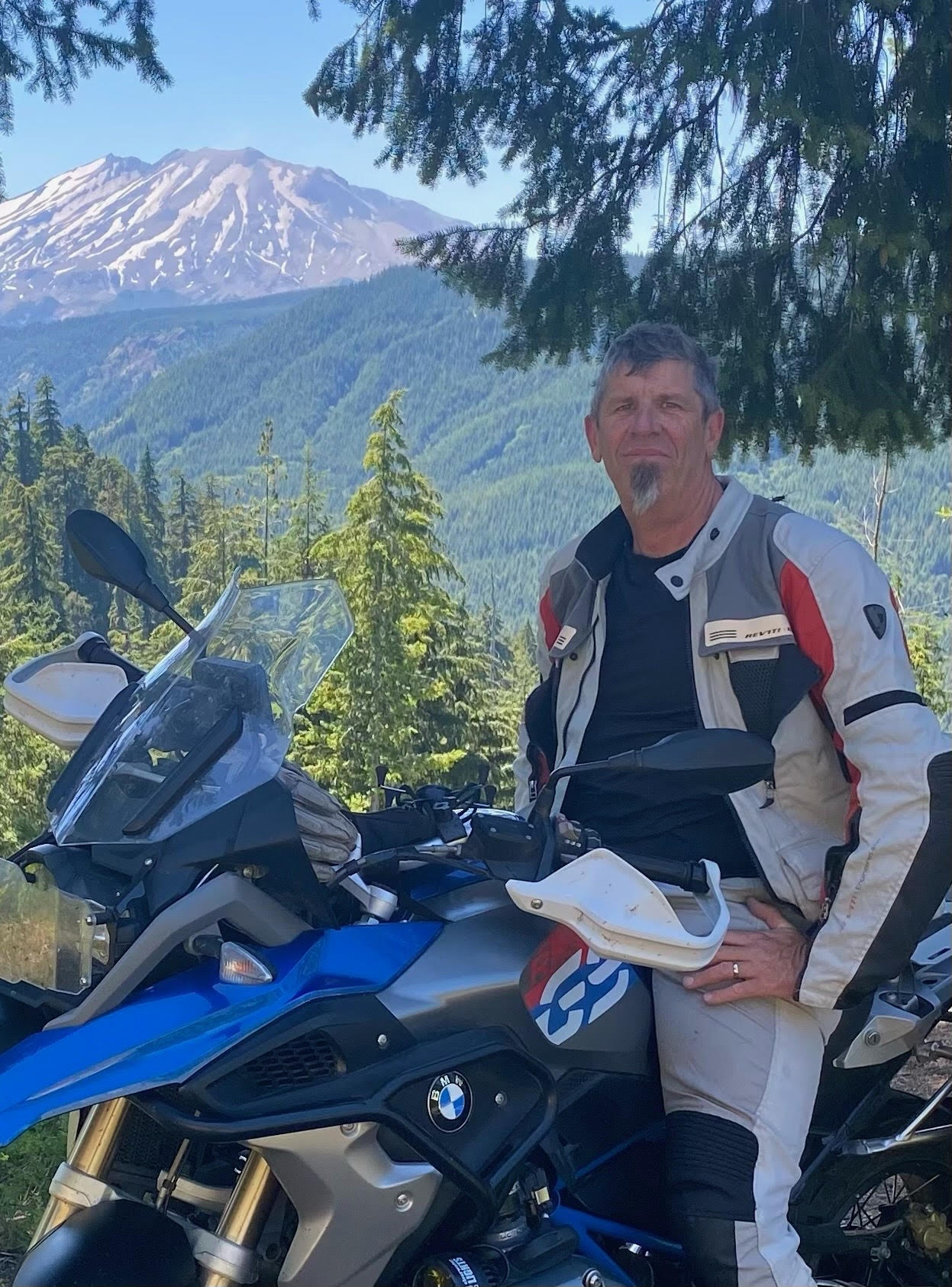 Andrew Murray - Director of Training & Lead Instructor
Originally from Santa Cruz CA, Andrew grew up sailing, scuba diving, mountain bike racing and motorcycling on California's Central Coast. After moving to Bend OR in 2017, his passion for motorcycling was rekindled. Moving from sport touring bikes to adventure bikes he figured out quickly the value of proper training and completed several Adventure Bike training clinics, along
with Motorcycle Safety Foundations Professional Adventure Bike coaches clinic.

Besides teaching adventure bike riding, Andrew has taught swimming, marine navigation, sailing, scuba diving, and spent 30 years coaching and training executives and managers in his prior corporate career. He's always looking for ways to improve the quality of our program and the experience of our students, and he's passionate about finding the safest, and most effective ways to help riders learn and master the fundamentals of Adventure Bike riding.

When he's not riding and coaching motorcycles you might find him riding his mountain or gravel bicycles with his wife, or patrolling the Trails of the Three Sisters National Wilderness Areas as a volunteer Wilderness Ranger for the US Forest Service.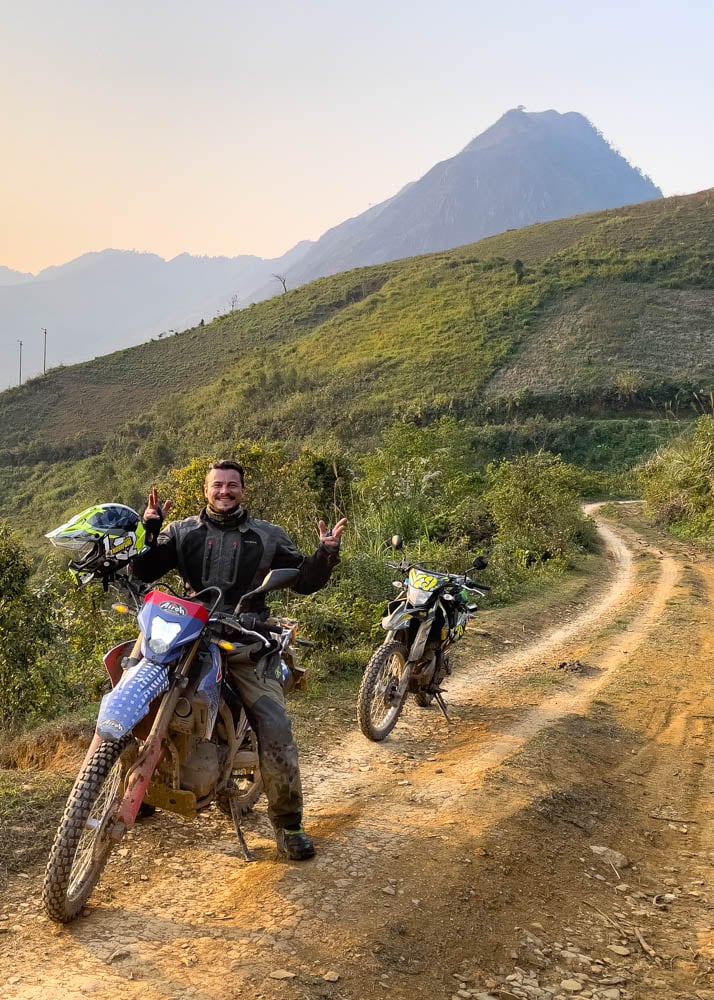 Garrett Galvan - Content Production & Management
Hailing from Oregon, the headquarter state of RIDE Adventures, Garrett joined us after traveling the world for 3 years riding in various countries. His love for being on two wheels while traveling all started from the accomplishment of traversing New Zealand to it's most northern point on a CBR250RR MC22 Fireblade. Yeah we know, not the primary choice for long hours on the saddle but hey, who doesn't love the sound of 19,000 RPM's.
Like any adventurer, he has continued pushing the boundaries of global exploration with his return to Northern Vietnam. To keep up with his travels, you'll find him writing in his online journal at Motomoves.com.
Garrett is a bit of an all-rounder but his main background is in videography, photography and web-based content production & strategy. He's worked with Skyscanner, Travel + Leisure Magazine, Capital One, Czech tourism, Turismo Espania, Wonderful Indonesia, Experience Romania, 100% Pure New Zealand, TravelFreak, and many more. He will be producing blogs and running the YouTube production for RIDE in hopes of educating and elevating the ADV community.
You can find his work on the RIDE Adventures Blog and YouTube Channel.
His absolute favorite RIDE Adventures route is Northern Vietnam.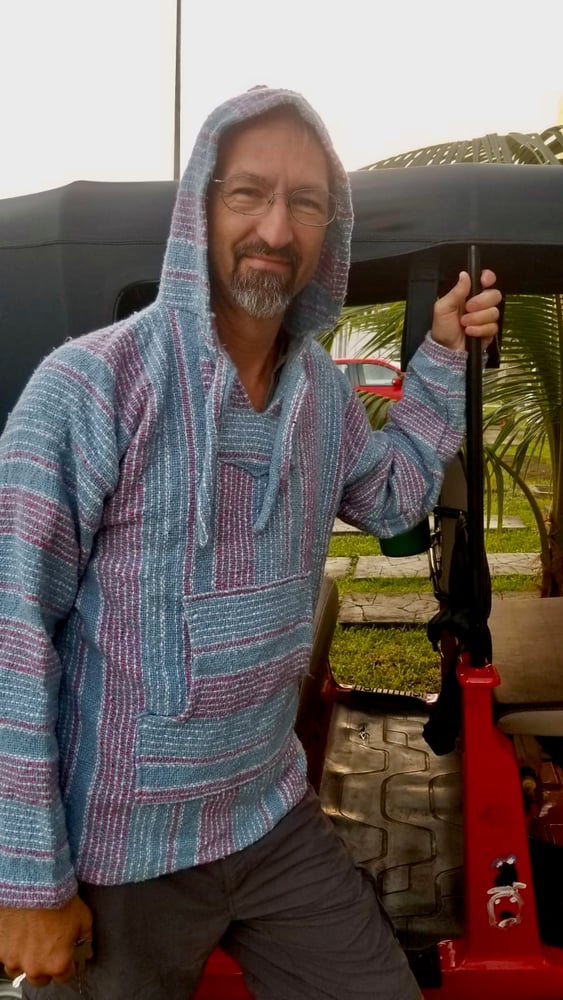 Keith Riehl - Guiding, Training, Operations, & Mayhem
A guy who could be described as 'part Howard Hughes, and part MacGyver,' we're so glad to have a rider like Keith Riehl on our Team.
If you're lucky enough to have him along as part of an upcoming motorcycle trip, whether it be for mechanical needs, route-related questions, comic relief, or even if you just need some tires burned or fuel wasted, riders will be glad this multi-faceted ace is along for the ride. An Oregon native, Keith can be found ripping trails locally and exploring internationally by every mode of transportation; elephants, UTV's, and tuk tuk's included. He jumps at invites to adventures on a whim and even keeps bikes on a few different continents. When you're with Keith, there's never a dull moment.
Keith is such fun to hang out with, resourceful with our touring, renting, and training operations, and just a great guy all around.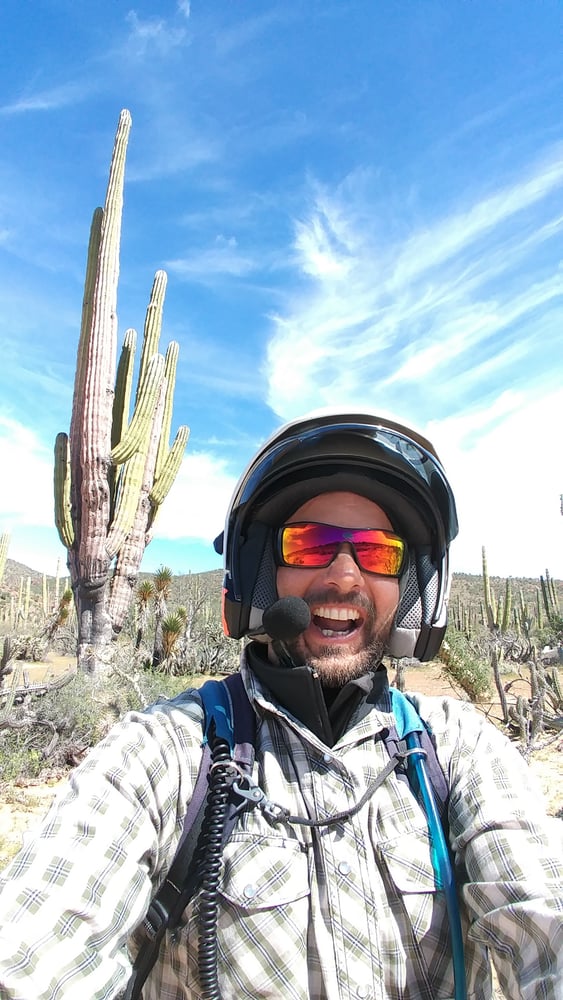 Bradly Horsley - Guiding & Operations
Brad is originally from the Imperial Valley in southern California, and at 19 years old he vowed that the only type of work he would seek out would be work that allowed him to experience the outdoors and get paid to do something that he enjoys.
By 20 he had found his way to Alaska and became a white water raft guide working summers in order to support his snowboarding ambitions in the winter. Since that first summer in Alaska he has been a guide at numerous different companies guiding everything from Class 1-5 rivers as well as being able to snowboard all over North America.
Seeking warmer weather he moved to Baja, Mexico in 2014 where he currently resides. In his personal life Brad is a dirt bike rider and enjoys doing light adventure trips through the southwest deserts of the United States. Brad has been riding and guiding motorcycle tours since 2015. During his time guiding on a bike he has ridden over 150,000 miles on guided tours through the United States, Canada, and Mexico.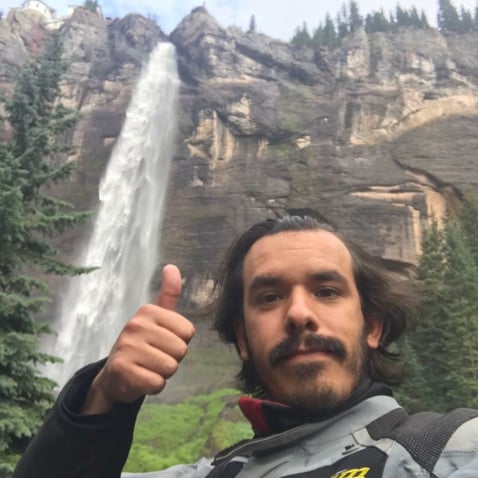 Diego Villalpando - Booking Operations & Baja Extraordinaire
Originally from Mexicali, BC., Diego has been living in the U.S. for almost 20 years. While living in Baja California though, he spent time with his Dad exploring the peninsula with activities like fishing off the coast of the Rio Colorado Delta, and exploring canyons in the middle of the desert. In Iowa, Diego's adventure spirit may have dwindled a bit, although a few backpacking trips overseas brought that back. Early thoughts of getting into overlanding via a Land Cruiser or Land Rover Defender changed dramatically after watching the "Long way Round" which sparked his passion for the possibilities of traveling by motorcycle. After researching and eventually buying his first bike, a 2016 BMW R1200GS Adventure, Diego has found his calling in Adventure Motorcycle Travel. Spending the next 2 years going to events all over the U.S., Diego was eventually named the "Rookie of the Year" award by the GS Giants.
After running away from Iowa's extreme 2017 winter, Diego spent a few months living a long-awaited dream by once again traveling and exploring Baja California on his BMW. Now having joined the RIDE Adventures Team, Diego is ready to assist anyone with their travel needs, and who knows, may be the Best Baja Guide yet!
Jeff Taylor - eCommerce, SCO, SEO, Webstore, Managment
Jeff has a background in digital marketing, product management, and fueling start up ideas. He is also a Type A adventure traveler who just loves to get to new places and do new things. He frequently does caveing expeditions, canyoneering trips, overland trips (truck and moto), climbs mountains, backpacking, mountainbikeing, with an occasional stroll down the beach in a fast boat.

So it made perfect sense to have him jump on with the RIDE Adventure team and start helping build one of the best resources for adventure riders you can find.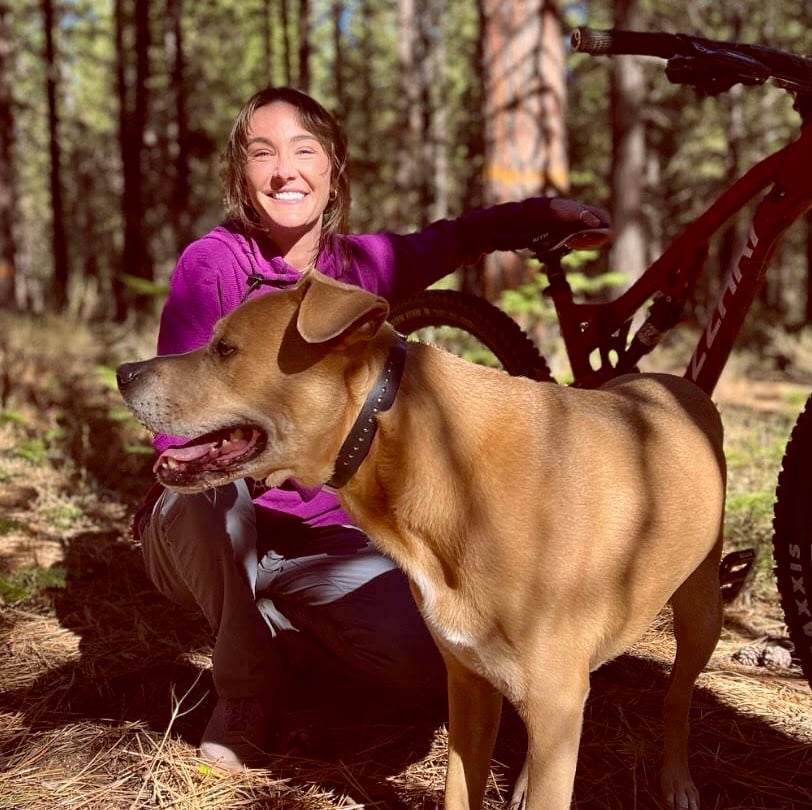 Kristen Kaul - Customer Relations & Internal Management
Kristen Kaul (Krissy or Kris)
Originally from Minnesota, Kristen made her way west on a mission to find adventure and escape the negative degree weather. Central Oregon has been her home for the last 5 years.
Her passions lie in building positive relationships with clients, supporting teams through project management, and laughing through life as much as possible.
You can find her mountain biking with her dog Zion, at the coast attempting to surf, or being a homebody making sourdough bread and playing the piano. She is excited to add adventure riding to the list!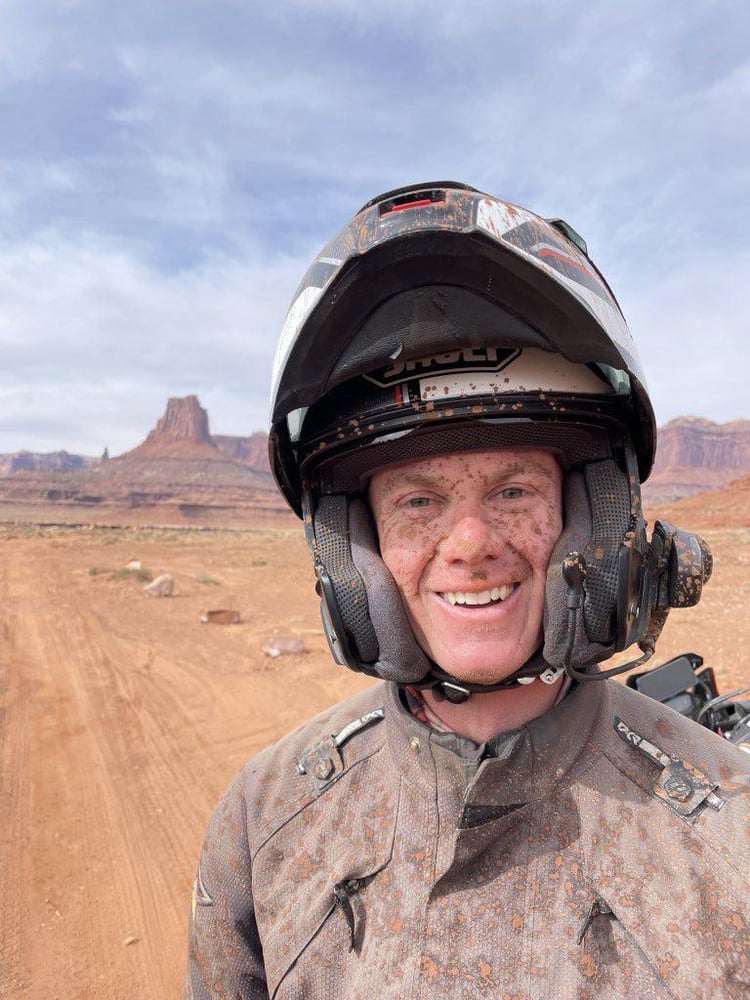 Kyle J. Quinn - Guide, Instructor, Wildcard
The exact details of Kyle's history and resume are unknown. Committed to exploring the American West by motorcycle in recent years, Kyle brings his knowledge of the area, passion for adventure, and willingness to share it with others who ride.
Coming from the Gulf Coast of Florida and possessing an engineering degree, it remains a mystery to us how Kyle got into the adventuring business.
What is known is Kyle's passion for motorcycles, which, by his own account, began when he purchased a Yamaha YZF-R1 at age 19 and taught himself to ride.
After several years of traveling (pedaling a bicycle across China was just one of his exploits), Kyle returned to the USA, settling into the Four Corners area in pursuit of new adventures in mountain biking, rock climbing, mountaineering, and adventure motorcycling.
When RIDE Adventures met Kyle he was living off of his Africa Twin on Mexico's Baja Peninsula. Recognizing his unique quality, we welcomed him aboard.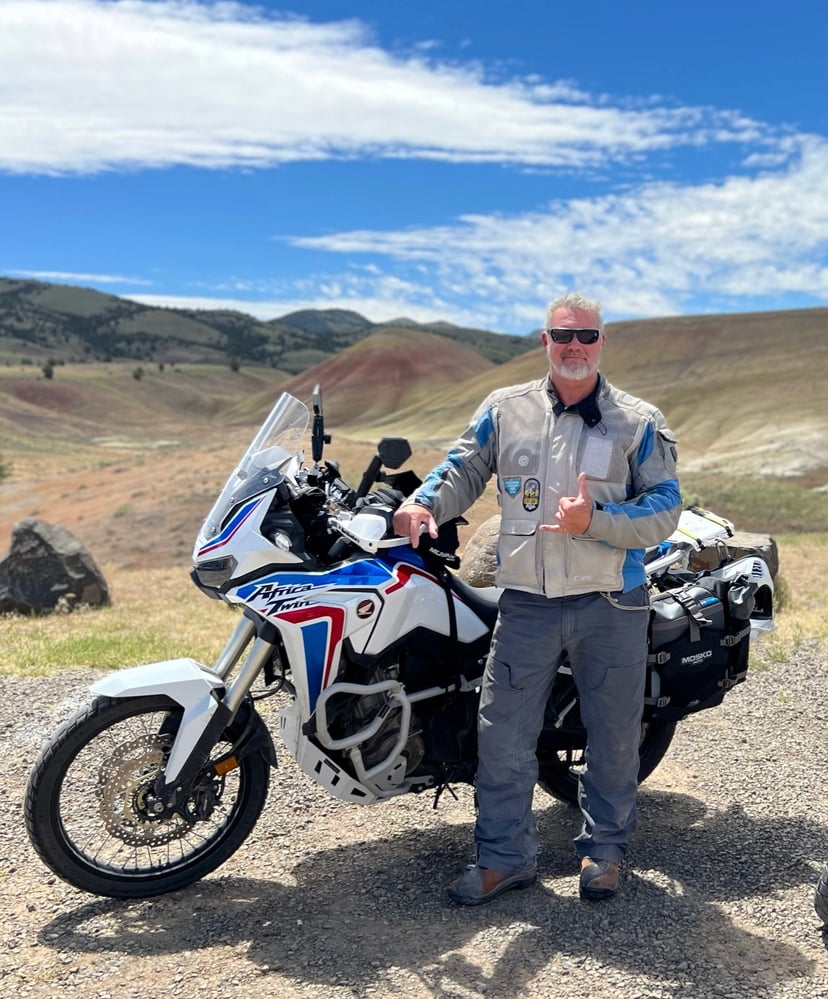 Todd Smith - Guide, Instructor, & Great Guy Who Has Done It All
A true son of the PNW Todd grew up either surfing the cold waters off the Oregon coast or bombing around the endless logging roads on a dirt bike. At 15 he joined a Wild land firefighting crew extinguishing over burns for a local timber company. He kept the good times rolling working as a deck hand on a commercial fishing boat. Ready to stretch his legs and see the world. He joined the U.S. Air Force. While serving he was primarily stationed in Utah and South Korea with deployments to fun places like Las Vegas NV, Alamogordo NM, Guam, and the Philippines. After separating from the Air force he found himself back home in Oregon. So how does he end up Developing and teaching Ride Adventures Training Tours.?
Seems his true passion is working to broaden his own skill sets and then sharing what he has learned with others. Be it's learning how to divine water in the desert from a weathered old rancher , Becoming an instructor for TEAM OREGON MSF, Off road driving courses with Overland Guru Bill Burke, or even taking an INTRO ADV motorbike course with Ride Adventures. Which turned out to be his way of submitting a very in person version of a resume to us. Well it worked as he is now one of our lead ADV Motorcycle training instructors and course developers.
While he is always working to broaden his own skills, he is also consistently reworking our classes and routes to ensure we are providing proven fundamentals as well as the most updated techniques and confidence inspiring experiences for our students.