Pay For Your Tour With RIDE Adventures
Payment by Check, Card, Digital, Wire Transfer, Walk-In Deposit, or via Phone
Once you have received a formal Quotation for your trip, please read our Terms & Conditions before submitting payment.
1) By Credit Card or PayPal
Use the formal quote number you received in an email from RIDE Adventures below.
Payments by Credit/Debit Card or Venmo or PayPal must include a 4% handling fee (6% for non-U.S. based credit cards.)
Please add that amount to your payment if you choose one of these payment methods.
2) By Using Zelle
Zelle is a digital payment method that works on several banks.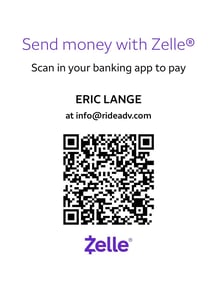 Scan the code to see if your bank is supported, or check this list. If you already use Zelle, scan the QR, or use our email address to send payment - info@rideadv.com.
3) Payment by Check in US Dollars
Mail Checks payable to:
RIDE Adventures, LLC
First Interstate Bank
200 SW Century Drive
Bend, OR 97702
Be sure to add "Deposit to 4404" or on the check and have your name or Quote/Estimate number included in the Memo field.
4) Payment by Wire Transfer
Company Name: RIDE Adventures, LLC
Account Owner: Eric Lange
Account #: (will be on your quote)
U.S. Domestic Routing #: 121000248
Branch #: (also) 121000248
SWIF Code: WFBIUS6S

NO MAIL SERVICE FOR WIRE TRANSFER ONLY
RIDE Adventures
70 SW Century Drive
Suite 100-216
Bend, OR 97702
*Please note: All sending and intermediary bank fees & charges must be withheld or added to the amount you are sending prior to being transferred. RIDE Adventures is not responsible for fees incurred to send or receive wire transfers. Be sure to inquire with your bank in order to pre-select the correct amount to send in order to account for these charges. Invoices paid with more than 3 wire transfers may also incur additional charges, as we are charged for every inbound wire transfer.
**Please be sure to wait until you have a written confirmation for your requested vehicle reservation prior to making flight or other travel commitments. Bookings can only be confirmed upon receipt of deposit, plus 1-3 business days.
RESERVATION PAYMENTS & DEPOSITS SCHEDULE
Reservations made 90 days or more before travel plans require a deposit to initiate that booking, as outlined below.
Reservations under $1500 require a $250 deposit per person.
Reservations equal to $1500 or more require a $500 deposit per person.
Reservations for travel outside North America require a $1000 deposit per person.
*The total cost (100%) of any remaining balance is due 90 days before the reservation start date, as applicable.