Motorcycle Travel Information & Free Travel Advice for Riders
With the list of Free Motorcycle Travel Information downloads available below, one of our goals at RIDE Adventures is to constantly keep you informed about products, methods, skills, & adventure riding techniques that will help you as a motorcycle rider. In addition to these documents, please feel free to contact us anytime and either ask questions or suggest topics for us to write about that you think are important.
Some of this information about motorcycle travel might be quite basic, especially if you're an experienced rider. For those who are always interested in learning more though, we welcome you to enjoy!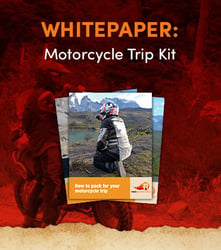 Where do you even begin with packing for a motorcycle trip? If it's a weekend cruise and one-night trip, that's pretty easy to prepare for. A multi-week or even month motorcycle trip though...that's a whole other story! Our Motorcycle Trip Checklist categorizes a wealth of items you'll want to pack, and in some cases includes direct links to opportunities to buy such items. Likewise, we've listed specific items we've had success with where possible, so our time and effort testing and researching these products brings forth insight you can take advantage of. Where we might have missed an item or 2, please keep in mind that only the most "crucial" items made this 4-page checklist.
---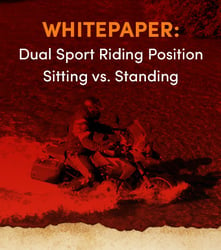 Take advantage of this Free download about the "Pros vs. Cons" of sitting or standing in riding situations. Many rider training courses these days have riders thinking that "Off-Pavement = Standing," but many good riders around the world will assure you, the decision to stand should not be so automatic. Your braking ability, control over the handlebars, hand and foot levers, and much more all change when you move to a standing position, so please take advantage of the useful points in this document and learn to evaluate each riding situation you're in. Afterall, just because the highlight reel from the Dakar Rally coverage shows the riders in a standing position so much, that doesn't mean you need to "Do the Dakar" yourself in every off-road situation!
---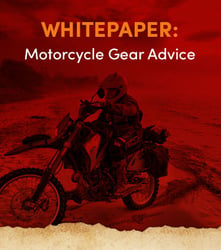 Check out our comprehensive tutorial and recommendations on the motorcycle gear we use in the motorcycle touring business. Between guiding tours and riding to motorcycle rallies, races, and exhibitions all year long, we put on some serious miles and can't spare any "down time" from injuries. That thought, combined with having to deal with every weather condition from freezing cold and wet conditions to the hottest and most humid sub-tropical settings, our dependance on the right motorcycle gear is critical. The "Motorcycle Gear Advice" Whitepaper download starts by listing the riding gear depend on, and goes on to explain some typical errors riders make and our 'philosophy' on choosing the riding gear that we do. Click here to download your free copy.
---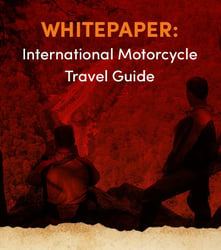 Motorcycle travel by itself might not be that difficult, but if your plans involve crossing international borders, well...that's a whole different motorcycle adventure if you're not prepared!
Now offered as a free download, our International Motorcycle Travel Guide covers a wide range of topics that riders need to consider. Starting with some obvious preparations before you even depart from your homeland, this document also talks about issues like fuel, tire repair, and cash and banking needs while you're abroad. Much of this information really applies for travelers by any mode (bus, rental car, or other) but we made sure to include some insight about how people treat us as motorcycle travelers and important reminders about how to 'carry yourself' amongst other cultures. In many situations your demeanor will be more important than your riding skills, so please feel free to learn more by downloading your free copy here.
---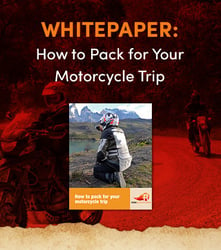 Such an overwhelming topic, yet so much fun to figure out! Some of us are in a situation though where time and money are at a premium, and we don't want to waste any more than we have to (especially when money saved now means more can be spent on local beers on your motorcycle trip!) In the "How to Pack for Your Motorcycle Trip" document, we cover everything from storing your food such that it doesn't become tainted to which kind of luggage you'll want to strap on. Some key tricks and advice for "must have" tools, the right multi-purpose camping equipment, and even some advice about how to carry your spare motorcycle key are all included. Click the image to the right, or this link to download your free copy.
---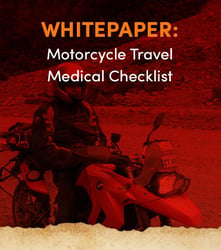 All that planning and anticipation for your amazing motorcycle trip can quickly be squashed when just 1 week into your travels, you end up sick as a dog.
Meant to be a very basic "checklist" of things and thoughts that will help you stay healthy, our Motorcycle Traveler's Medical Checklist was put together in cooperation with Dr. OraLee Branch, a world-renowned epidemiologist. Starting with some of the most obvious reminders about staying clean and avoiding obvious viral sources, the checklist also covers facts about how certain pain relievers can be quite dangerous if taken while suffering specific illnesses. After all, you never know when the slightest little bit of preparation or information could make the difference in the overall success and enjoyment of your motorcycle travel plans! Contact us if we can help and click here to download your free copy.