Contact Us About The Machu Picchu Express Motorcycle Tour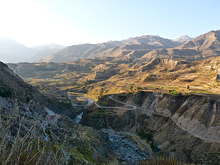 Fill out the form to the right and let's start planning your visit to Peru on the "Machu Picchu Express" motorcycle tour! We'll make sure to answer every question you have before departing for this amazing journey in South America.
Perfect for those riders who prefer paved riding, this motorcycle tour only spends about 10% of the time on dirt/gravel (and that section is OPTIONAL)
Experienced tour guides will help make sure you experience the fascinating culture, cuisine, and traditions of Peru while making it easy to participate in the tour
Throughout the Andes Mountains of South America and Pacific Coast, this trip is a photographic motorcycle traveler's dream come true
In addition to sites like the Nazca Lines, Colca Canyon, and Lake Titicaca, this trip of course includes your visit to Machu Picchu!
*Lars is ready to answer your questions using the Contact Form to the right!