Contact Us About Paved-Route Motorcycle Tour Options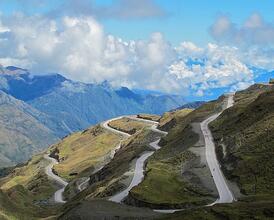 Fill out the form to the right, and let us know which motorcycle trip you're interested in! We have many guided and self-guided touring options that focus on pavement, and can help make sure the trip you're interested in is right for you.
Whether it's a guided or self-guided tour, we'll have the motorcycle rental of your choice waiting at the starting point
Some tours might have a small percentage of light gravel or dirt, but they're typically sections that any rider can handle (please inquire further to confirm)
Because we live amongst these regions, we've researched and ridden all the very best touring options so that you see all the highlights
For the tours in the Southern Hemisphere, remember that it's summer there when it's winter in the north!