Contact Us to Join the Alps Moto Explorer Tour Across Europe!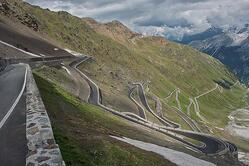 Fill out the form to the right, and start packing your bags for this once-per-year motorcycle trip through Europe! In combination with BMW's Motorrad days held annually in Munich, this will be the ultimate summer of BMW culture and motorcycle riding fun!
The tour group joins in Munich on the Sunday following BMW's Motorrad Days, so enjoy the culture and follow it by riding through Europe!
Combining the best twists, turns, scenery, and famous routes of Europe, we'll be riding the Alps of Austria, Germany, Italy, and Switzerland on this trip
Your motorcycle rental can be included in this package, so don't worry about shipping your own (use the BMW's already here)
We make it easy for you with experienced staff to show you the way, hotels all included, and some of the best restaurant and viewpoint locations just waiting for you!