FREE COPY: HOW TO PACK FOR YOUR MOTORCYCLE TRIP (AND AVOID LOOKING LIKE A HOT MESS ON WHEELS)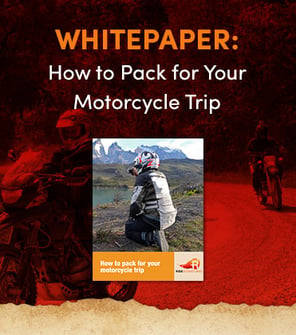 Are you tired of cramming everything but the kitchen sink into your saddlebags and still feeling like you're forgetting something crucial? Fear not, my friend, for we have the answers you seek!
Fill out the form to the right and we'll send you our guide on how to pack for your motorcycle trip like a pro. We'll cover what works, what doesn't, and how to avoid looking like a pack mule.
Here are some key points covered in our guide:
Where to stash your spare ignition key without losing it on the road (hint: not in your underwear)
The pros and cons of topcases, sidecases, and top bags (because you don't want your belongings to fly off your bike like confetti at a parade)
Camping and cooking equipment that doubles as multi-purpose tools (because who doesn't love a good multitasker?)
Don't miss out on this opportunity to pack smarter, not harder. Fill out the form now and let's get you ready for the road ahead!"
Here's more FREE Motorcycle Travel Info you can read while you sort your gear.