Tour Info
SELF GUIDED "FLY & DRIVE" PACKAGES: This page and pricing shown is for your own Self-Guided tour package. As such, you can start this package on any date that you've reserved our available vehicle and hotel package for! When you're ready, we just need to know your arrival date, which vehicle you want to rent, and how many people you are coming with. Once the reservation is set, just show up and DRIVE!

Origin: Arequipa, Peru (AQP airport)
Destination: Cochabamba, Bolivia
Total driving distance: Approximately 2,142 miles (3,447 kilometers)
Duration: 19

Days (2 Arrival/Departure Days, 13 Driving Days and 4 Days of Sightseeing Machu Picchu, Nazca Lines, Floating Islands of the Uros, the Huacachina Oasis, and more

Average driving time per day:

7-9 hours

(including lunches, photos, etc.)
Average distance per driving day: 164 miles (

263 kilometers)

Terrain: Approximately 95% pavement, and 5% hard packed gravel/dirt (NOTE: You can skip this gravel section in the Colca Canyon. Please contact us about customizing your trip if you aren't comfortable with non-paved terrain.)
Included:
18 Nights in nice 3* tourist class hotels with private shower and toilet, including standard breakfast
Vehicle rental for the whole tour, unlimited miles / kilometers
Vehicle Insurance, with a deductible/excess of max. $1,000
Detailed Road Book explaining the road ahead
Garmin GPS
Extensive briefing by our Team
Day-trip to Machu Picchu (Train, bus and entrance tickets + Guide)
Boat cruise on Lake Titicaca to experience the "Floating Island of Uros"
Drop off costs Puno / Pickup costs La Paz
Private Transfer from Puno to La Paz
Airport transfers in Arequipa (AQP) and Cochabamba (CBB)
Not Included:
Flights to Arequipa (AQP) or from Cochabamba (CBB)
All not mentioned entrance-fees for excursions, museums, parks, etc.
Fuel and tolls
All non-mentioned meals or items shown as included
Safety deposit for the rental car: $1,000 (Cash or MasterCard/Visa credit card)
Airport taxes
Personal expenses
Pricing: (In USD, per person)
1 Hotel room / 1 Car:
1 Guest: $6,895
2 Guests: $4,615
3 Guests: $4,075
2 Hotel rooms / 1 Car:
3 Guests: $4,295
4 Guests: $3,825
Upgrades & Extras:
Single room: $750
Luxury Hotel package (4 and 5* Hotels): $800 per person

(Luxury Single Room $1800 per person)

Guided version with private driver/guide: $3,995 per tour
Additional Trip Options (Not Included):
Flight over the Nazca lines: $120
City tour Cusco: $20
Sacred Valley Tour Cusco: $30
City Tour La Paz and Moon Valley: $44
Mine Tour of Cerro Rico in Potosí: $22
*Please keep in mind, spots on these tours can be sold out 6-8 months in advance! Reservations are only confirmed after receipt of the deposit as indicated in our Terms & Conditions.
Interested in This Tour?
Contact Lars Today About the Mighty Andes Overland DRIVE!
Tour Specs
Base Pricing (on 1 Hotel Room | Multiple Occupants | 4x4 Pickup | Manual Transmission): $4075
Days: 19
Driving Days: 13
Rest Days: 4
Countries Visited:
Peru, Bolivia
Highlights:
DISCOUNTS AVAILABLE for multiple occupants and multiple rooms
City of Arequipa (Peru)
The beautiful "White City" in southern Peru
Atacama Desert of Peru
The world's driest desert along the Pacific Ocean
Nazca Lines
Mysterious lines and figures in the pampa from ancient civilizations
High Andes
Adventurous drive to an altitude of 5,000 meters (16,500 feet)
City of Cusco (Peru)
The exciting capital of the ancient Incan Empire
Sacred Valley of the Incas
Absolutely beautiful agricultural valley, leading through ancient burial sites to Machu Picchu
Machu Picchu
World famous lost city of the Incas, and fascinating setting high in the Andes
Lake Titicaca
The world's highest navigable lake
Altiplano Region of the Andes Mountains
The "high plains" region of the largest mountain range in the world
City of

La Paz
Bolivia's "unofficial" capital and largest city with "El Alto" overlooking the metropolis
Coroico - Highland Jungle (Bolivia)
The most dangerous road in the world, "El Camino de la Muerte" or the "Road of Death"
Salar de Uyuni
Largest salt flats on the planet
City of Potosí
Highest city in the world, and silver mining capitol
City of Sucre
Bolivia's political capitol city with a charming plaza de armas in the center
Ché (Guevara) Trail
Off road around La Higuera and Vallegrande
City of Cochabamba
Bolivia's 3rd largest city
Request More Information
The Mighty Andes Overland DRIVE - Self-Guided 4x4 Adventure Travel
If you're not a motorcycle household, or if you RIDE and your partner doesn't, or vice versa, no need to feel left out! With our rugged 4x4 adventure travel packages, you can visit all of the incredible places on this Peru and Bolivia trip whether you do it on two wheels or four.
Reserve your "Mighty Andes Overland Drive" trip package with us, our second longest 4x4 trip available. During this nearly 3-week adventure, you'll see the absolutely stunning sites of Peru and Bolivia from the safety and comfort of a 4x4 pickup or SUV. Our seamless rental processes will have a vehicle waiting for you, all your hotels pre-reserved, along with GPS, maps, and notes that make your dauntless itinerary an easy one to follow.
The costs associated with guided tours aren't for everyone, and neither is the challenge of riding a motorcycle, so contact us to arrange your self-guided 4x4 adventure through the Mighty Andes today!
Itinerary
Day 1 - Arrive in Arequipa
We'll pick you up at the airport, have your hotel room ready for you, and provide a detailed orientation about your trip and 4x4 rental; all part of having a safe and enjoyable adventure! Spend the remaining downtime of your first day enjoying the friendly atmosphere of the "White City" of southern Peru.
Day 2 - Arequipa to Puerto Inca - 255 miles (410km)
Get that motor humming for an early start on this adventurous driving day that will take you along the PanAmerican Highway, the Peruvian/Pacific Coast, all the way to Puerto Inca, passing villages and enjoying breathtaking views. Situated in an amazing location that was once the Incan harbor, your hotel is on a beautiful bay with ruins nearby that are free to visit.
Day 3 - Puerto Inca to Nazca - 110 miles (180km)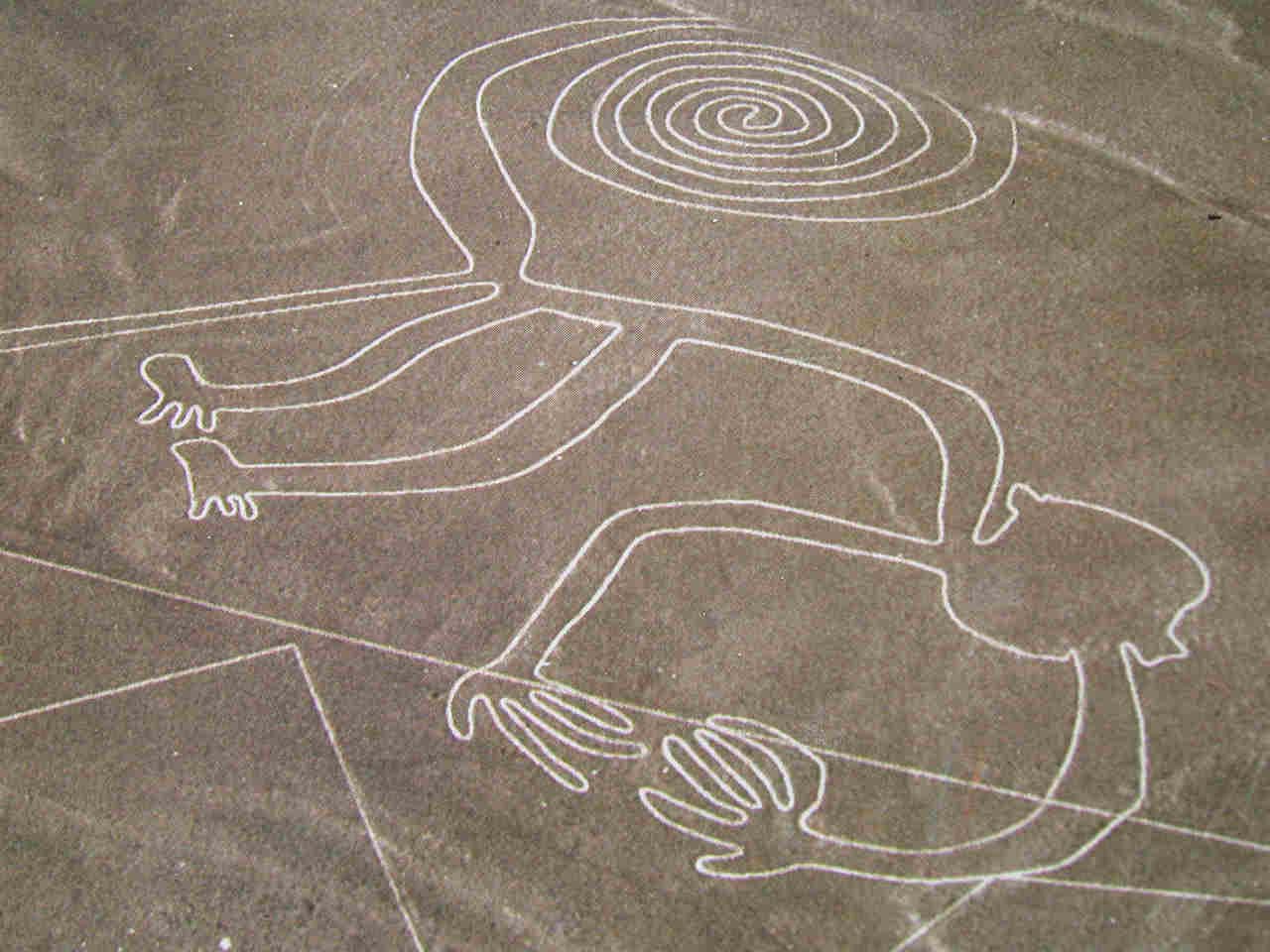 A short drive further on the PanAmerican Highway, through one of the driest deserts in the world, you'll arrive at the town of Nazca, home of the famous Nazca Lines where you'll have the opportnity to see the mysterious historical remnants. The option awaits you to fly over the massive, fascinating Nazca lines, or visit the historical Paradones and Incan aquaducts.
Day 4 - Nazca to Chalhuanca - 225 miles (361km)
Traveling from Nazca to Chalhuanca, up into the mighty Andes, is a true pleasure of South American adventure. Over 14,000 feet in elevation takes you along a drive that'll give you the opportunity to see llamas, alpacas, and vicunas. This particular road is known as the "Dragon's Tale." Pass the tourist-free town of Puquio and head higher to Chalhuanca.

Day 5 - Chalhuanca to Cusco - 190 miles (300km)
Grab an early breakfast and hit the road for a gorgeous sightseeing excusion where you'll arrive at one of the most beautiful cities in South America, Cusco, the ancient capital of the Incan people.
Day 6 - Cusco
The day is yours to explore! Although, you'll likely find that a single day in Cusco isn't enough. Stroll the steep streets, visit the Plaza de Armas, shop in the local markets, and visit the cathedral, museums, ruins of Sacsayhuaman and so much more. See? We told you there wouldn't be enough time to fit it all in. (You'll just have to come back!)
Day 7 - Cusco to Ollantaytambo - 50 miles (80km)
Just a short jaunt here as you drive into the "Sacred Valley of the Incas." Visit a myriad of interesting Incan ruins before your driving day ends in the authentic Incan town of Ollantaytambo, home to an impressive ancient fortress.
Day 8 - Machu Picchu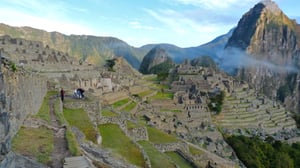 Of all the major highlights on this trip, a visit to Machu Picchu is absolutely at the top of the list. With no main road to Machu Picchu, your only option is to take the train to the town of Aguas Calientes, then another thirty minute bus ride to the citadel entrace.
A visit to Peru would not be complete without an adventure to the world famous lost city of the Incas, where you'll be delighted by the stunning architecture, artifacts, and history. If you can tear yourself away, you'll return to Ollantaytambo by train.
Day 9 - Ollantaytambo to Puno - 250 miles (400km)
Another exciting day of adventure begins as you hit the road once more. You're on your way to Puno, along the shores of Lake Titicaca. To get there, you'll take an extended, marvelous drive over the Altiplano. Have fun traveling through the town of Juliaca, an experience in itself!
Day 10 - Puno to La Paz - 160 miles (260km)
On the morning of Day 10, go for a boat cruise on Lake Titicaca to the world famous "Floating Island of Uros." Enjoy lunch and then say goodbye to your Peruvian rental 4x4 as private transportation whisks you away to the city of La Paz. Your Bolivian rental vehicle will be waiting for your here at the hotel Spend the remainder of your day exploring the city.
Day 11 and 12 - La Paz to Coroico - 65 miles (110km)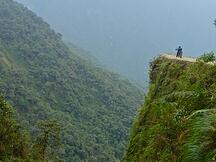 Heading out on another short journey today, traveling from La Paz to Coroico, you'll begin an adventurous climb (on a paved route) to over 15,000 feet (4700m) through the mountains. Hit the peak and then descend into the tropical vegetation on a road that took twenty years to build.
Your drive ends in Coroico where you'll stay in a nice hotel with a pool, then have the next day to rest or explore the town.
Day 13 - Coroico to Oruro - 200 miles (330km)
Depending on your desire for adventure and exploration, you have a choice here today; take the old, unpaved route or head back the way you came through the challenge of La Paz. Back over the Altiplano, you'll head to the mining town of Oruro, a place famous for its carnival, a religious festival over two centuries old.
Day 14 - Oruro to Uyuni - 205 miles (320km)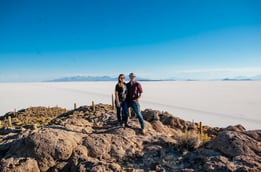 You're back on the Altiplano today with a trip to Uyuni, a town on the shores of the largest salt flats on Earth. Once you're there and settled in, be sure to take an unforgettable drive on the largest salt flats in the world, spanning 11,000 square kilometers. Endless illusionary photo opportunities across the open spaces also remind us that this region has been a crossing point for a few of the Dakar Rally competitions since the international motorcycle, overland truck, and car race first arrived in South America in 2009.
Day 15 and 16 - Uyuni to Potosi - 120 miles (200km)
Are you ready for one of the most beautiful routes on this tour? Especially one that will take you to the highest city in the world, situated at the foot of "Cerro Rico" or "Rich Mountain" named for its silver mining history.
Take the opportunity to visit the medieval silver mine in the mountain or see the oldest mint in South America, just off the Plaza at the city center. This UNESCO World Heritage city is ripe for exploration of any kind.
Day 17 - Potosi to Sucre - 100 miles (160km)
This shorter driving day takes you lower in altitude, down to the lovely city of Sucre where you can relax, OR, take an optional side trip to the dinosaur park just outside of Sucre where you can see actual dinosaur footprints. (It's interesting to note that Sucre is the actual capital of Bolivia, while La Paz is the seat of the government.)
Day 18 - Sucre to Cochabama - 210 miles (340km)
Your final driving day of this amazing, unforgettable journey! You'll spend it cruising along the eastern slopes of the mighty Andes, and then beyond Mizque, enjoy the smooth ride on a newly paved road. The drive ends in the third larget city in Bolivia...Cochabamba, also known as the "City of Eternal Spring."
Day 19 - Cochabamba
We're sad to see you go. Our staff helps you get to the airport on your final day here in Bolivia, but it's just the beginning of the journey home where you'll have a multitude of lasting memories to share with friends and family. Congrats on your successful trip through The Mighty Andes!
---
Minimum Essential Gear for RIDE Training
If you're planning to jump on a guided tour or training with RIDE Adventures, it's essential that you have the right gear. This helps to ensure your safety and the safety of others while on the road.
Not being properly prepared can lead to injuires that could have been avoided. Our guides have created a Minimum Essential Gear Guide if you plan to book a RIDE Adventures. If you don't come minimally prepared there is a chance our guides will prevent you from hopping on a bike. Make sure you're prepared for the adventure.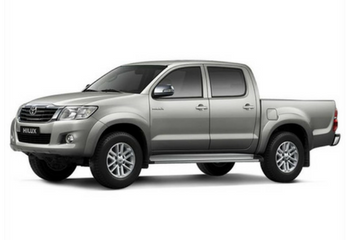 Toyota HiLux Pickup
The Toyota HiLux provides all the safety, comfort, and rugged experience that you'll need on your 4x4 adventure travel in South America.
X
Seat Height:

Curb Weight:

Fuel Capacity:

Displacement: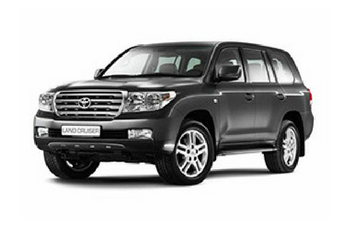 Toyota Land Cruiser
Upgrade to a Toyota Land Cruiser so you can explore the rugged terrain of South America in style!
X
Seat Height:

Curb Weight:

Fuel Capacity:

Displacement: