RIDE PATAGONIA: SELF-GUIDED MOTORCYCLE TRIPS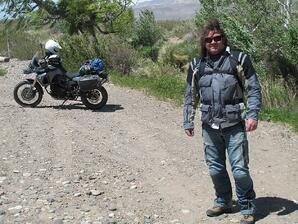 If you're excited about riding in Patagonia, the lowest cost way of having such a motorcycle trip is to do it self-guided!
"The World's Most Expensive Hobby" (motorcycle riding) demands that we're careful with spending when possible. So if you're looking to save money, but still experience the very best riding Patagonia has to offer, why not just grab one of our motorcycles and follow an itinerary we put together for you? This "Do It Yourself" approach can mean you'll spend about half of what the guided tours cost, and perhaps add that certain sense of satisfaction that comes with the "Lone Wolf" spirit of adventure. With helpful services from RIDE Adventures, this is actually quite easy to accomplish.
How To Enjoy a Patagonia Motorcycle Trip on a Budget
Step 1: Choose your motorcycle from this list of options.
Step 2: Contact Us and tell us how many days and the specific dates you'd like to spend traveling (the Patagonia season is only mid-October through March, and can often be sold out by August each year!)
7 Days in Patagonia is typically the minimum to get a feeling for the area
4 to 5 Days is possible, still with great riding if you stay in the north of Patagonia
Plan on having 1 "rest day" every 3-4 days. Trust us, Patagonia will tire you out!
Don't be concerned if you think that 200 miles / 320km per day isn't enough. If you're taking the routes we recommend, this will be

plenty

of riding, even for the most experienced adventure riders. Besides, slowing down to experience and enjoy Patagonia is important, and trust us, you won't want to leave anyway!
Step 3: Be prepared to answer our questions about what else you want included, for example printed notes and turn-by-turn directions, hotel reservation packages, or anything else. We know, the services you want included will probably depend on the prices, but we'll get to that.
Step 4: Our communications with you will make it easy to explain an exact cost based on the services you'd like included, and again, we can help you make sure you're doing this as low-cost as possible
Step 5: Reserve everything through RIDE Adventures right here in the U.S.!
Most Popular Route
Start: Osorno, Chile
Finish: Punta Arenas, Chile
Total distance: 2,618 kilometers (1,626 miles)
Duration: 13 Days (1 Arrival Day, 1 Departure Day, 9 Riding Days and 2 "Rest" Days)
Average riding time per day: 7-9 hours (including lunches, photos, etc.)
Average distance per riding day: 291 kilometers (181 miles)
Terrain: Approximately 50% gravel/dirt and 50% pavement
Highlights: The Andes Mountains, Parque Nacional Los Alerces, Ruta 40, Futaleufú River, The Carretera Austral, Lago General Carrera, Perito Moreno Glacier, Torres del Paine National Park
Possible Rest Day Activities: Rafting, Fly-Fishing, Canopy Tours, Boat Trips to the Marble Caves, Hiking, Horseback Riding, Argentine Wine, Chilean Beer, Watching the Sunset, and Relaxation!