Contact Us About Your Motorcycle or 4x4 Adventure Travel Wishes!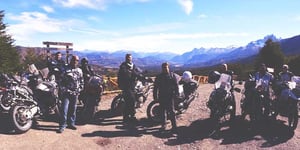 Fill out the form to the right and let us know what your wishes are for your next great motorcycle or 4x4 adventure! Sometimes these decisions require some local expertise on the various packages we offer, so part of our service is to understand what would make YOUR perfect motorcycle trip, and advise accordingly.
We are a U.S. based company with expert Staff, operations, and motorcycle rentals available in all the areas shown on www.rideadv.com
Whether you're looking for paved, non-paved, or mixed dual sport motorcycle riding OR 4x4 travel packages, we can help you figure which trip/route matches your wishes and riding style most closely
We have Guided Group, Self-Guided, and Private Group motorcycle trip packages available in multiple countries for you to choose from
RIDE Adventures Staff has done all the route planning for you through months and years of riding research in the areas shown. Rest assured, that means you'll be seeing the absolute highlight reels of each area!
RIDE Adventures
213 SW Columbia Street, Suite 300
Bend, Oregon 97702