Itinerary
Day 1 - Arrive in Cochabamba
Welcome to Cochabamba, Bolivia, your trip has now begun! Per plans previously announced, we'll be picking everyone up from CBB airport and getting everyone to the first hotel included in the package. Having a chance to meet the other riders and our Staff will help everyone get situated, before we celebrate this adventure ride with an excellent dinner at one of Cochabamba's best restaurants. All the bike fitting and check-in will also take place today, as we've got a big day ahead tomorrow!
Day 2 - Cochabamba to Independencia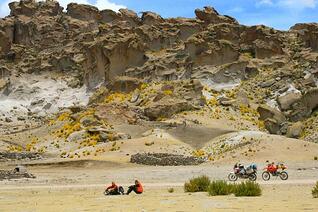 Over the Andes mountains we go! Once everyone is settled in and comfortable with their motorcycle of choice, we'll be getting away from the major city of Cochabamba, and immediately out into the backroads of Bolivia. Amazing views of the remote countryside surround us, and so our adventure begins...
Day 3 - Independencia to Oruro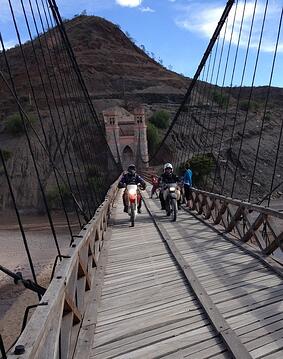 Riding into the Upper Amazon today, you've hired us to show you the best routes for getting around Bolivia, and this is one of them! Glaciers and Plains are the theme today. A pretty easy-going ride on pavement, with a climb up to the gorgeous ancient glacial fields, then on to the Bolivian Altiplano (high plains) which adds further to the incredible variety and experience of this adventure ride. While it's technically "winter months" in this part of the world from May through October or so, those are also some of the driest months of the year for motorcycle riding to be enjoyed. "Summertime" is the rainy season.
Day 4 - Oruro to the Uyuni Salt Flats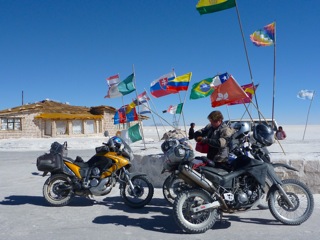 Another incredible day of adventures begins along the shores of Lake Poopo before checking out pre-Incan tombs and then heading out for a RIDE to the Salt Flats of Uyuni, and some incredible experiences ahead.

Day 5 - Salar de Uyuni to San Juan

Riding the world's largest salt flats is an experience like no other, and you'll have plenty of time to do this today! Visiting the remote spaces of the Uyuni Salt Flats and the few islands out in the middle parts allows for photo opportunities and sensations very unique to this motorcycle trip. Keep in mind, there are some potholes and similar out there, so while it's tempting to just "grip it and rip it," do so with caution!
Day 6 - San Juan to Villamar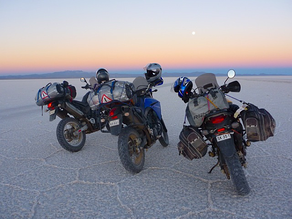 Plenty more semi-maintained dirt roads that expand as far as the eye can see today. Twisting the throttle to climb even further rewards us with a scenic descent through some local villages and facial expressions that might indicate "surprise" by the friendly local people. An arrival in Villamar after a long day of dirt riding will be quite rewarding!

Day 7 – Villamar to Quetena Chico

The "Salvador Dali Desert" as it's called will be quite a site today, combining rock and natural formations that add to this Desert's name. Combined with a soak in the hot springs and some more great dirt riding, you'll be passing Laguna Colorado, mud geyers, and pink flamingos indigenous to the Andes Moutains in this area. Talk about a wild combination of sites, all in one small part of the world!

Day 8 – Quetena Chico to San Pablo de Lipez

Ready for some extreme altitude? The Super Volcano of Uturunco and some riding just short of 6,000m is in store for today, but the challenges of getting there over possible river crossings will lead to views that are absolutely worth the climb. The "climb," afterall, is being done with the simple twist of your wrist! Enjoy your ride, and the climb to the top on this incredible riding day.

Day 9 San Pablo de Lipez to Tupiza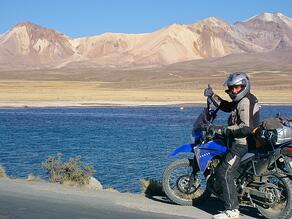 Continuing through a canyon that once hosted a bivouac for the Dakar Rally, the great southwest of Bolivia continues to charm riders with uniqueness. With the name of this tour remaining perfectly appropriate, is there any better way to travel than by motorcycle? The name of this trip was specifcially chosen, as it keeps us so far away from where the majority of travelers experience Bolivia.
Day 10 - Tupiza to Tarija
An easy and beautiful ride today affords us a little relaxation on pavement before heading back to some typically well-maintained dirt roads that expand as far as the eye can see. Twisting the throttle to climb even further rewards us with a scenic descent through some local villages and facial expressions that might indicate "surprise" by the friendly local people. Bolivia's winemaking capitol on the border with Argentina will be our finishing point in the Valley of Tarija.
Day 11 – Rest Day in Tarija
Event the best-conditioned riders and athletes need a pure Rest Day from time to time, and so the laid-back and lovely city of Tarija offers a great spot to do so. With a central plaza featuring nice cafes and restaurants, just take a break, have a glass of wine, enjoy what is probably some good weather, and realize: "I've been riding a motorcycle ... in Bolivia!"

Day 12 – Tarija to Potosi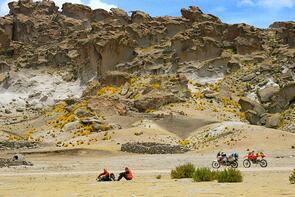 After all this dirt, trust us, some smooth pavement on countless twists and turns will be apprecaited on the way to the UNESCO World Heritage town of Potosi. Bolivia's highest city, and home to silver mining operations, tours of the mines are available for those who choose to.

Day 13 – Potosi to Sucre

With a relaxed start to the day, the local silver or tin mines are an option to visit, or the National Mint Museum there in town. Known as the "White City," an arrival in this beautiful downtown area with plenty of Spanish influence still remaining in white plastered architecture, welcome to the Capitol of Bolivia, and an evening out on the town.

Day 14 – Rest Day in Sucre

A city this large with so much cultural, architectural, and cuisine-related pleasures is too much to hurry through, and even the best-conditioned riders need some rest off the bikes. Enjoy Sucre, and your final Rest Day of the trip.
Day 15 – Sucre to Torotoro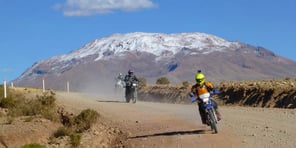 While in Sucre, the people and faces change as is with any major city in the world these days. On the way to Torotoro though, you'll be back out in the most remote countryside of Bolivia, where tiny towns passed through will result in the "turning of some heads" as such riders and bikes are quite a rare surprise. Plenty of altitude changes and great riding once again, all the way to Torotoro for a night to relax.

Day 16 – Torotoro to Cochabamba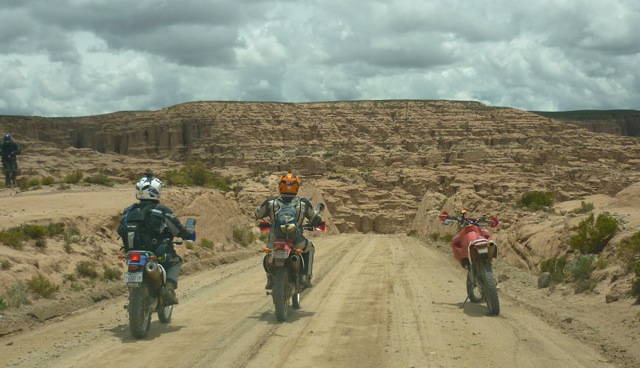 "All good things come to an end," but don't let that thought sadden you on this final riding day back to the final destination. Start the day by viewing the incredible dinosaur footprints that Torotoro is famous for, and then ride on actual cobblestone roads, along rivers, and through the canyon on the way up to the Valley of Cochabamba. Time to celebrate with a final group dinner, as this is one incredible Adventure RIDE you just accomplished!

Day 17 – Departure day, if you must

Riders are welcome to stay and explore Cochabamba further, or we'll be getting you to the airport if you must go. Start organizing all those photos though, and tell your riding friends about what you just did......a full Adventure RIDE through Bolivia!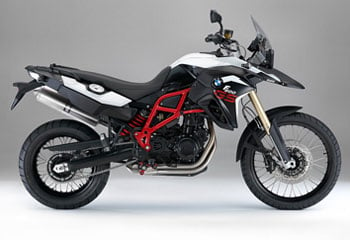 BMW F800GS
Certainly considered the "athlete" of the BMW team, the F800GS can be counted on to carry all your travel gear and still maintain the awesome feeling of a pure off-road machine when you're in the dirt. With over 215mm of suspension travel, the F800GS boasts 85 horsepower from its twin-cylinder engine, and is sure to give an adrenaline rush when you unleash it!
X
Seat Height:
34.6 in
Curb Weight:
472.0 lb
Fuel Capacity:
4.2 gal
Displacement:
798 cc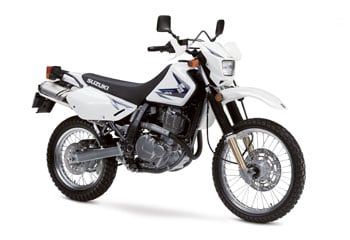 Suzuki DR650
Chosen by adventure riders around the world, Suzuki's DR650, is an excellent bike for adventures rides anywhere. It'll maintain it's power well at altitude, and handle all the dirt and rocks you can throw it's way while still feeling comfortable on those stretches of pavement in between. With a seat height of only 885mm (34.8 inches) its accommodating stature makes this manageable machine easy to handle no matter what the situation.


X
Seat Height:
34.8 in
Curb Weight:
366.0 lb
Fuel Capacity:
3.4 gal
Displacement:
644 cc