Discover Oregon's Stunning Landscapes on the ORBDR
Itinerary
Arrival
Day 1 – Bend to Lakeview or meet us there (175 miles, all pavement) Google Maps Route
Leaving Bend, we will follow an easy, all-pavement, scenic route to Lakeview. Those riders that are traveling from other locations on their own motorcycles can join us from Bend or rendezvous with us in Lakeview.
DAY 2 – ORBDR Section 1: Lakeview to Plush (263 miles - 50% off-pavement)
This morning, we make an early dash to Denio, NV, the official starting point of the ORBDR where the real fun begins. A big day ahead as we cut our teeth on the first section through a vast intermountain valley surrounded by rocky mountain peaks and volcanic plateaus. This region is rich in geological history, featuring ancient lakebeds, lava flows, and erosional landforms shaped by wind and water.
The arid high desert ecology reveals the genius of the natural world. Sagebrush, grasses, and hardy shrubs somehow adapt to these challenging conditions, while the nearby wetlands of the Malheur National Wildlife Refuge provide a critical oasis for migratory birds and waterfowl.
Beatty's Butte is one of the most difficult sections of terrain along the entire route, but if you can make it, the reward is worth the climb. The 360 degree view from this point of the surrounding landscapes is truly spectacular.
Hart Mountain National Antelope Refuge is home to a diverse array of wildlife, from pronghorn antelope to bighorn sheep, amidst a stunning high desert landscape.
Beyond its vast natural allure, Hart Mountain and the surrounding area carries cultural significance, with close ties to the Northern Paiute people and their ancient land stewardship practices. The area's natural resources sustained them for generations, providing sustenance and materials for tools and crafts. The introduction of non-native species and the modern alteration of water flow patterns in the last century, however, are posing ongoing challenges to the delicate balance of the ecosystem.
DAY 3 – ORBDR Section 2: Plush to Christmas Valley (99 miles - mostly off-pavement)
More challenging rough terrain ahead filled with all manner of rocks, sand, ruts, dust and more rocks. Coyote Hills, Hogback Summit and Fandango Canyon are some of the highlight areas along the route today that offer up more fantastic riding opportunities.
Traveling over these remote and rugged old roads, it's hard not to ponder the incredibly arduous trek the pioneers endured in search of new beginnings. The journey was not an easy one, traveling for several months in rudimentary wagons often pulled by teams of oxen, horses, or mules over impossibly harsh terrain. Braving the scorching heat of the prairies, the biting cold of the mountains, scarce resources and the constant threat of disease tested and proved their determination and resilience.
Wagons formed long lines, forging a path that would shape the future of the American West. Along the way, they discovered the same breathtaking landscapes, encountered abundant wildlife, and witnessed the grandeur of this untamed territory.
Oh yes, and of course gold! As one story goes of the "Lost Blue Bucket Mine", which tells of pioneers in Oregon who discovered a cave filled with gold which they piled high in blue buckets. But before they got out a rockslide sealed the cave's entrance and only a small gap remained open for them to escape, leaving the buckets trapped inside. Attempting to return another day, the cave seemed to have vanished and despite a lifetime of efforts, could not relocate their blue buckets of gold. They shared the tale of the lost mine, but its exact location remains unknown.
DAY 4 – ORBDR Section 3 & first half of 4: Christmas Valley to Bend (140 miles - mostly off-pavement)
Millions of years ago tectonic shifting of the North American Plate kicked off volcanic activity slowly shaping the Cascade Mountain Range. It's no wonder this area is littered with ancient volcanoes and the accumulation of lava flows, lava tubes, lava caves and cinder cones. Today's highlights are evidence of this ancient volcanic activity.
The Crack in the Ground is a long, narrow volcanic fissure formed by volcanic activity and possibly earthquakes. The Crack stretches for about two miles, reaching depths of up to 70 feet and widths up to 20 feet.
Four Craters Lava Bed Wilderness is named after the four distinct cinder cones that dot the terrain. Cinder cones are formed by explosive eruptions that eject fragments of magma into the air, which then fall back to the ground and pile up, creating cone-shaped formations.
Squaw Ridge Lava Bed Wilderness is known for, you guessed it, more ancient lava flows, cones, caves and tubes. Lava tubes and caves are formed when the outer layer of lava cooled and solidified while the molten lava inside continued to flow.
Pine Mountain is a volcanic peak that rises to an elevation of approximately 6,500 feet and offers breathtaking panoramic views of the surrounding landscape.
Newberry Crater, also known as Newberry Caldera, is one of the largest and most diverse craters in the U.S. The large basin-like depression formed by the collapse of the volcano's summit area. It spans approximately 17 square miles and is now home to two picturesque natural lakes, Paulina and East Lake, boasting deep, crystal-clear water surrounded by volcanic cliffs and dense forests. Approximately 80k years ago, these lakes began accumulated rain and snow melt creating a rich habitat for wildlife and vegetation.
Paulina Peak is the highest point within the Newberry Crater and offers breathtaking views of the surrounding volcanic landscape. Rising to an elevation of 7,985 feet, it provides a stunning vantage point overlooking the crater, the twin lakes and the Cascade Mountain Range.
Mt. Bachelor is a relatively very young stratovolcano estimated to be only around 10-15k years old. Its formation began with the eruption of basaltic lava flows, which were then overlain by layers of andesitic and dacitic lavas and pyroclastic deposits. Today Mt. Bachelor serves as a popular ski resort, outdoor recreational area and beautiful backdrop to the surrounding area.
Deschutes River flows from the nearby Cascade Mountains and finally merges with the Columbia River 250 miles later. The river plays a vital role in the culture of the Warm Springs, Wasco, and Paiute Peoples. Historically, the river provided an abundance of fishing, irrigation, transportation and trade opportunities. The river also facilitated early European exploration and served as a trade route during the era of fur trapping and trading.
DAY 5 – ORBDR Section 4 & second half of 5: Bend to Detroit Lake (116 miles - mostly off-pavement)
The Three Sisters Mountains (stratovolcanoes), nicknamed "Faith" (North Sister, 10,085 feet), "Hope" (Middle Sister, 10,047 feet) and "Charity" (South Sister, 10,358 feet) stand tall and proud, dominating the skyline and extending their majestic shadows as an invitation and welcome into the Cascade Range.

40k years ago, the constant advance and retreat of glacial ice sheets began carving valleys, creating moraines and depositing sediment across the landscape. As the climate began to shift about 10k years ago, the glaciers subsided, leaving behind glacial valleys, alpine meadows, alpine and subalpine habitats, mixed conifer and old-growth forests. These distinct habitats are home to diverse wildlife, notably the black bear, elk, deer, mountain goat, cougar, bobcat, a multitude of bird species including the famous spotted owl, iconic peregrine falcon and bald eagle, as well as salmon and steelhead.

Three Creeks Lake is a picturesque alpine lake with crystal clear turquoise water, originally created by glacial activity. It gets its name from the three creeks that feed into it from the Three Sisters Mountains.

Look for Mt Washington (stratovolcano reaching 7,794 feet), Mt Jefferson (stratovolcano reaching 10,497 feet, 2nd highest peak in the state) and Three Fingered Jack (shield volcano reaching 7,844 feet)

In a relatively short time, the region suffered irreversible damage and loss as a result of land clearing for agriculture, livestock and urban development, logging exploitations, dam-building and more. Newly arrived non-native generations either did not comprehend the impact of their actions and policies on the environment, despite warnings from those with generations of ancestral stewardship, or simply turned a blind eye for profit. Quickly adding up to massive deforestation and pollution and depletion of vital waterways and wetlands. Unleashing a catastrophic domino effect compromising plant and animal habitats and the delicate balance of their ecosystems, fragmentation of wildlife populations and ultimately reduced overall biodiversity. Adding fuel to the fire.

Between 2001-2020, an average of 409,000 acres of forest burned annually, with annual numbers increasing significantly in recent years. In 2020 alone over 1 million acres of forest burned, more than double the annual average. The sun was hidden behind thick black smoke and ash for months, 40k residents were evacuated, 4k homes were destroyed and 11 people were killed. The cost to fight the fires was over $350 million and the estimated damages over $1 billion, not including the economic cost of lost tourism and other crucial revenue to local businesses.
DAY 6 – ORBDR Section 6: Detroit Lake to Government Camp (90 miles - mostly off-pavement)
Although we already crossed the Pacific Crest Trail (PCT) once near Sisters, today we ride nearly parallel with it and cross back over it a few more times. The PCT is one of the most iconic and popular long-distance hiking trails in the United States. It stretches 2,650 miles from the U.S.-Mexico border to the U.S.-Canada border. It traverses through three western states: California, Oregon, and Washington.

Opal Creek Wilderness, boasts lush old-growth forests, clear creeks, waterfalls, and rocky cliffs. These ancient forests are some of the last remaining stands of uncut old-growth timber in the Pacific Northwest. Towering Douglas firs, Western red cedars, and Western hemlocks dominate the landscape, creating a diverse and vibrant ecosystem.

Mount Hood is another dormant stratovolcano, it stands as the highest peak in Oregon reaching an elevation of 11,249 feet. It's no wonder it is a prominent landmark and an iconic symbol of the state of Oregon. The snow capped peak has several glaciers, including the Eliot Glacier, Reid Glacier, and Sandy Glacier, which contribute to its distinct appearance.
DAY 7 – ORBDR Section 7: Government Camp to Hood River (79 miles - mostly off-pavement)
With Mt. Hood in our rear views, and the finish line just ahead, the final section of the ORBDR is loaded with great riding and some spectacular highlights to end with a bang.

Surveyor's Ridge offers impressive panoramic vistas of the surrounding landscapes with amazing views of Hood River Valley, the Columbia River Gorge, Mt. Adams and of course Mount Hood.

Columbia River Gorge is a unique geological formation resulting from the catastrophic Missoula Floods that occurred during the last ice age. These massive floods, caused by the breaking of ice dams in what is now Montana, carved out the steep cliffs and canyons that make up the gorge. The gorge stretches for approximately 80 miles along the Columbia River, starting from the east of Portland and extending into Washington state. The width of the gorge varies from 4 to 18 miles. The area was designated as a National Scenic Area in 1986, making it one of the largest protected areas in the United States. Massive picturesque waterfalls including Multnomah Falls, Wahkeena Falls, Horsetail Falls, and Bridal Veil Falls attract non-stop visitors. The strong and consistent "Gorge Winds" make the Columbia River Gorge one of the top locations in the world for kiteboarding and windsurfing.

Mt. Adams, while not in the State of Oregon, will be the perfect backdrop as we round out the ORBDR, an invitation to start thinking about riding the WABDR next. Mt. Adams is another stratovolcano and the second tallest peak in Washington at 12,281 feet. Its most recent eruption was only 1,400 years ago.

As we navigate our way on the last section, ever closer to the complexities of our modern lives, let us reflect on what we just experienced. Contemplating the exciting and challenging journey over this last week. Remembering the pioneers journey through this beautiful and rugged country. Drawing inspiration from their courage to leave everything behind and perseverance through unbelievable hardships to achieve a new life of promise.

Let us acknowledge and honor the heritage, wisdom and traditions of the Native Peoples who are the ancient stewards and guardians of this land. They lived in harmony and communion with the natural world, honoring the delicate balance between giving and taking. Their deep connection to the earth holds lessons that resonate with us even today. May we humbly receive them and learn such balance, as we are all stewards and guardians of this land.
DAY 8 – Hood River back to Bend or split off at your convenience (191 miles, all pavement scenic route) Google Maps Scenic Route
Wow, what a RIDE! Congratulations on conquering the Oregon BDR. Today's option will be to ride with us back to Bend following less traveled scenic roads (all pavement), or split off and go your own direction.

Thank you for joining us and putting your faith in RIDE Adventures. We appreciate you and hope you had a stellar experience. See you on the next one!
Minimum Essential Gear for RIDE Training
If you're planning to jump on a guided tour or training with RIDE Adventures, it's essential that you have the right gear. This helps to ensure your safety and the safety of others while on the road.
Not being properly prepared can lead to injuires that could have been avoided. Our guides have created a Minimum Essential Gear Guide if you plan to book a RIDE Adventures. If you don't come minimally prepared there is a chance our guides will prevent you from hopping on a bike. Make sure you're prepared for the adventure.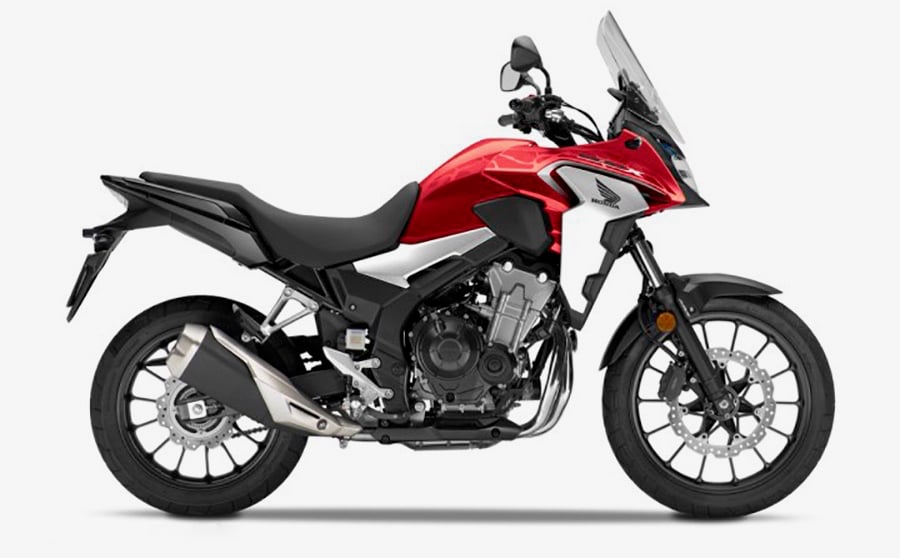 2019+ Honda CB500x
Another recent assertion by Honda Motorcycles into the Adventure Riding world, riders seeking a compact-sized adventure bike have been raving about the CB500X. With plenty of power emanating from the parallel-twin engine, and an agile disposition, everything from paved twisties to gravel, dirt, and sand can be conquered with this fun adventuring option. Starting in 2019 with the 19" front wheel, this bike has proven itself for us in places like Patagonia, and will be a great option for riders exploring beyond.
Wet Weight - 430lbs
Seat Height - 32.7 inches
Fuel Capacity - 4.6 gal
X
Seat Height:
32.7 in
Curb Weight:
430lbs
Fuel Capacity:
4.6 gal
Displacement:
471cc Parallel Twin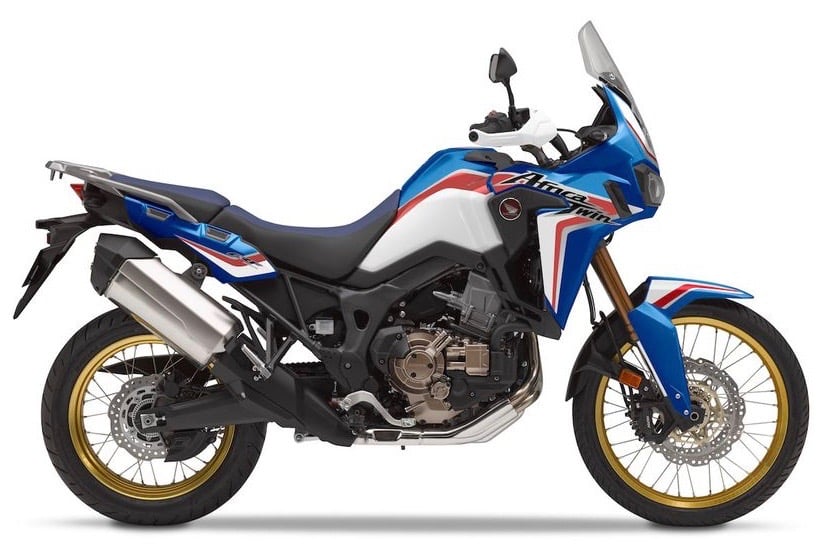 Honda Africa Twin
Finally, the return of a legend! The long awaited, and thoroughly updated Africa Twin by Honda has been talked about for years, finally making itself available in various markets around the world in 2015. With a four-valve Unicam® cylinder head 998cc parallel twin engine, more power than an adventure rider could ever need is available along with suspension travel and ground clearance to handle the most remote and rugged terrains and pathways.
X
Seat Height:
33.5/34.3 in
Curb Weight:
511 lb
Fuel Capacity:
4.96 gal
Displacement:
998 cc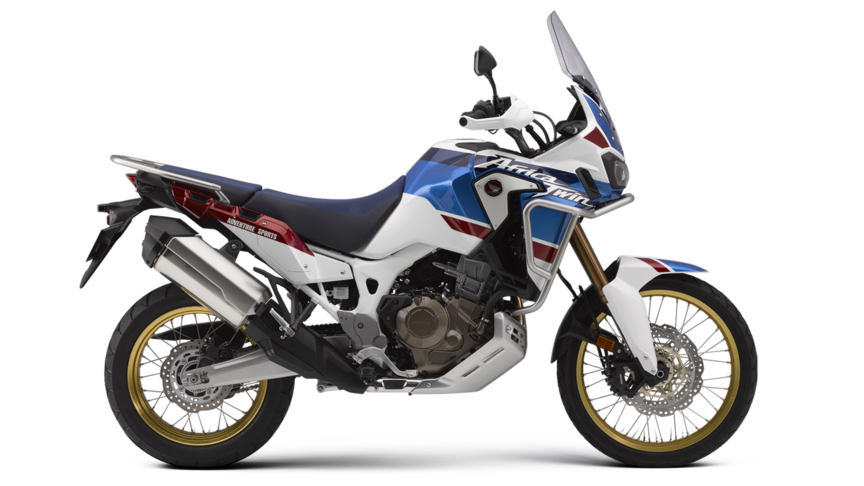 Honda Africa Twin Adventure Sports
Finally, the return of a legend, and this version, a little bit more prepared for long adventure rides than it's smaller twin. The long awaited, and thoroughly updated Africa Twin by Honda finally became available in rental fleets around the world in 2015, forever winning our hearts over with incredible reliability while being extremely fun to ride the first few seasons. This "Adventure Sports" version is about an inch taller with 1.5 gallons greater fuel capacity than the standard Africa Twin. With a four-valve Unicam® cylinder head 998cc parallel twin engine, more power than an adventure rider could ever need is available along with suspension travel and ground clearance to handle the most remote and rugged terrains and routes.
X
Seat Height:
35.4/36.2 in
Curb Weight:
533 lb
Fuel Capacity:
6.4 gal
Displacement:
998 cc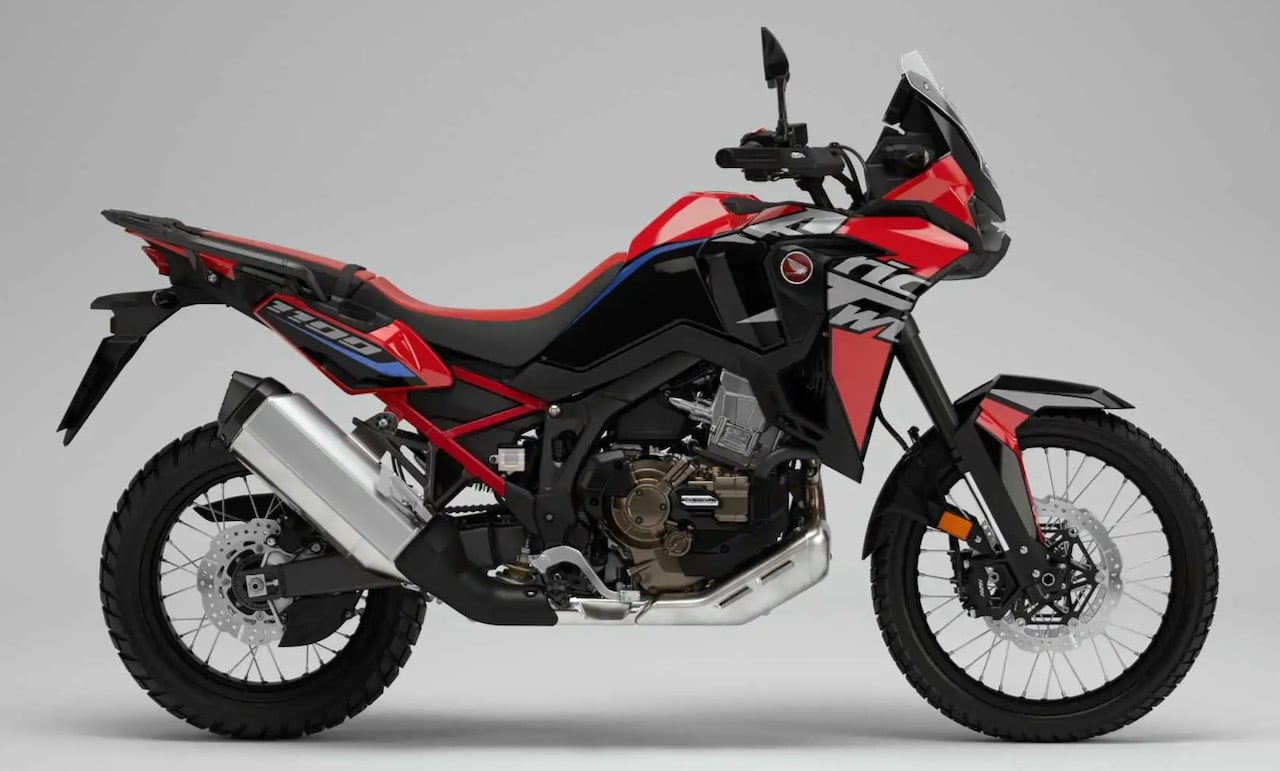 Honda Africa Twin CRF1100 (2020+)
Just a few years after this legendary bike was reintroduced as a 1000cc world traveler in 2016, Honda made the Africa Twin CRF 1100 just a little bit better starting the 2020 model year. With four-valve Unicam® cylinder heads atop a 22.5degree parallel-twin engine, more power than an adventure rider could ever need is available along with suspension travel and ground clearance to handle the most remote and rugged terrains and pathways. An upgraded electronics package vs. the previous version includes cruise control, a 6-axis IMU (Inertial Measurement Unit,) and a 6.5 inch touchscreen display with Bluetooth integration. Pack it up for a long trip, or take the bags off for a day on the trails, nothing but fun lies ahead!
X
Seat Height:
33.5/34.3 in
Curb Weight:
505 lb
Fuel Capacity:
5.0 gal
Displacement:
1084 cc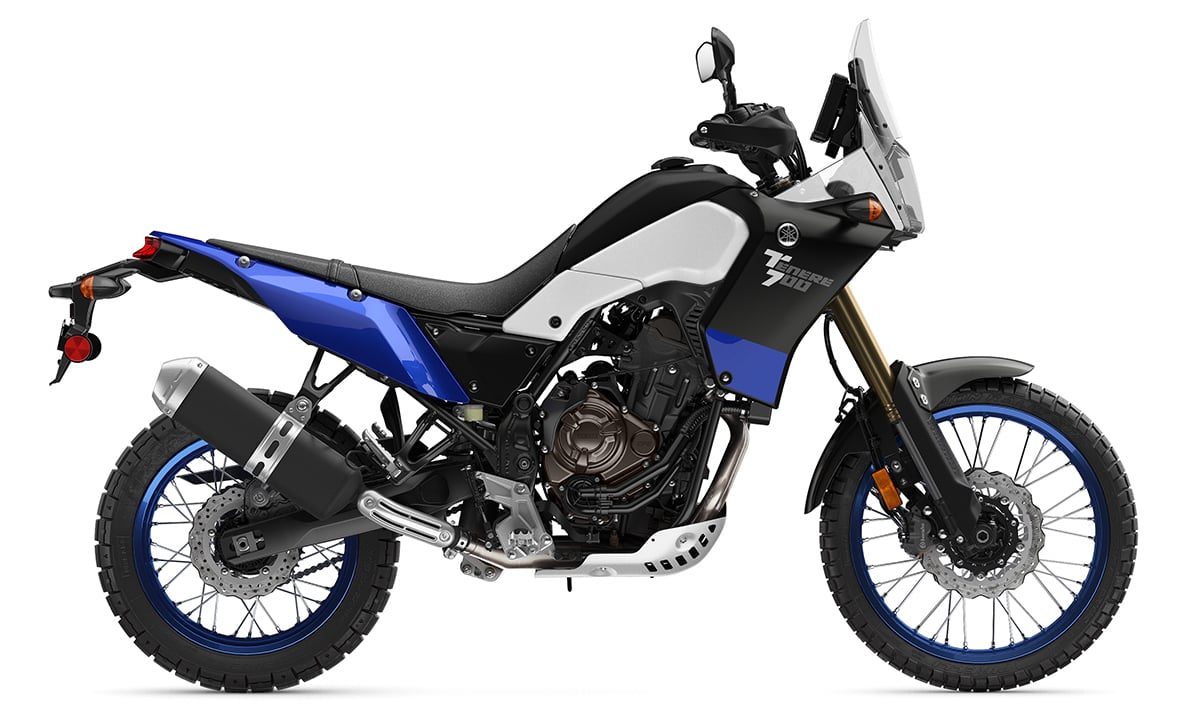 Yamaha Ténéré 700
This highly-anticipated "masterpiece of value" has finally been released, giving dual sport adventure riders around the world one more incredible middle-weight adventure bike to choose from. With 73+ smooth, linear horsepower pouring through one of most beautiful exhaust notes out there, the Ténéré 700's unique anti-squat design puts that power into the ground, instead of into the rear shock. The result is one of the best handling, adventure bikes on the market, all backed by typical Yamaha-reliability. Take this agile machine on short trips or long, paved twisties or dirt roads, and know that this may be as close to the "perfect" adventure bike as we have seen in a while. With an attractive entry price, and corresponding rental rate, we expect the number of Ténéré 700's in our fleet operations to grow steadily and remain a factor for a long time.
X
Seat Height:
34.4 in / 874mm
Curb Weight:
452 lb / 205kg
Fuel Capacity:
4.2 gal
Displacement:
689 cc