Follow the Dakar Rally by motorcycle in 2015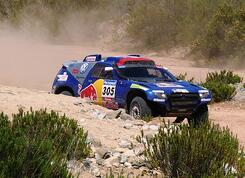 "The Dakar."
A race with a reputation so forthcoming it's being referred to without the word "Rally" tied to it.
A race so unforgiving that just finishing it is considered an accomplishment.
A race that you now have the opportunity to follow as it charges it's way across South America!!!
---
2015 "Follow the Dakar" Tour
Total 14 days
Route Type: Mix of paved and unpaved terrain
Cost: $4,250 USD per rider ($3,150 passenger/pillion)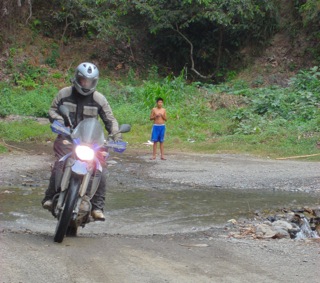 Includes:
2 staff (1 lead rider, one support vehicle driver)
Motorcycle hire (Suzuki DR650,) fuel and insurance
Support vehicle for luggage, spares, fuel etc.
All accommodation (twinshare), meals and non-alcoholic beverages. Single room supplement available on request.
Airport transfers in Cochabamba
Not Included:
Alcohol
Hotel costs such as internet, phone bills, laundry
Fines
Any race fees such as bivouac entries, merchandise etc
Food, drinks outside that provided
Items not specified as included
***Any or all of this itinerary subject to change as ASO reveal Dakar plans in detail.
---
Day 1 – January 3rd - Arrival in Cochabamba, Bolivia
If time allows we'll enjoy a short shakedown ride including a visit to the Christ statue with spectacular views over the city of Cochabamba. We'll enjoy dinner together to kick off the tour.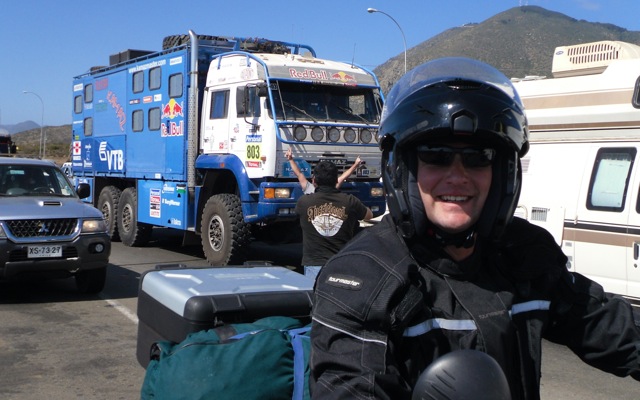 Day 2 – January 4th - Ride to Vallegrande
Today's ride is a great way to start the ride. We settle in with some great paved roads and then join a wide, smooth, winding gravel road. We climb to nearly 3500metres before arriving at our overnight destination of Vallegrande, the beginning of the Che Guevara trail, at just over 1500m above sea level. We'll see a great variety of landscapes, experience various different climates and observe the difference between highland and lowland living.
Day 3 – January 5th - Che Tour and Ride to La Higuera
We'll start the day with a tour of Vallegrande, made famous by Che Guevara. This is where his body was displayed to the world and is the site of his secret burial. We'll also visit the impressive mausoleum built once his grave was finally found along with the graves of several of his fellow guerillas.
In the afternoon we'll take a short ride through stunning, remote country to the small village of La Higuera where Che was actually assassinated. We'll overnight here in "La Casa del Telegrafista" a wonderfully rustic boutique hotel hosted by a French lady who oversaw the restoration of this historic building.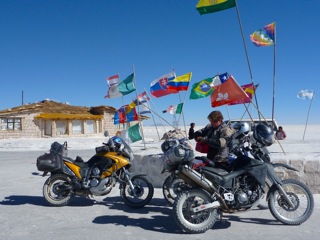 Day 4 – January 6th - Ride to Sucre – Bolivia's most beautiful city and UNESCO World Heritage Site
An awesome day's riding in store today. Blair Simser called this "the best adventure riding road in the world"! A good few hours on dirt dropping steeply to a river valley, through an abandoned gold mining town and then a long climb up to over 3000metres. We'll lunch in true local style in a small town before riding the last few kms on dirt and then joining a fabulous paved road that winds its way up into the altiplano (high plains) of Bolivia and into Bolivia's prettiest city of Sucre.
Day 5 – January 7th - Free morning in Sucre before an easy afternoon ride to Potosi
Sucre is truly a beautiful city with plenty to see and do. There is tons of history here and some great museums to visit or just sit and enjoy a good café. We'll have the morning off to enjoy some free time to do as you please.
In the afternoon we'll ride another stunning paved road that winds its way up and down mountains, ending at the city of Potosi, just over 4000m above sea level!
Day 6 – January 8th - Potosi mine tour in the morning, ride to Uyuni in the afternoon
First thing in the morning we'll head into the famous Cerro Rico Tin and Silver mine of Potosi. Once the richest silver mines in the world, this 'hill' single handedly propped up the Spanish empire. So much silver was taken from it by the Spanish it's been suggested they could have built a bridge of pure silver from Bolivia to Spain and still had enough silver to take across it! The mining conditions, though, are desperate and dangerous. Be prepared to have your eyes opened by the living and working conditions of the many Bolivian families scratching out a living from what's left. In the afternoon, we'll ride to the city of Uyuni on the edge of the famous Salt Pans and home of the Dakar bivouac.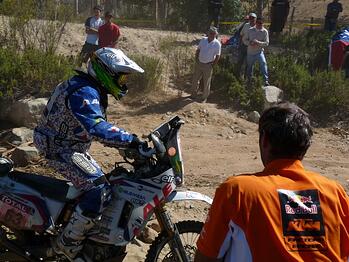 Day 7 – January 9th
Ride into Dakar stage, set up camp. Accommodation: Camping
Day 8 – January 10th
Watch racers come through stage. Accommodation: Camping
Day 9 – January 11th
Watch racers come through stage. Accommodation: Camping
Day 10 – January 12th
Watch racers come through stage. Accommodation: Camping
Day 11 - January 13th
Leave Dakar rally stage and head for the edge of the salt pans where we will stay in a hotel constructed entirely of salt – salt walls, salt bed, salt chairs, salt table… Oh and did I mention it is at the foot of a volcano?
Day 12 - January 14th - Salt Pans to Oruro
Some great roads in the morning as we skirt the salt pans on our way to Oruro. We are truly in a remote area where people are living in a very basic manner. We'll ride past an impressive meteorite crater and then out onto the main highway for lunch and a final couple of hours to our overnight destination.
Day 13 - January 15th
A special treat is in store for our final day. We follow a long abandoned railway where it seems time stopped the day the train stopped coming through. Old water tanks can be seen along the railway, stations and other rail buildings are still standing, and the people living in the towns are delighted to see us.
Day 14 - January 16th
Flights home