Contact Us About Your Motorcycle Travel Wishes!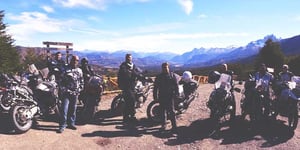 Fill out the form to the right and let us know how we can help you prepare for a great motorcycle trip! Whether it's choosing the right motorcycle rental, helping you figure the best itinerary, or preparing hotel reservations for you, we are here to help and reserve your trip for you!
We are a U.S. based operation that can help you with motorcycle travel plans around the world
Whether you're looking for paved, non-paved, or mixed dual sport motorcycle riding, we've can show you what's available
If you want a guided or self-guided trip, we have both options available in multiple countries
Rest assured, by relying on RIDE Adventures, you'll be advised on the best possible routes and terrains per each riding area!