Guided Group Tour "RIDE the 3 Corners: Argentina, Bolivia & Chile"
Itinerary
Day 1 - Arrival in Santiago (SCL) and then Antofagasta, Chile (ANF airport)
WELCOME TO CHILE! Hopefully your travel plans allowed you to explore Chile's capital city of Santiago, but either way, plan on being in Antofagasta this day that marks the beginning of your motorcyce trip in The Andes. At least make your flight plans such that you can explore this city that thrives on copper and other nearby mining operations, and is one of the many prosperous cities in the strong nation of Chile right now. With this Guided Troup Tour package, we'll be picking you up from the airport and heading to our pre-trip briefing and Welcome Dinner to set things up for the journey ahead. Just keep your adrenaline and excitement under control though, as there's quite an adventure RIDE ahead to stay fresh for!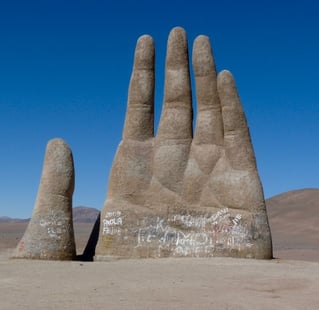 Day 2 - Antofagasta to San Pedro de Atacama - 419km
Having been properly introduced to the motorcycle of your choice, and after all questions are answered, it's time to start riding into the Andes Mountains of South America!
As this you rise from the Pacific Ocean through the Atacama Desert and into the Andes, you're experiencing first-hand what the driest desert in the world like. The nearby "Mano del Desierto" (Hand of the Desert) has been a fixture in adventure riding photography for years now, and makes for a fun start to this trip. With some of the clearest skies on planet earth, San Pedro is home to the A.L.M.A. Observatory (Atacama Large Millimieter Array) for reasons of altitude and low moisture content in the atmosphere. To Adventure Riders, this means some of the bluest skies you'll ever see will lead you into this town full of other geological phenomenon. Crossing a salt flat with views of Andean Flamingos and Volcano Licancabur at 5858 meters nearby, all makes for a 1st day's ride never to be forgotten.
Keep in mind also that you're riding the region that Dakar Rally competitors have been raiding since the famous African race first arrived in the Andes Mountains in 2009. Now you can visualize the rugged conditions that all the car, motorcycle, and truck drivers have been facing all these years. Welcome to the Atacama Desert!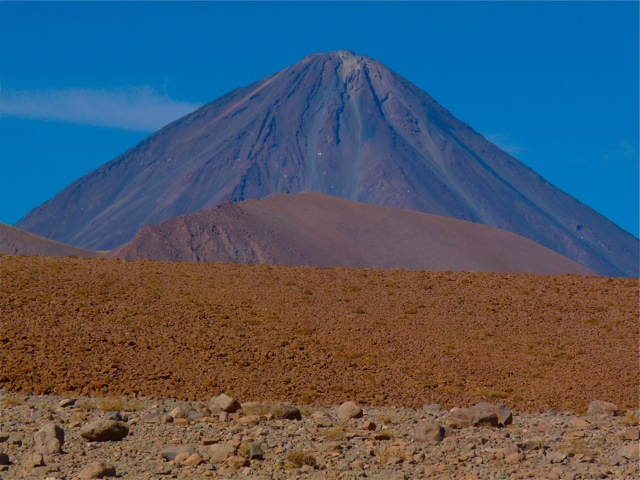 Day 3 - Exploring San Pedro de Atacama - 50-100km
This small town with so much too offer would be a shame to blaze through, so this day is devoted to local exploration of geological phenomenon. The Tatio Geysers, the Valley of the Moon, nearby Salt Flats, Rainbow Valley, ALL are sites too great to miss, so enjoy it all beneath that bright blue sky before settling back into this tiny Andean village for the night. Plenty of shopping for local arts & crafts would also be a good idea here.
Day 4 - San Pedro de Atacama to Uyuni, Bolivia - 535km
Feel free to yell it out loud in your helmet: "I'm riding in Bolivia. I'm riding a motorcycle ... IN BOLIVIA!" The excitement of riding in a country as rarely traveled as Bolivia cannot be understated, as this mysterious yet beautiful land-locked country still has yet to reach its tourism potential. (Such would be true for Argentina and Chile for that matter.) Alas, today's ride to even higher elevations is gradual so that riders can adjust to the altitude while capturing photos of the amazing Andean colors and formation along the way. With the Salar de Uyuni (Uyuni Salt Flats) in the distance, the day's ride ends at the edge of this vast landscape to spend 2 nights in a hotel made entirely of salt. The floors, foundation, walls, and furniture, are all hand-carved from the same flats that you get to ride on tomorrow.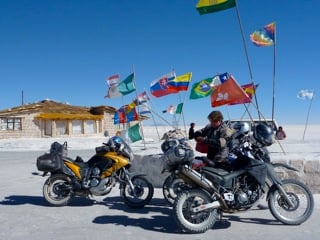 Day 5 - Touring the Uyuni Salt Flats - 200-250km
"Wide Open Spaces + Motorcycles = Endless Possibilities," right? The World's Largest Salt Flat awaits the twist of your throttle, and the snap of your camera. A ride out to the Isla Incahuasi and Isla del Pescado, and the Tunupa Volcano further north brings a sensation like no other, as the "nothingness" in all directions seems surreal. Watch out as you ride though, as cracks and potholes in the otherwise flat salt pan are definitely present, and can gobble-up a rider who is getting carried away with it all. Returning back after a fun day of exploring and trick photography, the same salt-made hotel set you up for more incredible riding ahead.
Day 6 - Uyuni to Tupiza, Bolivia - 440km
One of the most stunning rides in all of Latin America will take up the morning hours, as the ride slithers through an amazing array of colorful rock formations and scenery so incredible that it seems artificial. (Out of respect for the Tail of the Dragon in North Carolina, we're lovingly calling this set of twistiies "The Tail of the Alpaca.") The day's ride passes through the UNESCO World Heritage Site of Potosí for a lunch stop, and depending on progress this day, a tour down the rail cars into the silver mines that made this town famous is possible. Potosí is also one of the world's highest cities at 4,090m in altitude. - Continuing into the afternoon, more canyon riding and red stone rock formations form a path to the town of Tupiza, just north of Argentina, and a vibrant & fun town to spend the night in.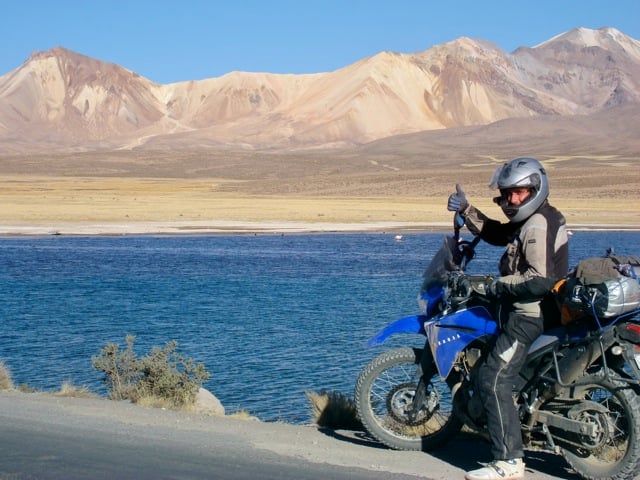 Day 7 - Tupiza, Bolivia to Salta, Argentina - 490km
Welcome to Argentina! Leaving the unimaginable scenery of Bolivia behind means ... now we get to enjoy the stunning scenery of northern Argentina in the Andes Mountains, so it's a pretty good trade-off. Simple scenery around the border of these countries quickly gives way to more mountains, vegetation, and a bit more in the way of wildlife. Utilizing sections of the famous Ruta 40 in Argentina the ride continues through the colorful Quebrada de Humahuaca, and eventually a route we're calling "The Tail of the Llama" as a play on the Tail of the Dragon in North Carolina. This seemingly endless array twists & turns will be a welcome part of any Rider's arrival in Salta.
Day 8 - Salta to Cafayate, Argentina - 190 km
After a night out on the town, enjoy a rolling RIDE through farmlands and agricultural regions before red stand stone formations like the "Garganta del Diablo" is within site. This "Throat of the Devil" is a must see natural arrangement, along with "El Anfiteatro" (The Theatre) and "Las Ventanas" (The Windows) will all be marked on your Road Book as sites not to be missed. Cafayate is in the heart of Argentine wine country, and as such, accommodations and dining will reflect such opportunities.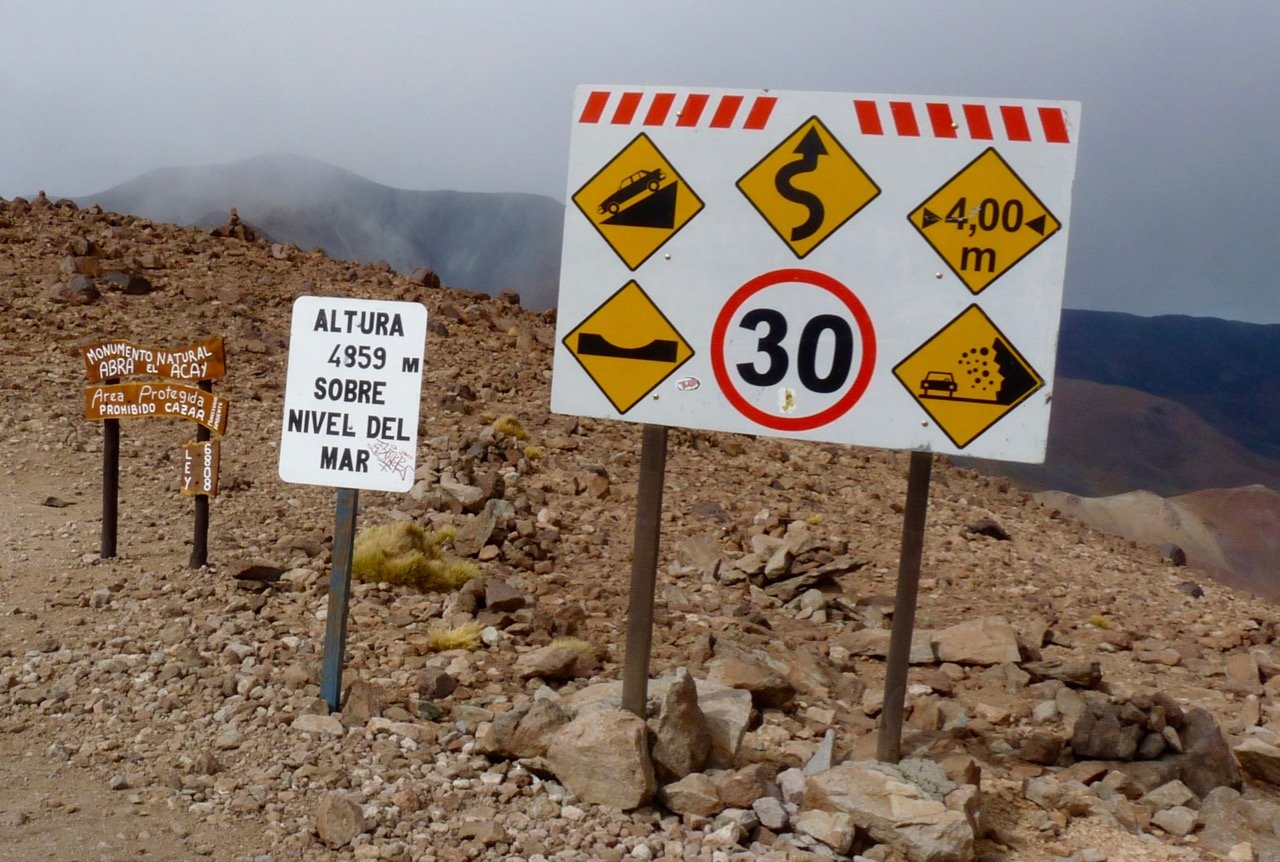 Day 9 - Cafayate to Cachi, and "Abra del Acay" - 150-250km
Some raw, rugged, off-pavement riding awaits riders on this loop through northern Argentina and a fairly short ride to Cachi. Enjoy lunch in town, but if energy levels and your adjusting to altitude permit, head up the "Abra del Acay," which is the highest point along the Ruta 40 at 4,972m in altutude (despite the famously inaccurate sign claiming less.) RIDE Adventures Founder, Eric Lange, reported this ride as being one of his "3 Greatest 1-Day Rides" of all time, on the heels of living, working, and riding in South America. (See near the bottom of that blog post.) Just remember to keep your jaw from dropping as you climb this surreal route and return to Cachi for the night.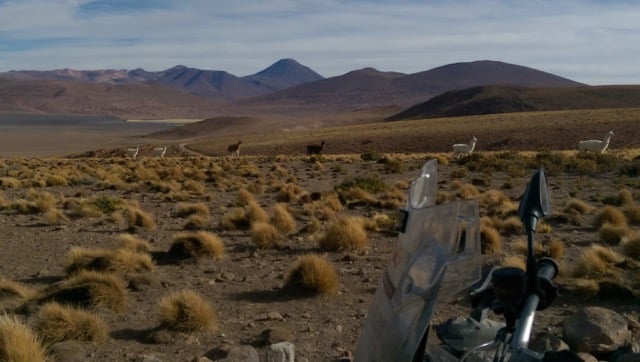 Day 10 - Cachi to Purmamarca, Argentina - 345km
Canyon riding in the Andes Mountains, and an arrival in the quaint and charming town of Purmamarca add yet another highlight day to this trip. It's a great town to check out local arts & crafts, and buy articles made from alpaca wool. When in town, be sure to do the hike around "El Cerro de Siete Colores" or the "Hill of Seven Colors." Remembering that off-bike experiences should be part of any good motorcycle trip, the views on this short walk will be well worth the effort.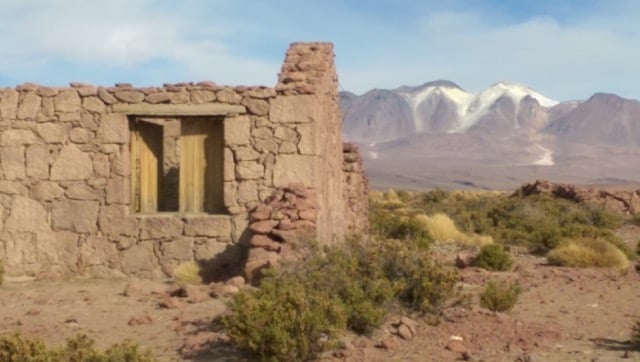 Day 11 - Purmamarca to San Pedro de Atacama, Chile - 430km
Your return to Chile over Paso Jama brings things up to 4700m in altitude, propelling yourself through an array of slithering twisties like any other. (Knee puck, anyone?) Take it easy of course, as you're still in very remote parts of the Andes Mountains with little surrounding you in the way of help. Leveling off to cross an area salt flat, even the descent down into San Pedro will be a thrill on this incredible motorcycle adventure. Settle into San Pedro perhaps to see some familiar faces, and enjoy sites or geological phenomenon you might have missed on the way up.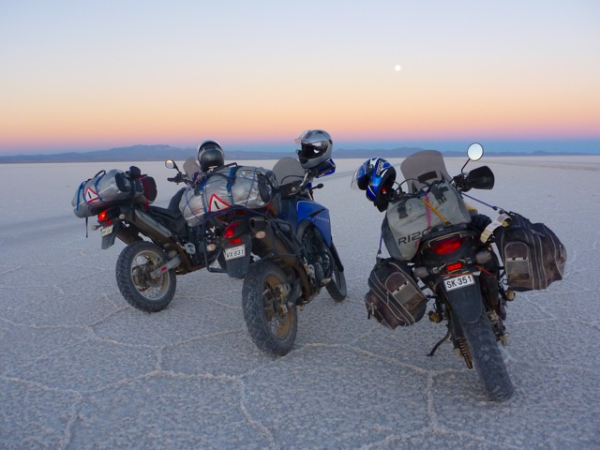 Day 12 - San Pedro de Atacama to Antofagasta, Chile - 312km
Yes, it might be a sad moment, but remember when booking this trip, that Self-Guided riders can have these trips customized to make them last much longer if they wish. While this route covered an amazing wealth of variety and stunning scenery in the Altiplano and Atacama region, much more is still out there if you tell us you have the time. Having seen any last features of San Pedro that you wish to before leaving, your descent back to Antofagasta along the Pacific Coast should at the very least, bring a sense of satisfaction. Not only because you've now experienced something few other Riders ever will, but because you're finishing....SAFELY! The riding we encounter in many parts of the Andes isn't something all riders are ready for, but if you're finishing fine, we congratulate you on a "RIDE well done!" Enjoy Antofagasta, and remember, there's a Casino in town.
Day 13 - Departure Day, if you must!
Riders are welcome to have some extra nights booked in Antofagasta to do some exploring of this busy mining town. Those who must leave today will be taken to the airport as part of our Guided Group Tour service, and for one final laugh and smile together about the adventure ride we just completed together. Start organizing all those photos, and prepare to shares stories at home with friends who wanted to join, but couldn't or didn't dare to. Carry a huge smile on your face though as you board the plane, as you just completed a RIDE in the Atacama Desert & Altiplano Region of the Andes Mountains!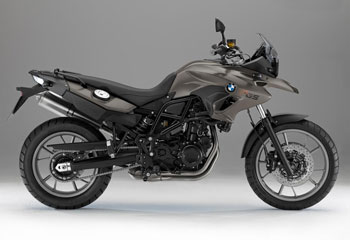 BMW F700GS (twin cylinder)
The new F700GS offers a larger windshield, enhanced braking system, Electronic Suspension Adjustment, Automatic Stability Control, and a handful more horsepower! As if the previous version (the F650GS) wasn't a good enough adventure bike, this mid-weight option continues to be the most versatile and popular motorcycle rental option.
X
Seat Height:
32.3 in
Curb Weight:
461.0 lb
Fuel Capacity:
4.2 gal
Displacement:
798 cc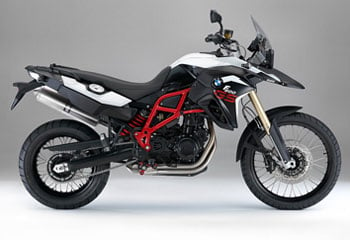 BMW F800GS
Certainly considered the "athlete" of the BMW team, the F800GS can be counted on to carry all your travel gear and still maintain the awesome feeling of a pure off-road machine when you're in the dirt. With over 215mm of suspension travel, the F800GS boasts 85 horsepower from its twin-cylinder engine, and is sure to give an adrenaline rush when you unleash it!
X
Seat Height:
34.6 in
Curb Weight:
472.0 lb
Fuel Capacity:
4.2 gal
Displacement:
798 cc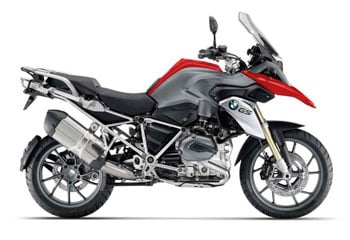 BMW R1200GS - Liquid Cooled
Revised back in 2013, BMW it seems has done it once again in the world of adventure motorcycles. The new liquid-cooled version of the famous R1200GS comes with a more "upright" stance and off-road friendly positioning. Now with a wet clutch, a higher air intake perfect for river crossings, and a 10% horsepower increase over the previous model, BMW has clearly made improvements on what was already a great adventure bike.
X
Seat Height:
33.5.0 in
Curb Weight:
538 lbs
Fuel Capacity:
5.3 gal
Displacement:
1170 cc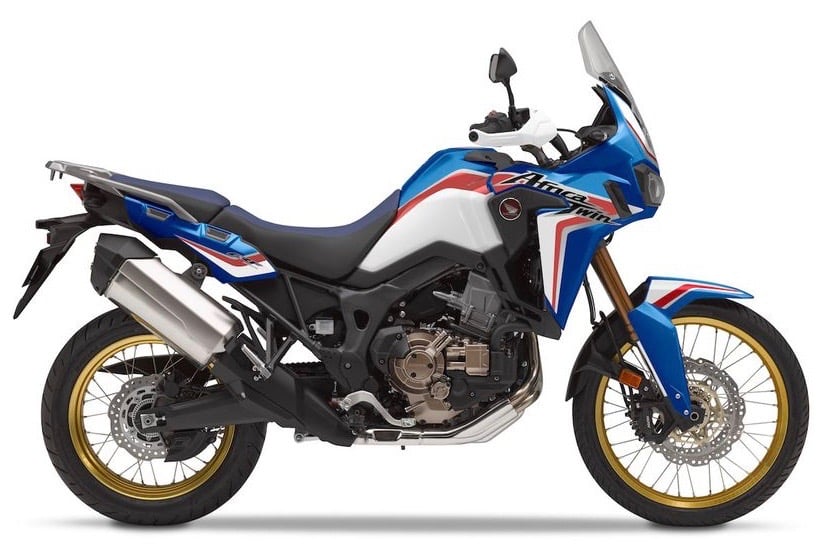 Honda Africa Twin
Finally, the return of a legend! The long awaited, and thoroughly updated Africa Twin by Honda has been talked about for years, finally making itself available in various markets around the world in 2015. With a four-valve Unicam® cylinder head 998cc parallel twin engine, more power than an adventure rider could ever need is available along with suspension travel and ground clearance to handle the most remote and rugged terrains and pathways.
X
Seat Height:
33.5/34.3 in
Curb Weight:
511 lb
Fuel Capacity:
4.96 gal
Displacement:
998 cc