Self-Guided "Fly & Ride the 3 Corners: Argentina, Bolivia & Chile"
Itinerary
Day 1 - Arrival in Santiago (SCL) and then Antofagasta, Chile (ANF airport)
Hopefully you've arrived with some extra time to enjoy Chile's capital city of Santiago before heading north for the start of your RIDE Adventures. Either way, welcome to Chile! Regardless of your pre-trip plans, make sure you're in Antofagasta this Day 1 before the riding starts, and hopefully take the opportunity to explore this city that thrives on copper and other nearby mining operations. Most riders will get checked in to their motorcycle rental of choice today (included in the package) but remember keep your adrenaline and excitement under control, as this is one big adventure ride ahead!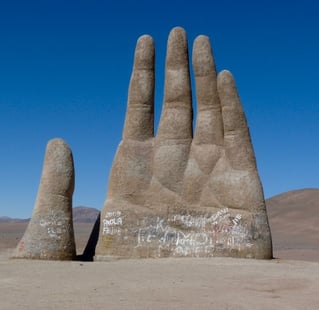 Day 2 - Antofagasta to San Pedro de Atacama - 419km
Having been properly introduced to the motorcycle of your choice, and after all questions are answered, it's time to start riding into the Andes Mountains of South America!
As this ride rises from the Pacific Ocean through the Atacama Desert and into the Andes, you're experiencing first-hand what the driest desert in the world like. The nearby "Mano del Desierto" (Hand of the Desert) has been a fixture in adventure riding photography for years now, and makes for a fun start to this trip. With some of the clearest skies on planet earth, San Pedro is home to the A.L.M.A. Observatory (Atacama Large Millimieter Array) for reasons of altitude and low moisture content in the atmosphere. To Adventure Riders, this means some of the bluest skies you'll ever see will lead you into this town full of other geological phenomenon. Crossing a salt flat with views of Andean Flamingos and Volcano Licancabur at 5858 meters nearby, all makes for a 1st day's ride never to be forgotten. Welcome to the Atacama Desert!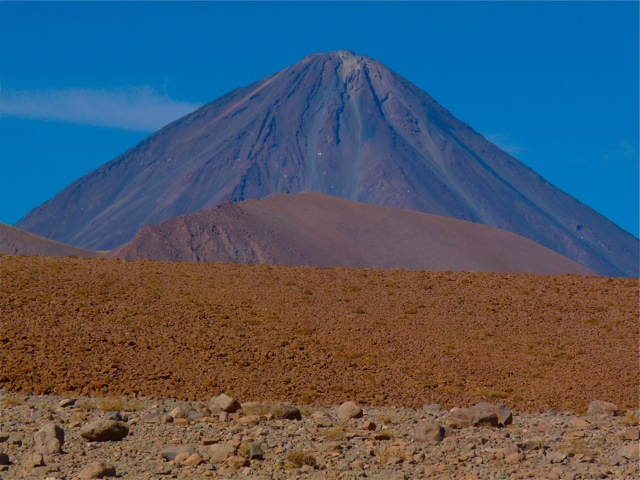 Day 3 - Rest Day - Exploring San Pedro de Atacama - 50-100km
This small town with so much too offer would be a shame to blaze through, so this day is devoted to local exploration of geological phenomenon. The Tatio Geysers, the Valley of the Moon, nearby Salt Flats, Rainbow Valley, ALL are sites too great to miss, so enjoy it all beneath that bright blue sky before settling back into this tiny Andean village for the night. Plenty of shopping for local arts & crafts would also be a good idea here.
Day 4 - San Pedro de Atacama to Uyuni, Bolivia - 535km
Feel free to say it out loud in your helmet: "I'm riding in Bolivia. I'm riding a motorcycle ... IN BOLIVIA!" The excitement of riding in a country as rarely traveled as Bolivia cannot be understated, as this mysterious yet beautiful land-locked country still has yet to reach its tourism potential. (Such would be true for Argentina and Chile for that matter.) Alas, today's ride to even higher elevations is gradual so that riders can adjust to the altitude while capturing photos of the amazing Andean colors and formation along the way. With the Salar de Uyuni (Uyuni Salt Flats) in the distance, the day's ride ends at the edge of this vast landscape to spend 2 nights in a hotel made entirely of salt. The floors, foundation, walls, and furniture, are all hand-carved from the same flats that you get to ride on tomorrow.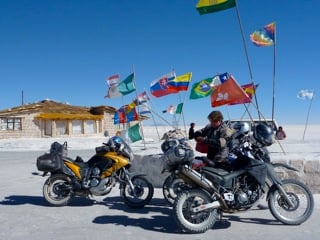 Day 5 - Rest Day - Exploring the Uyuni Salt Flats - 200-250km
"Wide Open Spaces + Motorcycles = Endless Possibilities," right? The World's Largest Salt Flat awaits the twist of your throttle, and the snap of your camera. A ride out to the Isla Incahuasi and Isla del Pescado, and the Tunupa Volcano further north brings a sensation like no other, as the "nothingness" in all directions seems surreal. Watch out as you ride though, as cracks and potholes in the otherwise flat salt pan are definitely present, and can gobble-up a rider who is getting carried away with it all. Returning back after a fun day of exploring and trick photography, the same salt-made hotel set you up for more incredible riding ahead.
Day 6 - Uyuni to Tupiza, Bolivia - 440km
One of the most stunning rides in all of Latin America will take up the morning hours, as the ride slithers through an amazing array of colorful rock formations and scenery so incredible that it seems artificial. (Out of respect for the Tail of the Dragon in North Carolina, we're lovingly calling this set of twistiies "The Tail of the Alpaca.") The day's ride passes through the UNESCO World Heritage Site of Potosí for a lunch stop, and depending on progress this day, a tour down the rail cars into the silver mines that made this town famous is possible. Potosí is also one of the world's highest cities at 4,090m in altitude. - Continuing into the afternoon, more canyon riding and red stone rock formations form a path to the town of Tupiza, just north of Argentina, and a vibrant & fun town to spend the night in.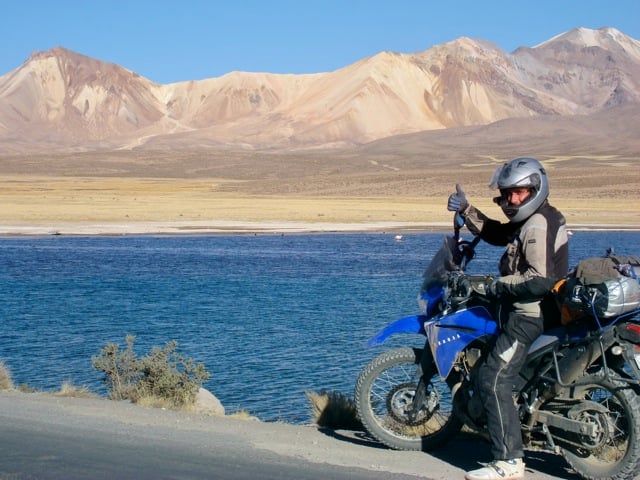 Day 7 - Tupiza, Bolivia to Salta, Argentina - 490km
Welcome to Argentina! Leaving the unimaginable scenery of Bolivia behind means ... now we get to enjoy the stunning scenery of northern Argentina in the Andes Mountains, so it's a pretty good trade-off. Simple scenery around the border of these countries quickly gives way to more mountains, vegetation, and a bit more in the way of wildlife. Utilizing sections of the famous Ruta 40 in Argentina the ride continues through the colorful Quebrada de Humahuaca, and eventually a route we're calling "The Tail of the Llama" as a play on the Tail of the Dragon in North Carolina. This seemingly endless array twists & turns will be a welcome part of any Rider's arrival in Salta.
Day 8 - Salta to Cafayate, Argentina - 190 km
After a night out on the town, enjoy a rolling RIDE through farmlands and agricultural regions before red stand stone formations like the "Garganta del Diablo" is within site. This "Throat of the Devil" is a must see natural arrangement, along with "El Anfiteatro" (The Theatre) and "Las Ventanas" (The Windows) will all be marked on your Road Book as sites not to be missed. Cafayate is in the heart of Argentine wine country, and as such, accommodations and dining will reflect such opportunities.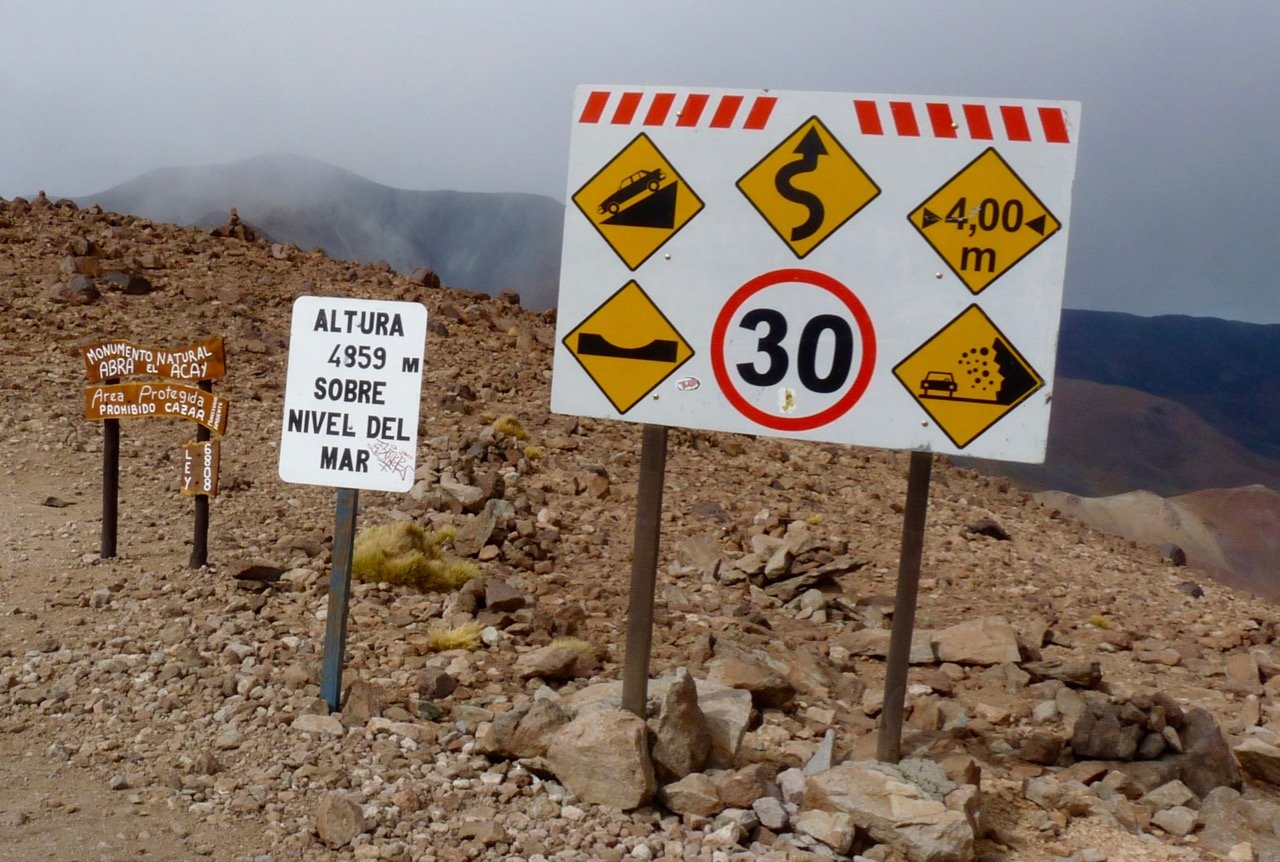 Day 9 - Cafayate to Cachi, and "Abra del Acay" - 150-250km
Some raw, rugged, off-pavement riding awaits riders on this loop through northern Argentina and a fairly short ride to Cachi. Enjoy lunch in town, but if energy levels and your adjusting to altitude permit, head up the "Abra del Acay," which is the highest point along the Ruta 40 at 4,859m in altutude. RIDE Adventures Founder, Eric Lange, reported this ride as being one of his "3 Greatest 1-Day Rides" of all time, on the heels of living, working, and riding in South America. (See near the bottom of that blog post.) Just remember to keep your jaw from dropping as you climb this surreal route and return to Cachi for the night.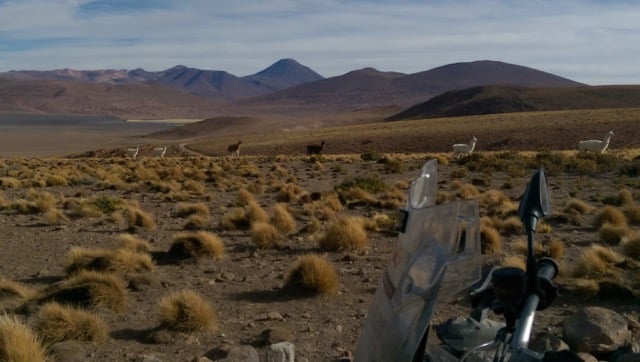 Day 10 - Cachi to Purmamarca, Argentina - 345km
Canyon riding in the Andes Mountains, and an arrival in the quaint and charming town of Purmamarca add yet another highlight day to this trip. It's a great town to check out local arts & crafts, and buy articles made from alpaca wool. When in town, be sure to do the hike around "El Cerro de Siete Colores" or the "Hill of Seven Colors." Remembering that off-bike experiences should be part of any good motorcycle trip, the views on this short walk will be well worth the effort.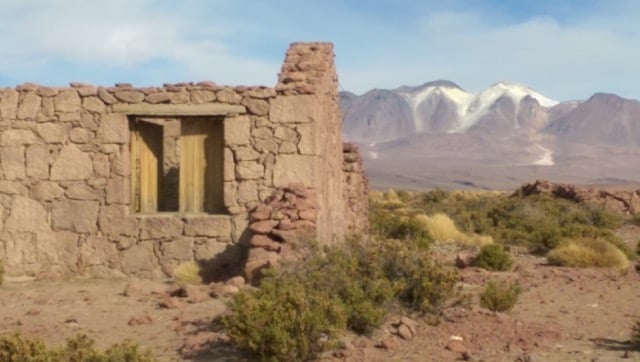 Day 11 - Purmamarca to San Pedro de Atacama, Chile - 430km
Your return to Chile over Paso Jama brings things up to 4700m in altitude, propelling yourself through an array of slithering twisties like any other. (Knee puck, anyone?) Take it easy of course, as you're still in very remote parts of the Andes Mountains with little surrounding you in the way of help. Leveling off to cross an area salt flat, even the descent down into San Pedro will be a thrill on this incredible motorcycle adventure. Settle into San Pedro perhaps to see some familiar faces, and enjoy sites or geological phenomenon you might have missed on the way up. As an exciting side-note, the Dakar Rally has been held in this Atacama Desert region since the famous African race first arrived in South America in 2009. Now you can visualize the sand dunes and rugged terrain surrounding you being "raided" by hundreds of motorcycles, trucks, and racing cars and buggies!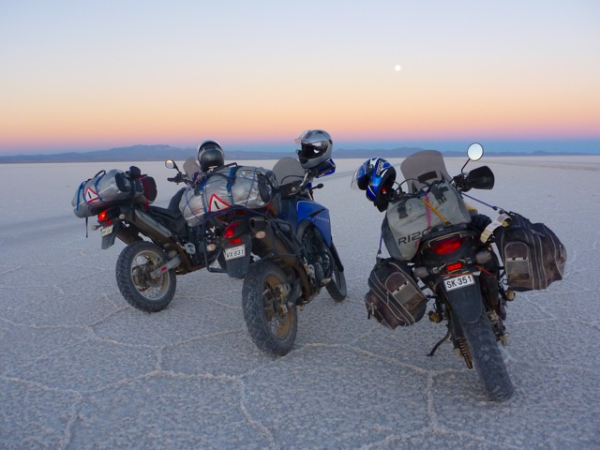 Day 12 - San Pedro de Atacama to Antofagasta, Chile - 312km
Yes, it might be a sad moment, but remember when booking this trip, that Self-Guided riders can have these trips customized to make them last much longer if they wish. While this route covered an amazing wealth of variety and stunning scenery in the Altiplano and Atacama region, much more is still out there if you tell us you have the time. Having seen any last features of San Pedro that you wish to before leaving, your descent back to Antofagasta along the Pacific Coast should at the very least, bring a sense of satisfaction. Not only because you've now experienced something few other Riders ever will, but because you're finishing....SAFELY! The riding we encounter in many parts of the Andes isn't something all riders are ready for, but if you're finishing fine, we congratulate you on a "RIDE well done!" Enjoy Antofagasta, and remember, there's a Casino in town.
Day 13 - Departure Day
While you're welcome to have some extra nights booked for you in Antofagasta, and yes, this busy mining city is worth spending a day or so looking around, those who must leave today will find the Antofagasta/ANF airport easy to use, and a great place to start organizing all those photos!
Minimum Essential Gear for RIDE Training
If you're planning to jump on a guided tour or training with RIDE Adventures, it's essential that you have the right gear. This helps to ensure your safety and the safety of others while on the road.
Not being properly prepared can lead to injuires that could have been avoided. Our guides have created a Minimum Essential Gear Guide if you plan to book a RIDE Adventures. If you don't come minimally prepared there is a chance our guides will prevent you from hopping on a bike. Make sure you're prepared for the adventure.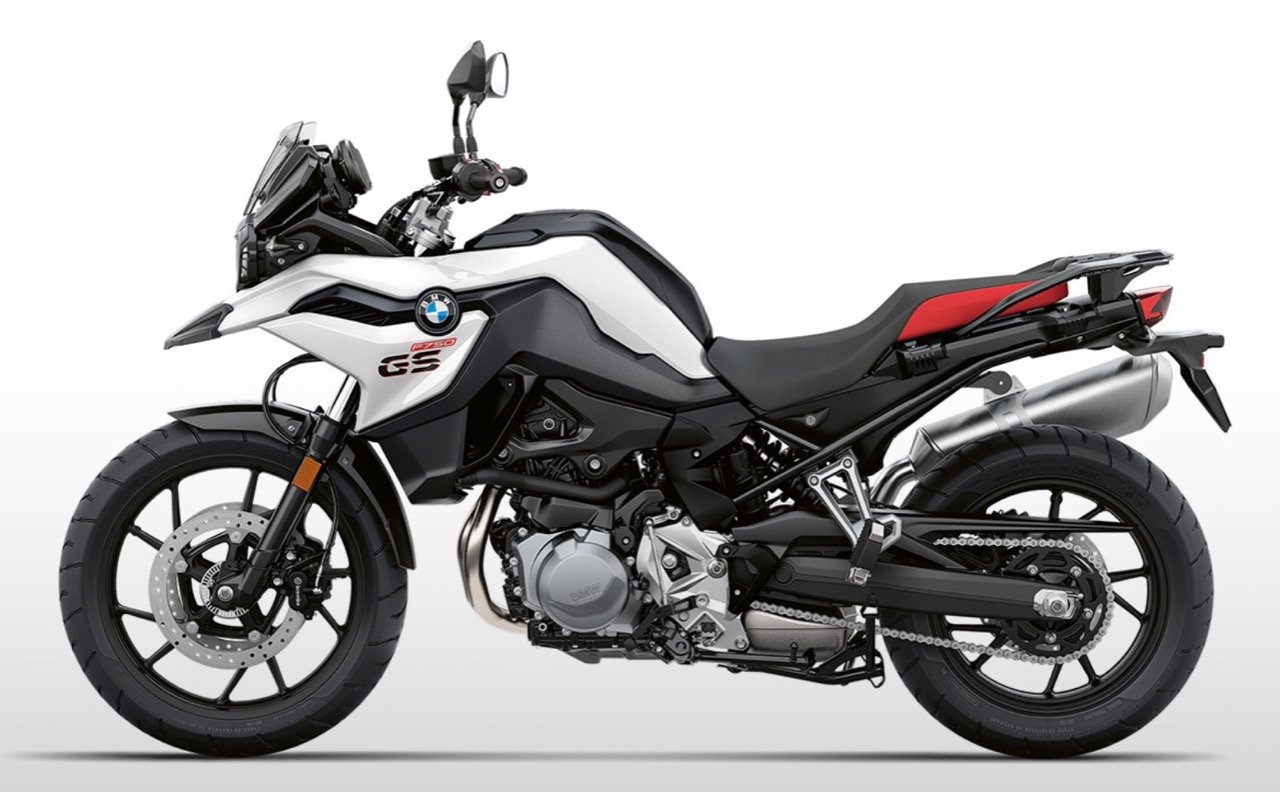 BMW F750GS
Not everyone needs a gigantic adventure bike to have fun, and the BMW F750GS fills that niche of "big enough for the long haul, small enough to have fun." With a power-to-weight ratio similar to the bigger models, 77hp can be used to hang with any other adventure bike on the market and perhaps be even more fun when it comes to the dirt roads and tight switchbacks.
X
Seat Height:
32.1 in
Curb Weight:
493lb / 223kg
Fuel Capacity:
4 gal / 15 L
Displacement:
853 cc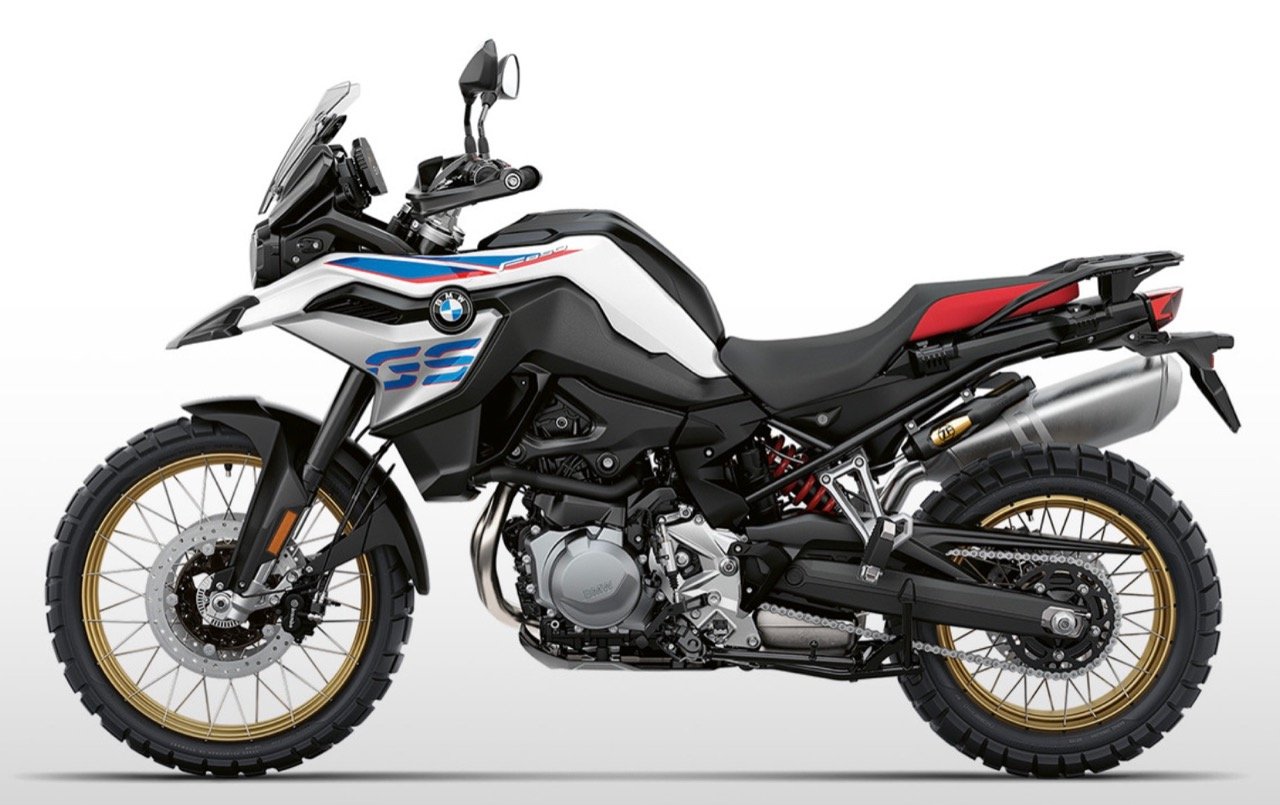 BMW F850GS
When it's predecessor launched in 2009, the world recognized the beauty of a "middle-weight" adventure bike, perhaps most appropriately built to handle it all. The new BMW F850GS builds on a decade of riders trotting the globe on a machine with all the power you could ever need, and agility to go have almost dirt-bike-like fun when the luggage and passenger aren't along for the ride.
X
Seat Height:
33.9 in
Curb Weight:
504lb / 229kg
Fuel Capacity:
4 gal / 15 L
Displacement:
853 cc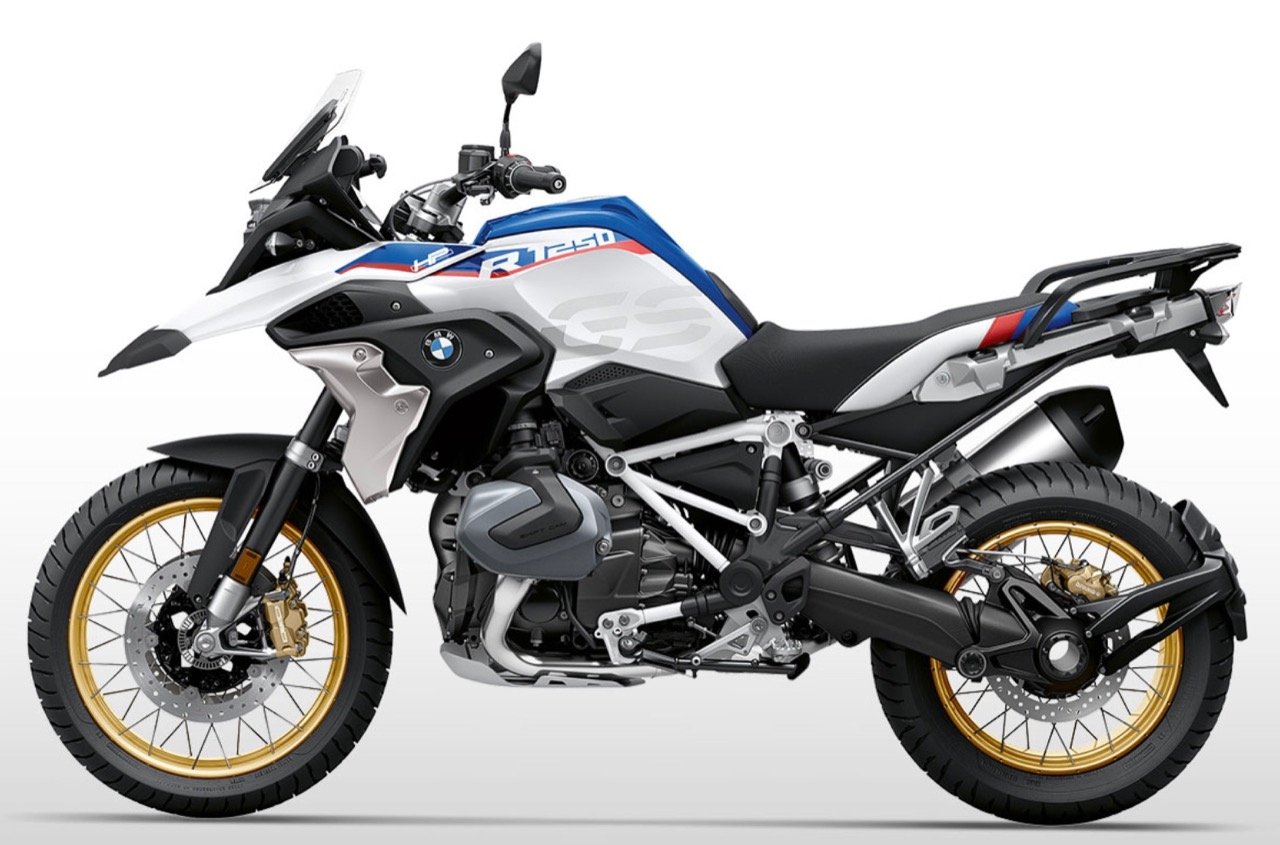 BMW R1250GS
Freshly updated after multiple generations of industry-leading design, BMW's R1250GS is yet another masterpiece coming from the company that many will claim pioneered the thought of adventure riding. Boasting 136hp now, yet still maintaining the "flickability" many of us feel in the GS line, load up the bike or head out solo, and you're sure to have a blast from this high performance machine.
X
Seat Height:
33.5/34.3 in
Curb Weight:
549lb/249kg
Fuel Capacity:
5.3gal / 20 L
Displacement:
1254 cc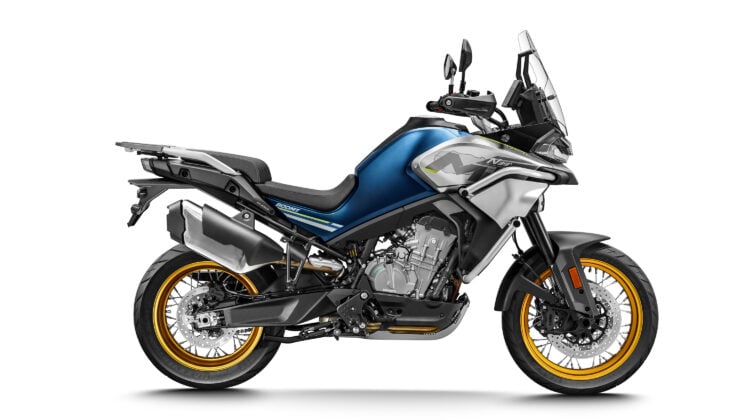 CF Moto MT800
The MT800 is a versatile adventure bike with amazing capabilities both on the asphalt and off-road. The light and powerful frame works with KYB's multi-adjustable suspensions and the powerful 800cc engine with 95hp, giving it a vibrant road and excellent performance. Powerful braking with cornering ABS, slip clutch and Full Led lights with cornering function dramatically increase road safety. But in terms of comfort, the 800MT excels, as it is equipped with Cruise Control, high adjustable windshield and an impressive 7 "color screen with the ability to view Navigation, phone calls, music, and of course a clear display of all information on the instrument panel.
Wet Weight - 509 lbs
Seat Height - 32.5 inches
Fuel Capacity - 5 gal
X
Seat Height:
32.5 in
Curb Weight:
509 lbs
Fuel Capacity:
5 gal
Displacement:
800cc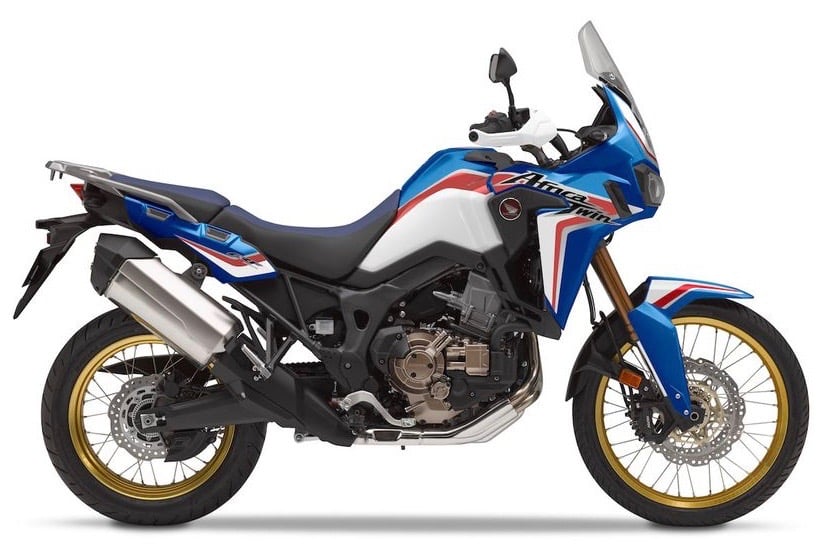 Honda Africa Twin
Finally, the return of a legend! The long awaited, and thoroughly updated Africa Twin by Honda has been talked about for years, finally making itself available in various markets around the world in 2015. With a four-valve Unicam® cylinder head 998cc parallel twin engine, more power than an adventure rider could ever need is available along with suspension travel and ground clearance to handle the most remote and rugged terrains and pathways.
X
Seat Height:
33.5/34.3 in
Curb Weight:
511 lb
Fuel Capacity:
4.96 gal
Displacement:
998 cc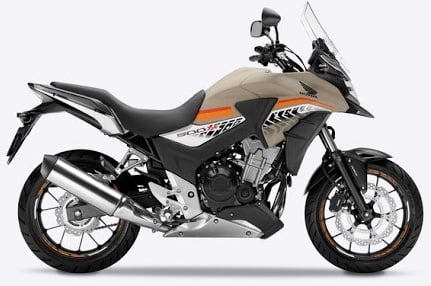 Honda CB500X
Another recent assertion by Honda Motorcycles into the Adventure Riding world, riders seeking a compact-sized adventure bike have been raving about the CB500X. With plenty of power emanating from the parallel-twin engine, and an agile disposition, everything from paved twisties to gravel, dirt, and sand can be conquered with this fun adventuring option.
Wet Weight - 428lbs
Seat Height - 31.8 inches
Fuel Capacity - 4.6 gal
X
Seat Height:
31.8 in
Curb Weight:
428lbs
Fuel Capacity:
4.6 gal
Displacement:
471cc Parallel Twin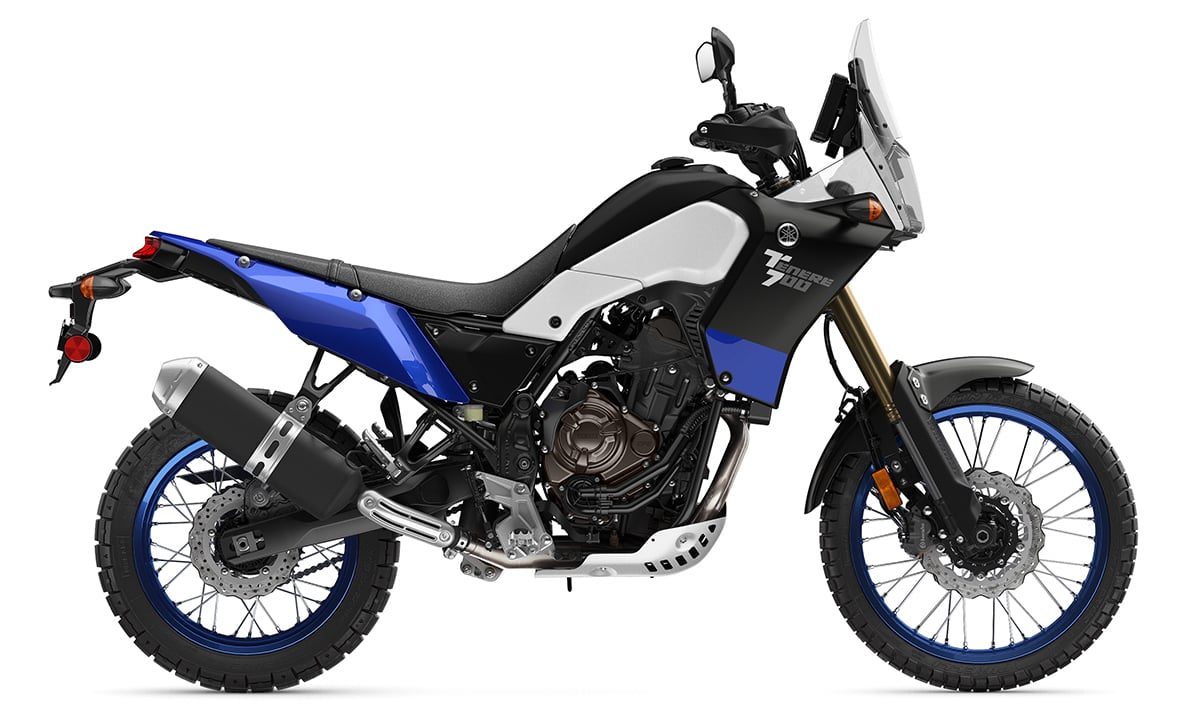 Yamaha Ténéré 700
This highly-anticipated "masterpiece of value" has finally been released, giving dual sport adventure riders around the world one more incredible middle-weight adventure bike to choose from. With 73+ smooth, linear horsepower pouring through one of most beautiful exhaust notes out there, the Ténéré 700's unique anti-squat design puts that power into the ground, instead of into the rear shock. The result is one of the best handling, adventure bikes on the market, all backed by typical Yamaha-reliability. Take this agile machine on short trips or long, paved twisties or dirt roads, and know that this may be as close to the "perfect" adventure bike as we have seen in a while. With an attractive entry price, and corresponding rental rate, we expect the number of Ténéré 700's in our fleet operations to grow steadily and remain a factor for a long time.
X
Seat Height:
34.4 in / 874mm
Curb Weight:
452 lb / 205kg
Fuel Capacity:
4.2 gal
Displacement:
689 cc