Research Trip: Bend on Up to Alaska through Canada and Prudhoe Bay
Itinerary
*PLEASE NOTE: THIS ROUTE IS IN "RESEARCH TRIP STATUS." EXACT OVERNIGHT LOCATIONS & DAILY MILEAGE TOTALS WILL BE DECIDED UPON AS THE EVENTS OF EACH DAY ARE DISCOVERED (SEE: Adventure - noun 1. an unusual and exciting, potentially hazardous, experience or activity.)
Day 1 – Welcome to beautiful Bend, Oregon (or Anchorage, Alaska, for those going to "Bend on Down" from north to south)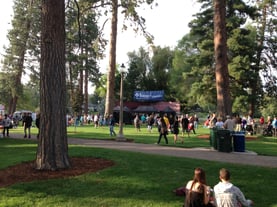 Welcome to Bend, and we hope you can arrive a little earlier and enjoy this most outstanding area in the outdoorsy world. We are nestled along the Deschutes River which writhes up from the Cascade Mountains, and serves as the backbone for our small town. From the river rafting and fly fishing opportunities along the way to the vast array of mountain biking, dirt biking, hiking, skiing, snowboarding, rock climbing, and other options we have in the area, we are incredibly proud to call Bend "home," and hope you have the chance to enjoy it as well before departure. (Prediction: Those of you outdoorsy-types looking for retirement or vacation home possibilities will end up purchasing a property here soon.) --- Upon arrival, we'll meet up for a welcome dinner and briefing, and to get everyone familiar with their motorcycles before takeoff. Bring anything you want to mount on the bike, and we'll make sure you're all set and fit for the great ride ahead. We twist our wrists on the way to Alaska tomorrow.
Days 2-3 - Bend to Kamloops, British Columbia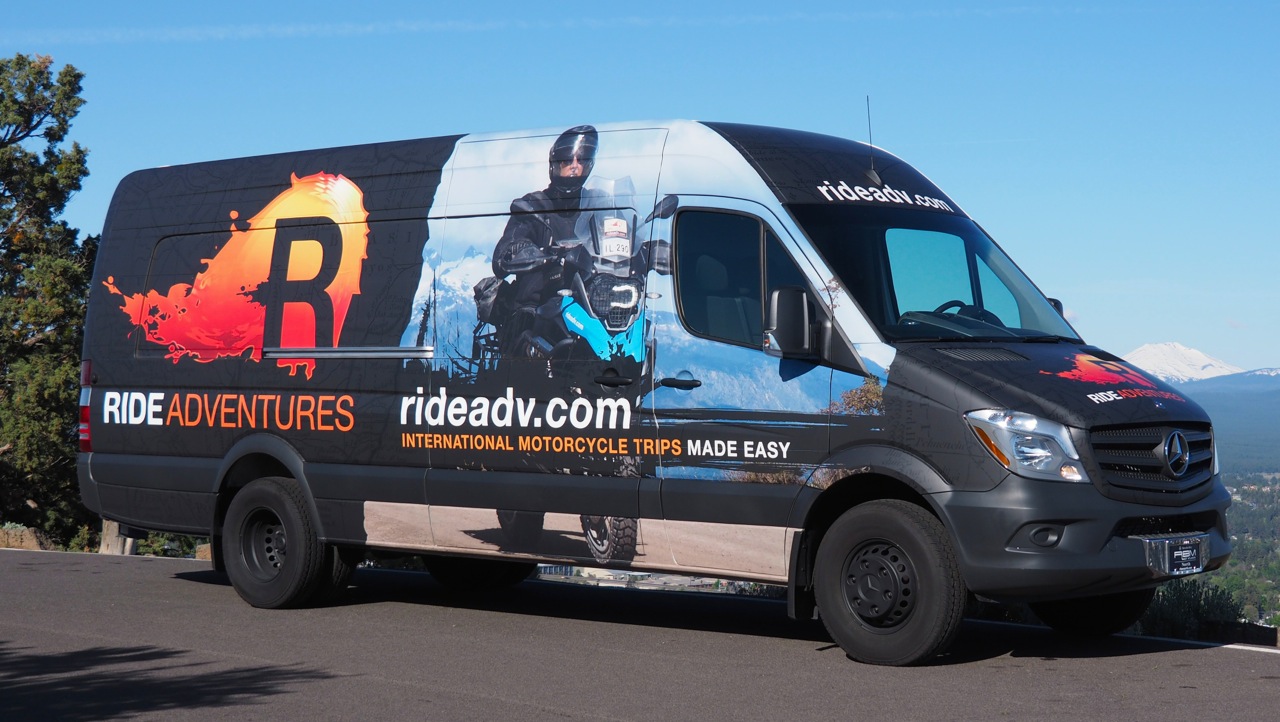 Remember, this is a Research Trip. While our intention isn't to take the most obvious and direct route, the reality is that this is a considerably long trip for most of us to breakaway from other obligations, and so we will also focus on what makes sense from a time perspective. With around 4,000 miles (6,400km) standing between Bend, Prudhoe Bay, and Anchorage, and a Rest Day planned every 4-5 days, we'll be moving at an appropriate pace to make full days without burning ourselves out. Where there are interesting detours, and when our overall progress & timing allows for it, we'll go check out that valley, famous site, landmark, or side route. Expect a typical riding day to start around 8-8:30am, and finish around 5pm or so. Keeping the pressure off us to maintain a preset hotel itinerary though, the overnight location decisions will be made on a day to day basis. Just like if you were traveling alone and completely flexible, but also with the benefits of having a Support Vehicle and a handful of friendly riders with you. If stopping to set up camp a few times makes sense or becomes necessary, well, this is why we're adventure riders who appreciate variety, and that's what we'll do (inquire with us about tent rentals.)
Days 4-9 - Kamloops, B.C. to Whitehorse, Yukon Territory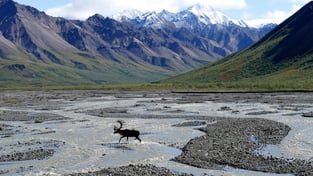 As adventure riders typically hope for, we are quite a bit off the beaten path already. That sliver of Alaska will already extend beneath us while we remain in Canada and enjoy the small towns, the quiet places, and an ongoing array of wildlife sitings. Expect Bald Eagles, Black Bears, Grizzlies, and Moose to be present around us, and some of the freshest air and enjoyable riding in this seldom traveled part of the world. Again making detours where timing allows for riding off the main routes, don't expect anything to seem like a "main route" to begin with.
Days 10-17 - Whitehorse to Prudhoe Bay, Alaska (Trips starting in Anchorage will visit Tuktoyaktuk before turning south)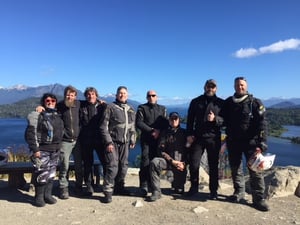 While the southbound version of our trip (starting just after this one from Anchorage) will head up to Tuktoyaktuk, Northwest Territories, the weather statistics for Prudhoe Bay demand that we arrive at this northernmost point earlier in the summer. Up through the adventure riders' famed Dawson City and across the Top of the World Highway, here it is, our final stretch. Those of you who have ridden with us to Ushuaia might be reflecting back on those points much further south, and that famous sign at Bahia Lapataia. No matter what your riding background though, congrats on being the type of rider who like to get out and explore the world.
Days 18-22 Prudhoe Bay to Anchorage, Alaska (Anchorage to Tuktoyaktuk for "Bend on Down" southbound trip dates)
With the Polar Ice Cap behind us and quite a story to tell, we'll ride back through Denali National Park for our finish in Anchorage. What has been described as fairly 'simple' scenery by many others may still involve its challenges, as the ride just touched 70 degrees North latitude. As a comparison, we only make it to 54.8 degrees South latitude in Ushuaia, so weather challenges and terrain changes could keep us plenty busy. Celebrate success with the group over our farewell dinner, and start organizing those photos.
Day 23 - Departure Day
Hopefully allow yourself some time to enjoy the destination, as it's both a matter of how far we've come, and where we've arrived to in this case. Whether your finish is in Anchorage or Bend ("Bend on Up" or "Bend on Down" based on trip date chosen) there'll be plenty to enjoy and look back upon at this point.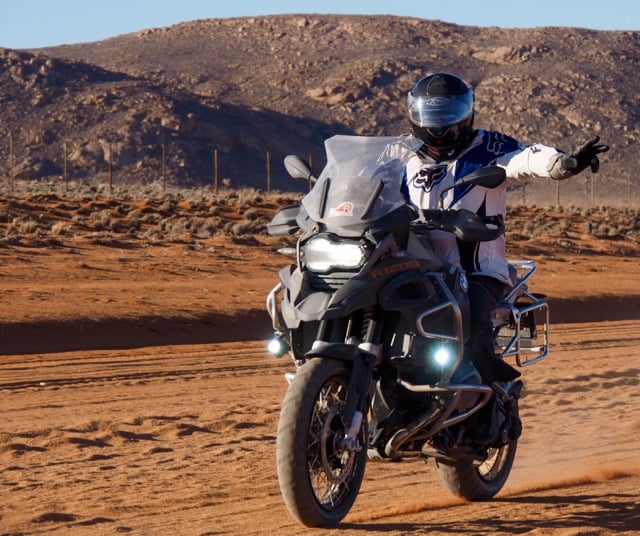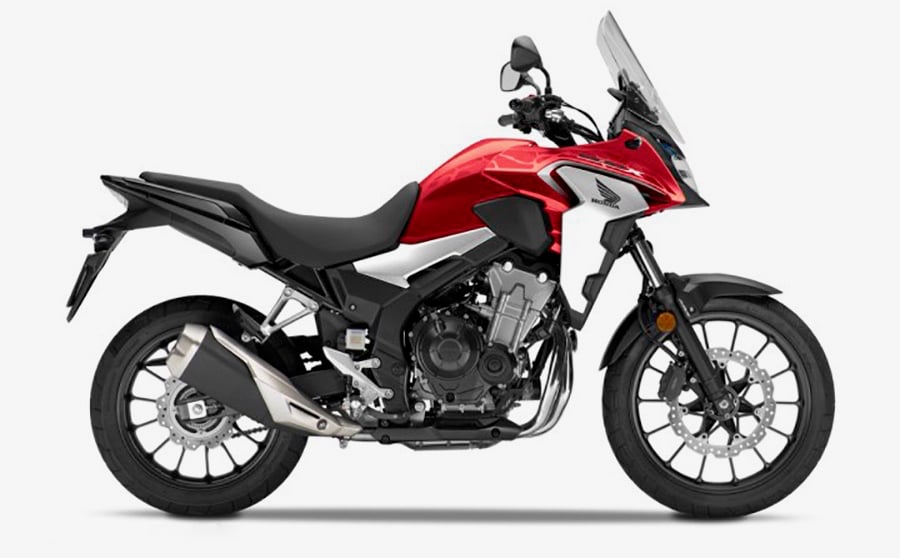 2019+ Honda CB500x
Another recent assertion by Honda Motorcycles into the Adventure Riding world, riders seeking a compact-sized adventure bike have been raving about the CB500X. With plenty of power emanating from the parallel-twin engine, and an agile disposition, everything from paved twisties to gravel, dirt, and sand can be conquered with this fun adventuring option. Starting in 2019 with the 19" front wheel, this bike has proven itself for us in places like Patagonia, and will be a great option for riders exploring beyond.
Wet Weight - 430lbs
Seat Height - 32.7 inches
Fuel Capacity - 4.6 gal
X
Seat Height:
32.7 in
Curb Weight:
430lbs
Fuel Capacity:
4.6 gal
Displacement:
471cc Parallel Twin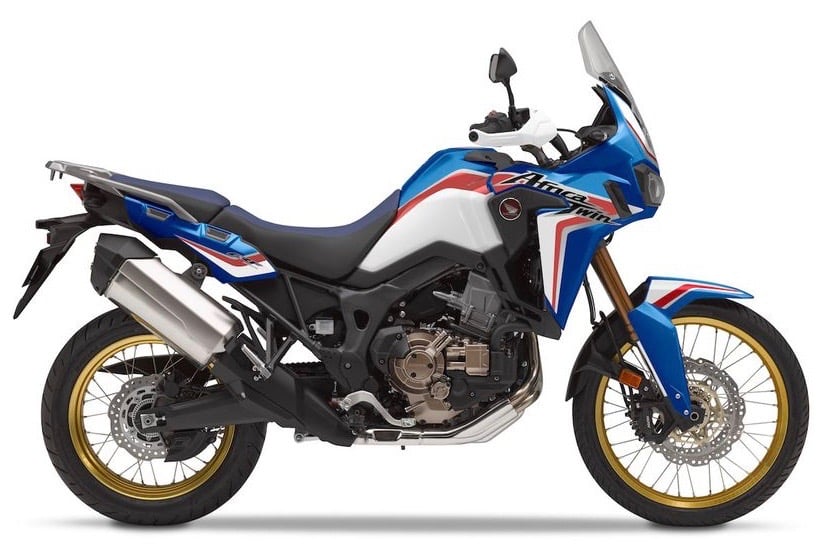 Honda Africa Twin
Finally, the return of a legend! The long awaited, and thoroughly updated Africa Twin by Honda has been talked about for years, finally making itself available in various markets around the world in 2015. With a four-valve Unicam® cylinder head 998cc parallel twin engine, more power than an adventure rider could ever need is available along with suspension travel and ground clearance to handle the most remote and rugged terrains and pathways.
X
Seat Height:
33.5/34.3 in
Curb Weight:
511 lb
Fuel Capacity:
4.96 gal
Displacement:
998 cc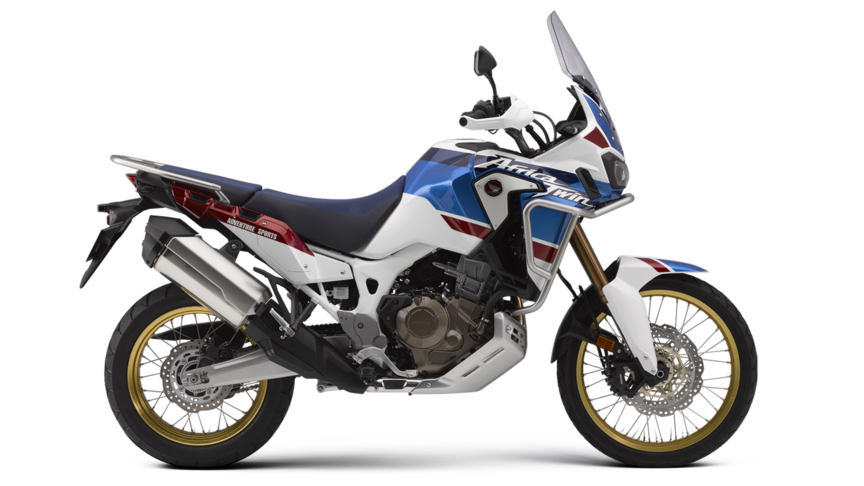 Honda Africa Twin Adventure Sports
Finally, the return of a legend, and this version, a little bit more prepared for long adventure rides than it's smaller twin. The long awaited, and thoroughly updated Africa Twin by Honda finally became available in rental fleets around the world in 2015, forever winning our hearts over with incredible reliability while being extremely fun to ride the first few seasons. This "Adventure Sports" version is about an inch taller with 1.5 gallons greater fuel capacity than the standard Africa Twin. With a four-valve Unicam® cylinder head 998cc parallel twin engine, more power than an adventure rider could ever need is available along with suspension travel and ground clearance to handle the most remote and rugged terrains and routes.
X
Seat Height:
35.4/36.2 in
Curb Weight:
533 lb
Fuel Capacity:
6.4 gal
Displacement:
998 cc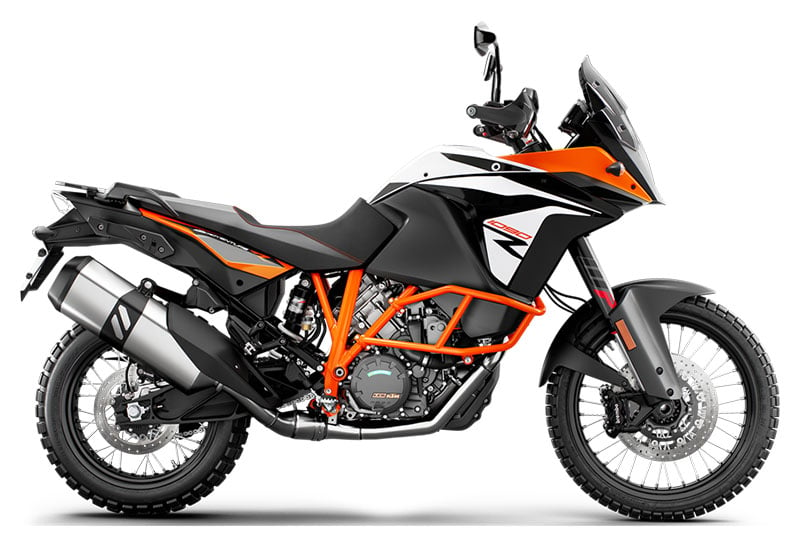 KTM 1090 Adventure R
KTM's famous LC8 parallel twin engine now finds itself in the 1090 size, and just perfect for a variety of adventurous riding. Kick around in the dirt while unloaded, or pack up this chassis with luggage needed for a bigger trip, and you'll have a blast either way. The 21" front wheel and WP suspension soaks up imperfection and points to the apex of turns with ease while 125 horsepower gets you there as soon as possible.
X
Seat Height:
35 in
Curb Weight:
514 lb
Fuel Capacity:
6.1 gal
Displacement:
1050 cc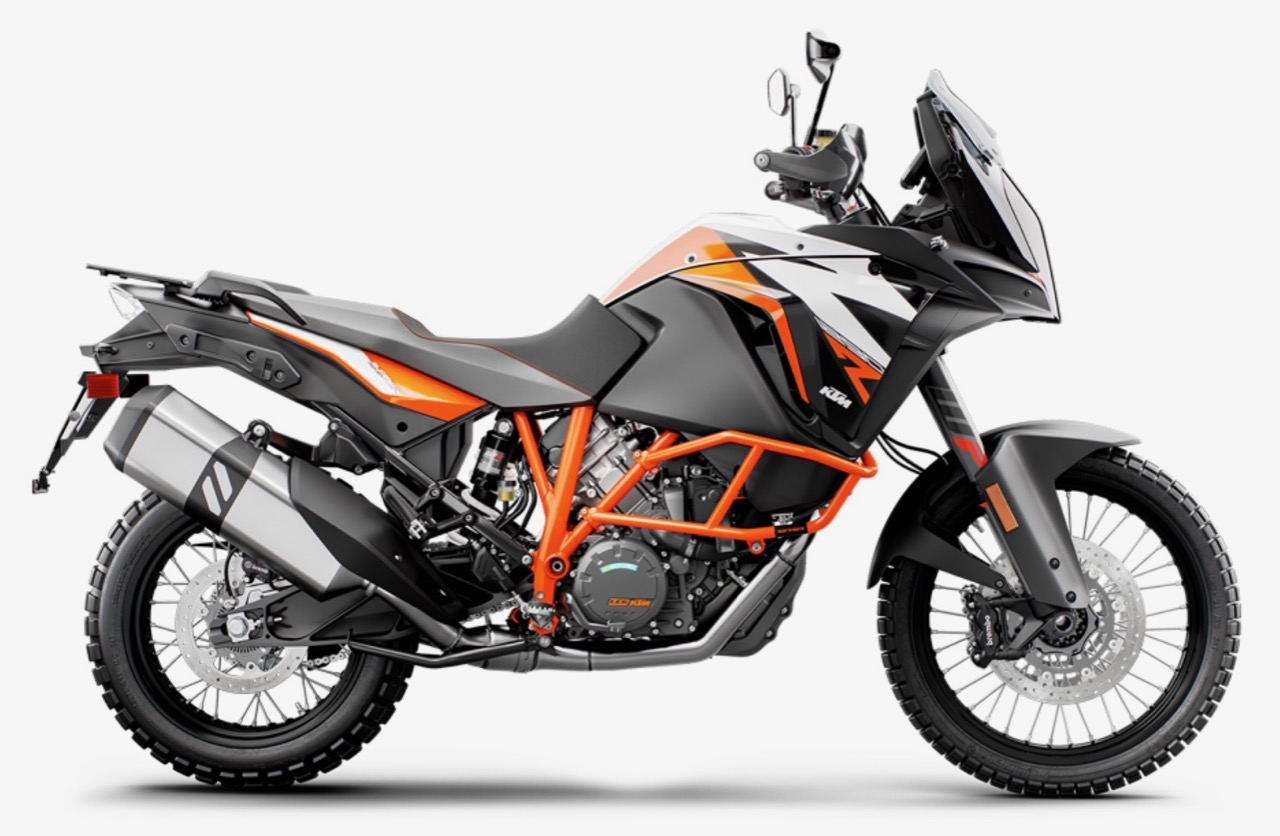 KTM 1290 Super Adventure R
The biggest of the Big Orange adventure bikes, serving riders with extreme exploration capability, the KTM 1290 Super Adventure R is fun no matter what terrain you point it to. With it's famous LC8 powerplant ripping out 160hp, this beast awaits the twist of your wrist on pavement or in the dirt!
X
Seat Height:
35 in
Curb Weight:
529 lbs
Fuel Capacity:
6.1 gal
Displacement:
1301 cc