Take a RIDE With Our Self-Guided (Lowest Cost) European Motorcycle Tours
Itinerary
How To Experience Motorcycle Tours in Europe on a Budget
Step 1: Contact Us and tell us how many days you'd like to travel, what type of riding terrain and scenery you'd like to experience, or any specific famous sites or regions across Europe that you don't want to miss, like:
For those who prefer riding motorcycles on pavement, look no further than Europe as these legendary routes through the Alps, Dolomites, Black Forest, and more have been smoothly covered for some time now. The twists and turns through some of the most incredible settings on the planet simply do not disappoint.
If off-pavement riding is your thing, you can still enjoy a bit of it if you contact us about off-road specific riding. Around Croatia, for example, we can make sure you're enjoying as little pavement as possible.
The Adriatic Coast is home to lots of great European motorcycle tour experiences, along with fresh seafood and friendly people situated in fascinating cities rich with world history. Rely on ferry services to make islands like Hvar part of your adventure ride.
We offer our Alps Moto Explorer tour as a guided motorcycle tour package, but you're also welcome to complete this same route on your own without a guided group. Combining your dates with BMW's Motorrad Days in Garmisch or other opportunities to see the hometown of BMW Motorcycles can make for a very "motorcycle specific" riding vacation!
Step 2: Choose Your Motorcycle from the list of options below, and if you're unsure of which is the right bike for your trip, of course we're happy to make suggestions.
Step 3: Choose Add-On Options: We always offer information on the best routes, scenery, etc. if you can tell us more about what you're interested in, and in most cases, we also offer hotel packages, GPS usage, and perhaps some other services like ferry bookings, etc. Be prepared to answer our questions about what else you want included, aside from just the motorcycle rental, insurance, and authorizations that we automatically arrange for you.

Step 4: Reserve everything you need through RIDE Adventures – We're an experienced company, headquartered in the U.S., so you can rest assured that you've booked your upcoming motorcycle vacation in Europe through an informed, reputable, reliable, and fun provider of travel services!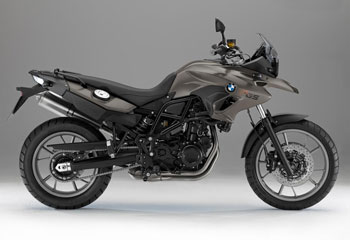 BMW F700GS (twin cylinder)
The new F700GS offers a larger windshield, enhanced braking system, Electronic Suspension Adjustment, Automatic Stability Control, and a handful more horsepower! As if the previous version (the F650GS) wasn't a good enough adventure bike, this mid-weight option continues to be the most versatile and popular motorcycle rental option.
X
Seat Height:
32.3 in
Curb Weight:
461.0 lb
Fuel Capacity:
4.2 gal
Displacement:
798 cc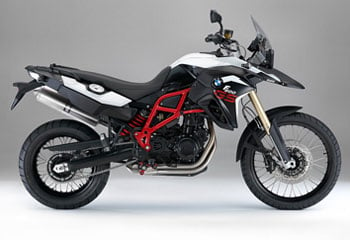 BMW F800GS
Certainly considered the "athlete" of the BMW team, the F800GS can be counted on to carry all your travel gear and still maintain the awesome feeling of a pure off-road machine when you're in the dirt. With over 215mm of suspension travel, the F800GS boasts 85 horsepower from its twin-cylinder engine, and is sure to give an adrenaline rush when you unleash it!
X
Seat Height:
34.6 in
Curb Weight:
472.0 lb
Fuel Capacity:
4.2 gal
Displacement:
798 cc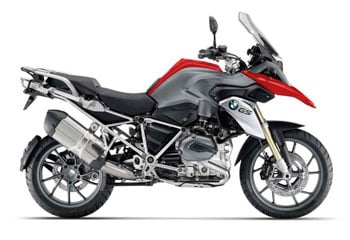 BMW R1200GS - Liquid Cooled
Revised back in 2013, BMW it seems has done it once again in the world of adventure motorcycles. The new liquid-cooled version of the famous R1200GS comes with a more "upright" stance and off-road friendly positioning. Now with a wet clutch, a higher air intake perfect for river crossings, and a 10% horsepower increase over the previous model, BMW has clearly made improvements on what was already a great adventure bike.
X
Seat Height:
33.5.0 in
Curb Weight:
538 lbs
Fuel Capacity:
5.3 gal
Displacement:
1170 cc