The Self-Guided, Truck Supported, "Full Patagonia Adventure" Package!
Itinerary
Day 1 – Arrive in Pucón, Chile

Whether you're taking extra time to explore the capital city of Santiago first or just flying through, riders need to arrive in Pucón, Chile on or before this date, as we'll be departing early the next morning. Your intra-Chile flights can be booked through www.lan.com or www.skyairline.cl (From your home, plan on flying to Santiago, Chile (SCL) and then to Temuco, Chile (ZCO) where we will pick you up at the airport. At the end of the trip, you'll fly from Ushuaia, Argentina (USH) to Buenos Aires, Argentina (EZE) before heading home.) Airport transfers are included on both ends of this trip, so as we always say, you just need to show up with your passport, motorcycle license, and riding gear, and we take care of the rest!
Day 2 – Pucón, Chile to San Martin de Los Andes, Argentina – 190km

It's time to start riding into the heart of Patagonia!
After our morning meeting and fitting of your motorcycle, we'll be ready to go when everyone is comfortable for departure. This first day was specifically designed to be brief, as we want you to "ease into" what is going to be a long journey ahead. No matter whether you did your bike-fitting the night before, or this morning, we're going to help you get comfortable with everything before departure.
With a fully-paved, easy first day in mind (allowing everyone to adjust and get settled in safely) we still have the excitement of making a first pass over the Andes Mountains, on the way to San Martin de Los Andes, another fun little town you'll enjoy on this trip. Once there, get settled into the hotel and relax, with a nice Argentine wine or local beer, as there's a long road ahead. Also a great town for shopping, don't forget those riders who couldn't join you from back home!

Day 3 – San Martin de Los Andes, through Bariloche to El Bolsón, Argentina – 320km

Leaving San Martin, most of the trucks and traffic will take a more "obvious" route, while we suggest a ride down the famous "Ruta de 7 Lagos" or "7 Lakes Route" instead. Sweeping turns through the 7 beaufitul lakes and mountains all around guide lead us to a first dirt-riding opportunity through Villa Traful, along the lake by the same name. (Or continue by pavement more directly to Bariloche.) By about lunch time, you'll be in the ski-resort town of San Carlos de Bariloche though, with a chance to have lunch overlooking Lago Nahuel Haupi and the national park surrounding. Onward after lunch, further south through the mountains, we'll meet up again in El Bolsón for a night to relax before the next day's action.
Day 4 – El Bolsón to Futaleufú, Chile – 235km
Another day in Patagonia, another beautiful National Park, this time "Los Alerces" that we get to enjoy. Instead of taking the obvious Ruta 40, dash through this park and South America's tallest trees, the "Fitzroya's" that will stand above you. After a few hours in the park, lunch in Trevelin could be an option, unless you found something else you wanted along the way. (The temptations will be there, as it's not uncommon to find a random "asado cordero" or "lamb barbecue" along the side of the road in this region.) Either way, eventually you'll make it just across the border and some fantastic twisties before settling down to relax in this nice little mountain and whitewater river town of Futaleufú.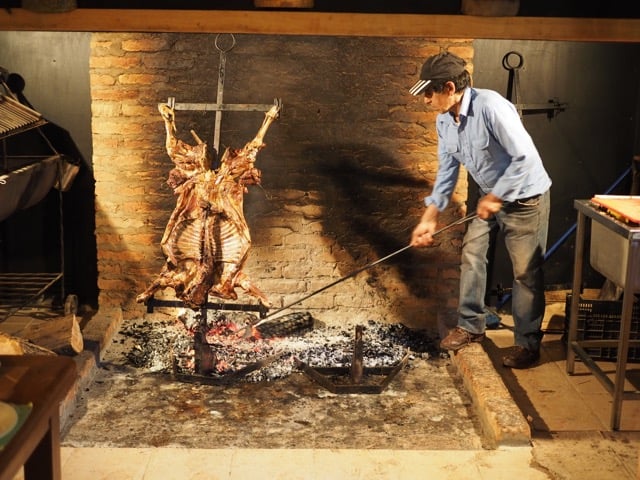 Day 5 - Rest Day in Futaleufú, Chile
Fly-fishing anyone? Or would you prefer action-packed whitewater rafting on the world-class Futaleufú River? Perhaps just a day of rest and relaxation is in order, after the hustle you've been through the past week getting to this point. No matter what your decision, here on the slopes of the Andes with beauty all around, a wrong choice simply can't be made. Thrill-seekers can look no further than the whitewater rafting possibilities here, and will know withing the first minutes on the river that this is quite a serious undertaking with safety and support kayakers and oar boats all around you. Perhaps you just want to go for a short ride before the 2nd night in Futaleufú, for which we can make suggestions like Palena for lunch. This is what we like about being "way off the beaten path."
Day 6 - Futaleufú to Puyuhuapi, Chile - 190km
Today marks the start of our ride down the famous "Carretera Austral" (Highway to the South) and what many folks will agree is some of the best riding in the world! First crossing the Futaleufú River, we'll also be passing near Parque National Corcovado, one of very few privately owned land preserves in the world, arranged as such by the late Doug Tompkins, founder of The North Face and Esprit clothing companies.
Heading further south on the Carretera Austral, and through the first parts of the Rainforest and Parque Nacional Queulat, you'll eventually be arriving in the town of Puyuhaupi after some of the absolute best riding on the trip. Glaciers to the left, waterfalls all around, and the rainforest riding for the Patagonia riders.
Day 7 - Puyuhuapi to Coihaique, Chile - 224km
If we're going to get rain on this trip, it'll likely be here in the Queulat Rainforest in this stunning valley full of switchbacks and unforgettable scenery. Even the most "reserved" personalities tend to burst a bit in this section, as every turn reveals a new view of the precious Patagonia we've grown to love. Waterfalls that cascade down from a few hundred meters high and all the bright green forestry of Patagonia await you.
Day 8 – Coihaique to Puerto Tranquilo area, Chile – 225km
For Patagonia riding WAY off the beaten trail, this is it! Just because the scenery got even better these past couple of days, that doesn't mean it can't get even better still. What a shame that so many other riders will never get to see what we enjoy the next few days.
After Reserva Nacional Cerro Castillo and its sharp mountain peaks, you'll get your first glimpses of Lago General Carrera, and if the sun is out, another site never to be forgotten. Glacier fed waters reflect blue light, and combined with more snow-capped mountains in the background, this is one fantastic ride into Puerto Tranquilo. If we arrived early enough, opportunities for fishing, boat tours of the nearby Marble Caves, and canopy tours are possible.
Day 9 – REST DAY in Puerto Tranquilo (area), Chile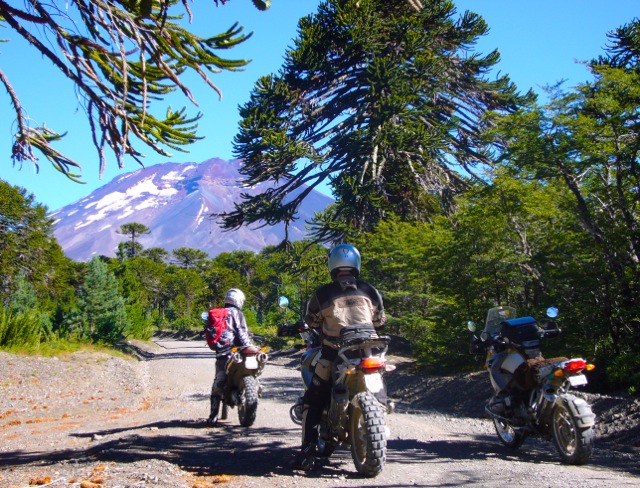 The rest day in the Puerto Tranquilo are is chosen for a couple of reasons. First, Patagonia makes for some tough riding and we need to rest up, and second, because you probably won't want to leave the Puerto Tranquilo area! We will be far off "the beaten path" at this point and varying emotions about seclusion and our normal lives are bound to set in. With activities like boat tours, fly-fishing, horseback riding, canopy tours, and river rafting on the Rio Baker, this is barely a relaxing rest day. On the other hand, if you really feel you want to ride a little this day, the fabulous "Patagonia Park," one of the late Doug Tompkin's conservation efforts is right near by with plenty of guanacos bouncing around the lodge Valle Chacabuco.
Day 10 - Puerto Tranquilo (area) to Perito Moreno, Arg. – 260km
Leaving this spot about 40 miles from the Pacific Ocean, we'll ride along the shores of Lago General Carrera with its blue beauty guiding us along rock walls and fantastic scenery on our way back into Argentina. Now get ready for the wind! As Pacific air rolls across the Andes, it typically rushes down the Eastern side in quite a hurry, so this can be a challenging day of riding.
Day 11– Perito Moreno to El Chaltén, Argentina – 580km
A BEAST of a riding day! Just grip down and get through what is likely to be some howling winds today, as this is part of why Ruta 40 is so famous! Extremely remote territories, very few fueling points, and the wide-open "pampas" region of Argentina again add to the variety in this adventure. The idea is that you'll arrive in the beautiful little mountain-backed town of El Chaltén with the famous Mt. Fitz Roy in the background. The arrival day will be quite full, but an early 5-6 hour on the Laguna Torre hike will help balance out some exercise needs.
Day 12 - El Chaltén to El Calafate, Argentina - 215km
The list of highlights is far from over, as now the RIDE continues to El Calfate with the chance to see or hike on the famous Perioto Moreno Glacier. More on that below:
Day 13 – REST DAY in El Calafate (optional visit to Glacier: 160km)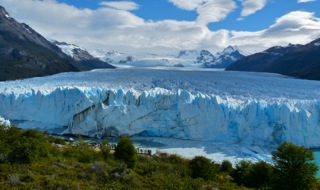 It's important to rest once again, and there might be no better town to do so in. Just a short ride morning starts with a visit to yet another incredible site in Patagonia: The Perito Moreno Glacier! One of only 3 known glaciers in the world that is still actually growing, huge chunks of ice will fall off before our eyes, crashing into the bay before us. As if this awesome sight isn't enough, the rumbling sounds of ice cracking throughout the ice field will remain a definite part of your Patagonia memories. Enjoy the remainder of the day around the town of El Calafate where shopping, crafts, culture and restaurants all await you.
Day 14 – El Calafate to Torres del Paine National Park – 379km – Ride time: 5-6 hours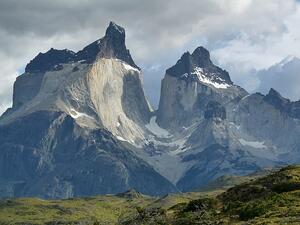 Circling back through the wide-open "pampas" of Argentina one more time, the goal is yet another stunning site on the Chilean side. Crossing the border at Paso Rio Don Guillermo, it might not appear that there's anything in site; however, when approaching the middle of Torres del Paine National Park, riders will understand why this is a special place in Patagonia.
The famous Torres (towers) and Cuernos (horns) of Torres del Paine National Park beg you to take a rest day and either hike or ride around the area to enjoy the beauty. From the south side of "Los Cuernos"(The Horns,) travelers can be found waiting to photograph that perfect sunrise where orange and pink hues radiate across this unforgettable mountain formation. Designated a World Biosphere Reserve in 1978 by UNESCO, photos might not even be necessary as the images will remain clear in traveler's minds forever.
Day 15 – Torres del Paine N.P. to Cerro Sombrero, Chile – 454km – Ride time: 7-8 hours (PLEASE NOTE: "Patagonia Experience" Riders Continue to Finish in Punta Arenas)

Finally, the Province and Island of Tierra del Fuego! Originally given that name by Ferdinand Magellan (meaning "Land of Fire") because of the Indian's fires he saw blazing before him, he might have better named it "Land of Wind," because you're likely be inundated by it most of the day. Those who are skipping the ride to Ushuaia will still witness Tierra del Fuego, as it'll be just 1 km across from the highway while you are guided back to the shop to return the motorcycles and reflect back on the incredible journey behind you.
For those of us continuing to Ushuaia, we'll be riding close to Punta Arenas, but shifting over to Punta Delgada in time to take the ferry across the Straight of Magellan and spend the night in Cerro Sombrero.
Day 16 – Cerro Sombrero to Ushuaia, Argentina – 414km – Ride time: 7-8 hours
Finally, the "Fin del Mundo" or the "End of the World!"
As an adventure motorcycle rider, this destination has long been in your sites, and finally waits before you. Thoughts about the amazing journey that now rests behind you might sneak into the amazing anticipation that comes with riding to this point, only 1000km from Antarctica!
Wide open wind blasts are likely throughout the day until about 100km before arriving in Ushuaia, at which point the scenery drastically improves while you ride through Parque Nacional Tierra del Fuego. We'll finish the ride with plenty of photos at the gate to Ushuaia, and then go a bit further into the National Park Tierra del Fuego. There at Lapataia in the National Park awaits where you can seize the photo opportunity with a sign that truly marks the end of Ruta 3, just 17,848 kilometers from Alaska! Then off to a nice seafood dinner on the coast with plenty to laugh and smile about, looking back at the amazing journey behind us.

Day 17 – Departure day from Ushuaia, Argentina

It might be off-season for skiing, but Ushuaia still holds that ski town charm and is a nice place to spend the day. Tourists flock to this city not only because of its location, but also because it serves as a departure point for cruises to Antarctica. An interesting point to visit is the Ushuaia prison (now a museum) as it housed fugitives from Buenos Aires through the early 1900's. The official tour package ends today as we help you get to the airport, unless you can stay longer or want to go further? Hopefully you don't have to rush out of Ushuaia right away, and can say an extra day or 2 to relax, and look back on the incredible motorcycle riding accomplishment you just made!
BMW F700GS (twin cylinder)
The new F700GS offers a larger windshield, enhanced braking system, Electronic Suspension Adjustment, Automatic Stability Control, and a handful more horsepower! As if the previous version (the F650GS) wasn't a good enough adventure bike, this mid-weight option continues to be the most versatile and popular motorcycle rental option.
X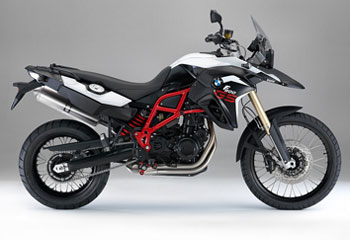 BMW F800GS
Certainly considered the "athlete" of the BMW team, the F800GS can be counted on to carry all your travel gear and still maintain the awesome feeling of a pure off-road machine when you're in the dirt. With over 215mm of suspension travel, the F800GS boasts 85 horsepower from its twin-cylinder engine, and is sure to give an adrenaline rush when you unleash it!
X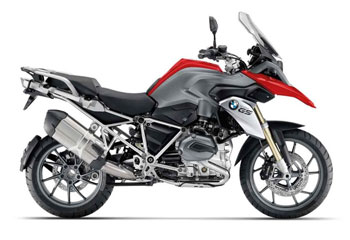 BMW R1200GS - Liquid Cooled 2013
Revised for the model year 2013, BMW it seems has done it once again in the world of adventure motorcycles. The new liquid-cooled version of the famous R1200GS comes with a more "upright" stance and off-road friendly positioning. Now with a wet clutch, a higher air intake perfect for river crossings, and a 10% horsepower increase, BMW has clearly made improvements on what was already a great adventure bike.
X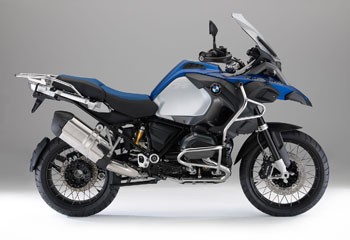 BMW R1200GS Adventure (2014+ Liquid Cooled)
Just a year after releasing the Liquid Cooled R1200GS, BMW's famous Adventure model or "GSA" was introduced, and for all the right reasons. Like it's predecessor, the "GSA LC" as we tend to call it boast the 125 liquid cooled horsepower and has the fuel capacity and carrying capability to make the longest and most remote adventures a reality. At the same time, it's still a thrill when in tight mountain switchbacks and twisties!
X
Honda Africa Twin
Finally, the return of a legend! The long awaited, and thoroughly updated Africa Twin by Honda has been talked about for years, finally making itself available in various markets around the world in 2015. With a four-valve Unicam® cylinder head 998cc parallel twin engine, more power than an adventure rider could ever need is available along with suspension travel and ground clearance to handle the most remote and rugged terrains and pathways.
X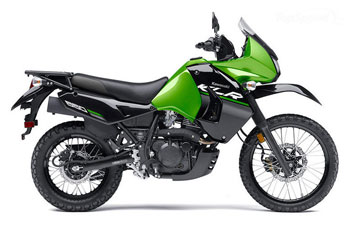 Kawasaki KLR 650
Another famous bike for adventure travelers, the KLR has been tested and proven by riders everywhere. Kawasaki made changes in recent years, making this bike now even more comfortable for the "open road" aspects of travel while not losing any of its off-road ability.
X