Your Baja Motorcycle Adventure Starts Here
Itinerary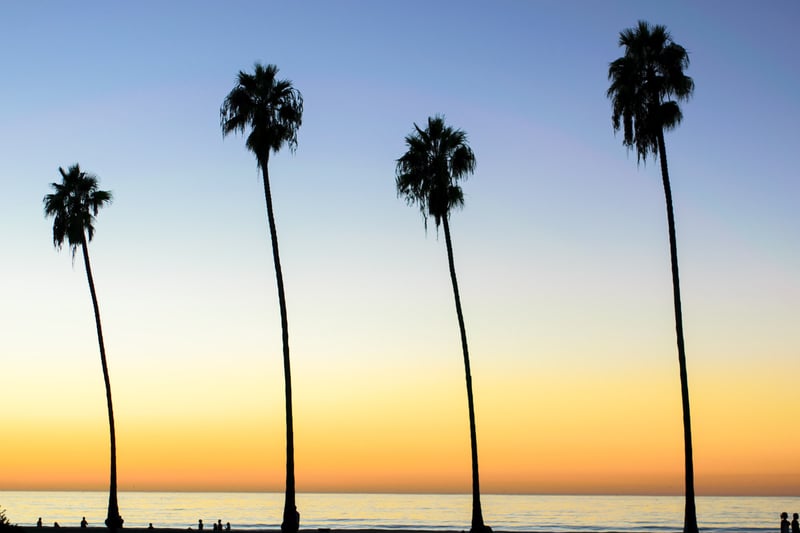 Day 1: Your Southern California Starting Point, San Diego, California
Itinerary for "Baja on UP" is Reversed
Welcome to the gateway of your Baja adventure! Our journey begins in sunny Southern California, a land of year-round warmth and boundless opportunities for exploration. If you're coming from a place where winters can be harsh, you'll immediately understand why this region is so coveted.
What to Expect:
Midday Arrival: Arrive and settle into your accommodations, taking in the pleasant climate and anticipation of the adventures ahead.

Trip Briefing: Meet our experienced guides, who will be your companions throughout this journey. They'll provide you with essential information to ensure a seamless experience.

Meet & Greet Dinner: This isn't just a dinner; it's the start of lifelong friendships. Get to know your fellow adventurers, who, after this epic ride, may well become your trusted motorcycle travel buddies.
Looking Ahead:
Get a good night's rest because tomorrow you'll rise early to load your luggage into our support vehicle, and then we're off to cross the "frontera" (border) into Baja California, Mexico. Your thrilling adventure is about to kick into high gear!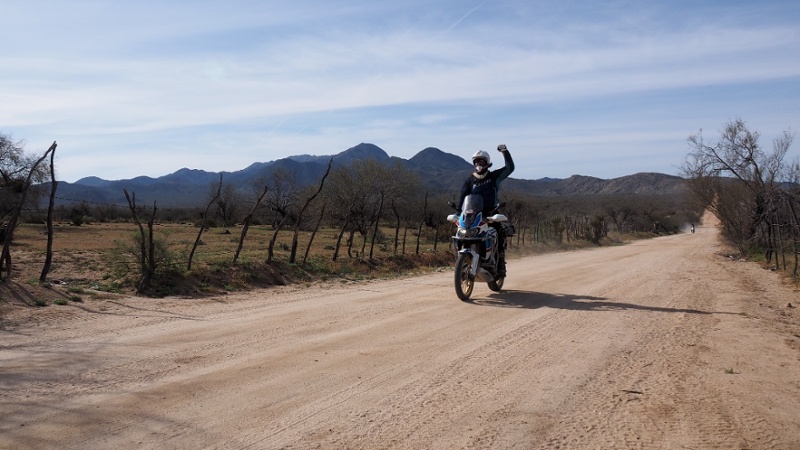 Day 2: San Diego to Ensenada, Mexico- 250Km
In the words of Officer Antonio, "Welcome to Mexico." As originally noted in Eric's 2008 blog post, these simple words marked the beginning of a journey filled with open arms, friendly faces, and breathtaking scenery.
While today's route, as the crow flies, is not exceptionally long, we'll add some extra riding due to the border crossing into beautiful Mexico. Our adventure commences, leading us through Tijuana or Tecate, and into the picturesque northern Baja wine country before arriving in Ensenada.
What Awaits You:
Flavorful Feasts: Brace yourself for the best fresh fish tacos, ceviche, tequila, and ice-cold cervezas you've ever had. The tantalizing flavors are so close you can practically taste them in the ocean breeze as we journey down the stunning Pacific Coast.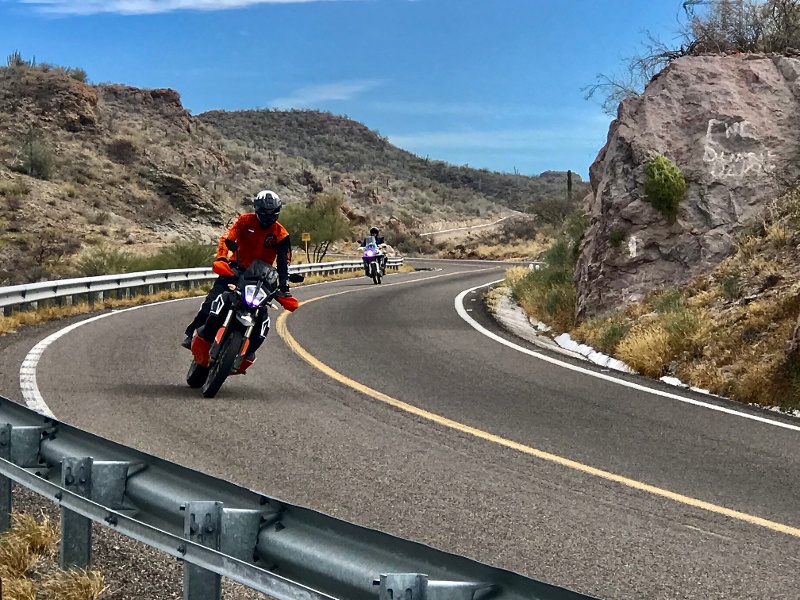 Day 3: Ensenada to Catavina - 410Km
As we journey southward, we'll uncover opportunities to veer off the well-ridden path along the Pacific Coast, leaving behind the hustle and bustle of the border towns. Our route will lead us into the enchanting, lesser-explored realm of the Baja Peninsula.
Prepare to be transported into a surreal landscape as we enter the otherworldly Valle de los Cirios, a place reminiscent of a Dr. Seuss book come to life. Here, you'll encounter colossal cacti and volcanic boulder formations that resemble whimsical, fictional characters, igniting your imagination.
Then to Catavina, a place that scarcely registers on the map, serves as the perfect overnight oasis within the vast desert. Step outside in the late evening, and if the moonlight allows, behold a breathtaking, star-studded night sky that will leave you in awe.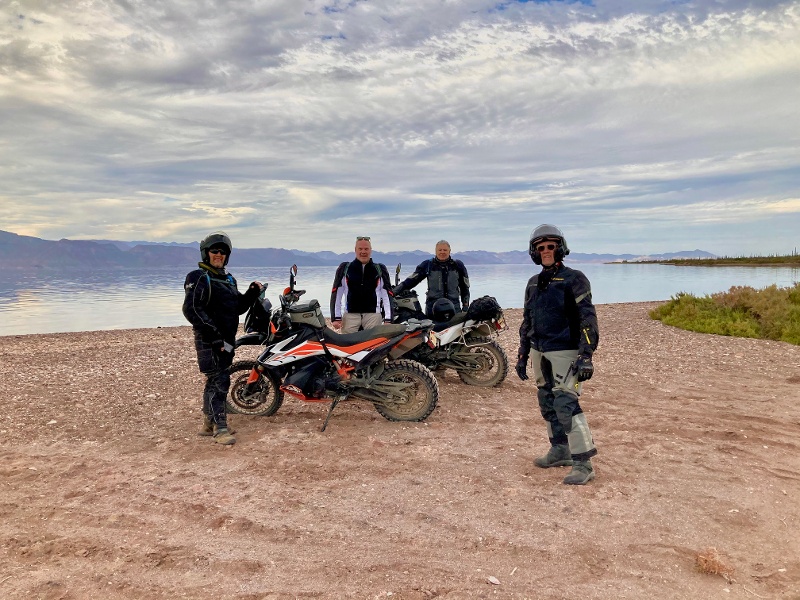 Day 4: Catavina to Bahia de Los Angeles - 302Km
Fear not, as we bid farewell to Catavina, the captivating array of Cirio, Cardon, Cholla, Pitaya, Cochal, and Senita Cacti continues to grace our journey. We'll traverse the peninsula on our way to the next destination, a hidden gem that only a fortunate few have the privilege of discovering.
Bahia de los Angeles awaits, a secluded fishing village nestled along the pristine shores of the Sea of Cortez. Here, you'll leave behind the modern conveniences of cell coverage and ATMs, but in their absence, you'll find compensation in the tranquil escape it offers from the rest of the world. With its calm turquoise waters and sun-kissed, sandy beaches, Bahia de Los Angeles provides the perfect haven for a blissful retreat.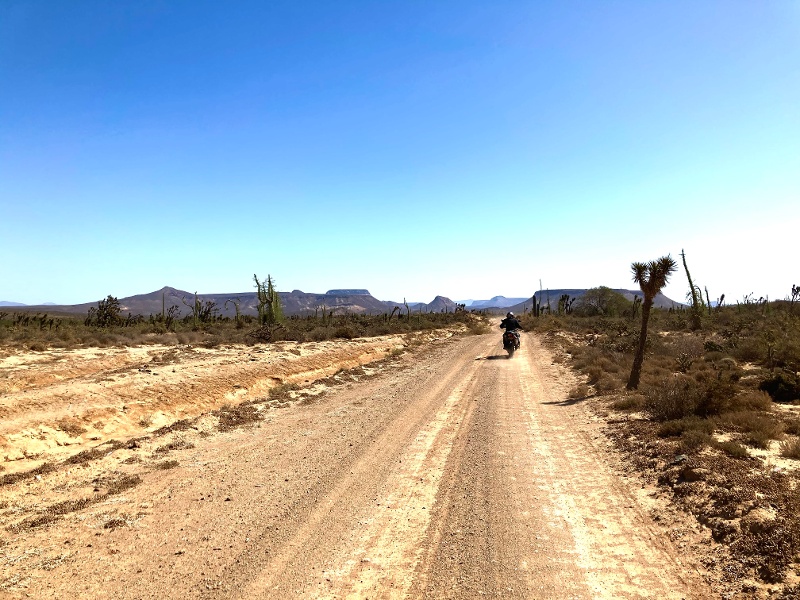 Day 5 - Bahia de Los Angeles to San Ignacio-340Km
For those intrepid souls ready to conquer the long, sandy roads, a hidden treasure awaits: the northernmost stone Spanish mission, situated in the heart of a remote, seemingly desolate landscape. Once a thriving mission center during the late 1700s, this place has transformed into a ghost town, bearing silent witness to a bygone era.
Our journey continues through the El Vizcaíno Biosphere Reserve, Mexico's largest wildlife refuge. Here, you may have the chance to spot an array of creatures, from rodents and hares to the elusive California Pronghorn and Desert Bighorn Sheep.
This leg of the adventure offers a mix of the finest dirt roads suited for big adventure bikes and some well-paved stretches.
Our final destination is the charming oasis town of San Ignacio, where you can look forward to a delightful evening with delectable cuisine and refreshing drinks.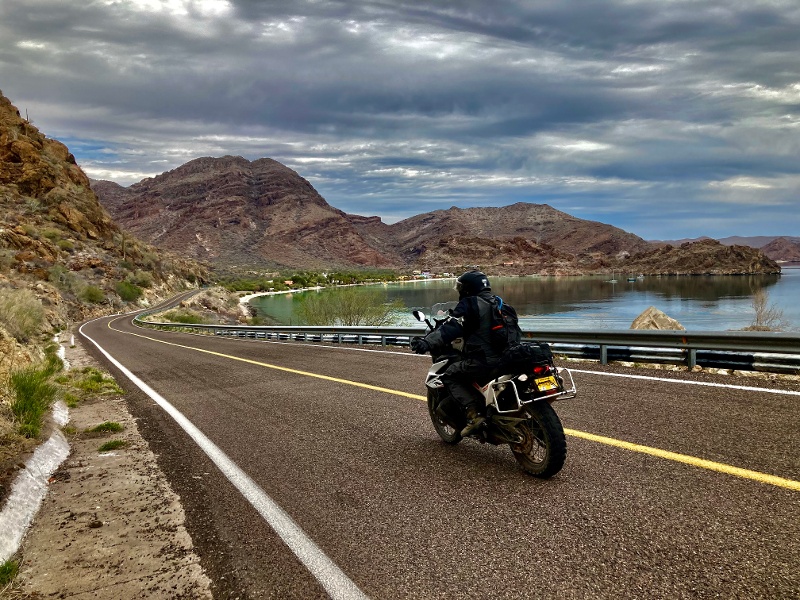 Day 6: San Ignacio to Loreto-274Km
As we look forward to a day of coastal riding, you'll find yourself winding along pristine white sand beaches, with the cerulean waters of the Sea of Cortez embracing each twist and turn. Today promises a riding experience like no other.
Our journey takes us through the town of Heroica Mulegé, a place rich in history and offering great lunch spots. Just beyond, prepare to be awestruck as you ride along the Bay of Conception, a place of beauty that defies adequate description – the kind of beauty only a true poet could capture in words, and we'll refrain from attempting it here.
Today's destination is Loreto, a town nestled within one of the nation's few National Marine Parks. Tomorrow, you'll have a well-deserved rest day, offering you the freedom to relax on the beach, try your hand at fishing, enjoy a round of golf, or set out for another exhilarating ride. The choice is entirely yours.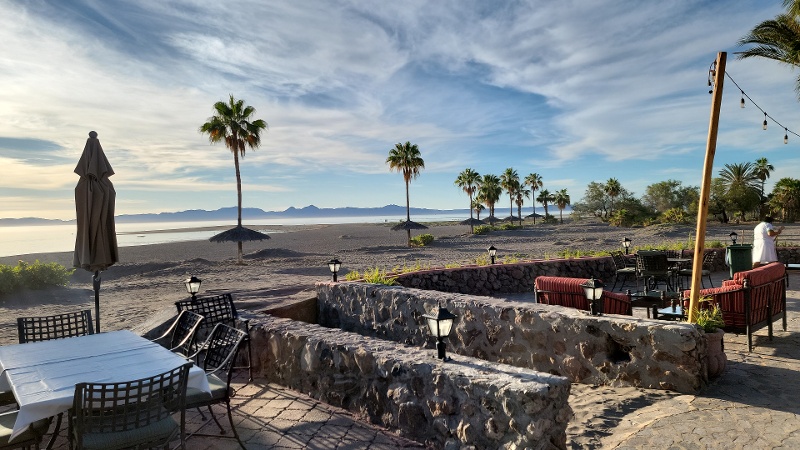 Day 7: Rest Day in Loreto (Riding Optional)
Embrace a day of leisure in the lively coastal town of Loreto. Whether you choose to saddle up for a coastal ride, plan a day trip to Coronado Island and Loreto Bay National Marine Park, or simply unwind, the day is yours to enjoy at your own pace.
For the adventurous spirits, there's the opportunity to swim with sea lions, keep a keen eye out for dolphins, and bask in the beauty of Loreto's white sandy beaches on a half-day excursion. If you're here between January and April, consider embarking on a full-day whale-watching adventure, a truly unforgettable experience.
(We schedule these Baja trips from mid-January through March, the peak season for whale watching, so don't miss out on this remarkable opportunity.)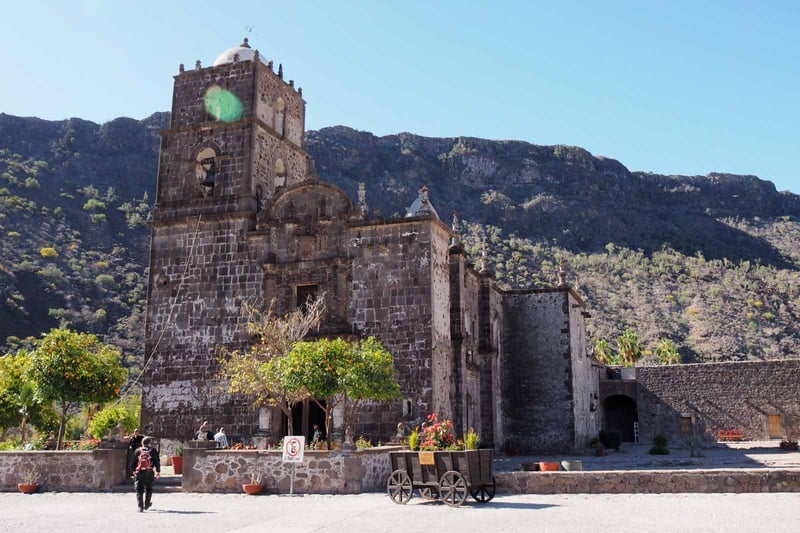 Day 8: Loreto to La Paz-374Km
Get ready for more Baja fun as we set out on a day filled with open desert routes and charming, pint-sized villages. The morning ride brings you pristine paved twisties, leading to a significant highlight: the San Javier Mission, a historic gem nestled amidst the rugged terrain.
From there, we venture onward to an exhilarating, long stretch of dirt roads and light sand, heading further south. Rest assured, there's a fully-paved alternative for those who prefer it. A few hours later, you'll find yourself once more beside the glistening blue waters, as we arrive in the lively coastal city of La Paz. Here, you'll have a wealth of picturesque settings and fantastic dining options to choose from as you explore the town.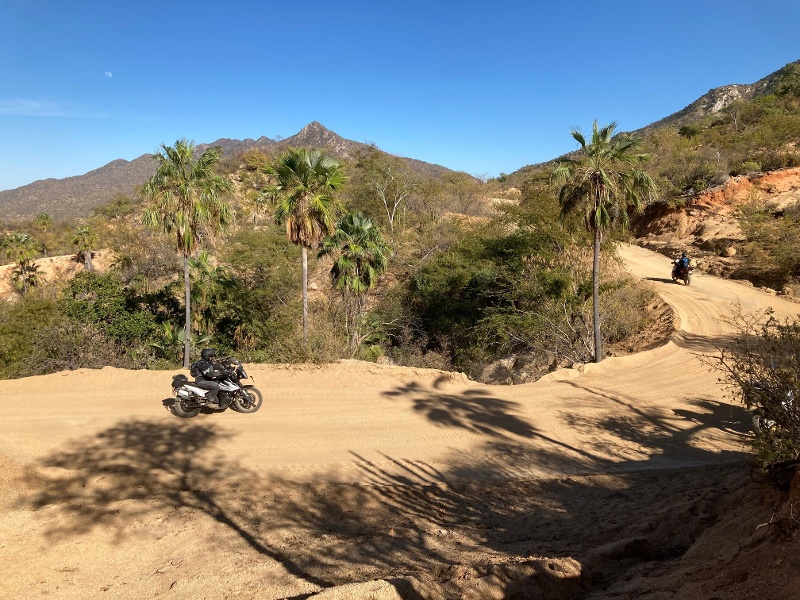 Day 9: La Paz to San Jose del Cabo-228Km
Our journey takes us south from La Paz, where a brief visit to the mining history museum at El Triunfo offers insights into the region's rich heritage. You'll then find yourself immersed in more exhilarating, twisty roads and breathtaking coastal vistas.
As you make your way down to Los Barriles, another wonderful lunch spot awaits. Here, riders have the option to complete the journey on well-paved roads, or for those seeking an extra dose of adventure, there's the opportunity for some playful riding through not-too-deep sand along the Cabo Pulmo area.
The route leading to San Jose del Cabo is adorned with opulent mansions and beach resorts, teeming with surfers and beach enthusiasts. Finally, we arrive in San Jose del Cabo, another vibrant town that serves as the perfect destination to conclude our exhilarating motorcycle trip.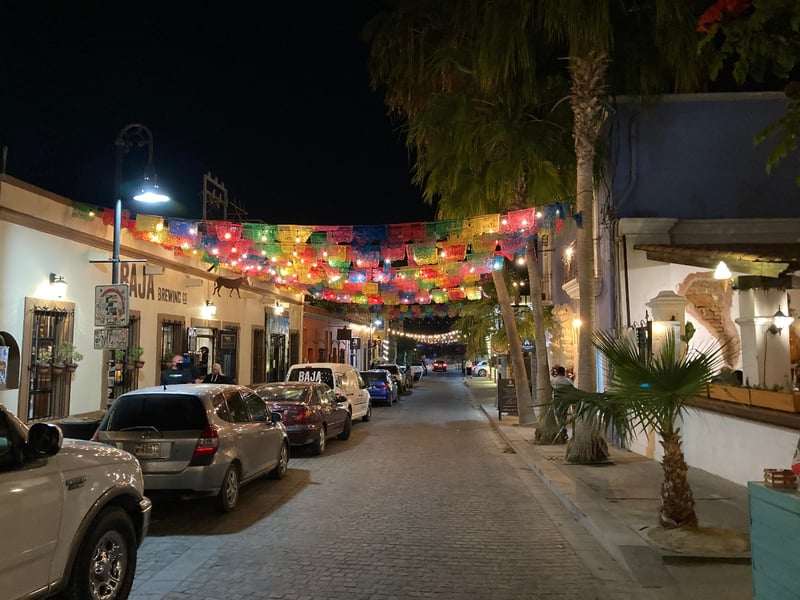 Day 10: Departures or An Extended Vacation
Is it time to say goodbye already? Many of us choose to extend our stay, perhaps by inviting a loved one to join and relish the sunny beaches, activities, dining, and shopping that Los Cabos offers. But if your journey with us must come to an end, do so with a contented smile, for you've undeniably conquered Baja, and you're taking back with you a treasure trove of photos and tales to regale your riding buddies who "missed out."
We sincerely appreciate your decision to journey with us and hope you'll return to embark on your next thrilling moto adventure. Safe travels, and until we meet again on the open road!
Minimum Essential Gear for RIDE Training
If you're planning to jump on a guided tour or training with RIDE Adventures, it's essential that you have the right gear. This helps to ensure your safety and the safety of others while on the road.
Not being properly prepared can lead to injuires that could have been avoided. Our guides have created a Minimum Essential Gear Guide if you plan to book a RIDE Adventures. If you don't come minimally prepared there is a chance our guides will prevent you from hopping on a bike. Make sure you're prepared for the adventure.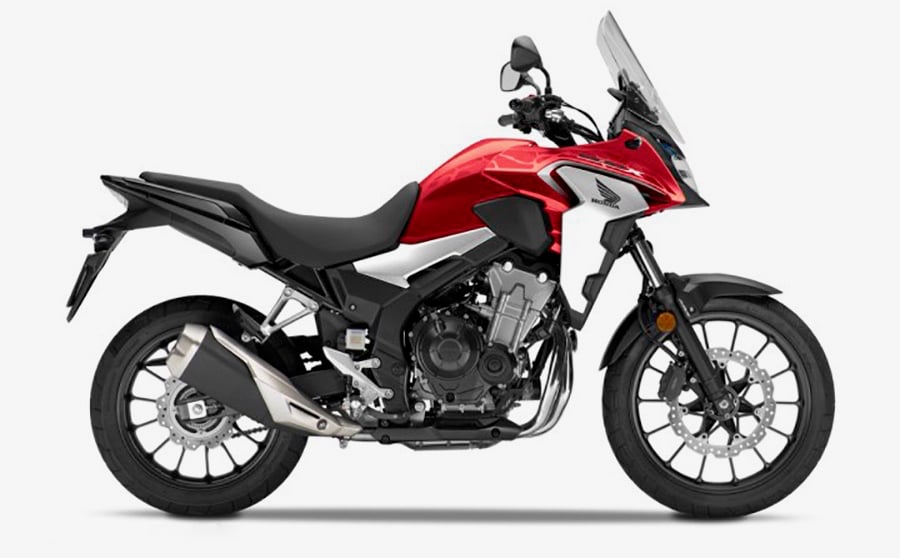 2019+ Honda CB500x
Another recent assertion by Honda Motorcycles into the Adventure Riding world, riders seeking a compact-sized adventure bike have been raving about the CB500X. With plenty of power emanating from the parallel-twin engine, and an agile disposition, everything from paved twisties to gravel, dirt, and sand can be conquered with this fun adventuring option. Starting in 2019 with the 19" front wheel, this bike has proven itself for us in places like Patagonia, and will be a great option for riders exploring beyond.
Wet Weight - 430lbs
Seat Height - 32.7 inches
Fuel Capacity - 4.6 gal
X
Seat Height:
32.7 in
Curb Weight:
430lbs
Fuel Capacity:
4.6 gal
Displacement:
471cc Parallel Twin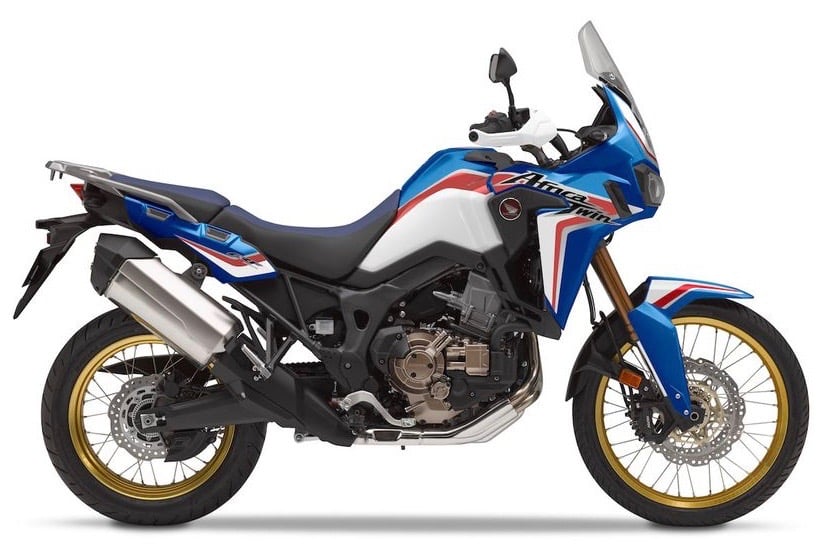 Honda Africa Twin
Finally, the return of a legend! The long awaited, and thoroughly updated Africa Twin by Honda has been talked about for years, finally making itself available in various markets around the world in 2015. With a four-valve Unicam® cylinder head 998cc parallel twin engine, more power than an adventure rider could ever need is available along with suspension travel and ground clearance to handle the most remote and rugged terrains and pathways.
X
Seat Height:
33.5/34.3 in
Curb Weight:
511 lb
Fuel Capacity:
4.96 gal
Displacement:
998 cc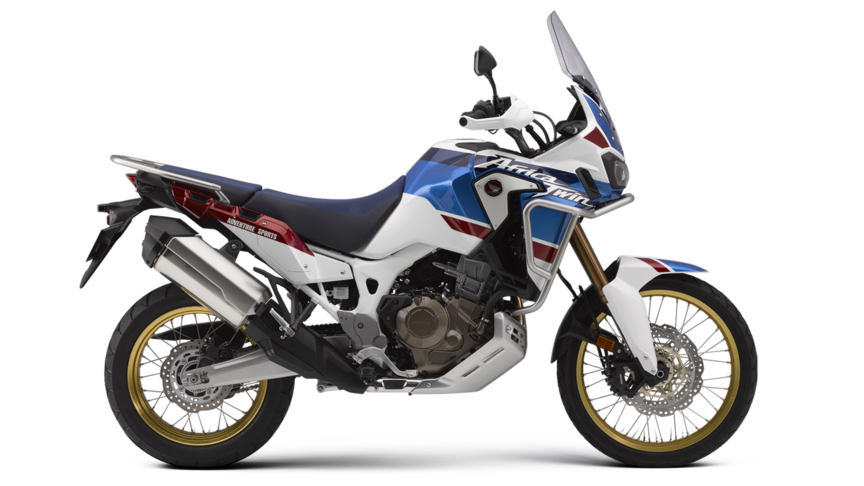 Honda Africa Twin Adventure Sports
Finally, the return of a legend, and this version, a little bit more prepared for long adventure rides than it's smaller twin. The long awaited, and thoroughly updated Africa Twin by Honda finally became available in rental fleets around the world in 2015, forever winning our hearts over with incredible reliability while being extremely fun to ride the first few seasons. This "Adventure Sports" version is about an inch taller with 1.5 gallons greater fuel capacity than the standard Africa Twin. With a four-valve Unicam® cylinder head 998cc parallel twin engine, more power than an adventure rider could ever need is available along with suspension travel and ground clearance to handle the most remote and rugged terrains and routes.
X
Seat Height:
35.4/36.2 in
Curb Weight:
533 lb
Fuel Capacity:
6.4 gal
Displacement:
998 cc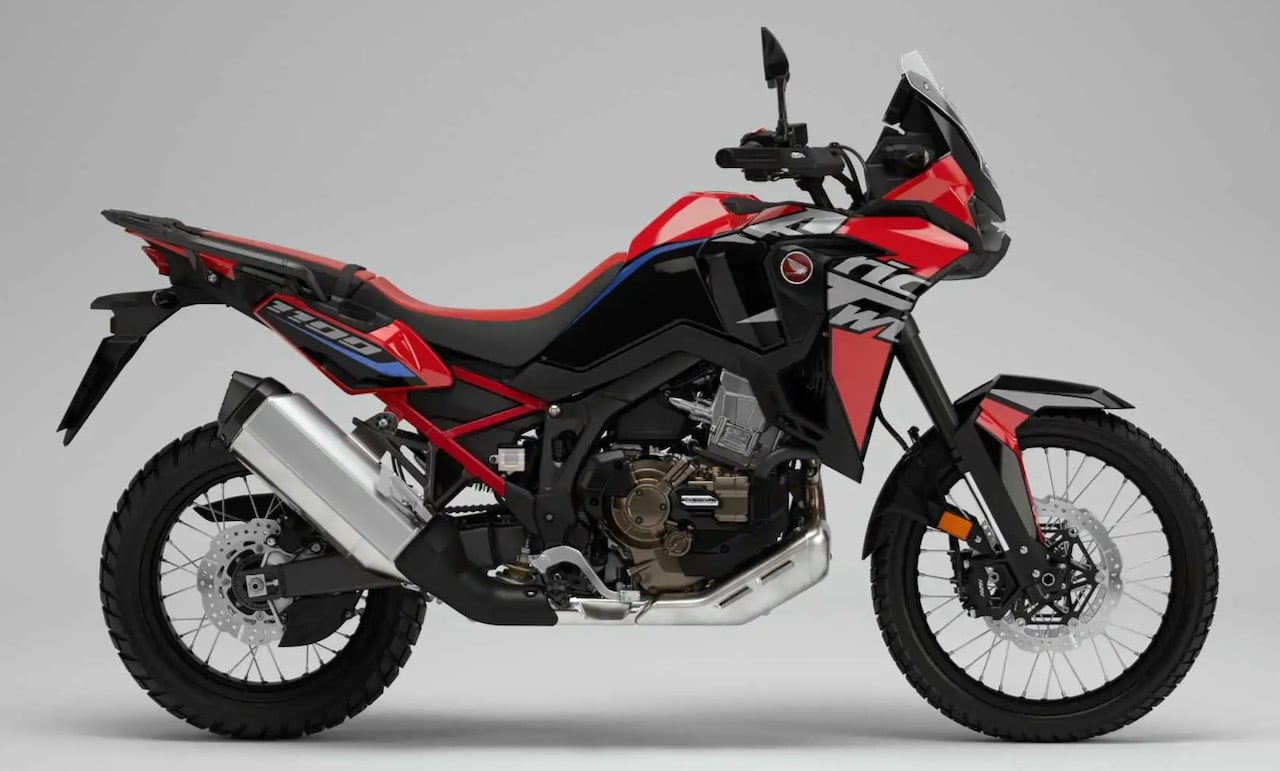 Honda Africa Twin CRF1100 (2020+)
Just a few years after this legendary bike was reintroduced as a 1000cc world traveler in 2016, Honda made the Africa Twin CRF 1100 just a little bit better starting the 2020 model year. With four-valve Unicam® cylinder heads atop a 22.5degree parallel-twin engine, more power than an adventure rider could ever need is available along with suspension travel and ground clearance to handle the most remote and rugged terrains and pathways. An upgraded electronics package vs. the previous version includes cruise control, a 6-axis IMU (Inertial Measurement Unit,) and a 6.5 inch touchscreen display with Bluetooth integration. Pack it up for a long trip, or take the bags off for a day on the trails, nothing but fun lies ahead!
X
Seat Height:
33.5/34.3 in
Curb Weight:
505 lb
Fuel Capacity:
5.0 gal
Displacement:
1084 cc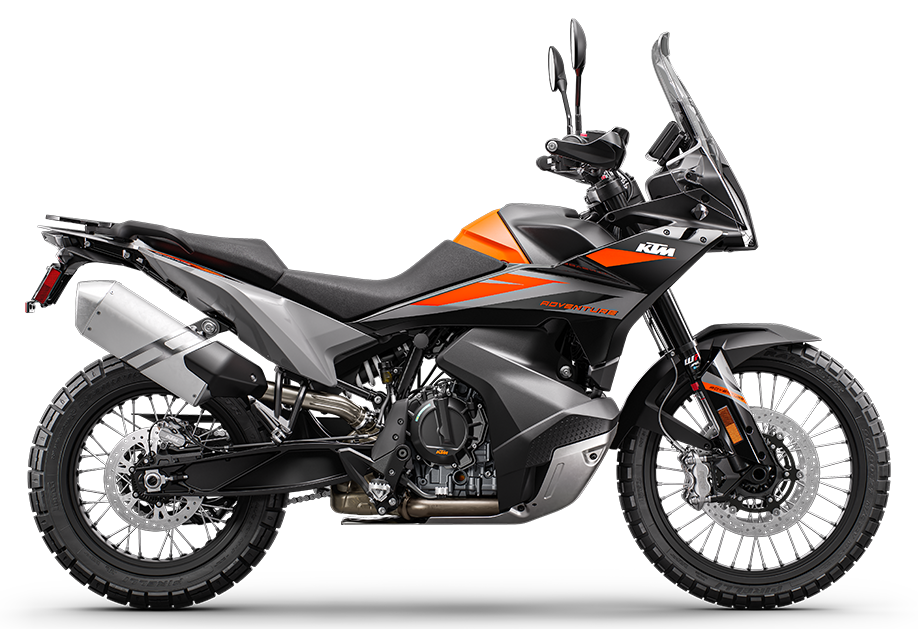 KTM 890 Adventure
The KTM 890 ADVENTURE is the ultimate motorcycle for adventure travel. Whether you're tackling highways or rough terrain, this bike has got you covered. It's been updated for 2023 to provide an even better ride with reworked adjustable suspension, a comfortable seat, and wind protection. Get ready to explore new places with the powerful and capable KTM 890 ADVENTURE.
X
Seat Height:
33.4 in / 850 mm
Curb Weight:
464 lb
Fuel Capacity:
5.3 gal / 20 L
Displacement:
889 cc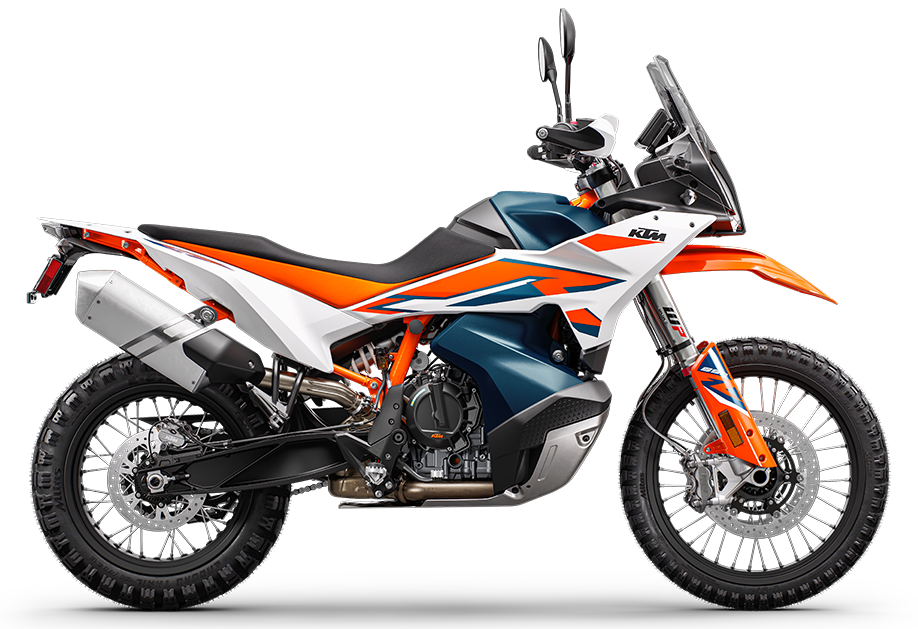 KTM 890 Adventure R
Experience the thrill of the journey with the updated KTM 890 ADVENTURE R. This motorcycle is ready for anything, from smooth highways to rough gravel switchbacks and single track trails. Its responsive powerplant, precise off-road handling, and comfortable design make it a top choice for adventure seekers. Don't let the destination hold you back - let the KTM 890 ADVENTURE R take you on an unforgettable ride.
X
Seat Height:
34.6 in / 880 mm
Curb Weight:
464 lb
Fuel Capacity:
5.3 gal / 20 L
Displacement:
889 cc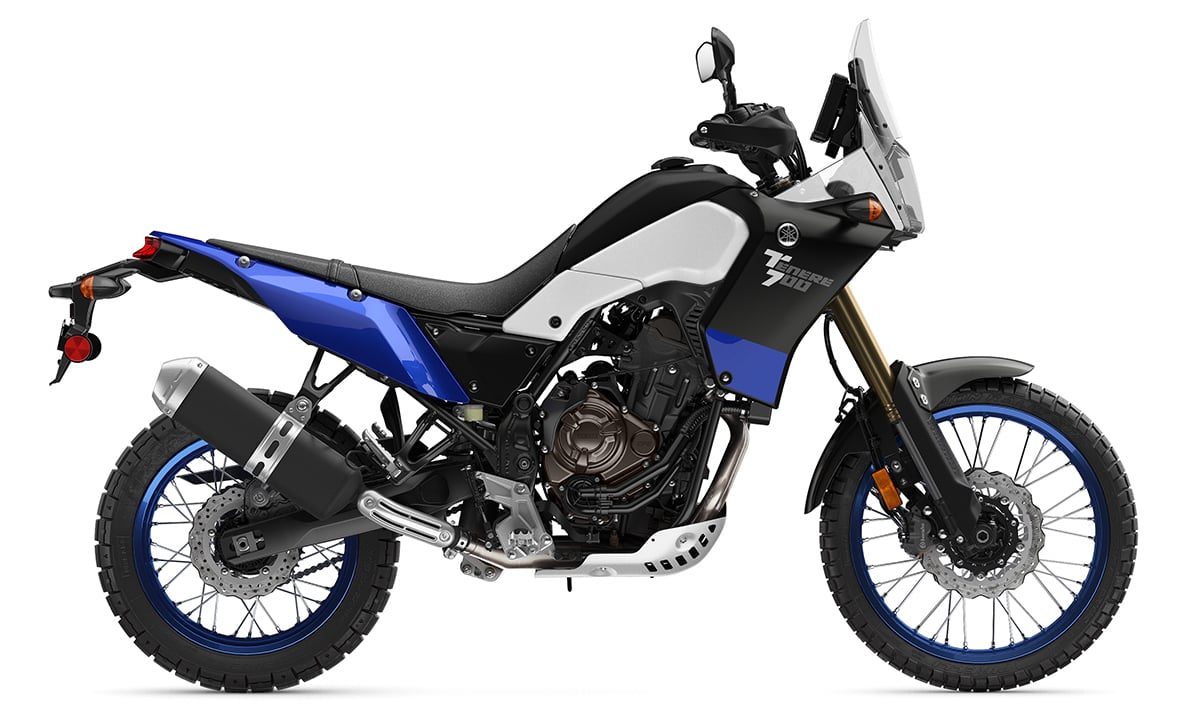 Yamaha Ténéré 700
This highly-anticipated "masterpiece of value" has finally been released, giving dual sport adventure riders around the world one more incredible middle-weight adventure bike to choose from. With 73+ smooth, linear horsepower pouring through one of most beautiful exhaust notes out there, the Ténéré 700's unique anti-squat design puts that power into the ground, instead of into the rear shock. The result is one of the best handling, adventure bikes on the market, all backed by typical Yamaha-reliability. Take this agile machine on short trips or long, paved twisties or dirt roads, and know that this may be as close to the "perfect" adventure bike as we have seen in a while. With an attractive entry price, and corresponding rental rate, we expect the number of Ténéré 700's in our fleet operations to grow steadily and remain a factor for a long time.
X
Seat Height:
34.4 in / 874mm
Curb Weight:
452 lb / 205kg
Fuel Capacity:
4.2 gal
Displacement:
689 cc