"BAJA ON DOWN" Research Trip for Scouting the Best of Baja's Riding & More
Itinerary
*PLEASE NOTE: THIS ROUTE IS IN "RESEARCH TRIP STATUS." EXACT OVERNIGHT LOCATIONS & DAILY KM TOTALS SUBJECT TO CHANGE AS WE CONQUER BAJA TOGETHER
Day 1 - Arrival in sunny San Diego, California (SAN airport. See reverse-route dates from San Jose del Cabo.)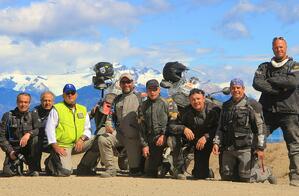 Welcome to California, and the many reasons why this land is among the most sought-after real estate in the world! Sunny skies, year-round warm weather, and this location perfect for crossing into Mexico will serve as our starting point. Arrive by mid-day, expect an evening briefing with Eric & Staff, and a welcome dinner to follow.
Day 2 - San Diego to Guadalupe, Mexico
Those simple words, "Welcome to Mexico" as stated by Officer Antonio and noted in Eric's original blog post in 2008 meant open arms, friendly faces, and beautiful spaces were ahead. Not a long ride today as the crow flies, but with some extra riding in between and the border crossing into 'ol Mexico, we'll take it easy this first day and settle into Mexican wine country with boutique accommodations and an opportunity to soak up the fruits of the surrounding vineyards.
Day 3 - Guadalupe to Mike's Sky Ranch
Touching a bit of the Pacific Coast and also riding more rustic settings further inland, we'll pass through Ensenada and the home to many Baja 1000 Rallies on the way to the famous Mike's Sky Ranch. Perhaps more famous than Mexico's wine country or Pancho Villa himself, Mike's has been a crossing point for motorcycle travelers since 1967 and will be a fun place for us to see just "who's who" in the adventure riding world. Prepare to kick some tires and see what other bikes are being ridden.
Day 4 - Mike's Sky Ranch to Gonzaga Bay
For this initial trip, you may notice we're not really going "directly south," in any hurry to finish, as the mountainous riding around this area appears to be well worth checking out. In this regard, it's possible that we'll head back north a bit before turning south again. While this trip is in "Research Trip" status, we're looking for Riders who can appreciate the tiny villages and untouched scenery that we'll come across when we are truly exploring what lies here in Baja, in this beautiful country of Mexico. (Speaking of, click here to see Eric's blog post from 2011 that summarized the "Best Of" all his travels during 2+ years riding through Latin America. Mexico scored very highly or at the top in terms of cuisine, friendliest people, and prettiest girls. Lorena is since married with children, but surely you have cousins or friends, Lorena? : )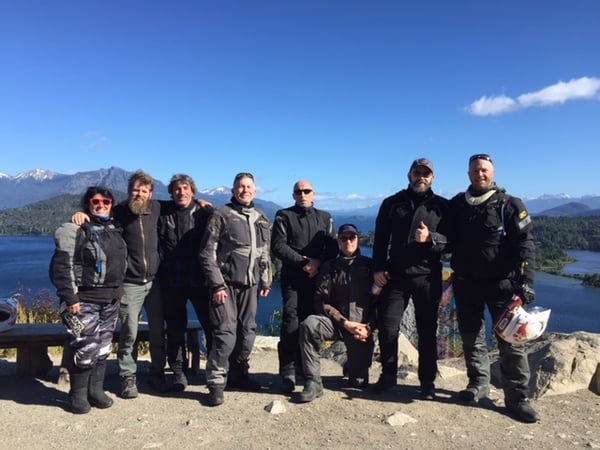 Day 5 - Gonzaga Bay to San Ignacio
Starting the day with coffee the famous "Coco's Corner" the riding continues through the Natural Preserve the bulk of the day. Eventually into El Vizcaíno Biosphere Reserve and Mexico's largest wildlife refuge, rodents, hares, the California Pronghorn, Desert Bighorn Sheep, and other sitings are likely. Combining the best dirt roads available for the big adventure bikes and some pavement as well, we arrive in San Ignacio and prepare for a Rest Day with some great options.
Day 6 - Rest Day in San Ignacio - (Riding Optional)
Enjoy the day off in the palm oasis town of San Ignacio, go for a ride along the coast, or arrange for perhaps the most famous thing to do here, a whale watching adventure available January through April. Get to touch a whale, up close, and in person!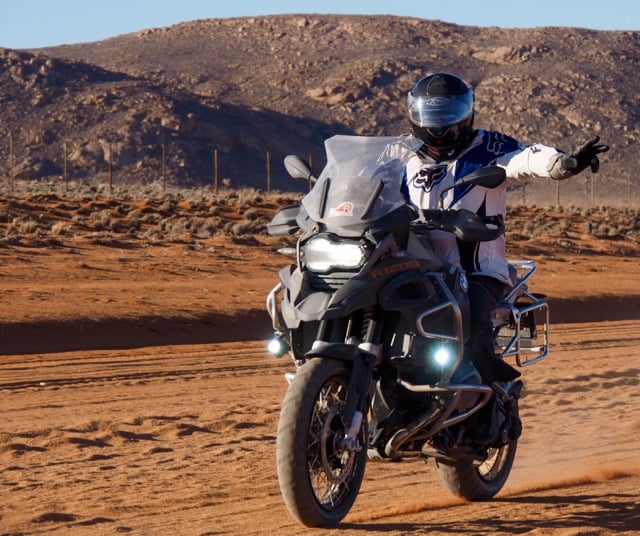 Day 7 - San Ignacio to Mulegé Bay
With antiquated churches and Spanish Missions along the way, we'll wind through the best of what Baja has to offer in regards to the motorcycles beneath us. Grip it, rip it, and have fun with this skinny little piece of land that we're nearing the southern tip of! Remember, no direct routes here. We're out scouting the most fun routes and scenery to celebrate the big adventure bikes with.
Day 8 - Mulegé Bay to Scorpion Bay
More reconnaissance, looking for the obscure routes and tiny villages. We'll likely get turned around a few times, we might even have to dig the bikes out of sand, but the main thing is, we're exploring Baja and out riding for fun and relaxation.
Day 9 - Scorpion Bay to Puerto San Carlos
The peninsula narrows, and so we'll likely be on both the east and west coasts of Baja throughout the day. Who will we meet, what will we see, and what pace feels right for us overall? The fishing village of Puerto San Carlos has some beautiful beaches and we'll spend the night on this tiny island.
Day 10 - Puerto San Carlos to La Paz
A famous finishing point for the Baja 1000 Rally, La Paz holds one of the higher standards of living in all of Mexico, the beaches, shops and dining opportunities will be a welcome visit near the end of this journey.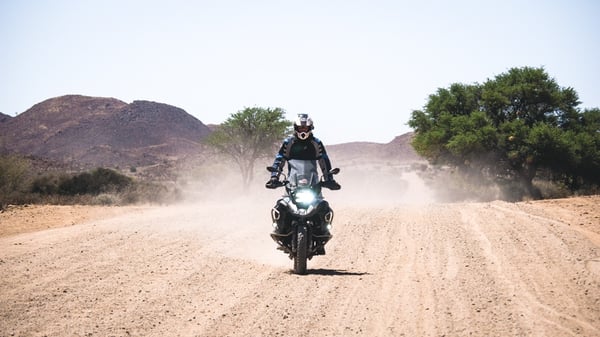 Day 11 - La Paz to San Jose del Cabo
The finish! Meandering down to yet another town along the Gulf of California, what was the best riding section we enjoyed? What sections would you skip? As this was a Research Trip, your feedback is absolutely crucial to creating the best trips possible for other Riders to enjoy, so please plan on offering your suggestions, and taking some credit for creating the best riding vacation possible in Baja.
Day 12 - Departure Day from San Jose del Cabo (SJD)
Eric and our Support Vehicle Driver will relax for a few days here in the Cabo area before heading back north with another group, and hopefully you can do the same. Thanks for joining us. How would you make this the perfect route?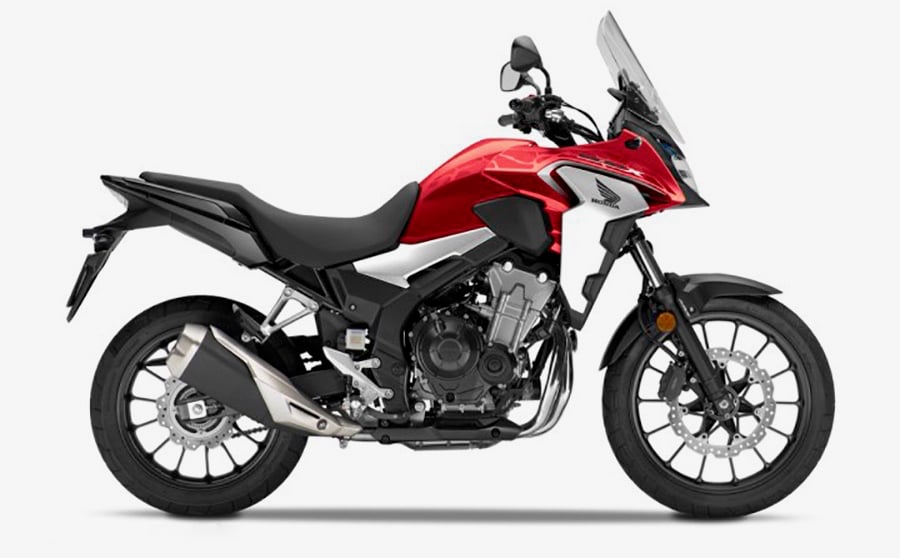 2019+ Honda CB500x
Another recent assertion by Honda Motorcycles into the Adventure Riding world, riders seeking a compact-sized adventure bike have been raving about the CB500X. With plenty of power emanating from the parallel-twin engine, and an agile disposition, everything from paved twisties to gravel, dirt, and sand can be conquered with this fun adventuring option. Starting in 2019 with the 19" front wheel, this bike has proven itself for us in places like Patagonia, and will be a great option for riders exploring beyond.
Wet Weight - 430lbs
Seat Height - 32.7 inches
Fuel Capacity - 4.6 gal
X
Seat Height:
32.7 in
Curb Weight:
430lbs
Fuel Capacity:
4.6 gal
Displacement:
471cc Parallel Twin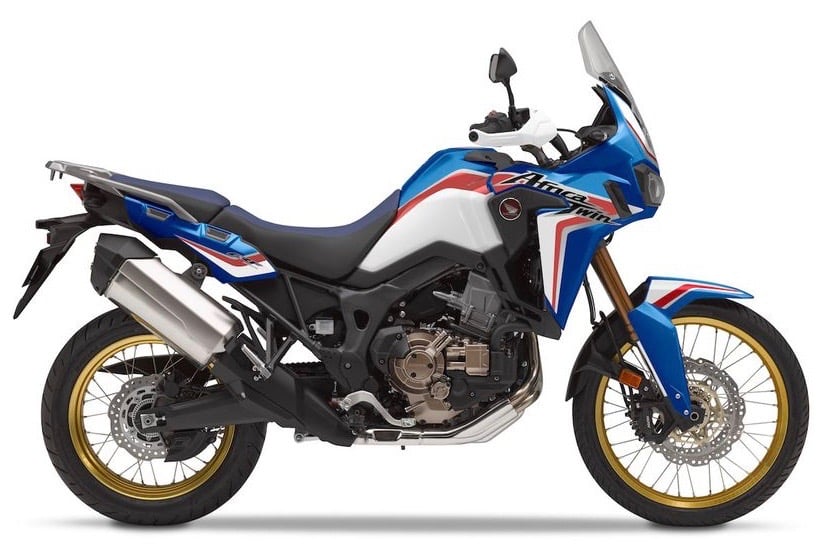 Honda Africa Twin
Finally, the return of a legend! The long awaited, and thoroughly updated Africa Twin by Honda has been talked about for years, finally making itself available in various markets around the world in 2015. With a four-valve Unicam® cylinder head 998cc parallel twin engine, more power than an adventure rider could ever need is available along with suspension travel and ground clearance to handle the most remote and rugged terrains and pathways.
X
Seat Height:
34.3 in
Curb Weight:
511 lb
Fuel Capacity:
4.96 gal
Displacement:
998 cc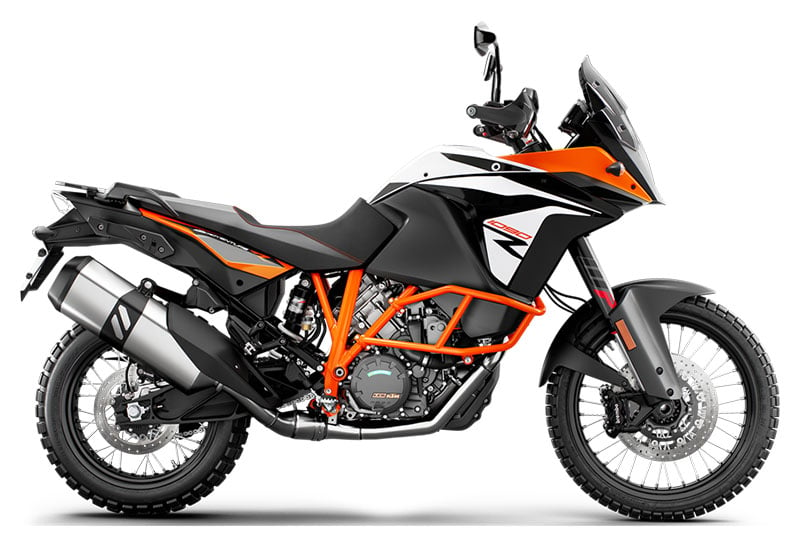 KTM 1090 Adventure R
KTM's famous LC8 parallel twin engine now finds itself in the 1090 size, and just perfect for a variety of adventurous riding. Kick around in the dirt while unloaded, or pack up this chassis with luggage needed for a bigger trip, and you'll have a blast either way. The 21" front wheel and WP suspension soaks up imperfection and points to the apex of turns with ease while 125 horsepower gets you there as soon as possible.
X
Seat Height:
35 in
Curb Weight:
514 lb
Fuel Capacity:
6.1 gal
Displacement:
1050 cc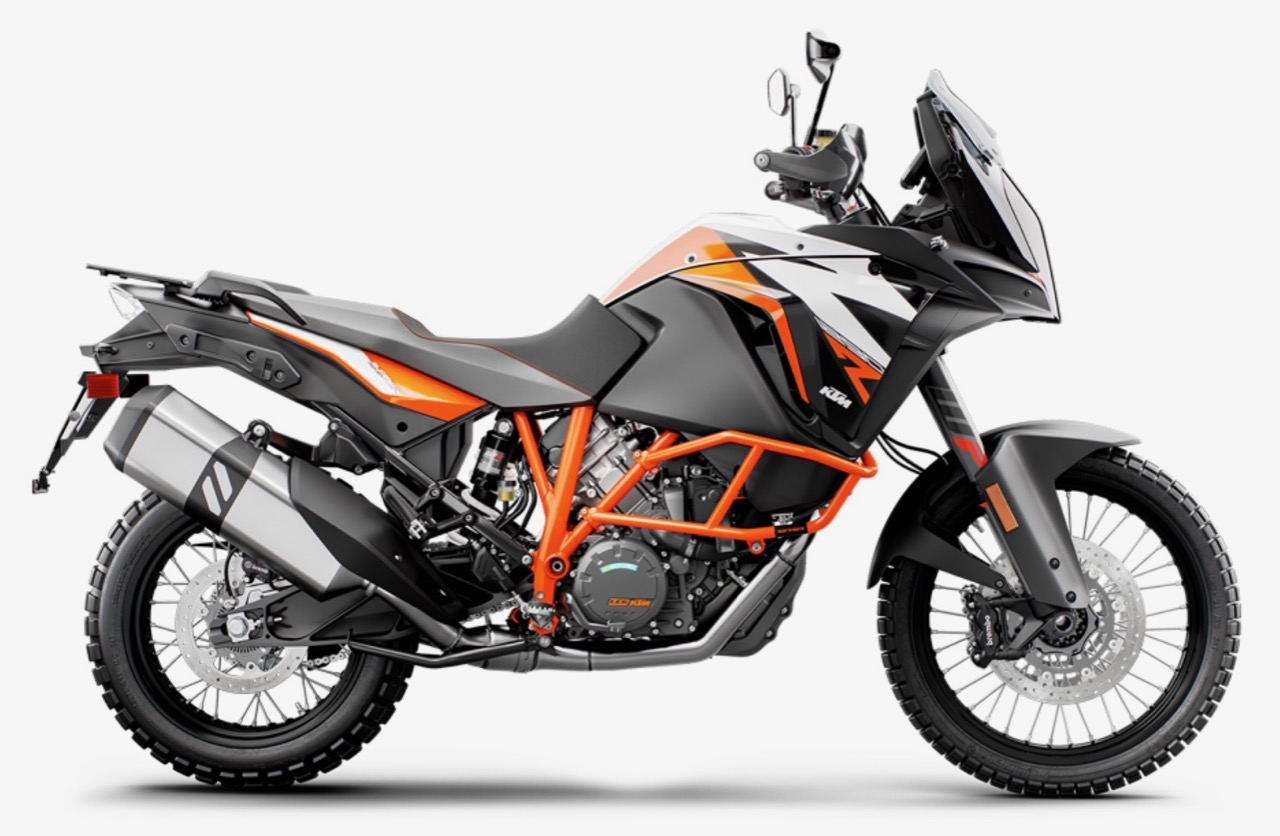 KTM 1290 Super Adventure R
The biggest of the Big Orange adventure bikes, serving riders with extreme exploration capability, the KTM 1290 Super Adventure R is fun no matter what terrain you point it to. With it's famous LC8 powerplant ripping out 160hp, this beast awaits the twist of your wrist on pavement or in the dirt!
X
Seat Height:
35 in
Curb Weight:
529 lbs
Fuel Capacity:
6.1 gal
Displacement:
1301 cc