"BAJA ON DOWN" Adventure RIDE in beautiful Baja California of Mexico
Itinerary
Day 1 - Arrival in sunny San Diego, California (SAN airport. See reverse-route dates from San Jose del Cabo to San Diego)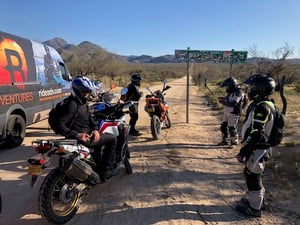 Welcome to California, and the many reasons why this land is among the most sought-after real estate in the world. Sunny skies, year-round warm weather, and this location perfect for crossing into Mexico will serve as our starting point. Arrive by mid-day, expect an evening briefing with our Staff, and a welcome dinner to follow.
Day 2 - San Diego to Guadalupe, Mexico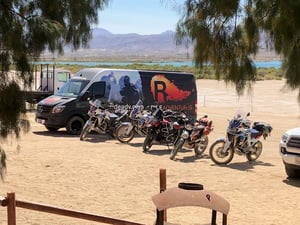 Those simple words, "Welcome to Mexico" as stated by Officer Antonio and noted in Eric's original blog post in 2008 meant open arms, friendly faces, and beautiful spaces were ahead. Not a long ride today as the crow flies, but with some extra riding in between and the border crossing into 'ol Mexico, we'll take it easy this first day and settle into Mexican wine country with boutique accommodations and an opportunity to soak up the fruits of the surrounding vineyards. Meal options here are second to few, so come hungry.
Day 3 - Guadalupe to Mike's Sky Ranch
The Pacific Coast behind and more rustic settings further inland, this land home to multiple Baja 1000 Rallies takes us through the racing territories on the way to the famous Mike's Sky Ranch. Perhaps more famous than Mexico's wine country or Pancho Villa himself, Mike's has been a crossing point for motorcycle travelers since 1967 and will be a fun place for us to see just "who's who" in the adventure riding world. Prepare to kick some tires and see what other bikes are being ridden. Not the fanciest place in the world, but the driveway getting in is a fun challenge, and the steak dinner is quite a treat for meat eaters in this remote place.
Day 4 - Mike's Sky Ranch to Cataviña
Score once again with the chance to ride along the Sea of Cortez coastline and ever-changing terrain in sections of road often "under construction" thanks to heavy rain washouts each season. Stopping to say hello to the man himself at Coco's Corner and laugh about when he practically chased our Christine down, not wanting her to leave, the route goes further inland to a sea of Cardon, Cholla, Pitaya, Cochal, and Senita cacti around the Cataviña area. With the unusual rock droppings splattered throughout this location there are plenty of fun offshoots to enjoy on the adventure bikes, along with the tranquility of this part of Baja. Settle into another small town and don't forget to check out those stars overhead, sans light pollution.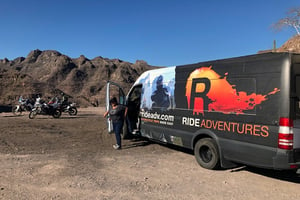 Day 5 - Cataviña to San Ignacio
The riding continues through El Vizcaíno Biosphere Reserve and Mexico's largest wildlife refuge, where rodents, hares, the California Pronghorn, Desert Bighorn Sheep, and other sitings are possible. Combining the best dirt roads available for the big adventure bikes and some pavement as well, arrive in San Ignacio and prepare for a Rest Day with some great options.
Day 6 - Rest Day in San Ignacio - (Riding Optional)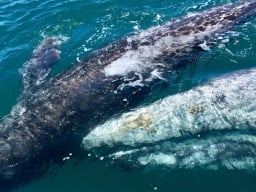 Enjoy the day off in the palm oasis town of San Ignacio, go for a ride along the coast, or arrange for perhaps the most obvious thing to do here, a whale watching adventure available January through April. If you get to touch a whale, up close, and in person ... we promise this is an experience underestimated in the mind, that will never ... ever ... be forgotten. (Please note that we will mainly be offering these Baja trips mid-January through March, which is peak season for whale watching. Trip dates outside of this may not have the opportunity to do whale watching, but groups will be presented with other rest day opportunities to enjoy.)
Day 7 - San Ignacio to Loreto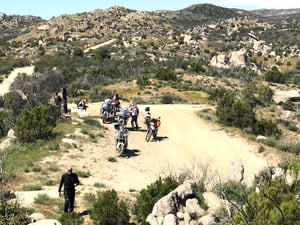 With coastal riding like this ahead, winding along white sand beaches with a beautifully blue Sea of Cortez trapped up against all these twisties and sweepers, oh what a day lies ahead. The town of Mulegé offers up some great lunch spots, and shopping for arts and crafts, after which it's time to grip it, rip it, and have fun with this skinny piece of land in our world.
Day 8 - Loreto to La Paz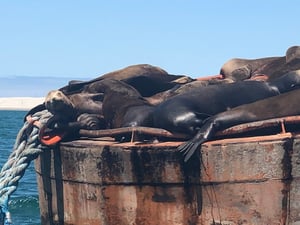 More Baja fun, enjoying open desert routes and tiny villages. Pristine paved twisties in the morning arrive in at the San Javier Mission, before heading onward to a beautiful long dirt and light sand section to continue further south (a fully-paved option is also possible this day.) A few hours later and another blue-water arrival in the lively coastal city of La Paz makes for a picturesque setting and plenty of great dining options out on the town.
Day 9 - La Paz to San Jose del Cabo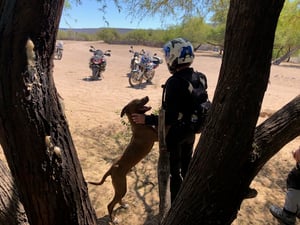 South out of La Paz, a quick stop in the mining history museum at El Triunfo leads us into more great twisties and coastal views. Down to Los Barriles and another great lunch spot, riders can choose pavement to finish the ride, or some playful, not-too-deep sand riding along the Cabo Pulmo area. Mansions and beach resorts full of surfers and sand life line the route leading to San Jose del Cabo, another lively town and perfect spot to finish a motorcycle trip.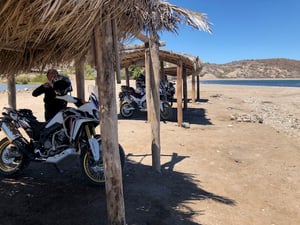 Day 10 - Departures
Leaving already? Most of us will arrange a few extra days in our hotel to soak-up what the beautiful San Jose del Cabo beaches, dining, and shopping have in store, but if you must leave, do so with a smile, as you've clearly conquered Baja, and have plenty of pictures to start organizing and sharing. Thanks for riding with and relying on RIDE Adventures!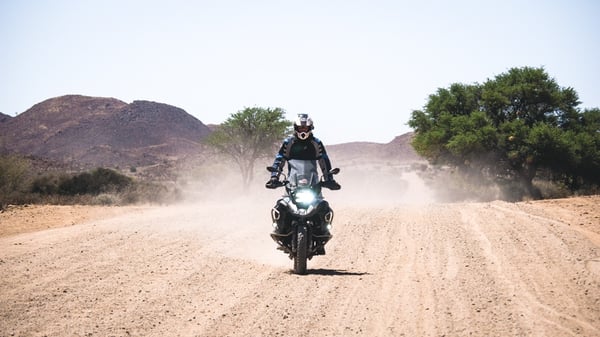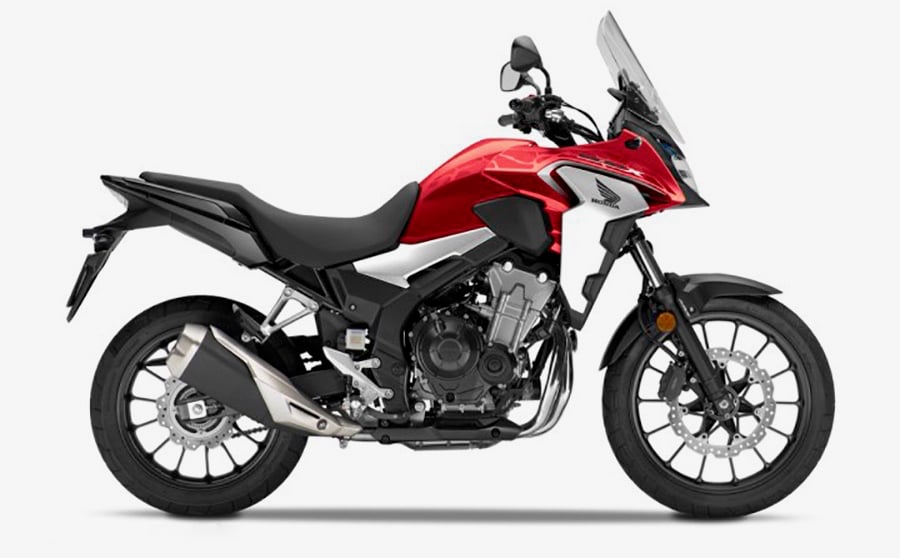 2019+ Honda CB500x
Another recent assertion by Honda Motorcycles into the Adventure Riding world, riders seeking a compact-sized adventure bike have been raving about the CB500X. With plenty of power emanating from the parallel-twin engine, and an agile disposition, everything from paved twisties to gravel, dirt, and sand can be conquered with this fun adventuring option. Starting in 2019 with the 19" front wheel, this bike has proven itself for us in places like Patagonia, and will be a great option for riders exploring beyond.
Wet Weight - 430lbs
Seat Height - 32.7 inches
Fuel Capacity - 4.6 gal
X
Seat Height:
32.7 in
Curb Weight:
430lbs
Fuel Capacity:
4.6 gal
Displacement:
471cc Parallel Twin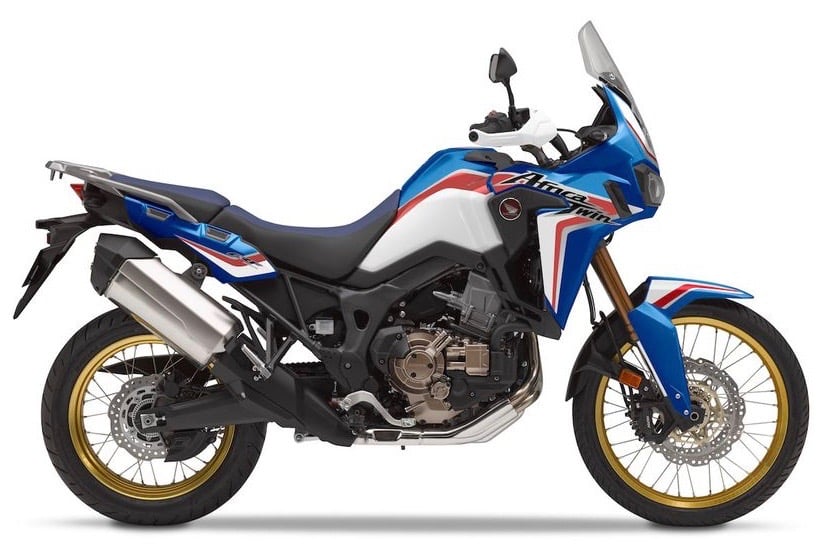 Honda Africa Twin
Finally, the return of a legend! The long awaited, and thoroughly updated Africa Twin by Honda has been talked about for years, finally making itself available in various markets around the world in 2015. With a four-valve Unicam® cylinder head 998cc parallel twin engine, more power than an adventure rider could ever need is available along with suspension travel and ground clearance to handle the most remote and rugged terrains and pathways.
X
Seat Height:
33.5/34.3 in
Curb Weight:
511 lb
Fuel Capacity:
4.96 gal
Displacement:
998 cc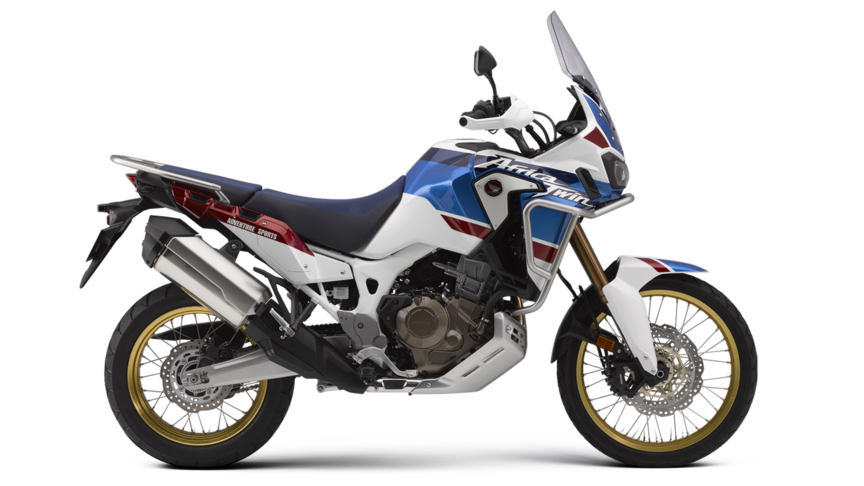 Honda Africa Twin Adventure Sports
Finally, the return of a legend, and this version, a little bit more prepared for long adventure rides than it's smaller twin. The long awaited, and thoroughly updated Africa Twin by Honda finally became available in rental fleets around the world in 2015, forever winning our hearts over with incredible reliability while being extremely fun to ride the first few seasons. This "Adventure Sports" version is about an inch taller with 1.5 gallons greater fuel capacity than the standard Africa Twin. With a four-valve Unicam® cylinder head 998cc parallel twin engine, more power than an adventure rider could ever need is available along with suspension travel and ground clearance to handle the most remote and rugged terrains and routes.
X
Seat Height:
35.4/36.2 in
Curb Weight:
533 lb
Fuel Capacity:
6.4 gal
Displacement:
998 cc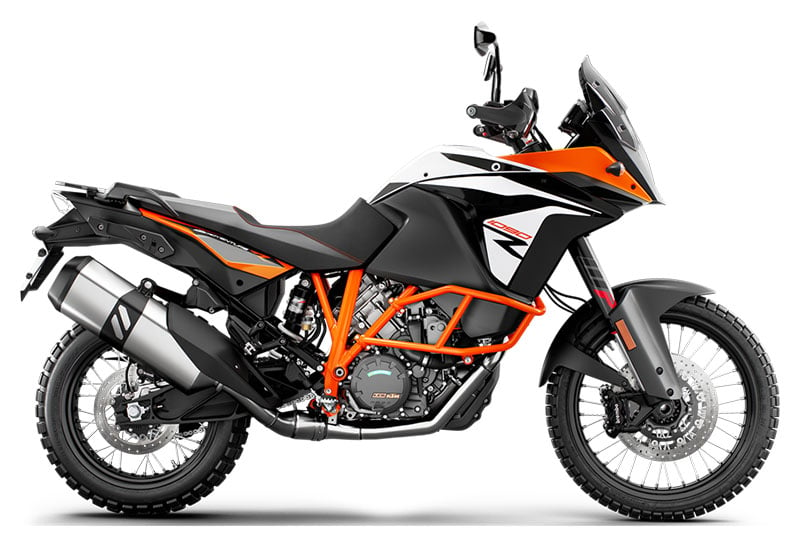 KTM 1090 Adventure R
KTM's famous LC8 parallel twin engine now finds itself in the 1090 size, and just perfect for a variety of adventurous riding. Kick around in the dirt while unloaded, or pack up this chassis with luggage needed for a bigger trip, and you'll have a blast either way. The 21" front wheel and WP suspension soaks up imperfection and points to the apex of turns with ease while 125 horsepower gets you there as soon as possible.
X
Seat Height:
35 in
Curb Weight:
514 lb
Fuel Capacity:
6.1 gal
Displacement:
1050 cc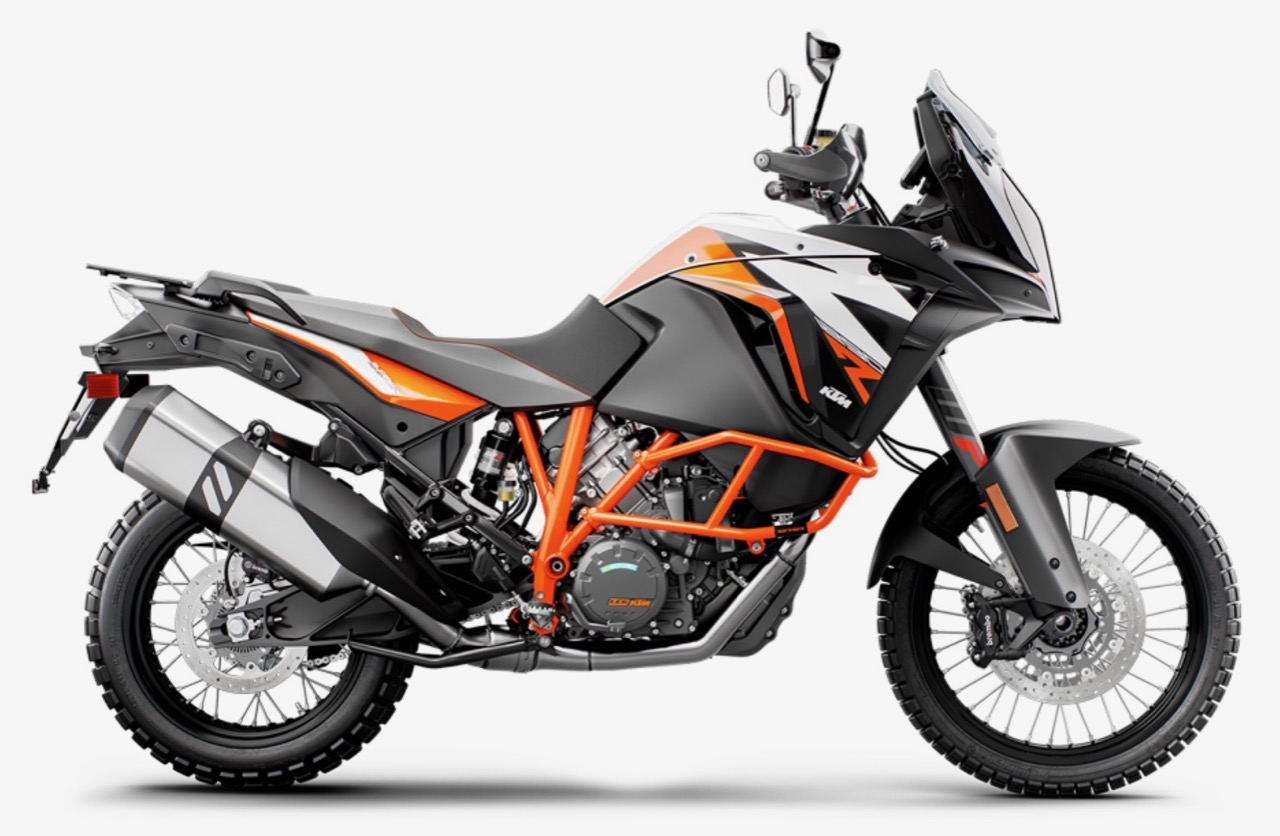 KTM 1290 Super Adventure R
The biggest of the Big Orange adventure bikes, serving riders with extreme exploration capability, the KTM 1290 Super Adventure R is fun no matter what terrain you point it to. With it's famous LC8 powerplant ripping out 160hp, this beast awaits the twist of your wrist on pavement or in the dirt!
X
Seat Height:
35 in
Curb Weight:
529 lbs
Fuel Capacity:
6.1 gal
Displacement:
1301 cc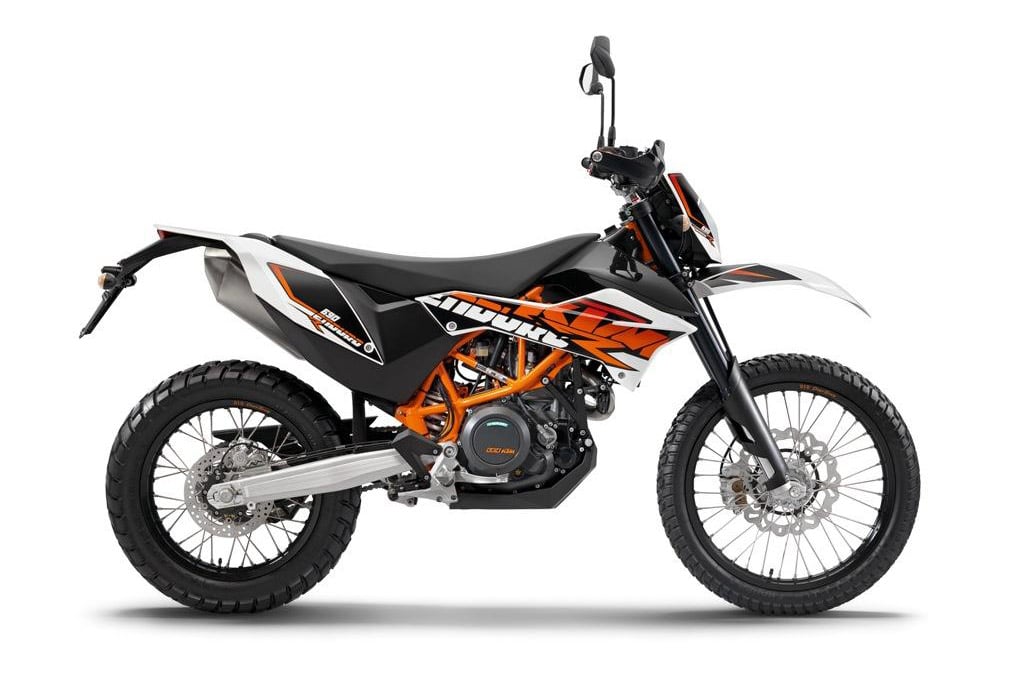 KTM 690 Enduro R
The bike the KTM had such issues keeping in stock for so many years was always sold out for good reason: The KTM 690 Enduro R is a blast to ride, and loved by those who have them. Boasting 67hp from its LC4 single-cylinder torque-maker nestled into the tubular space frame of a fairly light bike, coming out of dirt turns in 2nd and 3rd reminds us why we ride. Still not an ideal bike for long pavement trips, the extra weight and girth of the 690 over smaller dirt bikes makes it great for longer trips that involve mostly dirt. Pack up, and head out into any dual sport riding paradise where we offer the KTM 690 to rent, and we look forward to your reaction.
X
Seat Height:
35.8 in
Curb Weight:
333 lb
Fuel Capacity:
3.2 gal
Displacement:
690 cc