"Best of the Southwest" Oregon Adventure Motorcycle tour
Itinerary

DAY 1 - Arrival Day: Welcome to beautiful Bend, Oregon!
Welcome to Bend, and we hope you can arrive a little earlier and enjoy this outstanding town for outdoors lovers. We are nestled along the Deschutes River which writhes up from the Cascade Mountains, and serves as the backbone for our small town.
From the river rafting and fly fishing opportunities to the vast array of mountain biking, dirt biking, hiking, skiing, snowboarding, rock climbing, golf, and other options we have in the area, we are incredibly proud to call Bend "home," and hope you have the chance to enjoy it as well before departure.
Groups will meet up for a welcome dinner and briefing, and Self-Guided Fly & RIDE adventurers will have their instructions for when we'll be going through motorcycle check-in. Bring anything you want to mount on the bike, and we'll make sure you're all set and fit for the great ride ahead. The twisting of your wrist begins tomorrow.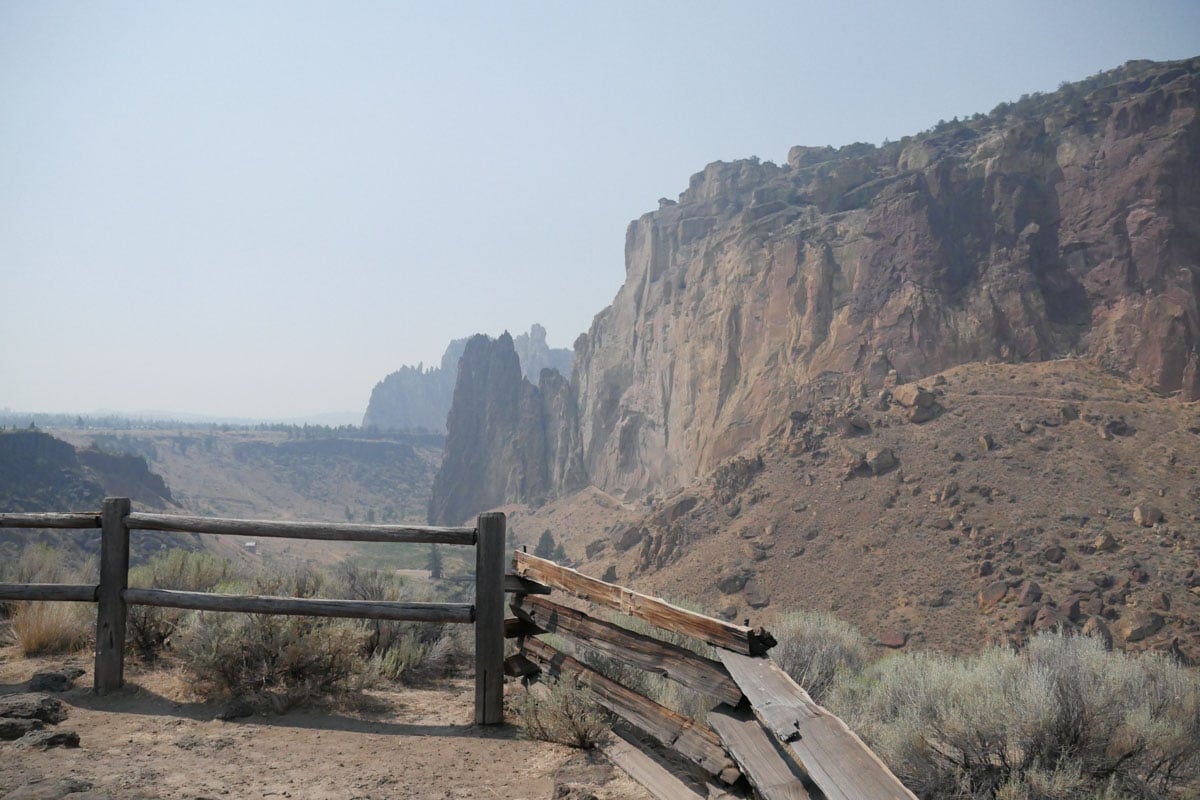 DAY 2 - Bend to Sisters (235 miles)
Try to pace yourself today as you get settled in on your motorcycle, we have an exciting dual-sport day ahead and many more days to go on this tour.
Enjoy the ride on simple dirt roads as we make our way to the largest volcano in the Cascade Volcanic Arc. Newberry Volcano has an area of 1,200 square miles when its lava flows are taken into account. Within the large 4x5 mile caldera are two gorgeous lakes: Paulina Lake and East Lake. Spiraling to the top of China Hat and climbing up to the Pine Mountain Observatory before twisting and turning our way through an un-believably beautiful scenic canyon.
Regarded as one of the best paved motorcycle rides in the state, the Crooked River will lead the way to another masterpiece it has created, Smith Rock State Park. This Oregon gem is the result of water cutting through rock created by volcanic activity dating back as far as 30 million years ago. Now, generally considered the birthplace of modern American sport climbing, it is world-famous for all types of outdoor recreation including traditional climbing, multi-pitch climbing, bouldering, hiking and mountain biking to name a few.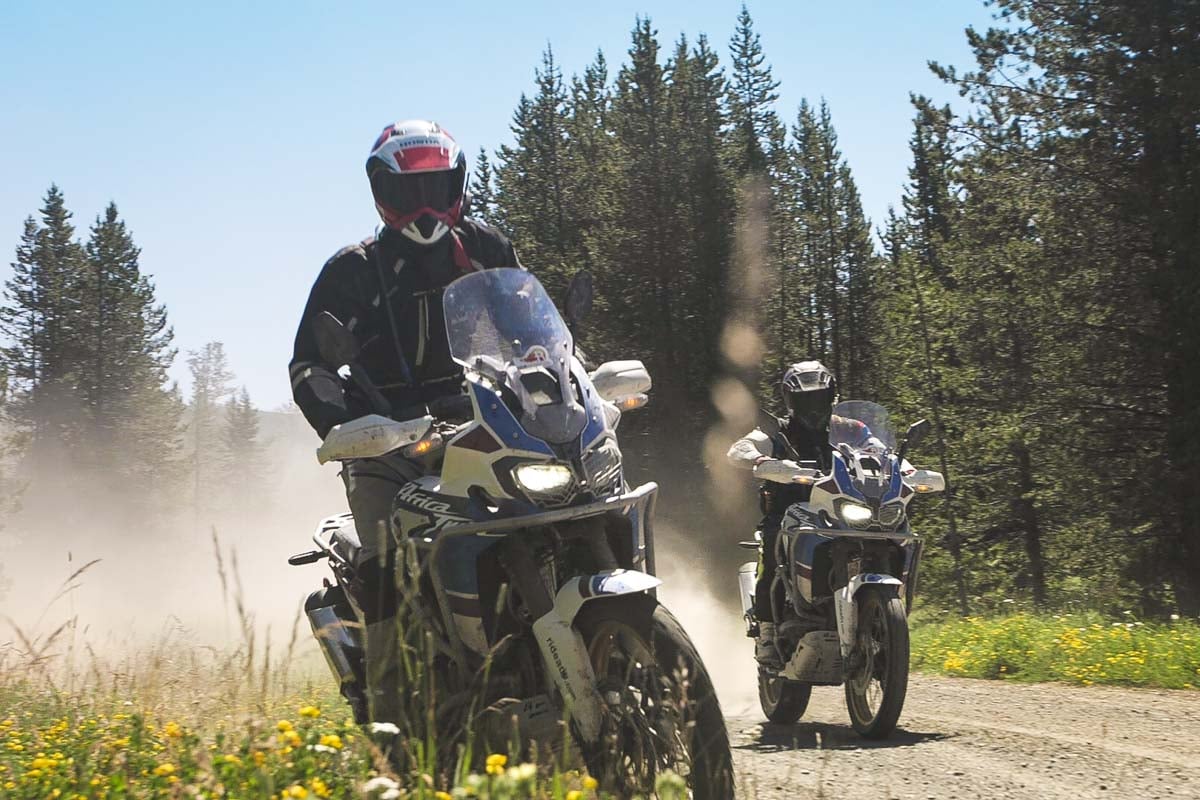 DAY 3 - Sisters to Yachats (220 miles)
Prepare yourself for tight pavement twisties and sweepers this morning, the McKenzie Highway has a real treat in store for us. Like nothing you've ever seen before, the dark, broken lava field that stretches for 65 square miles presents an out of this world moonscape. The result of eruptions from Belknap Crater 2,000 years ago, it is the most recent and remarkable examples of volcanic activity in North America.
As we jump into the dirt in Willamette National Forest, horrific burn scars are evidence of recent fires that ravaged through these forests destroying everything in its path including many homes. Crossing the Willamette Valley just north of Eugene into Lobster Valley, the scenic Alsea Highway will show us the way through the coastal range to Yachats on the beautiful Oregon coast.
Take a deep breath of the cool ocean breeze and relax after a big day. Yachats is referred to as the "Gem of the Oregon Coast" for its natural dramatic beauty, however, some say it carries a type of curse on account of the gruesome settlement history with native tribes. Nevertheless, a well-known travel magazine named this destination one of the "Ten Coolest Small Towns of the U.S.A.".
***NOTE: Part of the McKenzie Pass is typically closed November-June due to snow pack.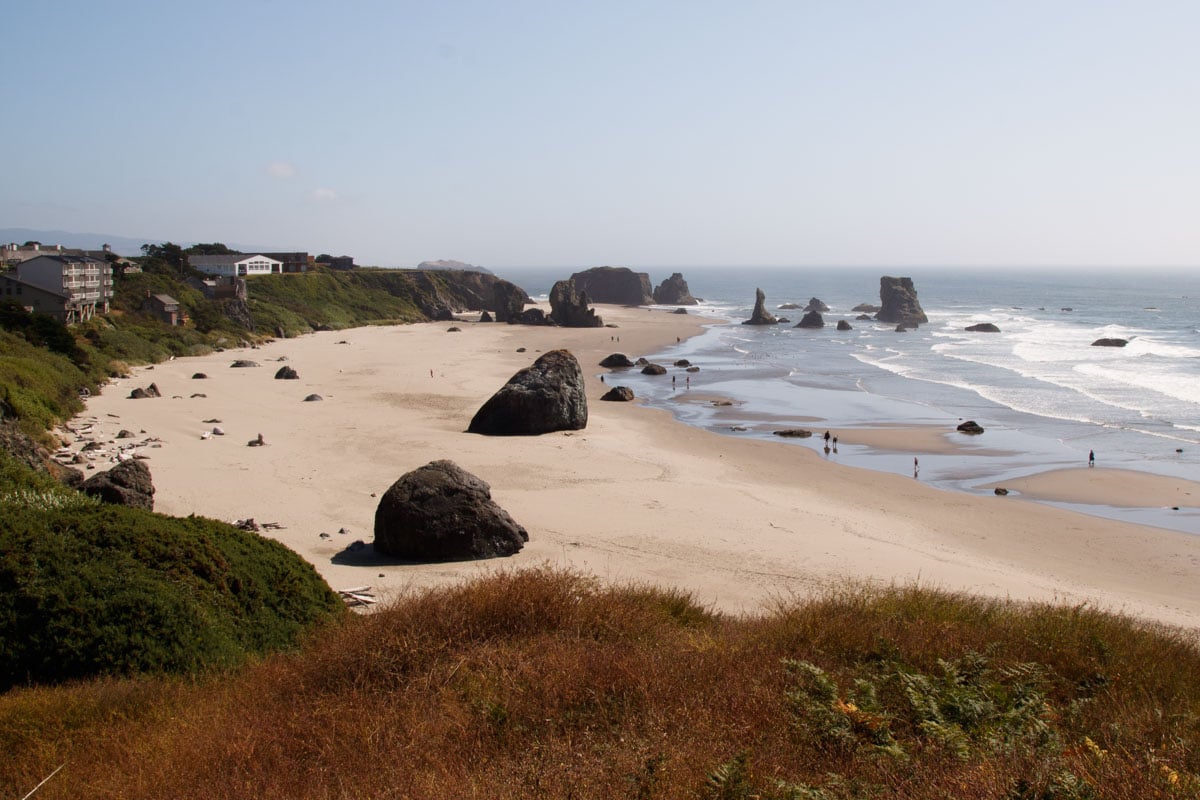 DAY 4 - Yachats to Bandon (215 miles)
An exciting day of riding in the backcountry lies ahead, but first we cruise south on Highway 101, and maybe the most awe-inspiring section of the Oregon coast. Enjoy an imaginary cup of coffee as you leisurely soak in the breathtaking views of Cape Perpetua, home to famous sites such as Thor's Well and Smelt Sands State Park to name a few.
Now that you're awake after that tasty cup of imaginary joe, let's get dirty climbing and traversing the coastal range, following the Suislaw river into the Suislaw National Forest. From there the Smith River will wind us down to the small fishing village of Winchester Bay for lunch, get ready for ultra fresh seafood. Best attempted before filling your belly though, you'll get a chance to test your sand riding skills in the Oregon Dunes (don't worry if you're not up for the task, there is no required sand riding here).
With the ocean in the rearview mirror, the Umpqua River will show us the way inland to the Elliott State Forest, expect incredible mountaintop views, wildlife sightings and possibly herds of wild Elk grazing.
Before reaching our hotel accommodations in the popular hip coastal town of Bandon, we must navigate our way through Coos Bay, Oregon coast's most populous city (16k residents) and the surrounding area known as "Oregon's Bay Area" (32k residents).
If your schedule permits, you will be pleased to extend your trip package to include an extra night or two in Bandon, just let us know. Why spend extra time here? Bandon is a central point for the nearby Oregon Dunes National Recreation Area, a 40 mile and 7,000 acre stretch of sand-covered beach dunes. Here you can rent dune buggies, ATV's, UTV's, and other fun machines and have a BLAST out there exploring. (Twin cylinder adventure bikes unfortunately won't cut it. Too heavy!)
If fishing is your game, the Pacific halibut season kicks off in May and salmon and tuna run through the summer months. Bay crabbing and clamming is also a local favorite as is fresh water fishing in lakes and rivers offering rainbow and cutthroat trout and Chinook salmon. In addition, golfers can take advantage and enjoy the world-class Bandon Dunes Golf Courses nearby, making perhaps the perfect Rest Day from the motorcycle.

DAY 5 - Bandon to Crescent City, California (225 miles)
Twisty mountain roads will lead us to an unusual historic building with an intriguing history almost as fascinating as contents of the museum it now houses. It's no surprise that Oregon has a deep rooted logging history and the Coos County Logging Museum is a fun place to learn about it with it's extensive collection of antique logging equipment and rare photographs.
With our new knowledge of Oregon's logging history, we head into the Rogue River-Siskiyou National Forest and Oregon Redwoods, maybe with a different perspective and appreciation for the precious natural resource that is these forest.
Finally, we arrive in Crescent City, our only night in California. Did you notice the tsunami warning signs all over town? Wander the Crescent City waterfront and marvel at how this city was entirely rebuilt after a devastating tsunami in 1964. The city's offshore geography makes it unusually susceptible to tsunamis caused by faraway earthquakes in such places as Alaska and Japan. Also known for its picturesque lighthouses and 1865 shipwreck rumored to hold 1.5 tons of gold coins and bullion, much of which has never been recovered.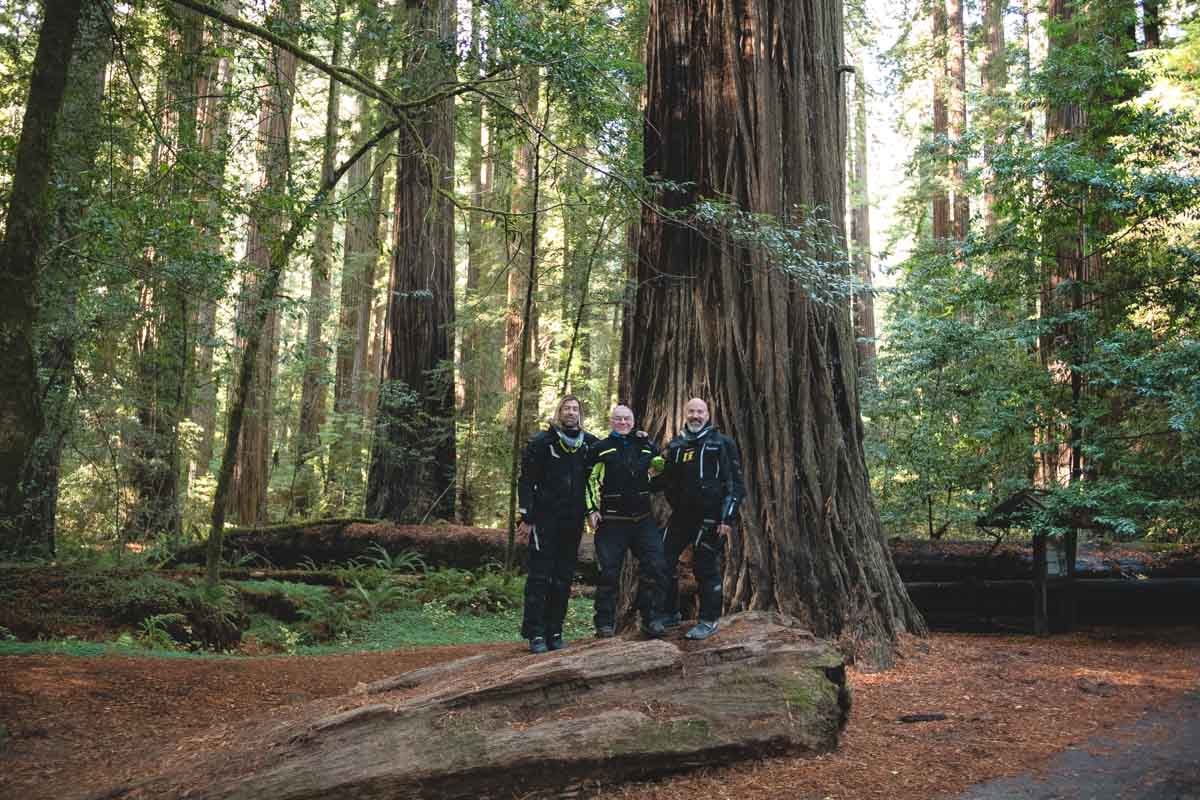 DAY 6 - Crescent City to Grants Pass (170 miles)
Skipping the foreplay today, we'll reach our redwood climax before this morning's coffee has time to kick in. Some say that size doesn't matter, but that's only cause they haven't experienced the ancient majestic giants in the Jedediah Smith Redwoods State Park These Redwoods (Sequoia sempervirens) can grow to be 360+ (110m) tall, and have a trunk diameter of 22 feet (7m) at their base. Absolutely jaw-dropping, for those who've never seen them in person, let alone ridden a motorcycle under their canopy. Living often over 600 years, and up to as much as 2,000, fossil records indicate the Redwood species as going back to the Jurassic period, some 160 million years ago. (And yes, those were the Redwoods Luke Skywalker was riding through in 1983's "Return of the Jedi").
It might feel as if the day climaxed prematurely, but don't worry, we have a long day of fun ahead with more fantastic dirt riding as we head into the Smith River National Forest and cross back into Oregon on backcountry mountain ridge lines. Somewhere deep in the Siskiyou Mountains, eons of acidic water seeping into marble rock created and decorated the wondrous "Marble Halls of Oregon."
A quick stop at the Oregon Caves National Preserve before we end the day in Grants Pass nestled along the Rogue River. True to its motto, "It's the climate!", Grants Pass has a Sunset Zone 7 climate.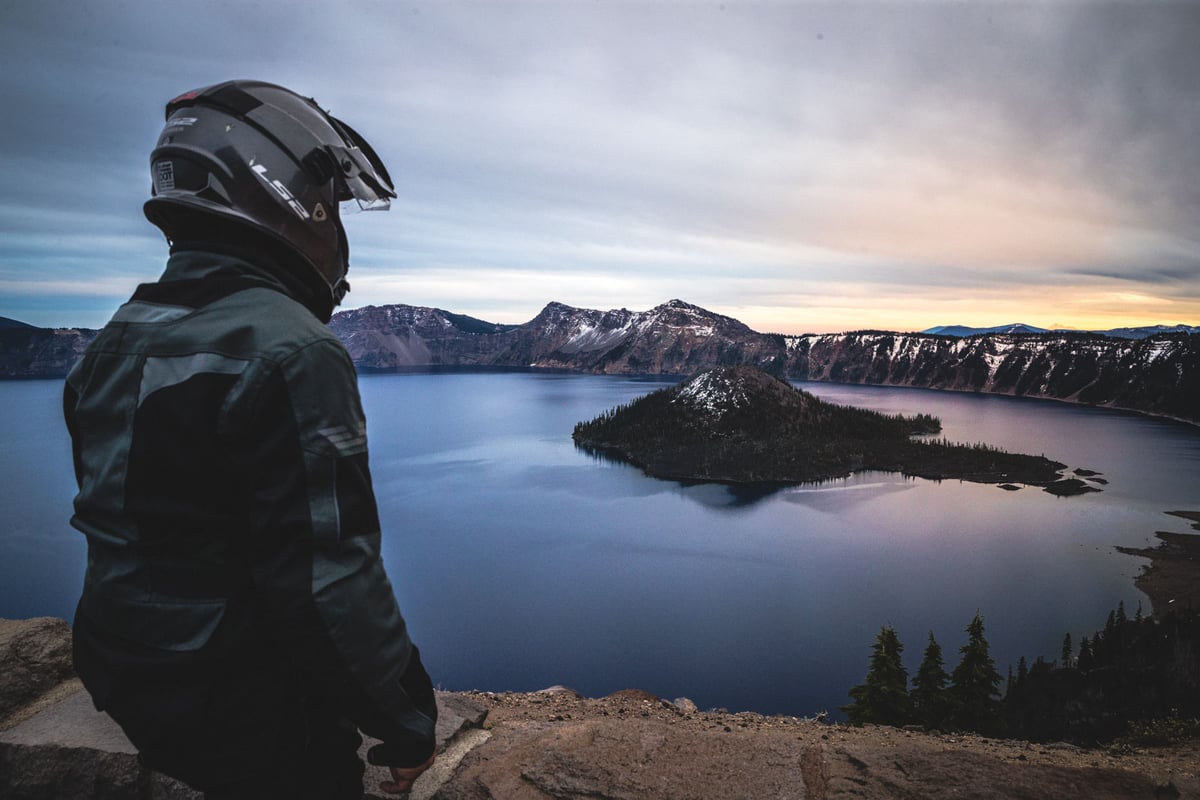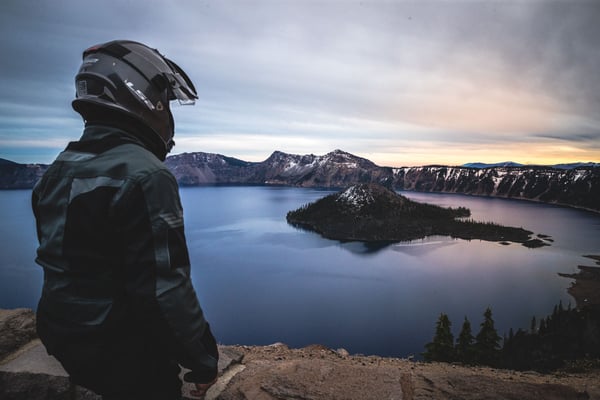 DAY 7 - Grants Pass to Bend (250 miles)
On our final (and longest mileage) day, we'll head north along parts of the original fur trading route of the Siskiyou Trail in the Siskiyou National Forest.
Back in the Cascade Mountains now, the collapse of Mount Mazama about 7,000 years ago, formed the deepest lake in the U.S. at 1,949 feet (the deepest lake in the U.S., the second-deepest in North America and the ninth-deepest in the world). Crater Lake is the fifth-oldest national park in the United States and, believe it or not, the only national park in Oregon. Following the unpaved Windigo Pass north towards Cascade Lakes Highway, along the shores of Hosmer, Elk, Sparks and Devil's Lakes, and past Mount Bachelor, we'll arrive once again at our origination point in Bend. Completing the circuit, probably with mixed emotions about the tour ending.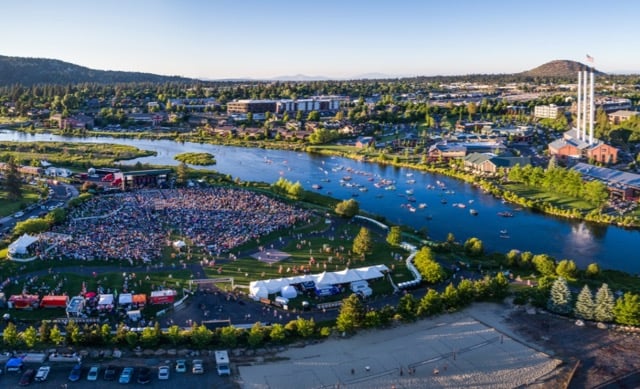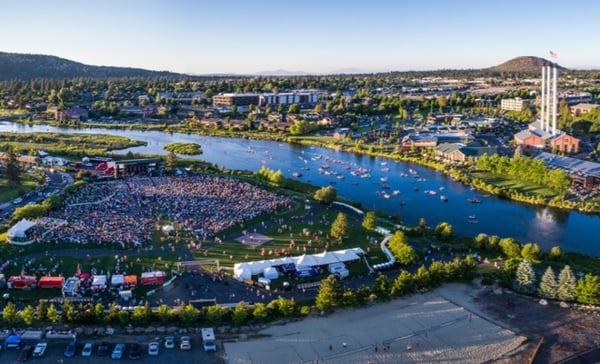 DAY 8 - Departure (if you must)
As we've noted and bragged about, Bend isn't just the kind of town you'll want to pass through in a hurry. Inquire with us about arranging extra time in this fun small mountain town, and anyone interested in hiking, mountain biking, kayaking, rafting, rock climbing, golf, just floating the river, or even skiing (often possible through May) should plan on staying a bit longer.
As described by Eric in the original announcement of our Bend-based rental fleet, you may end up living here someday, too!
Minimum Essential Gear for RIDE Training
If you're planning to jump on a guided tour or training with RIDE Adventures, it's essential that you have the right gear. This helps to ensure your safety and the safety of others while on the road.
Not being properly prepared can lead to injuires that could have been avoided. Our guides have created a Minimum Essential Gear Guide if you plan to book a RIDE Adventures. If you don't come minimally prepared there is a chance our guides will prevent you from hopping on a bike. Make sure you're prepared for the adventure.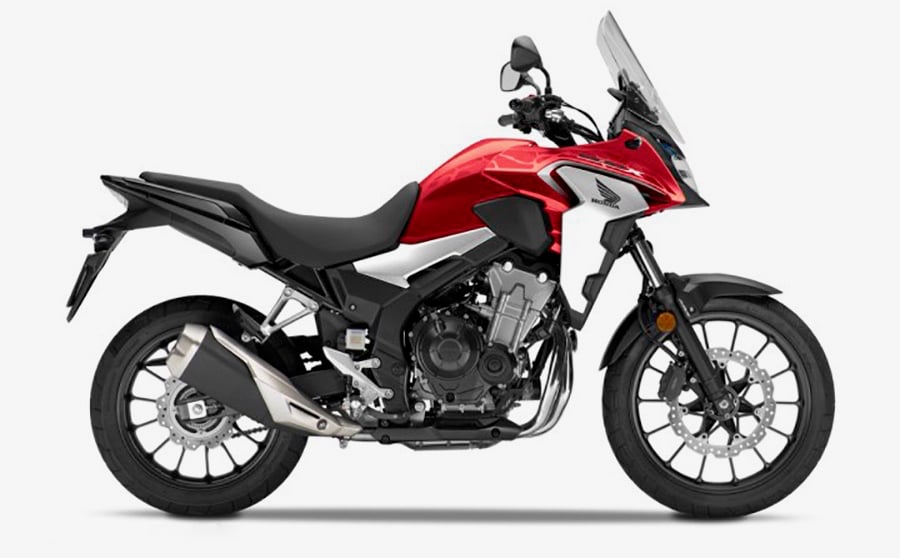 2019+ Honda CB500x
Another recent assertion by Honda Motorcycles into the Adventure Riding world, riders seeking a compact-sized adventure bike have been raving about the CB500X. With plenty of power emanating from the parallel-twin engine, and an agile disposition, everything from paved twisties to gravel, dirt, and sand can be conquered with this fun adventuring option. Starting in 2019 with the 19" front wheel, this bike has proven itself for us in places like Patagonia, and will be a great option for riders exploring beyond.
Wet Weight - 430lbs
Seat Height - 32.7 inches
Fuel Capacity - 4.6 gal
X
Seat Height:
32.7 in
Curb Weight:
430lbs
Fuel Capacity:
4.6 gal
Displacement:
471cc Parallel Twin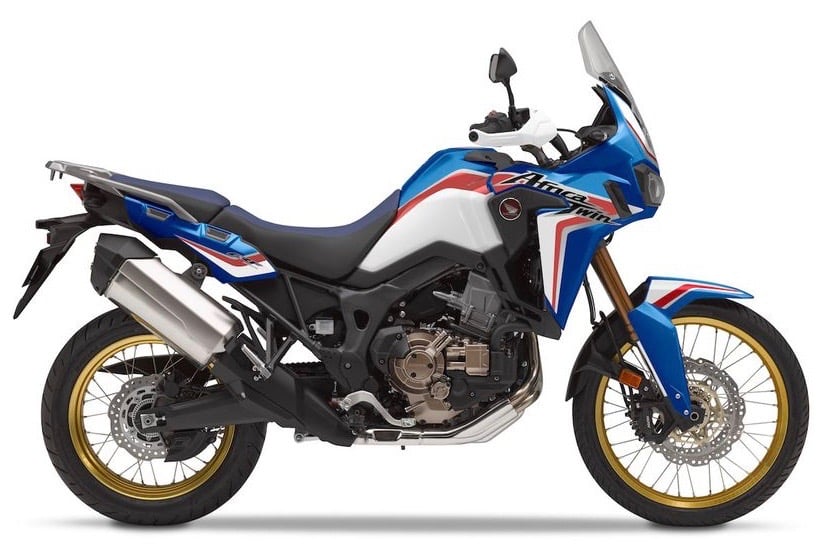 Honda Africa Twin
Finally, the return of a legend! The long awaited, and thoroughly updated Africa Twin by Honda has been talked about for years, finally making itself available in various markets around the world in 2015. With a four-valve Unicam® cylinder head 998cc parallel twin engine, more power than an adventure rider could ever need is available along with suspension travel and ground clearance to handle the most remote and rugged terrains and pathways.
X
Seat Height:
33.5/34.3 in
Curb Weight:
511 lb
Fuel Capacity:
4.96 gal
Displacement:
998 cc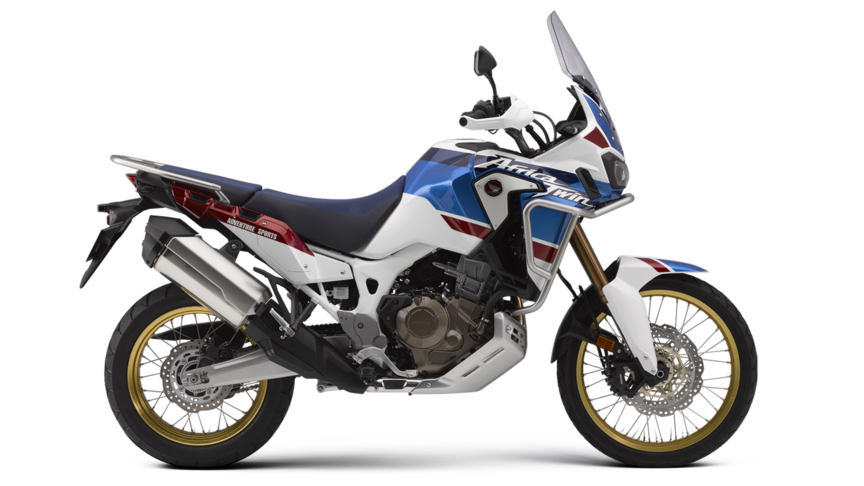 Honda Africa Twin Adventure Sports
Finally, the return of a legend, and this version, a little bit more prepared for long adventure rides than it's smaller twin. The long awaited, and thoroughly updated Africa Twin by Honda finally became available in rental fleets around the world in 2015, forever winning our hearts over with incredible reliability while being extremely fun to ride the first few seasons. This "Adventure Sports" version is about an inch taller with 1.5 gallons greater fuel capacity than the standard Africa Twin. With a four-valve Unicam® cylinder head 998cc parallel twin engine, more power than an adventure rider could ever need is available along with suspension travel and ground clearance to handle the most remote and rugged terrains and routes.
X
Seat Height:
35.4/36.2 in
Curb Weight:
533 lb
Fuel Capacity:
6.4 gal
Displacement:
998 cc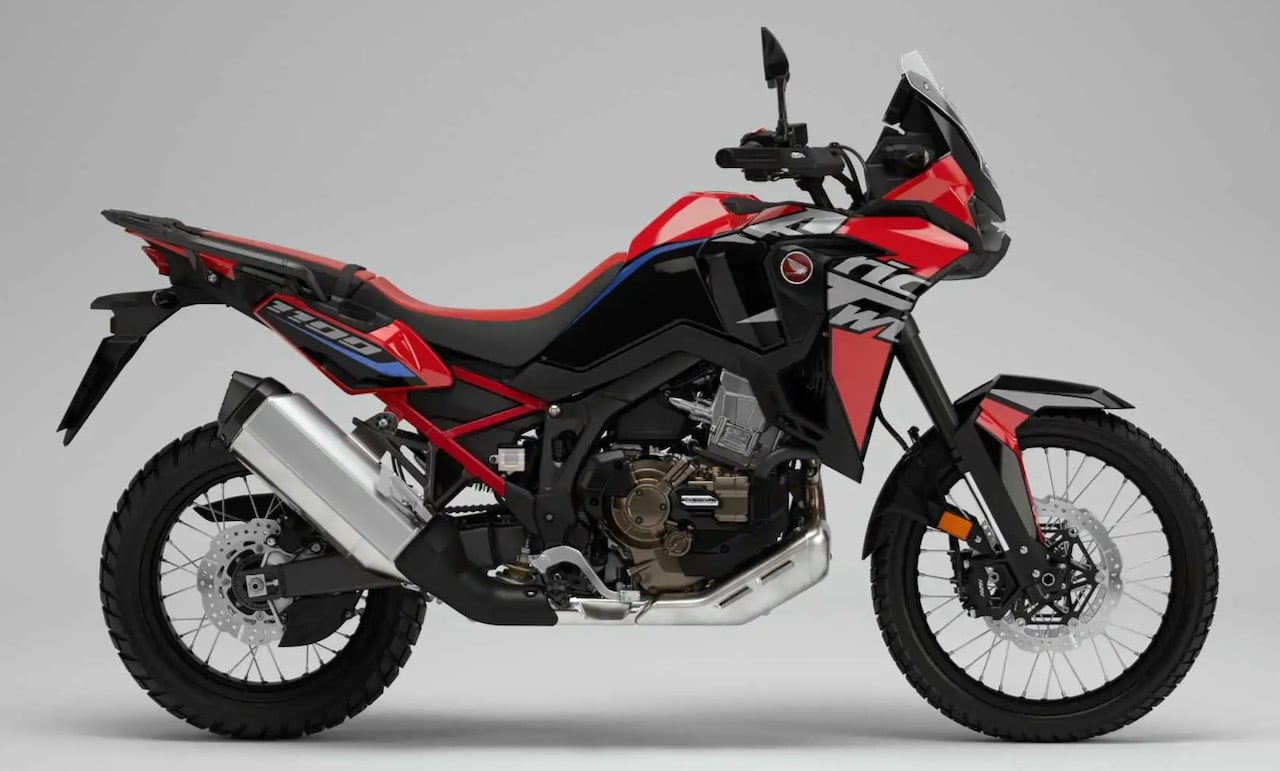 Honda Africa Twin CRF1100 (2020+)
Just a few years after this legendary bike was reintroduced as a 1000cc world traveler in 2016, Honda made the Africa Twin CRF 1100 just a little bit better starting the 2020 model year. With four-valve Unicam® cylinder heads atop a 22.5degree parallel-twin engine, more power than an adventure rider could ever need is available along with suspension travel and ground clearance to handle the most remote and rugged terrains and pathways. An upgraded electronics package vs. the previous version includes cruise control, a 6-axis IMU (Inertial Measurement Unit,) and a 6.5 inch touchscreen display with Bluetooth integration. Pack it up for a long trip, or take the bags off for a day on the trails, nothing but fun lies ahead!
X
Seat Height:
33.5/34.3 in
Curb Weight:
505 lb
Fuel Capacity:
5.0 gal
Displacement:
1084 cc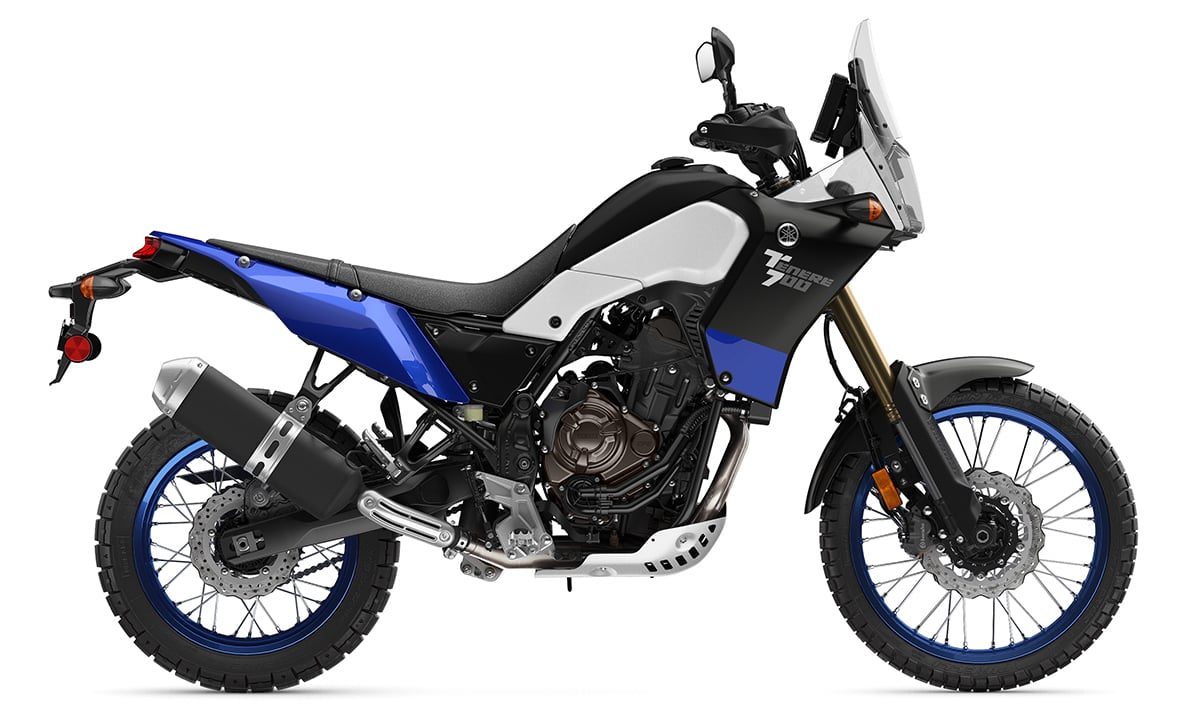 Yamaha Ténéré 700
This highly-anticipated "masterpiece of value" has finally been released, giving dual sport adventure riders around the world one more incredible middle-weight adventure bike to choose from. With 73+ smooth, linear horsepower pouring through one of most beautiful exhaust notes out there, the Ténéré 700's unique anti-squat design puts that power into the ground, instead of into the rear shock. The result is one of the best handling, adventure bikes on the market, all backed by typical Yamaha-reliability. Take this agile machine on short trips or long, paved twisties or dirt roads, and know that this may be as close to the "perfect" adventure bike as we have seen in a while. With an attractive entry price, and corresponding rental rate, we expect the number of Ténéré 700's in our fleet operations to grow steadily and remain a factor for a long time.
X
Seat Height:
34.4 in / 874mm
Curb Weight:
452 lb / 205kg
Fuel Capacity:
4.2 gal
Displacement:
689 cc