What a start to 2019, this is the official announcement of our motorcycle rental fleet here in beautiful Bend, Oregon in the U.S.!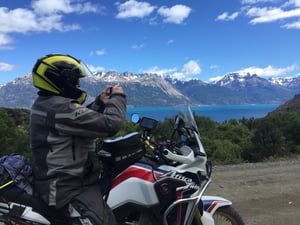 My sincere thanks goes out to the Customers of RIDE Adventures, who over the past 8+ years have allowed the now Team of this small business to accomplish so much. Along with our partners in Chile, we've built a 26-motorcycle fleet for tours in the Andes, and we're now into the thousands of Customers who have relied on us for Guided Group and Self-Guided tour packages. Riders are appreciating our services in Europe, South America, southern Africa, and Asia was added in 2018, and to think ... this is all based around the simple notion of helping people ride and have fun.
Why another Rental Fleet Now, Why here in Bend, Oregon?
When I moved back to the U.S. in 2011 after a couple of years riding down to and living in Chile, the majority of my attention remained in the Andes Mountains and as mentioned, helping build the fleet and operations down there. As noted on the Who We Are page of our website, the thought "more people need to experience this" had rung through my mind so many times in the Andes that I just felt RIDE Adventures should focus on showing others the goodness that I had discovered south of the U.S. border. To this day, inquiries from curious but nervous Riders still come in frequently, which excites me all over again, knowing that they have yet to breathe in that crisp Andean air.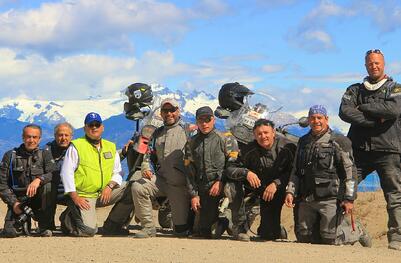 So while most of my riding the past decade has been guiding and exploring new routes outside of the U.S., I've known all along that we had a bounty of great riding to enjoy just here at home. Starting 2011, I rode from race to race, and motorcycle rally to motorcycle rally across the U.S., having a blast not only meeting and making fun riding friends, but also searching for where I would settle down to live in my home country once again. South America and its natural beauty had had quite an impact on me, and I no longer had any desire to live in "big cities" like the one I left behind in 2008 and had lived in until then. So my search continued, riding, flying, guiding, returning to my bike sitting in storage lockers near airports, until, as fate would have it, I stumbled upon the small town of Bend, Oregon. (This story is also told in my sorely-neglected personal blog, Travels With Eric.)
It was the 2013 BMW MOA Rally in Salem, Oregon, followed a month later by the Curve Cowboy Reunion that gave me reason to first ride into this town of Bend that I had been reading about for years. Magazines like Outside, Men's Fitness and others had for years listed Bend amongst their "most desirable places to live for outdoorsy types," and as such, I'll never forget the first day I rolled into town.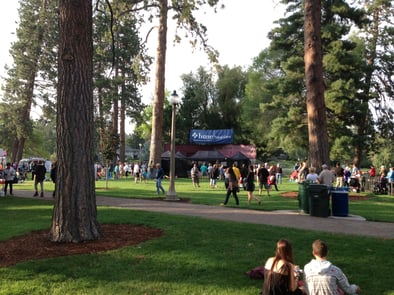 Aboard my GSA, cruising along Drake Park and the Deschutes River that runs through downtown on a warm & sunny July afternoon, the site of all the swimsuited river floaters (most of them in bikinis) lining up to shuttle their inner tubes back up river, was a scene I will never, ever forget. The moment and atmosphere struck me, and so over the next few months I continued to explore this beautiful town. (Pic: Not the same moment, but I now enjoy live music and food carts beneath our huge Ponderosa Pines on Thursday nights in Drake Park.)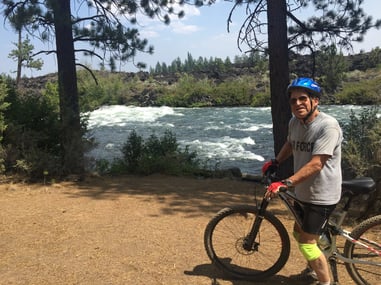 At the risk of seeming over-dramatic, all that has happened to me after those first few months in Bend has been a bit magical. As I came to know the area and the incredible amount of outdoor activity available in Central Oregon, I also noticed that it's "all right here," in that we don't have to spend hours in the car just to hike in the woods, to ride pristine mountain or dirt bike trails, or to ski Mount Bachelor. Much of this feast of outdoor life is all within walking, biking, or a 20-minute drive, which explains the vacation destination that Bend has become. That there is so much to do in this beautiful setting in the foothills of the Cascade Mountains, pulled heavily on my heart and mind as a true "calling" for me to settle down. My storage unit in Atlanta that held everything I owned for about 7 years was finally packed up, and I officially moved to Bend in early 2015. This is also to say that, if you booked a trip with RIDE Adventures before then, it was likely while I was living in a coffee shop, campground, or hotel somewhere in the world. (Pic: Mountain biking with Dad along the Deschutes River here in town in about 2015.)
It wasn't just Bend and its people that drew me in, but the thought and realization of what Bend is surrounded by here in Central Oregon and the Pacific Northwest. As a Rider who'd covered much of the best in the world already, I almost couldn't believe that so much more great riding, both pavement and dual sport, essentially cradles Bend from all sides. From the Alvord Desert and Steens Mountains to the east, and the Pacific Coast Highway to the west, north up into British Colombia and Alaska, and south into U.S. National Parks, California, Nevada, Arizona, and Mexico, Bend is literally surrounded by its own world of great riding and exploration opportunities. Especially when compared to some other regions I had seen in all my travels, I knew from very early on that "more people need to experience" this part of the world.
And so that's the vision: I am slowing down a little bit with my international riding & guiding, and feel it's time to peel back the mystery of routes yet unseen here in the western U.S., Canada, and Mexico. For that, and starting here in 2019, RIDE Adventures has these motorcycle rentals available for exploring all of the aforementioned incredible regions and routes. While this is the first article to be posted about the opportunity opening up, expect to see more about the Self-Guided "Fly & RIDE" packages and Guided Group trips that we'll be offering quite literally, from Alaska to Mexico, covering everything in between. The first opportunity will be an April 2019 research trip in Baja, so we can sort-out exactly which routes you'd best enjoy there in the October through April winter months of 2019/20. Expect news about our research trip for August in Alaska to come out soon, too, and feel free to contact me now if you're interested in joining any of our North American motorcycle trips. They are typically a BLAST just like regular trips, but with that little extra edge of the "unknown." The rental bikes shown are available to you.
That's quite a blog post from me, especially during peak season! Customers of RIDE Adventures are picking up and dropping off right now in Thailand, Patagonia, Colombia, and South Africa, and so we are quite busy. That, and I've got one month to go before heading down to guide our incredible "Patagonia, Tierra del Fuego & Ushuaia!" guided group tour. With 1 R1200GS, and 1 F800GS in a shared room still available (a couple cancelled today) want to join me? Thanks for reading, and please watch for more exciting news about all this soon. Cheers and best wishes to you all in 2019 and beyond.