Remote & Rugged Northern Vietnam Motorcycle Tour
Itinerary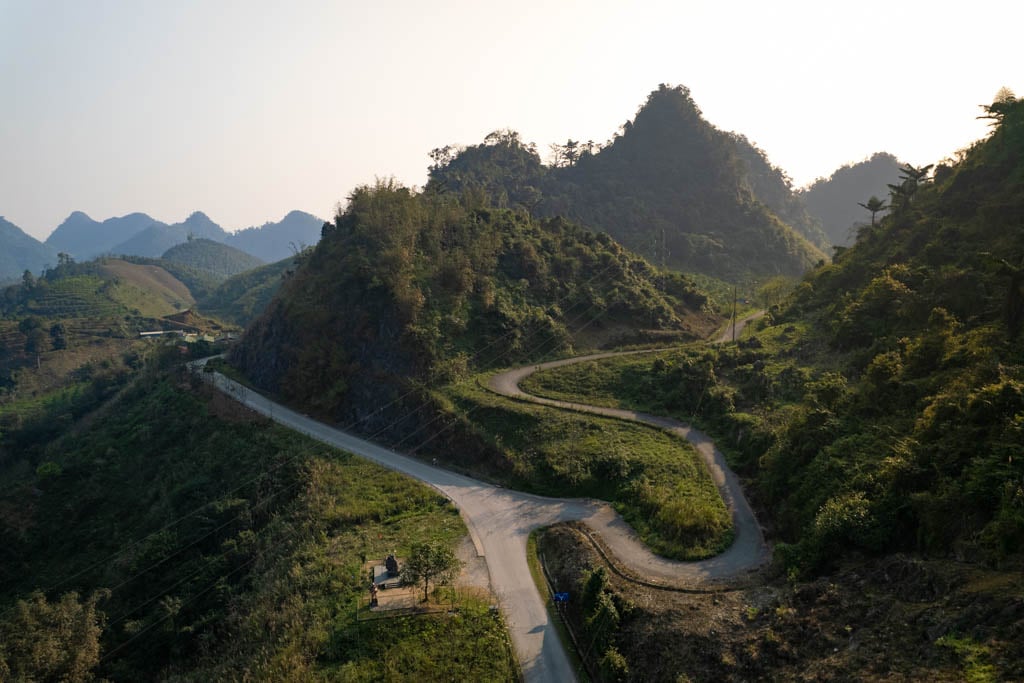 Day 1: Hanoi – Ba Khan Lake (150km)
At 8:00 AM, we will meet at your hotel and take a bus to the starting point just outside Hanoi. From there, we will begin our motorcycle journey to Ba Khan Village.
The first half of the day will involve a smooth and easy 90km ride.
For lunch we'll stop at a lakeside local family's home to have our first home-cooked Vietnamese meal of the trip!
In the afternoon, we will continue riding uphill until we reach a remote village where we'll load the bikes on a small boat and cross the lake to arrive at your resort.
A delicious dinner will be served and then you will have the rest of the evening to relax and relish the fact that your Vietnam motorcycle tour has begun!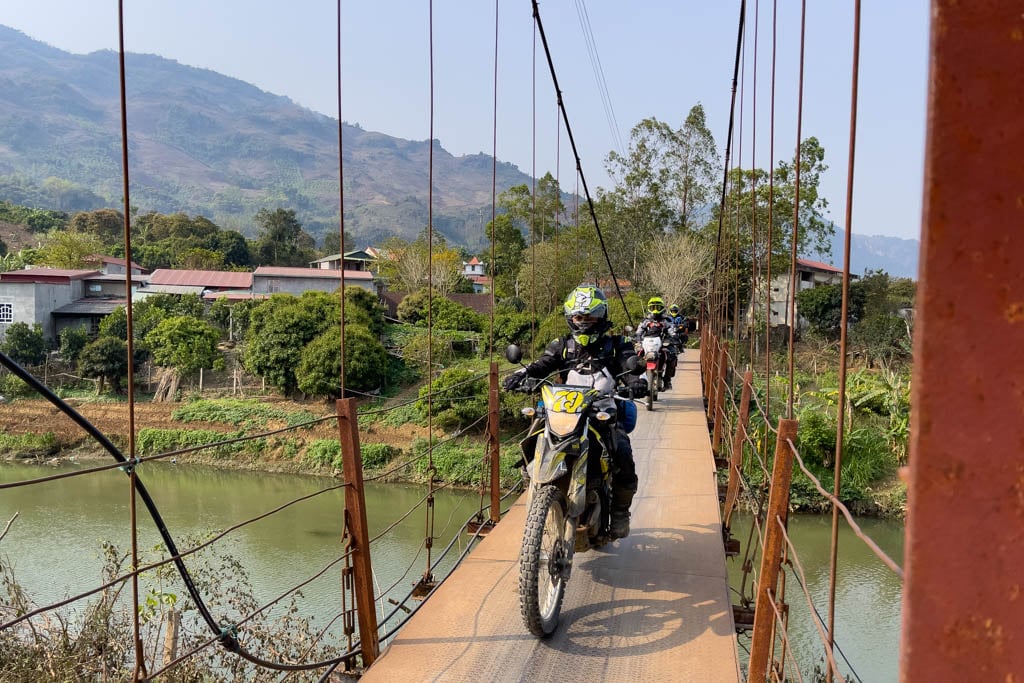 Day 2: Ba Kahn Lake – Son La (200km)
Continue your exhilarating ride towards the Northwest, where you'll uncover the forgotten French trail from the Indochina War era.
The route will include a mix of small old concrete roads, dirt tracks, and crossings of small streams and rivers.
Along the way, make stops at local villages inhabited by various minority peoples.
We'll have lunch at a local restaurant in Moc Chau town and in the afternoon, ride the famous historical Route No. 6, with more opportunities to visit local villages and take photos.
Then in the evening we'll reach Son La, where you can relax and replenish with dinner and a comfortable night at a hotel.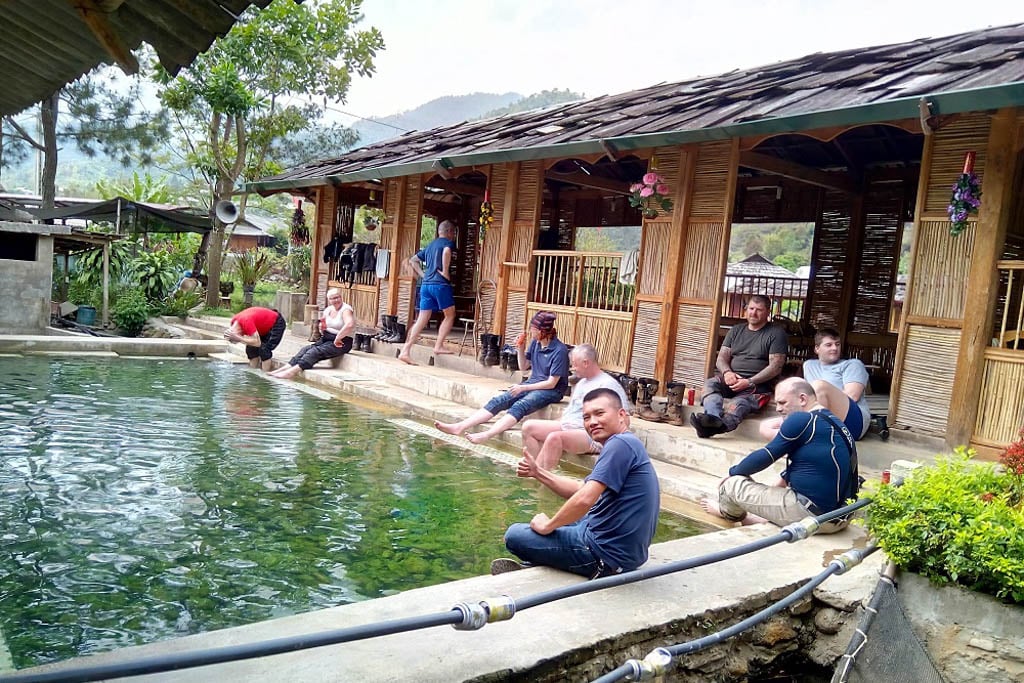 Day 3: Son La – Mu Cang Chai (180km)
Leaving the western region, we'll embark on a scenic journey to the northeast by taking a spectacular twisty mountain road.
We'll make a stop to visit Vietnam's largest hydroelectric station on the Black River and enjoy lunch at a family home near a hot spring source.
Dinner and accommodations for the night will be provided at a local homestay with a Thai family.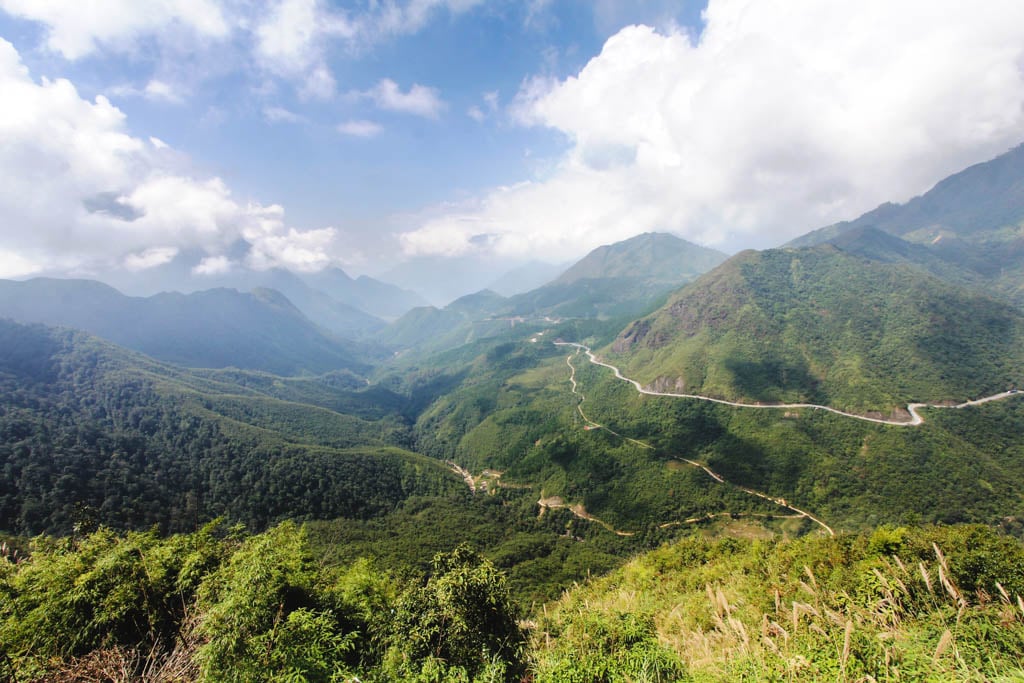 Day 4: Mu Cang Chai – Sapa (200km)
We'll ride on a smooth paved road that leads straight to the extreme northern mountain range of the country. The route will take us through vast green tea plantations, and we'll stop for a picnic lunch amidst the tea farms.
In the afternoon, we'll enjoy the breathtaking views from the top of Vietnam's highest mountain pass, Tram Ton Pass, which is over 2000m above sea level.
Upon arrival in Sapa, we'll check into a hotel with the best view of the Muong Hoa Valley. Dinner will be served at a Vietnamese restaurant specializing in local cuisine.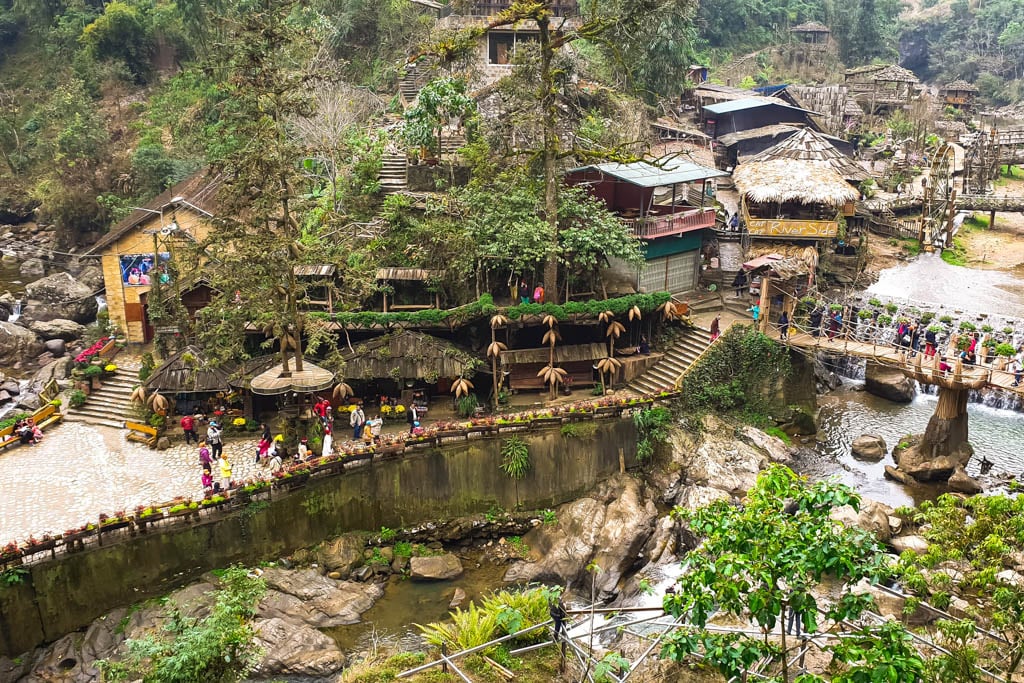 Day 5: Sapa (Rest Day)
You'll have free time to relax or join a short walking tour around the area. An optional half-day walking tour is available to visit local villages and witness the terraced rice fields in the morning.
In the afternoon, you can enjoy the hotel's facilities or simply relax. Dinner can be arranged according to your preferences.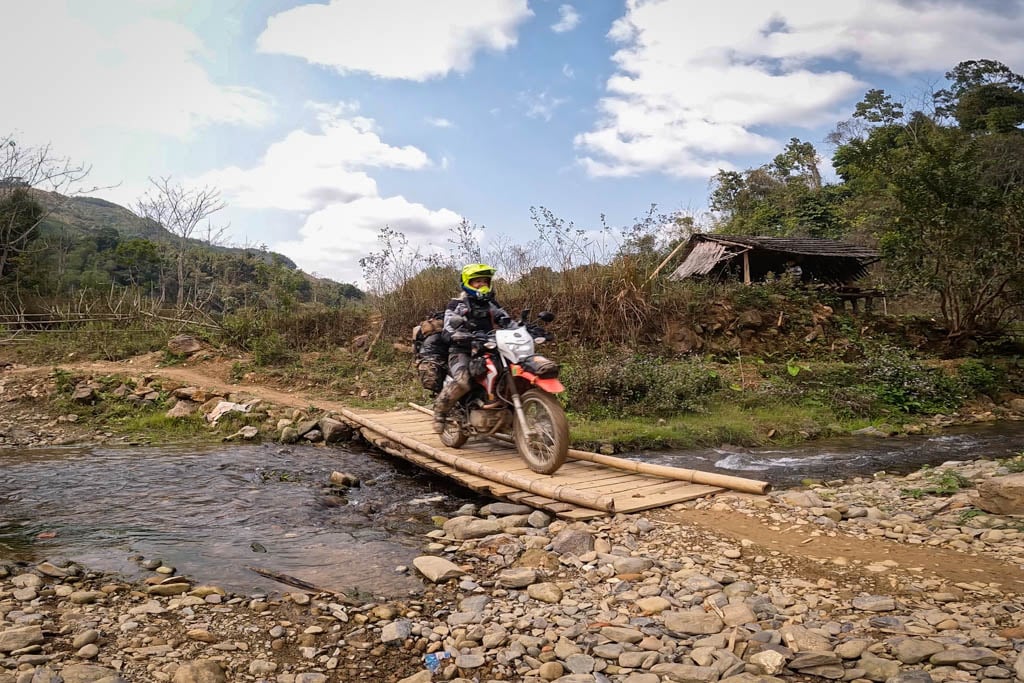 Day 6: Sapa – Bac Ha (240km)
We'll ride downhill to Lao Cai town on a smooth road and make a quick stop to visit the largest Chinese border gate.
Then, we'll enjoy a ride on a small, smooth, and twisty road along the Chinese border. This day will involve several stops at viewpoints and visits to local villages.
We'll have lunch in a small border town and arrive in Bac Ha in the afternoon. Dinner and overnight accommodations will be provided at a small family hotel.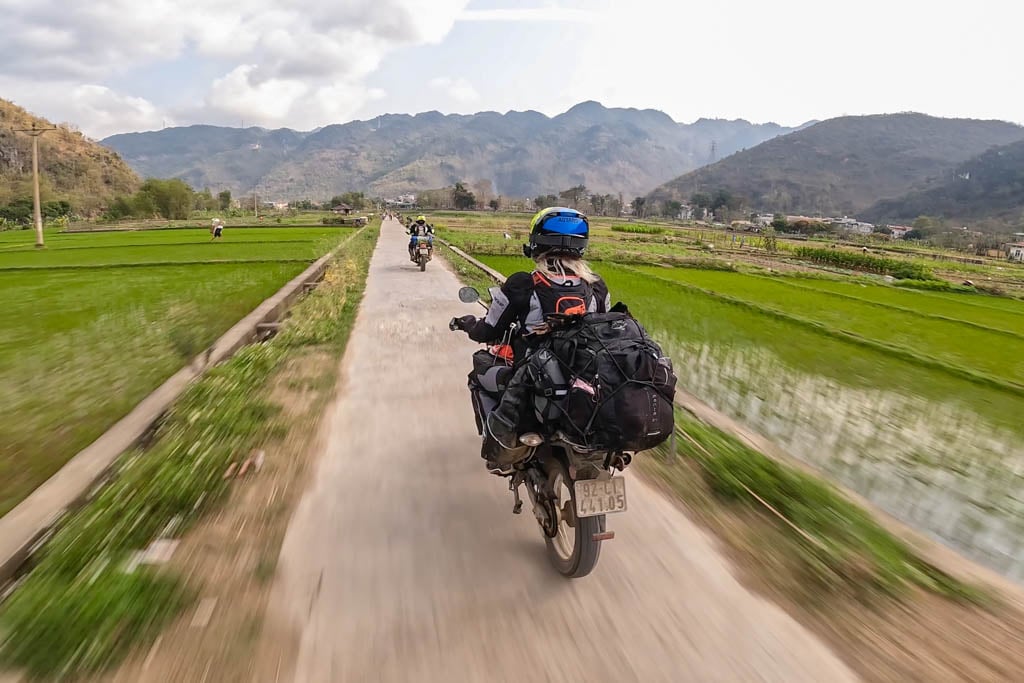 Day 7: Bac Ha – Ha Giang (240km)
Today we'll start the day by riding downhill on a beautiful route that combines pavement and dirt while also riding through beautiful rice fields.
We'll have a picnic lunch on the route, and in the afternoon, we'll take an easy and smooth road until we reach Ha Giang town, where we'll stay overnight at a boutique hotel near a limestone mountain.
Dinner will be served at the hotel.
Day 8: Ha Giang – Ba Be Lake (240km)
On this day we'll enjoy a scenic and easy ride that will take us over many passes, offering breathtaking views of mountain ranges and valleys.
We'll stop to visit beautiful villages inhabited by the Tày people and have lunch at a local Vietnamese restaurant.
In the afternoon, we'll ride on a small, quiet, and twisty road until we reach beautiful Ba Be Lake National Park.
We'll check into a lovely small hotel located near the lake and have dinner.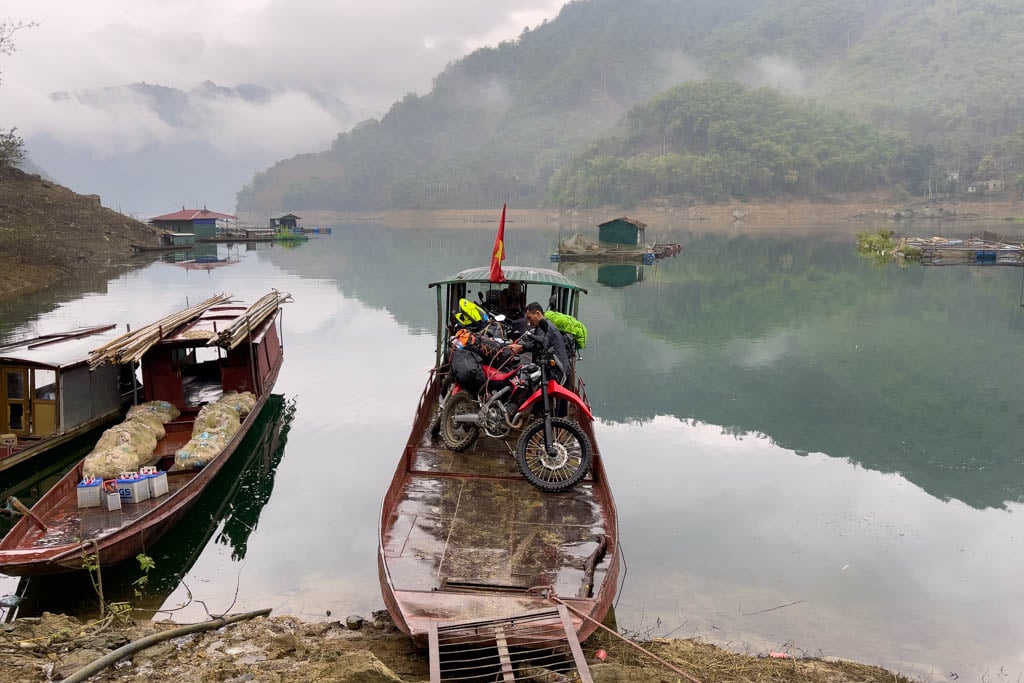 Day 9: Ba Be Lake – Lang Son (230km)
Embark on a short boat trip to discover the mesmerizing beauty of Ba Be Lake and its National Park. Return to the village and commence a 6-hour drive to Lang Son Town, a border city.
Uncover the historical French Route No 4c, a relic from the Indochina War, with stops along the way to visit villages and significant sites. Enjoy a picnic lunch amidst the journey.
As night falls, retire to a comfortable hotel in Lang Son, where you can savor a delicious dinner.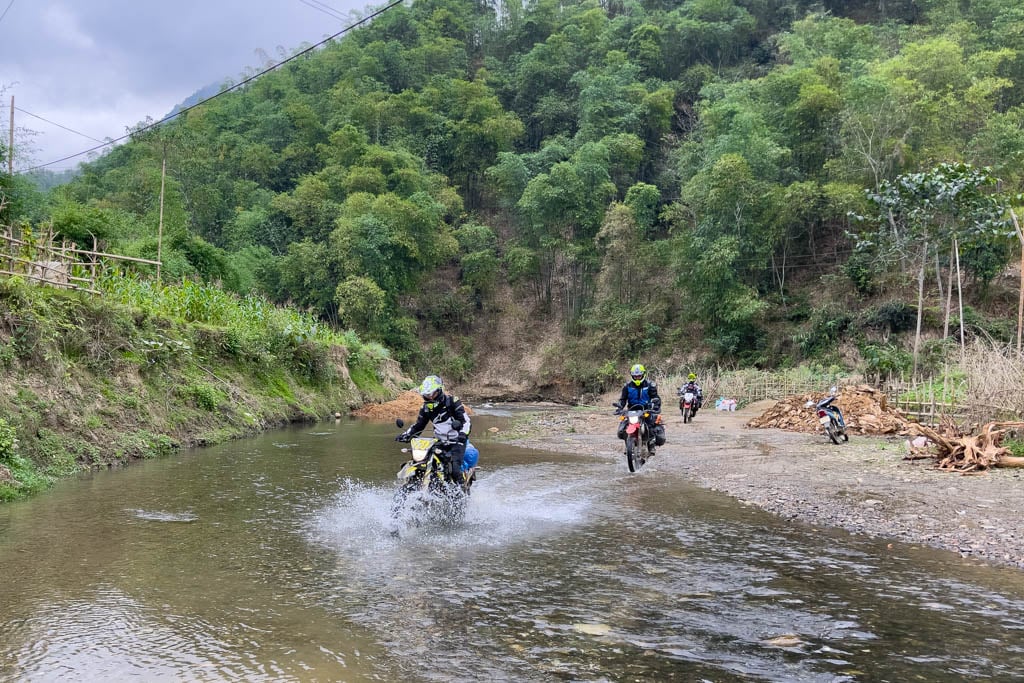 Day 10: Lang Son – Ha Long Bay (250km)
Begin the day by visiting the Tam Thanh temple, if it's open for visitation. Then, embark on a captivating drive along the Chinese border, exploring the spectacular and historically significant Road No 4.
By the afternoon, we'll arrive in Ha Long City and check into a hotel with a beautiful view of the famous Ha Long Bay. Dinner will be served in town.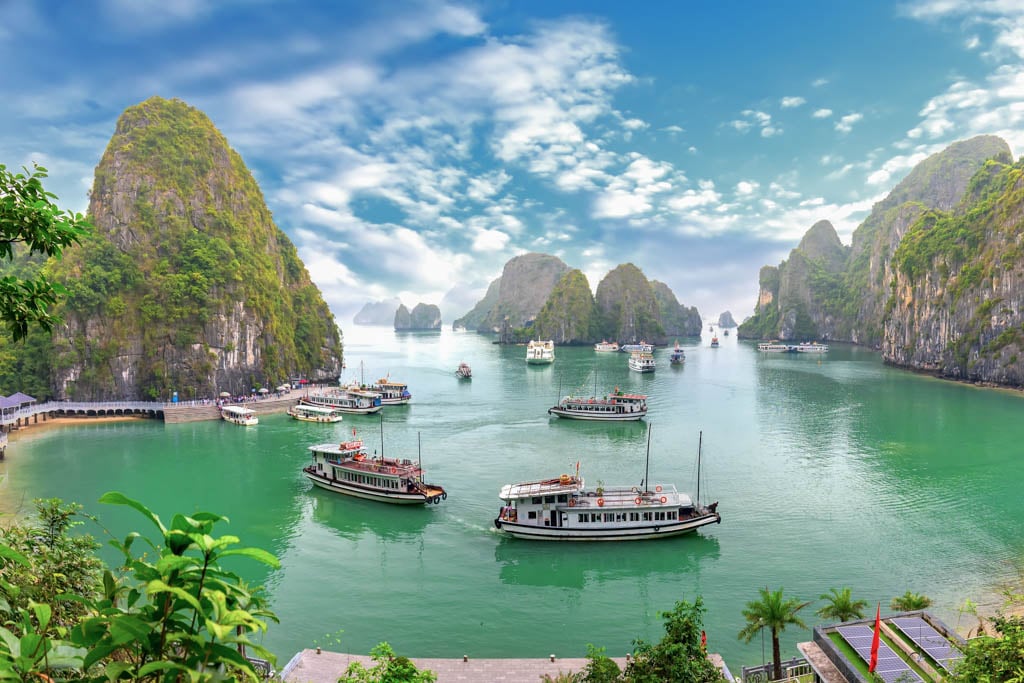 Day 11: Ha Long Bay (Rest Day)
The morning is yours to explore Ha Long City, where you can visit the local market and relax on the beach.
At noon, embark on a breathtaking luxury boat cruise to discover the awe-inspiring landscapes of Ha Long Bay.
Feast on a delectable lunch served on the boat as you sail past enchanting islets shaped like animals, formed naturally through the erosion of limestone mountains by the sea.
The cruise will offer activities such as kayaking, small fishing boat rides to visit caves, tunnels, and fishing villages.
Spend the night on the boat, immersing yourself in the magic of Ha Long Bay.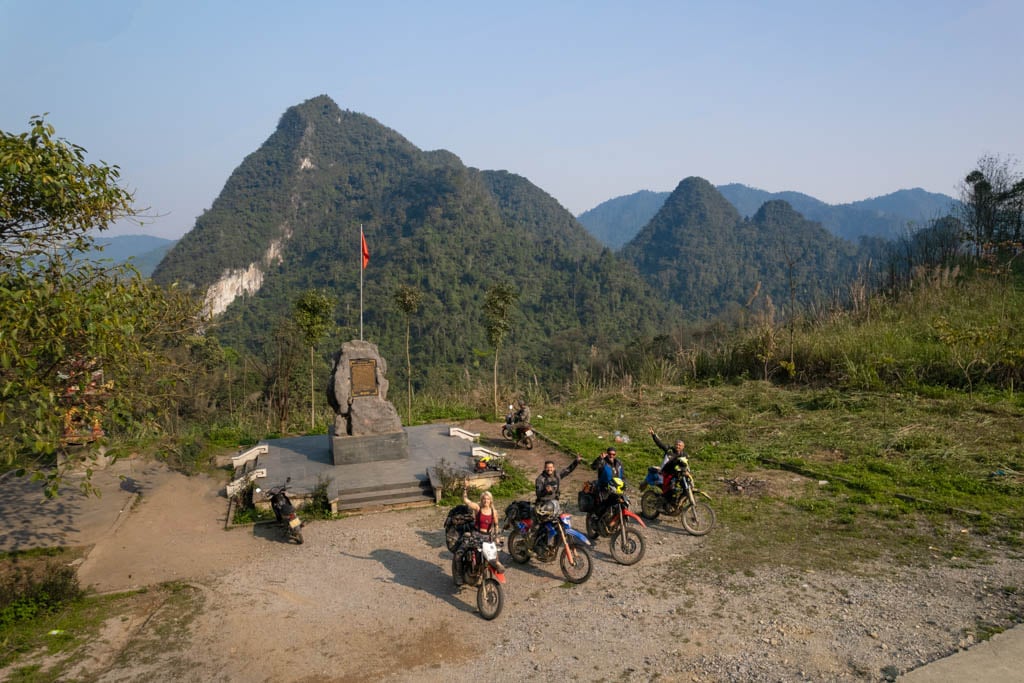 Day 12: Ha Long Bay – Hanoi (170km)
Continue your boat cruise, taking in the last glimpses of Ha Long Bay's beauty before returning to the harbor.
Once docked we'll travel back to Hanoi by bus as the bike will be transferred by truck due to the busy traffic. We'll arrive in Hanoi around 3:00 PM and check into your hotel. A farewell dinner will be arranged to mark the end of your Vietnam motorcycle tour.
We do recommend either adding a few days before or after to enjoy the chaotic symphony that is Hanoi. From food to the busy lively streets, you won't regret taking a few extra moments to discover the city.
Minimum Essential Gear for RIDE Training
If you're planning to jump on a guided tour or training with RIDE Adventures, it's essential that you have the right gear. This helps to ensure your safety and the safety of others while on the road.
Not being properly prepared can lead to injuires that could have been avoided. Our guides have created a Minimum Essential Gear Guide if you plan to book a RIDE Adventures. If you don't come minimally prepared there is a chance our guides will prevent you from hopping on a bike. Make sure you're prepared for the adventure.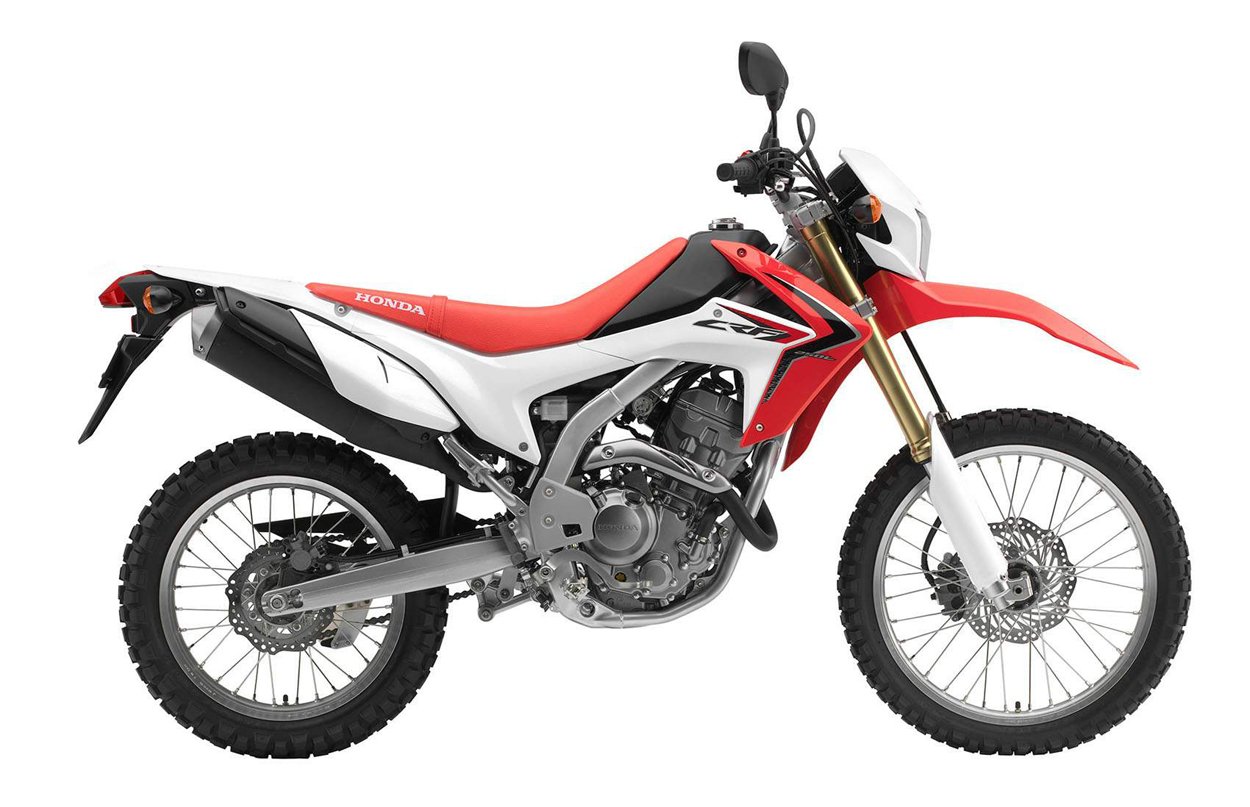 2016+ Honda CRF250L
What makes the CRF250L so good in the dirt – Long travel suspension, low weight, narrow dimensions, nimble-steering chassis and crisp, responsive engine – also make it great around town, on rough roads and in busy traffic. Add Honda build quality, superb ergonomics, comprehensive digital dash and 2.1 gallon fuel tank to the mix and the CRF250L is not just dual-purpose, it's ready for anything.
Wet Weight - 317 lbs
Seat Height - 34.4 inches
Fuel Capacity - 2.1 gal
X
Seat Height:
34.4 in
Curb Weight:
317 lbs
Fuel Capacity:
2.1 gal
Displacement:
250cc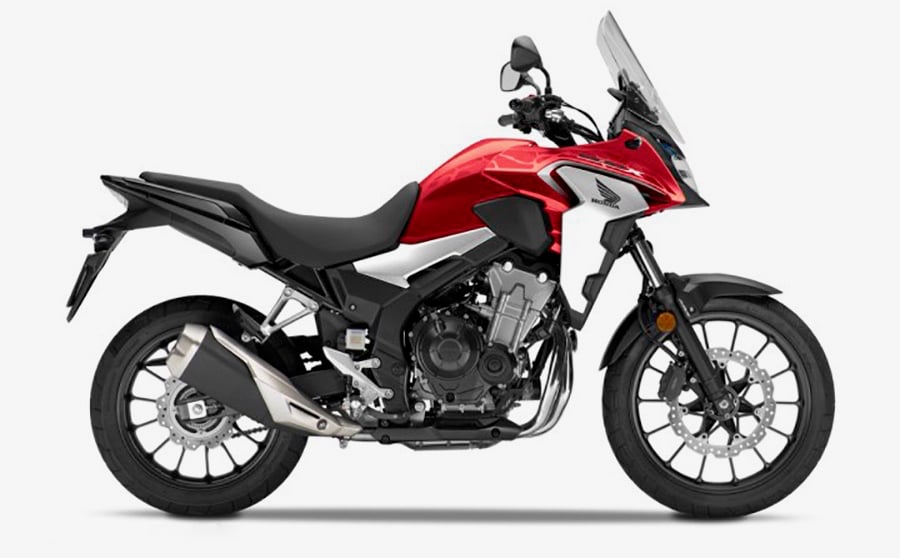 2019+ Honda CB500x
Another recent assertion by Honda Motorcycles into the Adventure Riding world, riders seeking a compact-sized adventure bike have been raving about the CB500X. With plenty of power emanating from the parallel-twin engine, and an agile disposition, everything from paved twisties to gravel, dirt, and sand can be conquered with this fun adventuring option. Starting in 2019 with the 19" front wheel, this bike has proven itself for us in places like Patagonia, and will be a great option for riders exploring beyond.
Wet Weight - 430lbs
Seat Height - 32.7 inches
Fuel Capacity - 4.6 gal
X
Seat Height:
32.7 in
Curb Weight:
430lbs
Fuel Capacity:
4.6 gal
Displacement:
471cc Parallel Twin
2021+ Honda CRF300L
The CRF300L is a dual-purpose motorcycle with a single mission: to deliver the best ride experience wherever you take it. From technical single-track, to multi-lane traffic, the lightweight frame and upright seating position give you command over your surroundings. An accessible powerband and plenty of low-end torque compliment this design for precise handling. Together with a smart set of features, you get an agile bike that excels in just about every situation.
Wet Weight - 306 lbs
Seat Height - 34.7 inches
Fuel Capacity - 2.1 gal
X
Seat Height:
34.7 in
Curb Weight:
306 lbs
Fuel Capacity:
2.1 gal
Displacement:
286cc