Tour Info
SELF GUIDED "FLY & DRIVE" PACKAGES: This page and pricing shown is for your own Self-Guided tour package. As such, you can start this package on any date that you've reserved our available 4x4s and hotels for! When you're ready, we just need to know what your arrival date would be in Pucón, Chile, which 4x4 you want to drive, and how many people you are coming with. Once the reservation is set, just show up with your adventurous spirit and personal documents, and DRIVE!
Origin: Pucón, Chile
Destination: Puerto Natales, Chile
Total distance: Approximately 3,155 kilometers (1,960 miles)
Duration: 14 Days (10 Driving Days, 2 Rest Days, 1 Arrival, 1 Departure Day)
Average driving time per day: 6-8 hours (including stops for lunches, photos, fueling, etc.)
Average distance per driving day: 315 kilometers (195 miles)
Terrain:

Approximately 20% gravel/dirt and 80% pavement (equates to about 35/65 in terms of

time spent driving,

as km's in the dirt are slower of course.)

Possible Rest Day Activities: Rafting, Fly-Fishing, Canopy Tours, Boat Trips to the Marble Caves, Hiking, Horseback Riding, Argentine Wine, Chilean Beer, and Relaxation!
Included:
4x4 Rental per Itinerary
13 Nights of Hotels/Cabanas ranging from 3 to 5 Stars, or basically the "best available" in each location
Road Book for turn-by-turn directions, where to get fuel, where to eat, and sites to see
13 breakfasts
Basic Tools & repair kits
All One-Way Shipping Fees
All 4x4 rental and hotel taxes
3rd party liability insurance for 4x4
Required International Papers for Border Crossings
Not Included:
Rest day activities
Fuel
Flights
Optional Damage Liability Reduction Waiver & associated fully refundable Security Deposit (*Please inquire on specific costs associated with your requested rental or tour package)
Personal, Medical or any other Travel Insurance
Any non-mentioned item or service as "Included"
Base Pricing (Pricing in USD)

1 Person / 1 Room = $7392
2 People / 1 Room = $3875 per person
3 People / 1 Vehicle / 2 Rooms (1 Shared, 1 Single) = $3935 per person
4 People / 1 Vehicle / 2 Rooms = $3059 per person
Upgrade to Full Size Truck (Silverado, F150, etc): $520
Interested in This Tour?
Contact Eric today to "Fly & DRIVE Patagonia Experience" in the Andes Mountains
Tour Specs
Base Pricing (on Hotel Room | Multiple Occupants | 4x4 Pickup | Manual Transmission): $3059
Days: 14
Driving Days: 10
Rest Days: 2
Countries Visited:
Argentina & Chile
Highlights:
The Andes Mountains, the longest mountain range on Earth
Parque Nacional Los Alerces, home of the tallest trees in South America
Ruta 40, which stretches the length of Argentina through mountains & "pampas"
Futaleufú River, home to world-class whitewater rafting & kayaking
The Carretera Austral, the stunning "Highway to the South!"
Lago General Carrera, the bright blue, the 12th deepest lake in the world
Optional Rest Day drive into the famous "Patagonia Park"
Perito Moreno Glacier, one of only 3 known glaciers to still be growing
Torres del Paine National Park, home of Los Cuernos, Las Torres & many guanacos!
Request More Information
"Fly & Drive The Patagonia Experience" 4x4 Adventure Tour - 14 Days
Adventure travelers worldwide are looking for the best experiences possible, and RIDE Adventures has worked hard to provide top-of-theline, bucket list trips that involve two wheels AND four. If you're not a dual-sport rider, or maybe your family members ride and you don't, no need to feel left out! We have our "drivers" covered as well.

"The Patagonia Experience" route takes adventurers through the Patagonia highlights in just 14 days (including your arrival and departure days.) Torres del Paine National Park, the Perito Moreno Glacier, the Carretera Austral, incredible Andes Mountain driving and more are all packed into one amazing journey! We're all pressed for time these days, and the Patagonia Experience tour ensures that you're able to fit in as much of this gorgeous landscape as possible. Still, it's an itinerary that most travelers can keep up with and enjoy quite comfortably.

Please note that you can run this route from either the north or the south. Which is better? The answer is: "Both!" With no real advantage to riding either direction, this trip will seem to be more amazing every day, and as Rider Magazine declared in August 2013, "I feel I've seen the best of Patagonia."
Itinerary
Day 1 – Arrive in Santiago, Chile and then
Puc
ón in northern Patagonia!
Whether you're taking extra time to explore the capital city of Santiago or just flying through, adventure travelers need to arrive in Pucón on or before this date, as the itinerary shows a 1st driving day to follow. Your intra-Chile flights can be booked through www.latam.com or www.skyairline.cl. Flights are Santiago (SCL) to Temuco (ZCO) and then back north from Puerto Natales (PNT) to Santiago at the end of the trip. These package options can be sold out 9+ months in advance, as Patagonia is a very popular place for our rental vehicles, so book well in advance!
Day 2 –
Puc

ón,

Chile to Bariloche, Argentina – 374km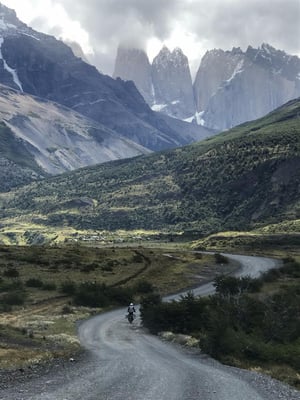 It's time to start driving into the heart of Patagonia!
After getting you settled with your 4x4 rental and making sure you're comfortable with the Road Book and everything, the excitement for the trip ahead starts to build even more. At some point on this day though, what might have been months of waiting will finally come to an end, as your DRIVE into Patagonia begins!
Due to the wild series of inlets and land formations that make up the coast of southern Chile, this trip heads east up into the Andes Mountains before going further south into Patagonia. Your trip beginning in Pucón starts with the famous "7 Lakes Route" (Ruta de 7 Lagos) going through San Martin de Los Andes. Settling down into the ski-resort town of Bariloche for the night and perhaps your first Argentine asado (barbeque) in this lively town sets you up for even greater adventures ahead.
Day 3 – Bariloche to Trevelin, Chile – 308km

Before leaving Bariloche, be sure to drive the "Circuito Chico" through Llao Llao just to the west! Then, as most of the trucks and traffic will take the obvious Route 40 south, but you might want to follow the Road Book and enjoy a detour through Parque Nacional Los Alerces just to the west. Sweeping sandy turns through the "Fitzroy" trees (cousin to the Redwoods found in California and the tallest trees in all of South America,) beautiful lakes and mountains guide us through the national park. Positioned to cross back into Chile the next day, how did you do in the gravel? We hope well, because there's more ahead.
Day 4 – Trevelin to Puyuhaupi, Chile – 246km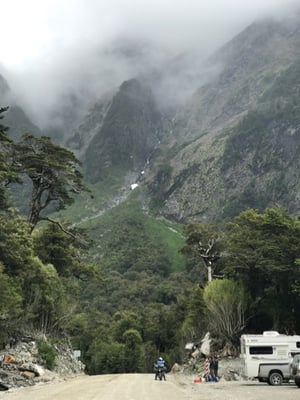 Today marks the start of the trip down the Austral (Highway to the South) and what many folks will agree is some of the best traveling in the world! First crossing the Futaleufú River, you'll also be passing near Parque National Corcovado, one of very few privately owned land preserves in the world (owned by the late Doug Tompkins, founder of The North Face clothing company.)
Heading further south on the Carretera, rain is likely before arriving in the town of Puyuhaupi, and this area is an absolute highlight for travelers experiencing Patagonia for the first time. Glaciers to the left, waterfalls all around, and rainforest excursions make this a truly unforgettable place.
Day 5 - Puyuhuapi to Coihaique, Chile - 224km
If you're going to get rain on this trip, it'll likely be here in the Queulat Rainforest in this stunning valley full of switchbacks and incredible scenery. Even the most "reserved" personalities tend to burst a bit in this section, as every turn reveals a new view of the precious Patagonia we've grown to love. Waterfalls that cascade down from a few hundred meters high and all the bright green forestry of Patagonia await you.
Day 6 – Coihaique to Puerto Tranquilo area of Chile – 225km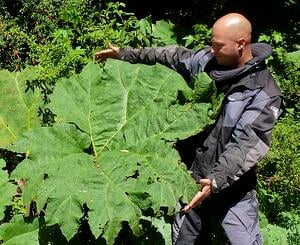 This is Patagonia at its best! Just because the scenery got better these past couple of days, that doesn't mean it can't get even better still…
The enormous Nalca plants will line your drive through Parque Nacional Queulat, and likely some rain today. The plant life and rain makes for an amazing atmosphere though with snow-capped mountains, rivers and waterfalls, and in the right season, salmon spawning in the River Cisnes.
After Reserva Nacional Cerro Castillo and its sharp mountain peaks, you'll get your first glimpses of Lago General Carrera, and if the sun is out, another site never to be forgotten. Glacier fed waters reflect blue light, and combined with more snow-capped mountains in the background, this is one fantastic 4x4 travel experience into Puerto Tranquilo. If you arrived early enough, opportunities for fishing, boat tours of the nearby Marble Caves, and canopy tours are possible.
Day 7 – REST DAY in Puerto Tranquilo (area), Chile
The rest day in Puerto Tranquilo is chosen for a couple of reasons. First, Patagonia makes for some tough traveling and everyone has a need to rest up, and second, because you probably won't want to leave the Puerto Tranquilo area! We will be far off "the beaten path" at this point and varying emotions about seclusion and our normal lives are bound to set in. With activities like boat tours, fly-fishing, horseback riding, canopy tours, and river rafting on the Rio Baker, this is barely a relaxing rest day. On the other hand, if you really feel you want to adventure out a little on this day, the fabulous "Patagonia Park," one of Doug Tompkin's conservation efforts is right near by with plenty of guanacos bouncing around the lodge Valle Chacabuco.
Day 8 - Puerto Tranquilo to Los Antiguos, Argentina – 175km
Leaving this spot about only about 50m/80km from the Pacific Ocean, the drive takes you along the shores of Lago General Carrera with its blue beauty guiding us along rock walls and fantastic scenery on the way back into Argentina. Now get ready for the wind! As Pacific air rolls across the Andes, it typically rushes down the eastern side of the mountains in quite a hurry, so this can be a challenging day of travel.
Day 9– Los Antiguos to near Gobernador Gregores, Argentina – 414km
Just grip down and get through what could definitely be more pounding winds today, as this is part of why Ruta 40 is so famous! Extremely remote territories, very few fueling points, and the wide-open "pampas" region of Argentina again add to the variety in this adventure. Guanacos (like a small llama, indigenous to South America and this region in particular) will be dancing around the road before us, so we take extra caution on days like this.
Day 10 – Gobernador Gregores to El Calafate, Argentina - 330km
Still out in the Argentine wild, just tilt back to the west with the Andes in site today. Passing Lago Cardiel and Lago Viedma, the piercing peaks of Mount Fitz Roy and the town of El Chaltén can be seen in the distance. Passing Lago Argentino and nearing the town of El Calafate, a fun town with great shopping, dining, and relaxation potential sets travelers up for one of the greatest highlights in all of Patagonia the next day.
Day 11 – REST DAY in El Calafate (optional visit to Glacier: 160km)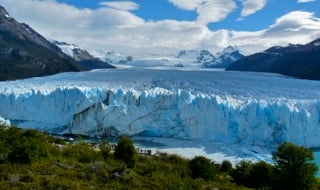 It's important to rest once again, and there might be no better town to do so in. Just a short morning trip starts with a visit to yet another incredible site in Patagonia: The Perito Moreno Glacier! One of only 3 known glaciers in the world that is still actually growing, huge chunks of ice will fall off before your eyes, crashing into the bay before you. As if this awesome sight isn't enough, the rumbling sounds of ice cracking throughout the ice field will remain a definite part of your Patagonia memories. Enjoy the remainder of the day around the town of El Calafate where shopping, crafts, culture and restaurants all await you.
Day 12 – El Calafate to Torres del Paine National Park – 379km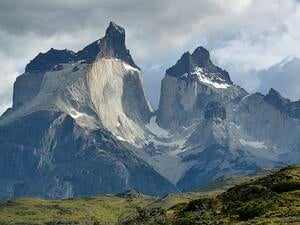 Circling back through the wide-open "pampas" of Argentina one more time, the goal is yet another stunning site on the Chilean side. Crossing the border at Paso Rio Don Guillermo, it might not appear that there's anything in site; however, when approaching the middle of Torres del Paine National Park, travelers will understand why this is a special place in Patagonia.
The famous Torres (towers) and Cuernos (horns) of Torres del Paine National Park beg you to take a rest day and either hike or ride around the area to enjoy the beauty. From the south side of "Los Cuernos"(The Horns,) travelers can be found waiting to photograph that perfect sunrise where orange and pink hues radiate across this unforgettable mountain formation. Designated a World Biosphere Reserve in 1978 by UNESCO, photos might not even be necessary as the images will remain clear in travelers' minds forever.
Day 13 – Torres del Paine N.P. to Puerto Natales, Chile – 320km

Finally, the Province and Island of Tierra del Fuego! Originally given that name by Ferdinand Magellan (meaning "Land of Fire") because of the Indian fires he saw blazing before him, he might have better named it "Land of Wind," because you're likely be inundated by it most of the day. Although you might not actually touch Tierra del Fuego, you'll be just about 1 kilometer from it across the Straight of Magellan, and definitely have the sensation of what it's like to be out there. Now just imagine all the photos you have to start organizing as the driving part of your trip is over! Enjoy your stay in this thriving coastal city of Puerto Natales, with lots of shopping and dining options to choose from.
Day 14 - Breakfast and departure
If you're like most travelers, you'll want to turn around and experience this route all over again, or at least continue onward up the Argentine coast to see even more of what this region has to offer. All is possible (confirmed with us ahead of time) but congratulations either way on having completed this journey succesfully! We hope you enjoyed, and will share photos and favorite moments with us.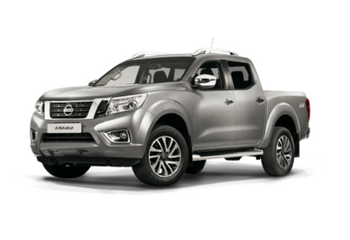 Nissan Navara
Upgrade to a Nissan Navara so you can explore the rugged terrain of South America in style!
X
Seat Height:

Curb Weight:

Fuel Capacity:

Displacement: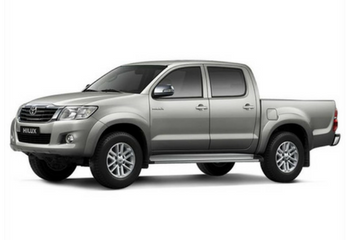 Toyota HiLux Pickup
The Toyota HiLux provides all the safety, comfort, and rugged experience that you'll need on your 4x4 adventure travel in South America.
X
Seat Height:

Curb Weight:

Fuel Capacity:

Displacement: