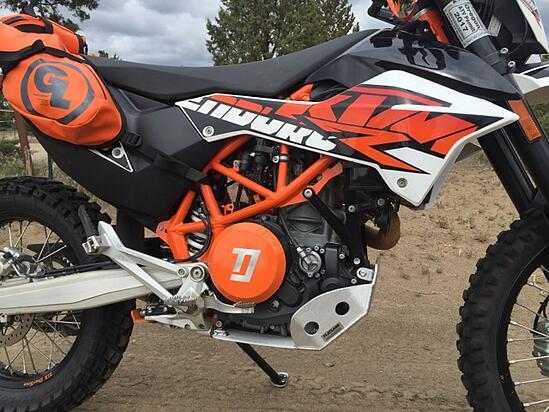 Protecting your motorcycle engine is crucial, especially if you're an adventure rider who loves to take on challenging terrains. A damaged engine can quickly put an end to your trip, which is why investing in high-quality protection is essential. While there are several options available, carbon fiber and aluminum are the most popular choices.
When I recently purchased a slightly used 2014 KTM 690 Enduro R, I noticed that the previous owner had used liquid weld to fix a punctured clutch cover. Although it was holding up well, it was leaking slightly, and I decided to replace the cover. I wanted to ensure that the new cover was well-protected, so I started researching. While carbon fiber options were available, I found that they didn't offer the level of protection I needed.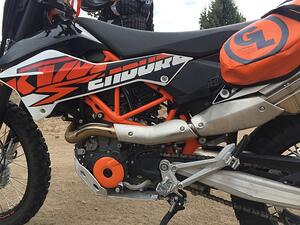 After researching, I came across Trailjammer Designs, a California-based company that produces aluminum protection pieces for both the clutch and stator side of the engine. The design of their protection pieces mounts them to the engine using a high-temperature RTV gasket/sealer compound, which acts as a padding to disperse the energy from any impact. I used an entire 3oz tube of Permatex RTV when installing both the clutch and stator covers, and I could have used more for better protection.
The Trailjammer protection pieces are lightweight and made of durable aluminum. They have made a significant difference in protecting my engine case, and I'm confident that they'll continue to do so. Although I haven't tested them in a hard impact, I've seen some sample post-impact photos of their products, and they seem to be very durable.
If you're planning to replace the clutch cover on a 2014 KTM 690 Enduro R, here are some tips to keep in mind:
Don't try to get the rear brake lever unbolted; instead, remove the torx bolt that's holding on both the front and rear footpegs, and the entire brake lever itself.
Use the two dowels on the left and right of the gasket surface to hang the new gasket and keep it in position while mounting the cover.
If you're adding protection pieces by Trailjammer Designs, use 4-6 ounces of RTV for extra protection.
Overall, protecting your motorcycle engine is crucial, and investing in high-quality protection pieces is essential.