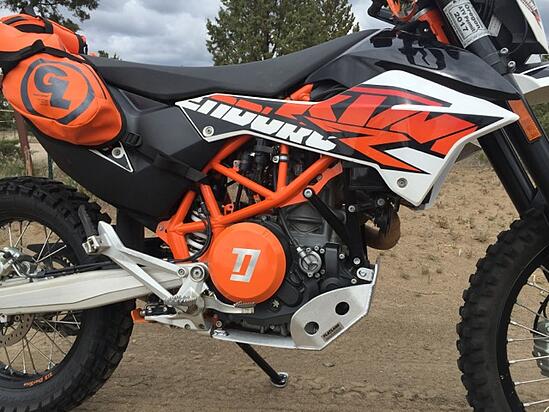 While the 2014 KTM 690 Enduro R that I picked up recently was only slightly used, the previous owner reminded me in the form of liquid weld just what can happen if the engine isn't protected. As shown in the picture below, something clearly "got in there" and punctured the clutch cover, and while the liquid weld was holding up pretty well, it was also just leaking slightly enough that it was time to just replace the cover itself.
With a new clutch cover being installed, I wanted to make sure it was well-protected so my research began. Carbon fiber sure does have it's place in the motorcycle protection arena, but having see how it can just "pulverize" with a few good whacks, the few carbon fiber options available for this bike just didn't seem like the way to go.
Instead, I opted instead for the aluminum protection pieces made by Trailjammer Designs in California, covering both the clutch and stator side of the engine once and for all. Their design mounts the pieces to the engine using a simple high-tempurature RTV gasket/sealer compound, so that the "rubber-like" RTV sealant actually works as sort of a "padding" to disperse the energy from any impact. When installing both the clutch and stator covers, I used an entire 3oz tube of Permatex RTV, and actually could have fit some more in there for even better protection.