ANDES & ALTIPLANO ADVENTURE MOTORCYCLE TOUR PACKAGE IN PERU & BOLIVIA
Itinerary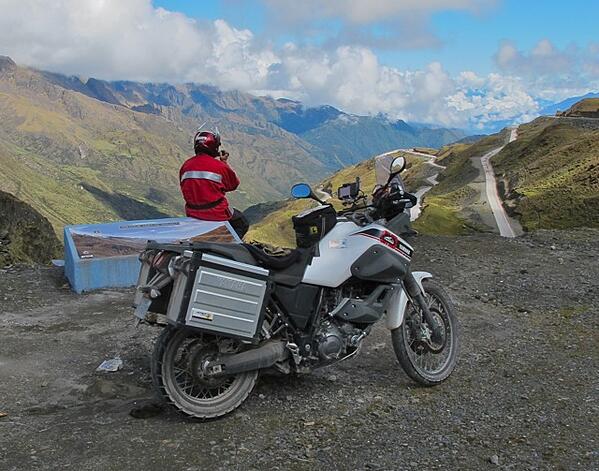 YOUR ADVENTURE BEGINS!
Day 1 – Arrival in Arequipa, Peru - Altitude: 2300m
Welcome to PERU and what we think is one of the best motorcycle trips ever! For your convenience, airport transfers are included in this historical city of Arequipa, bringing everyone together to get started with a few paperwork details and motorcycle familiarization. As the group forms and gets aquainted, your Guides will offer a briefing on the amazing adventure riding experience that lies ahead, and answer any questions. Be sure to unwind and explore Arequipa's city center which is easily accessed from the hotel included in this package, and rest-up for the RIDE Ahead!
Day 2 – Arequipa to Puerto Inka, Peru - 420km - Altitude: Riding down to sea-level
Now begins one of your long-awaited RIDE Adventures! A long riding day full of twists and turns requires an early start in order to arrive at Puerto Inka before dark while capturing all the photos riders will want to take this first day. Some stretches of the PanAmerican Highway riding northbound along the Peruvian shoreline might resemble California's Pacfic Coast Highway, but wait: This time, you're RIDING in PERU! Feel free to cast a huge smile within your helmet and shout for joy about this feeling that so many riders from around the world have been dreaming about. With waves crashing to your left, lunch will be in Camaná or Atico before twisting and turning approximately 100km more along the coastal route to Puerto Inka for a first night listening to the crashing of the Pacific surf.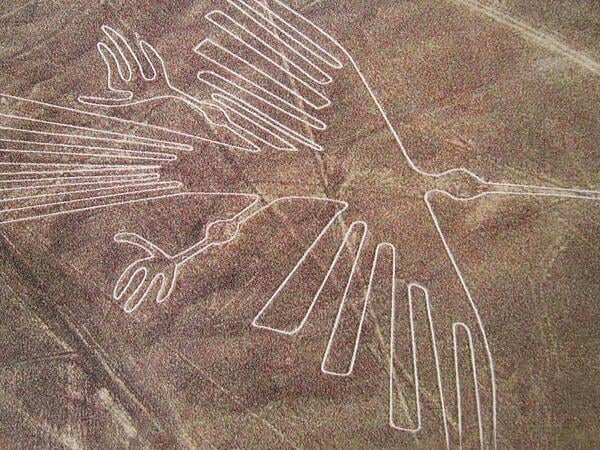 Day 3 – Puerto Inka to Nazca, Peru – 165 km - Altitude: to 520m
This is a shorter riding day across the dry Peruvian desert which can include a stop at the Chauchilla Cemetery to witness the mumified remains of Peruvians from the 9th Century A.D. The town of Nazca is famous for the mysterious Nazca Lines, which are geoglyphs and formations drawn out across the pampas (open grassy plains) just outside of the town. Riders can either take a local flight over the area to get the best views of animal and other figure-formations drawn in the dirt and sand below, or a nearby tower can be climbed for those who prefer to stand or RIDE instead of fly : )
Day 4 – Nazca to Chalhuanca, Peru - 361km - Altitude: to 4500m
Here marks our climb into the Andes mountains! More twisties and vast scenery accompany the gradual ascent to this town high in the Andes, with minimal effort thanks to the "twist of your wrist." Lunch is in the town of Puquio before heading up further to Chalhuanca, a very remote spot that will cause one to stop and ponder the amazing place in the world they've just arrived to. You're below the equator, on a motorcycle, riding in Peru, and with so much great riding yet ahead!
Day 5 – Chalhuanca to Ollantaytambo, Peru - 313km - Altitude: to 3400m
Continuing east on the way to Ollantaytambo, the ancient capital of the Inca Empire awaits you but not before a long series of fun twists and Andean hairpin turns. Valley and cliff settings atop tiny small towns all show the way through Cuzco, putting oneself in position to catch the train in the morning to one of the most famous sites in all of South America.
Day 6 – Rest Day, exploring Machu Picchu
Finally, your arrival at Machu Picchu! Arguably the most famous site in all of South America, the story of Hiram Bingham's 1911 journey to find the "Lost City of the Incas" is one you can now appreciate better, having passed through the thick and luscious terrain of Peruvian rainforest. Due to the non-existent road to Aguas Calientes (the base village below Machu Picchu), the only other way to arrive would be by hiking the Inca Trail for about 3-5 days. Instead, the early 2 hour train ride to Aguas Calientes will bring us along the Urubamba River to this small town, just before a brief bus ride up to the gates of Machu Picchu. With plenty of time to adore the grandeur of this magnificent discovery, the train ride back to Ollantaytambo at the end of the day will undoubtedly be one with a smile on your face.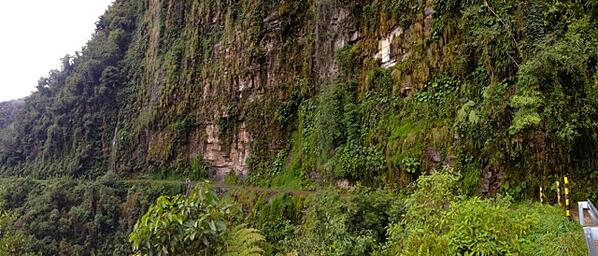 Day 7 – Ollantaytambo to Cuzco, Peru - 65km - Altitude: to 3500m
Today's brief ride through the beautiful Sacred Valley of the Incas makes Riders glad they're on a motorcycle instead of being trapped inside a bus. Notice the hole-covered valley walls in some spots? Grave diggers long ago discovered that ancient Incas were buried with all their gold and jewelry possessions, and the deceased have since been "relieved" of their belongings. The goal here is to get in position for flights out of Peru to Bolivia, where yet another page in this adventure is turned. Enjoy the city of Cuzco with a walking tour included for this historic and beautiful city hosting visitors from around the world.
Day 8 – Cusco to La Paz, Bolivia (flight day)
Peru in your side view mirrors, the people of Bolivia await us as we make our way into the financial Capitol city of La Paz. Plenty of time to do some walking and see this busy city, and your Guide can help show you around.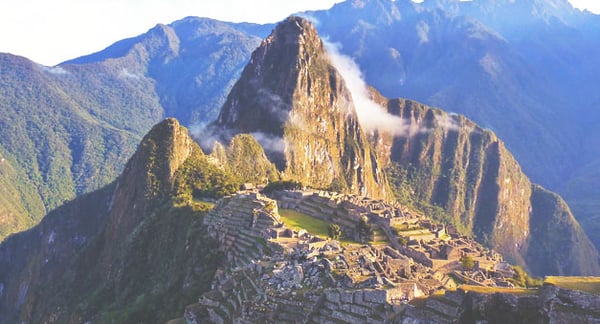 Day 9 – La Paz to Potosí - 540km - Altitude: 4,100m
A big riding day ahead on the way to the world's highest 100,000+ population city, constantly changing landscapes and scenery welcome you to the land of Bolivia. Long ago, Bolivia once had a shoreline on the Pacific Ocean, but political changes and neighbors like Chile and Peru saw a change to that. Notice any changes on this side of the border? Still friendly people and smiling faces, but perhaps a land just a little further behind in time.
Days 10 – Rest Day in Potosí

Relax and enjoy your day in Potosí, this UNESCO World Heritage Site and city built around its local silver mines, some of the biggest anywhere in the world. As such, this high-altitude city at 4,066m makes for a fascinating stroll through town with old world architecture and plenty of shopping and dining opportunities. Tours down into the mines are possible, and the National Mint Museum of Bolivia makes for great rest day activity.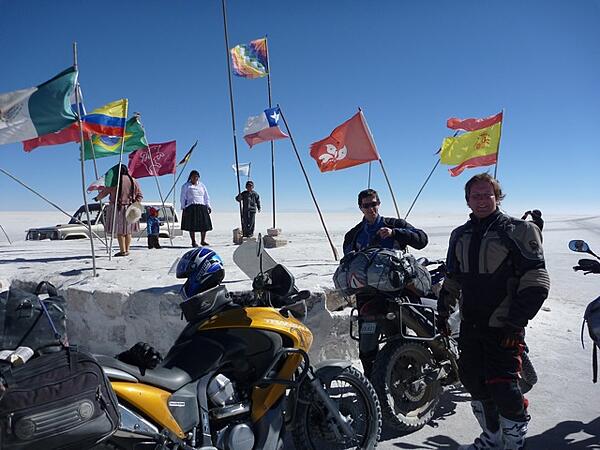 Day 11 – Potosí to Uyuni - 220km - Altitude: to 4100m
A day of riding once declared among the "3 Greatest 1-Day Rides" by RIDE Adventures Founder, Eric Lange, the natural formations and sites along the early parts of this route almost seem artificial, they're so incredible. Pictures just won't do it justice, especially during early morning or late afternoon "golden hours" sun lighting, so remember to breathe and take-in what surrounds you. Arriving in Uyuni later this day on the edge of the world's largest salt flats by the same name, just be careful: There are potholes out there! Ride out to the Isla del Pescado, a remote island out in the middle and enjoy opportunities for photographic illusions in this most unique atmosphere. Keep in mind while riding that the Dakar Rally competitors were racing motorcycles, trucks, and cars through this landscape for 10 years starting 2009. When the salt flats are covered with water in January though, some vehicles were "done" here after finding out what salt water does to electrical systems!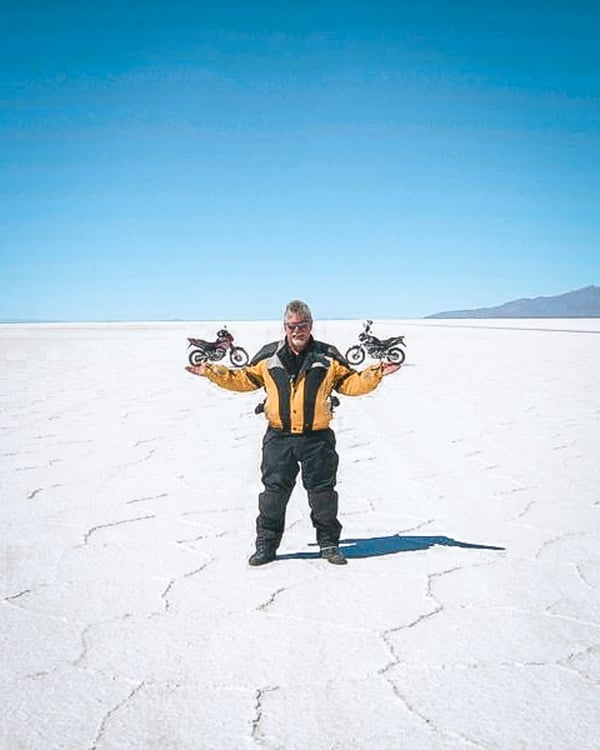 Day 12 – Uyuni to Oruro - 320km - Altitude: to 3500m
With one of the largest collections of retired train cars anywhere, the Train Cemetery outside Uyuni make for quite a start to any riding day. Artifacts once used through Chile to the railhead in Antofagasta now lie here. Known for its significant mining resources and annual Carnival, get to know Bolivia just a little bit better.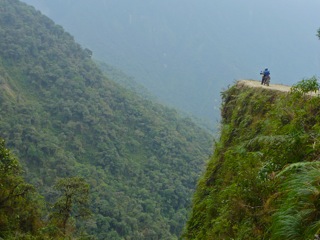 Day 13 – Oruro to Coroico - 340km - Altitude: 4,700m
From the high and dry, descending down into the Bolivian Amazon jungle makes for quite an experience. With lush forestry surrounded by the twisting roads that hug mountain sides, this is it. This is why we love riding in Bolivia so much. Settle into the quaint jungle town of Coroico, and rest-up for yet another ride tomorrow that you will never, ever forget.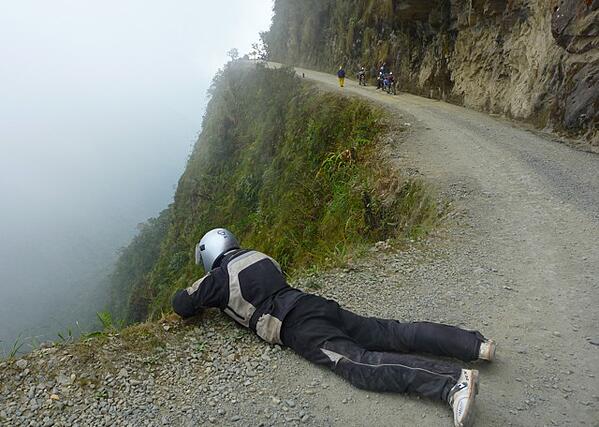 Day 14 – Coroico to La Paz - 120km - Altitude: to 3,500m
La Paz serves as a gateway today, and weather permitting, the ride includes the original unpaved "El Camino de la Muerte" sometimes referred to as "The World's Most Dangerous Road." Keeping in mind that this is completely optional for riders, we'd like to reassure you that this famous stretch of road can be ridden very safely and easily with a few reminders and a cautious approach. This road that got its name as a result of careless driving by many who just refused to slow down and be cautious is one you'll never, ever forget. Some points of the road are edged by cliff walls that are over 1000 meters, straight down! Definitely a thrilling experience though. Absolutely beautiful.
Day 15 –Departure Day from La Paz
Airport transfers are included this day, or extra days can be built into your package upon request. Start organizing all those thousands of photos and sharing now that you'll have better internet access and can tell the world about the amazing adventure RIDE through Peru and Bolivia. A trip you'll never ever forget will be serving up memories long into the future, so we hope you enjoyed!
Minimum Essential Gear for RIDE Training
If you're planning to jump on a guided tour or training with RIDE Adventures, it's essential that you have the right gear. This helps to ensure your safety and the safety of others while on the road.
Not being properly prepared can lead to injuires that could have been avoided. Our guides have created a Minimum Essential Gear Guide if you plan to book a RIDE Adventures. If you don't come minimally prepared there is a chance our guides will prevent you from hopping on a bike. Make sure you're prepared for the adventure.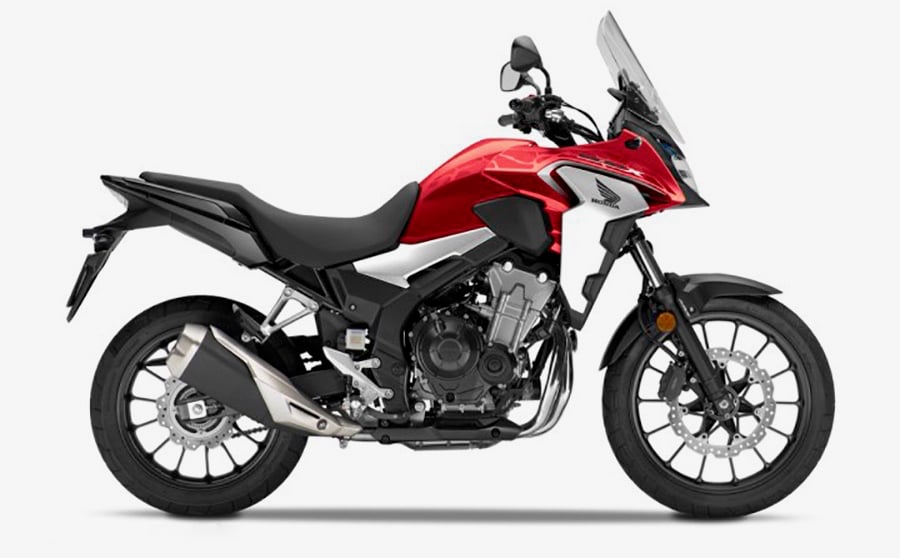 2019+ Honda CB500x
Another recent assertion by Honda Motorcycles into the Adventure Riding world, riders seeking a compact-sized adventure bike have been raving about the CB500X. With plenty of power emanating from the parallel-twin engine, and an agile disposition, everything from paved twisties to gravel, dirt, and sand can be conquered with this fun adventuring option. Starting in 2019 with the 19" front wheel, this bike has proven itself for us in places like Patagonia, and will be a great option for riders exploring beyond.
Wet Weight - 430lbs
Seat Height - 32.7 inches
Fuel Capacity - 4.6 gal
X
Seat Height:
32.7 in
Curb Weight:
430lbs
Fuel Capacity:
4.6 gal
Displacement:
471cc Parallel Twin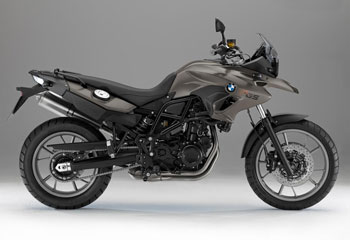 BMW F700GS (twin cylinder)
The new F700GS offers a larger windshield, enhanced braking system, Electronic Suspension Adjustment, Automatic Stability Control, and a handful more horsepower! As if the previous version (the F650GS) wasn't a good enough adventure bike, this mid-weight option continues to be the most versatile and popular motorcycle rental option.
X
Seat Height:
32.3 in
Curb Weight:
461.0 lb
Fuel Capacity:
4.2 gal
Displacement:
798 cc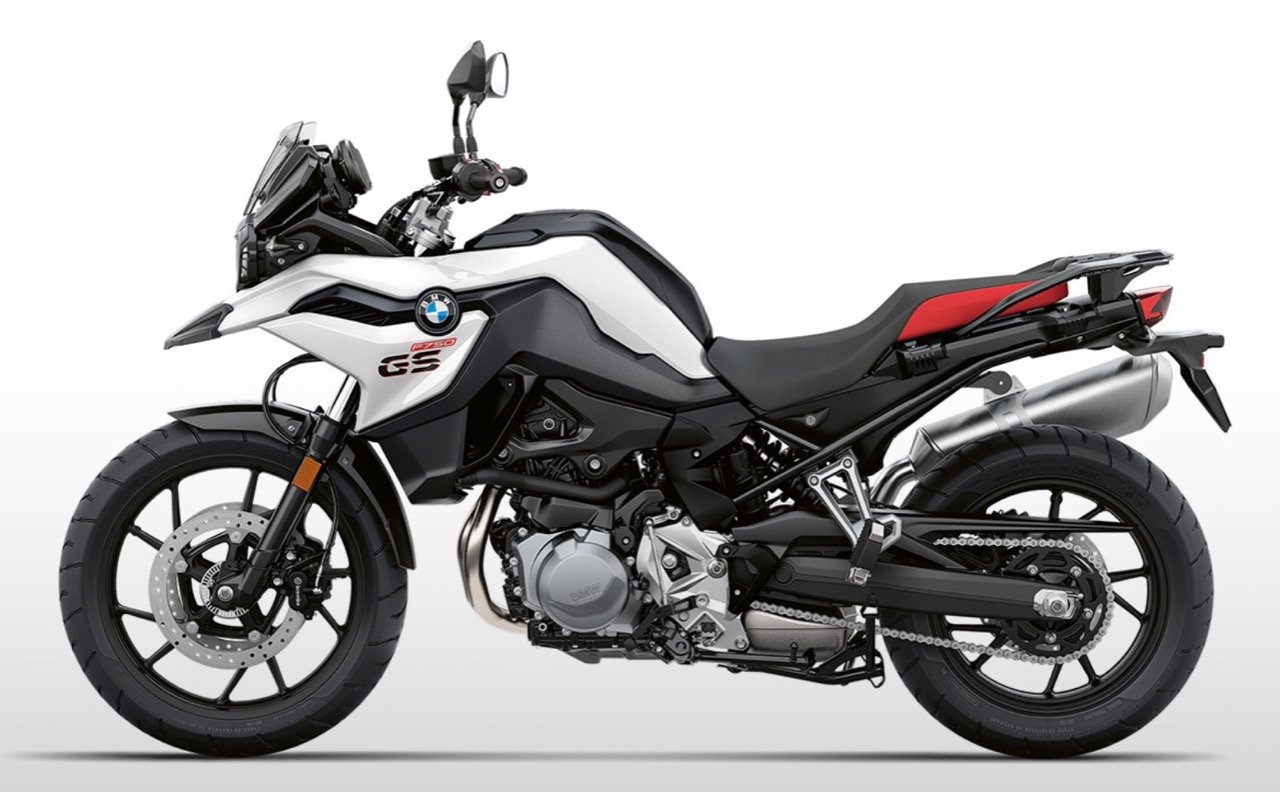 BMW F750GS
Not everyone needs a gigantic adventure bike to have fun, and the BMW F750GS fills that niche of "big enough for the long haul, small enough to have fun." With a power-to-weight ratio similar to the bigger models, 77hp can be used to hang with any other adventure bike on the market and perhaps be even more fun when it comes to the dirt roads and tight switchbacks.
X
Seat Height:
32.1 in
Curb Weight:
493lb / 223kg
Fuel Capacity:
4 gal / 15 L
Displacement:
853 cc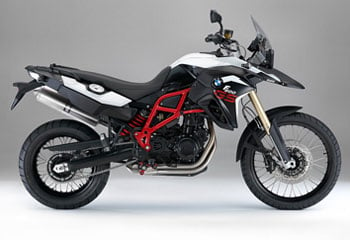 BMW F800GS
Certainly considered the "athlete" of the BMW team, the F800GS can be counted on to carry all your travel gear and still maintain the awesome feeling of a pure off-road machine when you're in the dirt. With over 215mm of suspension travel, the F800GS boasts 85 horsepower from its twin-cylinder engine, and is sure to give an adrenaline rush when you unleash it!
X
Seat Height:
34.6 in
Curb Weight:
472.0 lb
Fuel Capacity:
4.2 gal
Displacement:
798 cc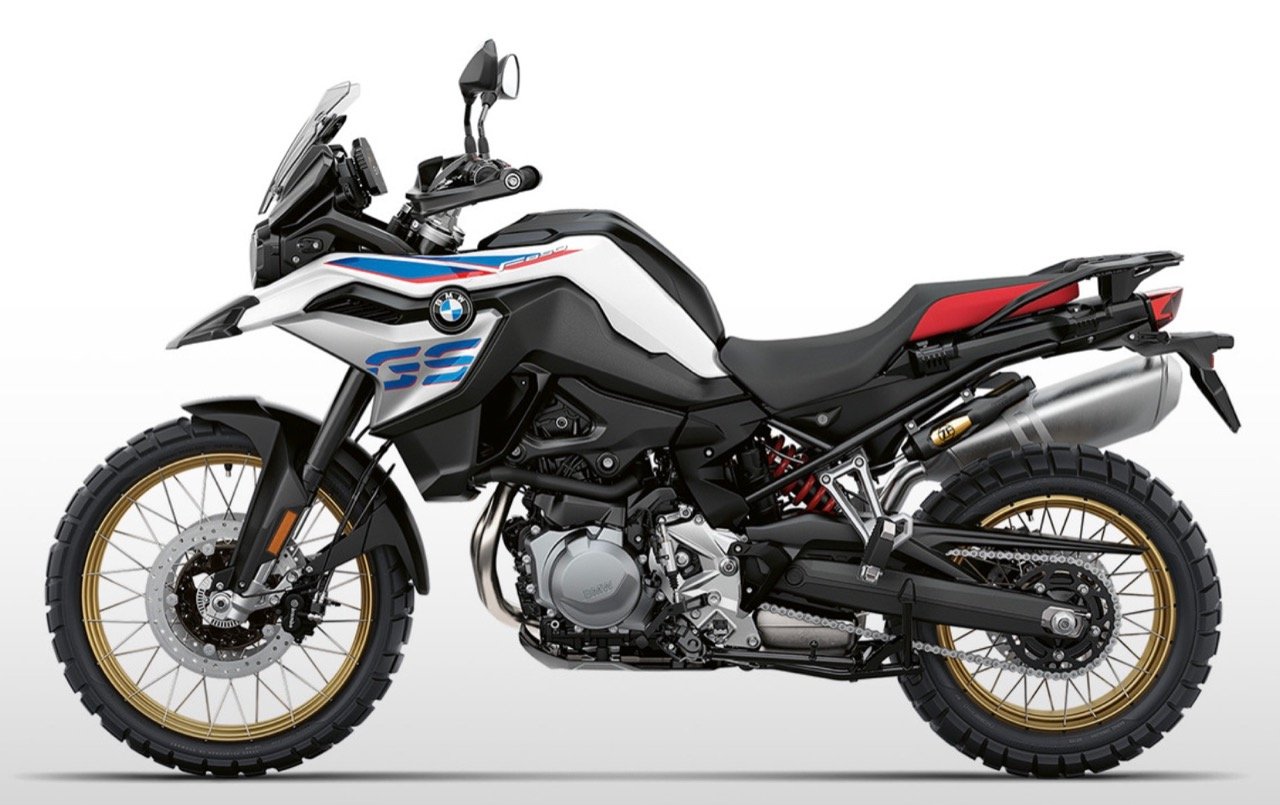 BMW F850GS
When it's predecessor launched in 2009, the world recognized the beauty of a "middle-weight" adventure bike, perhaps most appropriately built to handle it all. The new BMW F850GS builds on a decade of riders trotting the globe on a machine with all the power you could ever need, and agility to go have almost dirt-bike-like fun when the luggage and passenger aren't along for the ride.
X
Seat Height:
33.9 in
Curb Weight:
504lb / 229kg
Fuel Capacity:
4 gal / 15 L
Displacement:
853 cc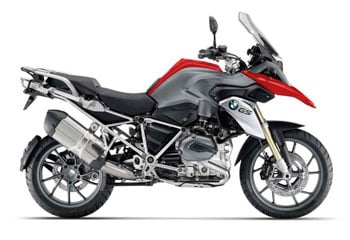 BMW R1200GS - Liquid Cooled
Revised back in 2013, BMW it seems has done it once again in the world of adventure motorcycles. The new liquid-cooled version of the famous R1200GS comes with a more "upright" stance and off-road friendly positioning. Now with a wet clutch, a higher air intake perfect for river crossings, and a 10% horsepower increase over the previous model, BMW has clearly made improvements on what was already a great adventure bike.
X
Seat Height:
33.5.0 in
Curb Weight:
538 lbs
Fuel Capacity:
5.3 gal
Displacement:
1170 cc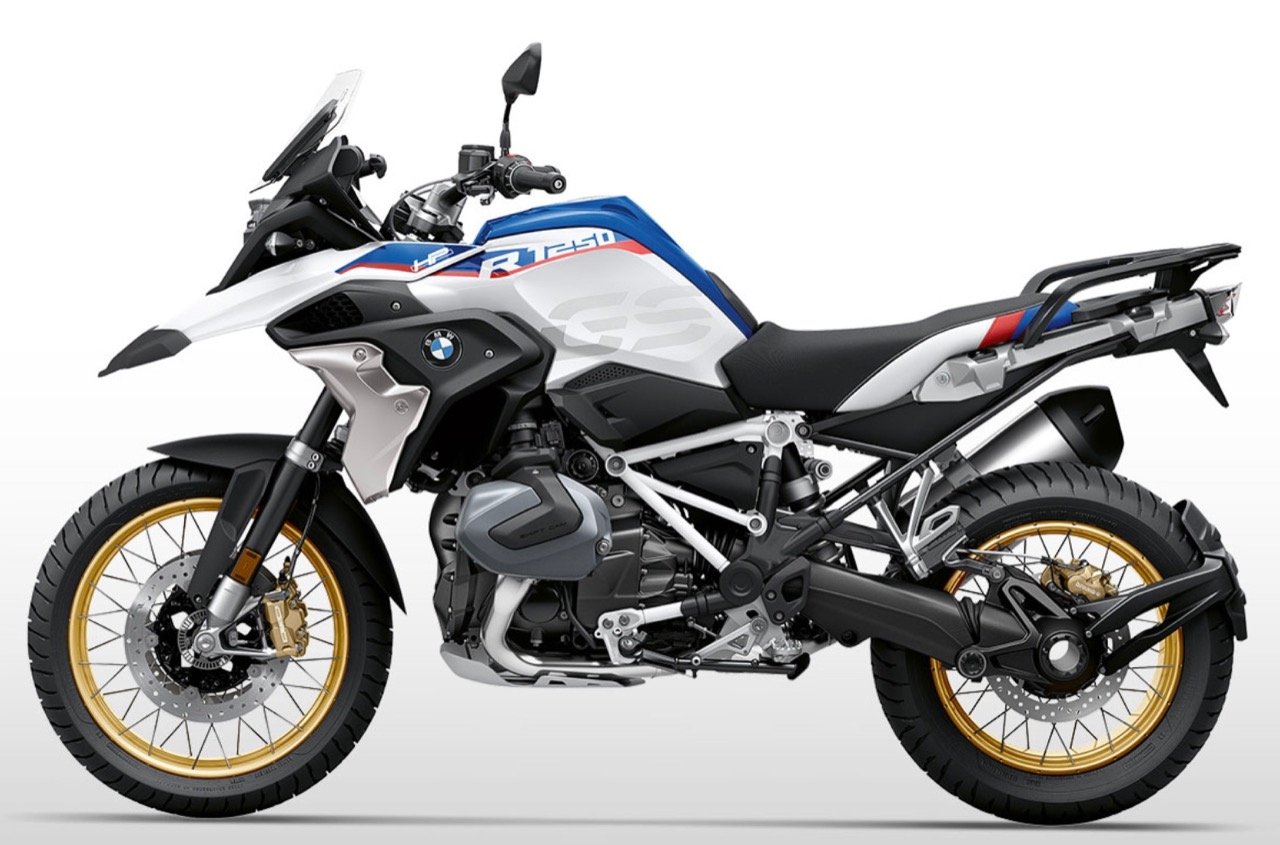 BMW R1250GS
Freshly updated after multiple generations of industry-leading design, BMW's R1250GS is yet another masterpiece coming from the company that many will claim pioneered the thought of adventure riding. Boasting 136hp now, yet still maintaining the "flickability" many of us feel in the GS line, load up the bike or head out solo, and you're sure to have a blast from this high performance machine.
X
Seat Height:
33.5/34.3 in
Curb Weight:
549lb/249kg
Fuel Capacity:
5.3gal / 20 L
Displacement:
1254 cc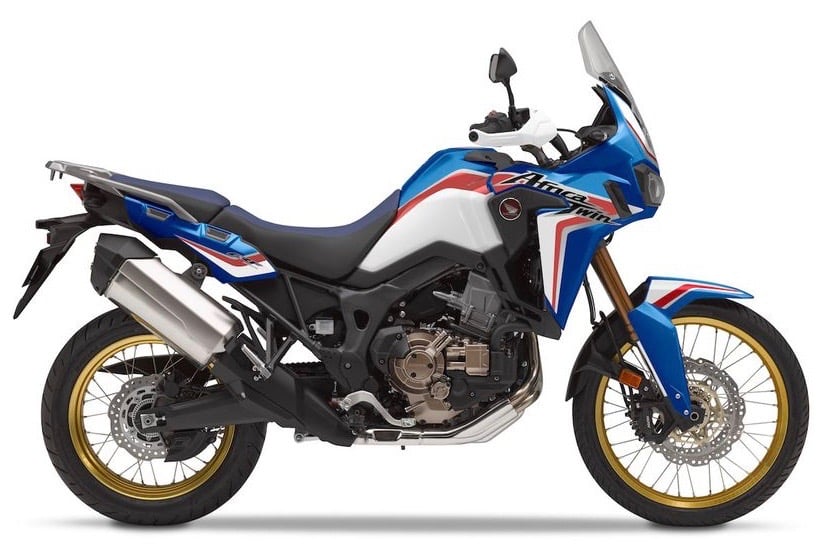 Honda Africa Twin
Finally, the return of a legend! The long awaited, and thoroughly updated Africa Twin by Honda has been talked about for years, finally making itself available in various markets around the world in 2015. With a four-valve Unicam® cylinder head 998cc parallel twin engine, more power than an adventure rider could ever need is available along with suspension travel and ground clearance to handle the most remote and rugged terrains and pathways.
X
Seat Height:
33.5/34.3 in
Curb Weight:
511 lb
Fuel Capacity:
4.96 gal
Displacement:
998 cc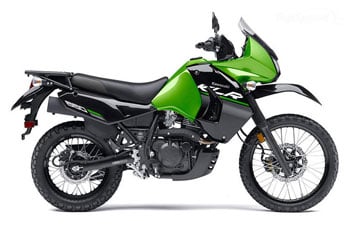 Kawasaki KLR 650
Another famous bike for adventure travelers, the KLR has been tested and proven by riders everywhere. Kawasaki made changes in recent years, making this bike now even more comfortable for the "open road" aspects of travel while not losing any of its off-road ability.
X
Seat Height:
35.0 in
Curb Weight:
432.0 lb
Fuel Capacity:
6.1 gal
Displacement:
651 cc