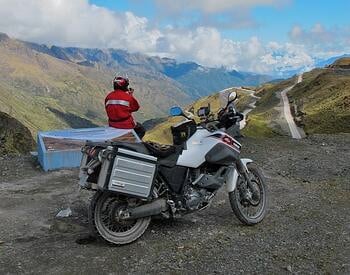 In case you hadn't noticed, the 14 Day Self-Guided "Fly & Ride Peru" tour is now available!
As the overwhelming majority of riders out there still prefer to "go it alone," we've got great options like this one that make it easy for you to experience Peru without blowing any budgets out of control. Now you can arrange a trip with a group of friends or by yourself, and with a pacakge like this one:
Simply Contact Us to reserve the trip with RIDE Adventures
Show up on your scheduled date in Arequipa, Peru
The Peru motorcycle rental you've reserved will be waiting for you
Follow the GPS or map instructions we've provided
Enjoy the route highlights that simply cannot be overlooked (especially in Peru. With the Nazca Lines, Colca Canyon, and Machu Picchu, it's impossible not to be amazed!)
Stay at the nice, reputable hotels we've pre-reserved for you

Have the

time of your life

on a motorcycle trip that costs about

half

of what most guided tours cost!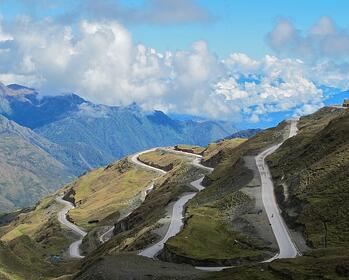 A vacation package like this one comes after many requests to have both a) lower priced options for our customers, and b) tour routes that focus on paved riding, more than off-pavement. On our "Pavement Only" tour page, you'll find a number of options, including this one in Peru, that allow you to ride an entire trip and never see more than about 5% off-pavement. (Sometimes it's just unavoidable due to construction, preserved National Parks, etc.) Still, even those small gravel or packed-dirt sections you'll encounter are simple enough that even the most "amateur" motorcycles handle them without a problem. Keep in mind folks: Nothing says you need to blaze through a motorcycle trip at "Dakar-like" speeds. Take it slow and easy, and you'll arrive just fine!
The only months you should avoid in Peru are about late December through March, as the rainy season in the Alti-Plano (High Plains) region of the Andes Mountains is in full effect. We've had groups do this trip in February, and they've enjoyed thoroughly...it's mostly a matter of whether you mind riding what could be quite a bit of rain. (With the right motorcycle gear, rain riding isn't much of an issue and can actually be a pleasure.)
So it's up to you: Are you going to wonder forever what it's like to ride motorcycle in Peru or Contact Us and reserve your trip now?