"The Bolivian Experience" Motorcycle Tour Package in the Andes Mountains
Itinerary
Day 1 - The Adventures Begins! Arrival in Cochabamba, Bolivia (CBB airport)
Your Bolivian adventure begins at touchdown when our experienced staff meets you at the airport and leads you to your evening's lodging. Once you've settled in, the group will gather for a large celebration and introduction meal at one of the city's premier steak houses. Hopefully you're arriving early enough that we can show you around Cochabamba a bit. At the very least, we'll use some time today to show you to your rental motorcycle and make sure you're fitted and as comfortable as possible. (Click "Bikes" or see "Pricing" on his page to see options.)
Day 2 - Cochabamba to Quime
Our motorcycle trip begins! Having had a day or so to acclimate to the 2,500m altitude of Cochabamba, the trip begins with fantastic, twisting roads and a climb to 4,700m and an electrifying first look at the Andes Mountains. Then down through a glacier-lined valley we descend toward our overnight stay at a charming hostel on the edge of the Amazon rainforest to relax and enjoy the enormous variety we've already experienced.
Day 3 - Quime to Chulumani
Now descending further and lower into Amazonian territory, all-dirt-riding is the change for today! Back in warmer temperatures and lower altitudes, our hotel of choice allows us to relax amongst more amongst the greenery of the region, still with plenty of great riding ahead. Perhaps by now you've discoverd as many of the locals do, that the leaves of the indigenous coca plant when mixed with hot water and sugar, not only absolutely delicious, but can also help with an effects you may feel of the altitude changes.
Day 4 - Chulumani to Coroico
Backcountry Bolivia riding at its best! Small villages, tiny dirt roads, coca plantations with workers and citizens living a very simple lifestyle...and we get to visit them and see first-hand how life is in remote Bolivian regions. Eventually making it to Coroico, we take position for what is the most exciting days of motorcycle riding anywhere tomorrow.
Day 5 - Coroico to Oruro - Riding the famous "Road of Death!"
First, please note that we would never even think about taking riders on such a route, if it wasn't perfectly safe to do so (with all manner of caution being implemented) and if it wasn't totally worth your time anyway. That said, riding "The World's Most Dangerous Road" from deep in the Bolivian jungle to the higher elevations above is an experience you'll never forget! Very simple precautions will be given to the riders before embarking (simple things like "watch the road, not the view") and everyone will climb to the top just fine. Eventually skimming the city of La Paz, the most scenic route available will then lead us to Oruro for a night, and that feeling of satisfaction that "you did it!"
Day 6 - Oruro to Tahua
From Oruro, along the shores of Lake Poopo and witnessing the crash-landing crater of a meteorite from years gone by, a ride through the local landscapes full of quinoa fields and the Tunupa volcano brings us to another of the most famous sites on this trip: The Uyuni Salt Flats (Salar de Uyuni.) The largest salt flats in the world are an incredible site, no matter how many flats you may have seen elsewhere, and so our overnight stay inside a hotel actually made from the salt pans below will make riders extra careful about spilling their beers.
Day 7 - Tahua to Uyuni

How about a RIDE on the actual Salt Flats...let's go! With over 10,582 square kilometers of riding space out there, not only will you be riding on some of the most vast expanses anywhere, but also on top 50-70% of the world's lithium reserves. Opportunities for photography with illusions and basically riding as fast as you want (safely) in any directions await riders willing to let it rip! Just watch out for natural pot holes and Incahuasi Island out there. Aside from those though, there's not much else in your way.
Day 8 - Uyuni to Potosi
Absolutely one of the finest 1-day rides anywhere in the world (as cited in Eric's personal blog post from 2011) the remote Andean territories of Bolivia continue to astound riders. Once in the UNESCO World Heritage Site of Potosi, the chance to visit the interior of a tin mine makes the perfect opportunity to give coca leaves to appreciative workers, play with dynamite, and see the silver minting museum nearby.

Day 9 - Potosi to Sucre
Through backcountry roads, along farmlands, and the Bolivian countryside, we make our way to a 2nd consecutive UNESCO World Heritage Site on this trip. "The White City" of Sucre is also Bolivia's political capitol, and will be home for 1 night after a short day's ride to get here.
Day 10 - Sucre to Cochabamba
With a couple of river crossings making this final riding day a bit more exhilerating even still, please trust that you will be seeing the best and most interesting routes in Bolivia once again on our way back to our home city, where it all began.
Day 11 - Deparetures from Cochabamba, if you must!
Cochabamba can be a fun city, especially with our help in suggestions of what to do. Still, if you must return home on this day, we'll be taking you to the airport where hopefully you can start working on organizing your photos and helmet camera videos from the trip. So many photo opportunities though, you'll be amazed at how many there are to dig through!
---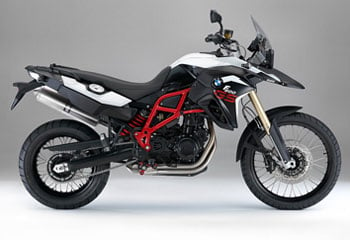 BMW F800GS
Certainly considered the "athlete" of the BMW team, the F800GS can be counted on to carry all your travel gear and still maintain the awesome feeling of a pure off-road machine when you're in the dirt. With over 215mm of suspension travel, the F800GS boasts 85 horsepower from its twin-cylinder engine, and is sure to give an adrenaline rush when you unleash it!
X
Seat Height:
34.6 in
Curb Weight:
472.0 lb
Fuel Capacity:
4.2 gal
Displacement:
798 cc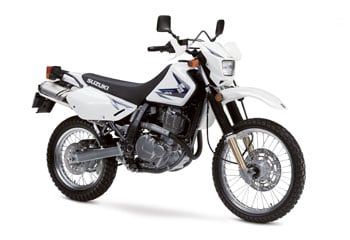 Suzuki DR650
Chosen by adventure riders around the world, Suzuki's DR650, is an excellent bike for adventures rides anywhere. It'll maintain it's power well at altitude, and handle all the dirt and rocks you can throw it's way while still feeling comfortable on those stretches of pavement in between. With a seat height of only 885mm (34.8 inches) its accommodating stature makes this manageable machine easy to handle no matter what the situation.


X
Seat Height:
34.8 in
Curb Weight:
366.0 lb
Fuel Capacity:
3.4 gal
Displacement:
644 cc