Itinerary

Day 1 - Arrive in Cochabamba
Welcome to Bolivia! Our Staff will pick you up from the airport as part of the tour package, and take you through this bustling city to your hotel to get settled. Depending on your flight arrival time, we will probably do your bike "check-in" procedure and give you the chance to make any adjustments or preparations for the road ahead. Our entire group will eventually gather for a pre-trip meeting so everyone can get aquainted, and then enjoy a celebration dinner at one of Cochabamba's best steak houses. Fuel up for the road ahead.
Day 2 - Cochabamba to Comarapa
Your adventure RIDE in Bolivia begins! We have a nice long day ahead of us to get acquainted and comfortable with our bikes. As regular Guides in Bolivia who have ridden pretty much "everything" multiple times, rest assured you'll be shown only the best routes to get around. The roads today in particular will be an excellent combination of dirt, cobble and pavement and the scenery is gorgeous. Yes, you're 'actually riding in Bolivia,' and will probably be saying this within your helmet throughout the day a few times. Don't worry, we all do it the first time.
Day 3 - Comarapa to La Higuera
Vallegrande, our first stop, is where the Che Guevara route starts. Here we will tour the hospital laundry where Che's body was displayed for the world to see that he was truly dead, his burial site and the new mausoleum that has been built in honor of Che and his comrades. After lunch, we will have a nice dirt ride to the little village of La Higuera – where Che was held, then assassinated in the schoolhouse. Here we will stay the night in a beautifully restored local hotel.
Day 4 - La Higuera to Sucre
We have an adventurous riding day ahead featuring an excellent local dirt road, that has been described as one of the best in the world, topped off with a winding paved road climb to the town of Sucre – AKA "White City". This beautiful Capitol City of Bolivia also happens to be an UNESCO World Heritage Site, well worth exploring by foot at the end of the Day's ride.
Day 5 - REST Day in Sucre

Enjoy your rest day exploring the beautiful city of Sucre, with its restaurant scene and excellent cultural museums. This is also an opportunity to do some laundry and personal errands, all while resting up for more riding action ahead.
Day 6 - Sucre to Potosi
The city of Potosi welcomes us via a short, half day ride on a nicely paved road, arriving in town for a traditional lunch. We will have the opportunity to tour the Cerro Rico mines, once the richest silver mines in the world, that was a significant supporter of the Spanish Empire. The Spanish have harvested so much silver from this mine that is has been said that they could have built a bridge made of pure silver, with some still leftover! Currently, the mining conditions of Cerro Rico are in despair, and you will see first-hand the living and working conditions of the local Bolivians.
Day 7 - Potosi to Uyuni
Today, we skip the highway route and jump on an alternative route featuring narrow dirt roads and forgotten villages – the authentic Bolivia. This is NOT your typical tourist route!
Day 8 - Uyuni to Tunupa

This unforgettable day includes visiting the famous Train Graveyard, then onto one of Bolivia's greatest highlights: the Salar de Uyuni. Enjoy riding on one of the most sought-after surfaces in the world with nothing in your way but Isla Incahuasi and a few naturally-forming potholes. (Of course in the rainy season here, we don't ride on the Salt Flats because they're covered in 20cm of water.) We'll enjoy a picnic lunch here on the flats then head onto our salt hotel for the night – where everything is made of salt; beds, chairs, tables, etc.
Day 9 - Tunupa to Oruro
We start our day riding a fast and flowing dirt road that takes us through remote villages and colorful (during growing season) fields of quinoa. After lunch we will ride the highway for a couple of hours to the mining town of Oruro, an indigenous Bolivian city, still showing you the best routes to get around by in this part of the world.
Day 10 - Oruro to Quime

To the top! Today we ride to 4780 meters (15,680' +/-) above sea level, then ride down to the views of the ancient glacial valleys and on to the tiny town of Quime. Sitting on the edge of the Amazon Rainforest and often in the clouds, Quime is home to our rustic but character filled accommodations for the night. Our eccentric host is an Alaskan hermit, who hand-built the place, and has lived here for 30 years.
Day 11 - Quime to Chulumani
A full day on dirt, we will ride into the Amazon Rainforest and everyone gets to see how the lowland people of Bolivia live versus the highland people, as we've been amongst for the last few days. This'll be an early morning start so we can take full advantage of this scenic and beautiful riding day, as there'll be extra reason for photo-taking for sure!
Day 12 - Chulumani to Coroico
Today holds yet another day full of incredible views and Bolivian riding, still in the upper parts of the rainforest ad on a rarely driven dirt road. Here you will also see the up close and personal the processing of the coca leaf for yourself. Mixed simply with hot water and a little sugar, perhaps a sip of coca tea leaves will help remind you why this is such a popular plant in the world.
Day 13 - Coroico to La Paz

On our final riding day, we ride the famous "Road of Death!" What an excellent way to end our tour by taking what is also referred to as "The World's Most Dangerous Road" or "El Camino de la Muerte" into our finishing city & Bolivia's financial capitol of La Paz. Careful not to gaze out into the "abyss" of the valley below while riding, because the twists, turns, and varying widths of the Road of Death means riders simply must stay focused on the mission at hand. Stop and look straight down 2,000 feet from the road's edge, and you'll see the remains of vehicles who sadly, didn't "make it." (NOTE: We as guides and many other riders have completed this route many times perfectly safely though, so please be assured, it's really just like motorcycle riding anywhere else: Stay focused, mind your surroundings, and your speed.) Arriving in La Paz, we'll check into our hotel and get ready to celebrate our tour at a great local restaurant.
Day 14 - Departure Day
We'll be arranging your transfer to La Paz airport for your flights home, if you absolutely must go. Start organizing the hundreds or thousands of photos you probably took, and posting them on Facebook with the news of your riding accomplishment. Fly home safely and with a smile...we hope you had a great trip!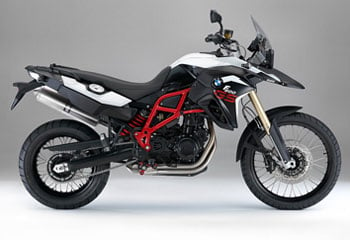 BMW F800GS
Certainly considered the "athlete" of the BMW team, the F800GS can be counted on to carry all your travel gear and still maintain the awesome feeling of a pure off-road machine when you're in the dirt. With over 215mm of suspension travel, the F800GS boasts 85 horsepower from its twin-cylinder engine, and is sure to give an adrenaline rush when you unleash it!
X
Seat Height:
34.6 in
Curb Weight:
472.0 lb
Fuel Capacity:
4.2 gal
Displacement:
798 cc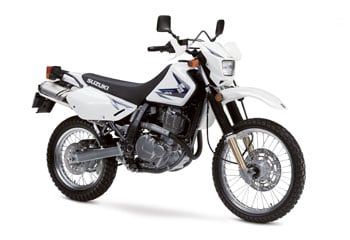 Suzuki DR650
Chosen by adventure riders around the world, Suzuki's DR650, is an excellent bike for adventures rides anywhere. It'll maintain it's power well at altitude, and handle all the dirt and rocks you can throw it's way while still feeling comfortable on those stretches of pavement in between. With a seat height of only 885mm (34.8 inches) its accommodating stature makes this manageable machine easy to handle no matter what the situation.


X
Seat Height:
34.8 in
Curb Weight:
366.0 lb
Fuel Capacity:
3.4 gal
Displacement:
644 cc