Our Most All-Inclusive Patagonia Adventure Tour Package with the Best Hotels, Motorcycles, and Guides
Itinerary
Day 1 – Arrive in Santiago, Chile and then Osorno, Chile
- YOUR ADVENTURE BEGINS!
Whether you're taking extra time to explore the capital city of Santiago or just flying through, riders need to arrive in Osorno on or before this date, as we'll be departing early the next morning. Intra-Chile flights can be booked through www.latam.com or www.skyairline.cl (Santiago/SCL to Osorno/ZOS and then from Punta Arenas/PUQ at the end.) The bi-lingual RIDE Adventures Guides will pick you up from the airport, and a welcome meeting and dinner will be held once everyone is together in Osorno. Excitement will be peaking, and we understand.

Day 2 – Osorno, Chile to San Carlos de Bariloche, Argentina – 239km

After our morning meeting and fitting of your motorcycle, we'll be ready to go when everyone is comfortable for departure. You'll certainly have the opportunity to bring any unique parts & accessories from home to customize the bike's fit to your liking and assistance with anything you need is of the utmost importance, as safety is key to enjoyment and completion of the incredible journey ahead. Then it's time to start riding into the heart of Patagonia!
Due to the wild series of inlets and land formations that make up the coast of southern Chile, this trip heads east up into the Andes Mountains before going further south into Patagonia. Either way, passing through Parque Nacional Puyuhue and later Nahuel Huapi, it's going to be a fantastic first day's ride all the way in to where Bariloche sits along the lakeshore. Settling in for the night, our first Argentine asado (barbeque) in this lively town sets us up for even greater riding ahead.

Day 3 – Bariloche to Trevelin, Argentina – 308km
An optional ride will be presented for the morning to enjoy the "Circuito Chico," a one-hour loop through Llao Llao to the west of Bariloche. Leaving Bariloche, most of the trucks and traffic will take the obvious Route 40 south, but we'll enjoy a detour through Parque Nacional Los Alerces just to the west. Sweeping sandy turns through the "Fitzroya" trees (cousin to the Redwoods found in California and the tallest trees in all of South America,) beautiful lakes and mountains guide us through the national park. Positioning ourselves to cross back into Chile the next day, how did you enjoy the gravel or "ripio" as it's called here?
Day 4 – Trevelin to Puyuhaupi, Chile – 246km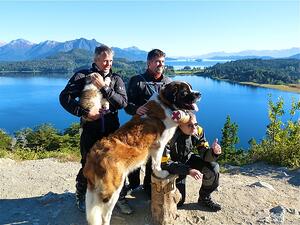 Today marks the start of our ride down the Carretera Austral (Highway to the South) and what many folks agree is some of the best riding anywhere in the world. First crossing the Futaleufú River, we'll also be passing near Parque Nacional Corcovado, one of very few privately owned land preserves in the world, arranged as such by the late Doug Tompkins, founder of The North Face and Esprit clothing brands.
Heading further south on the Carretera (formerly called the "Ruta Agosto Pinochet,") rain is likely before arriving in the town of Puyuhaupi, but such conditions only add to the atmosphere and adventurous feeling of Patagonia. With the gigantic Nalca Plants lining the road, glaciers to the left, waterfalls all around, and the rainforest to be enjoyed, this is unforgettable riding.

Day 5 - Puyuhuapi to Coihaique, Chile - 224km
If we're going to get rain on this trip, it'll likely be here in the Queulat Rainforest in this stunning valley full of switchbacks and unforgettable scenery. Even the most "reserved" personalities tend to burst a bit in this section, as every turn reveals a new view of the precious Patagonia we've grown to love. Waterfalls that cascade down from a few hundred meters high and all the bright green forestry full of the gigantic Nalca plants of Patagonia await you.
Day 6 – Coihaique to Puerto Tranquilo, Chile – 225km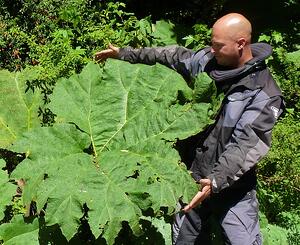 Patagonia riding, this is it! Just because the scenery got better these past couple of days, that doesn't mean it can't get even better still…
The plant life and rain makes for an amazing atmosphere though with snow-capped mountains, rivers and waterfalls, and in the right season, salmon spawning in the River Cisnes.
After Reserva Nacional Cerro Castillo and its sharp mountain peaks, you'll get your first glimpses of Lago General Carrera, and if the sun is out, another site never to be forgotten. Glacier fed waters reflect blue light which makes the water bright blue, and combined with more snow-capped mountains in the background, this is one incredible ride into Puerto Tranquilo. If we arrived early enough, opportunities for fishing, boat tours of the nearby Marble Caves, and canopy tours are possible.

Day 7 – REST DAY in Puerto Tranquilo, Chile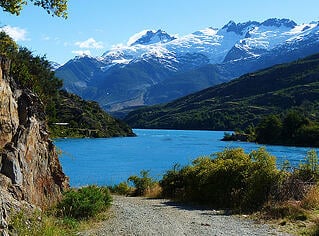 The rest day in Puerto Tranquilo is chosen for a couple of reasons. First, Patagonia makes for some tough riding and we need to rest up, and second, because you probably won't want to leave the Puerto Tranquilo area! We will be far "off the beaten path" at this point and varying emotions about seclusion and our normal lives are bound to set in. With activities like boat tours, fly-fishing, horseback riding, canopy tours, and river rafting on the Rio Baker, be as active as you like on this rest day. On the other hand, if you really feel you want to ride a little this day, the fabulous "Patagonia Park," one of the late Doug Tompkin's conservation efforts is right near by with plenty of guanacos bouncing around the lodge Valle Chacabuco.

Day 8 - Puerto Tranquilo to Los Antiguos, Argentina – 175km
Leaving this spot about only about 50m/80km from the Pacific Ocean, we'll ride along the shores of Lago General Carrera with its blue beauty guiding us along rock walls and fantastic scenery on our way back into Argentina. Now get ready for the wind! As Pacific air rolls across the Andes, it typically rushes down the eastern side of the mountains in quite a hurry, so this can be a challenging day of riding.
Day 9– Los Antiguos to near Gobernador Gregores, Argentina – 414km
Just grip down and get through what could definitely be more pounding winds today, as this is part of why Ruta 40 is so famous! Extremely remote territories, very few fueling points, and the wide-open "pampas" region of Argentina again add to the variety in this adventure. Guanacos (like a small llama, indigenous to South America and this region in particular) will be dancing around the road before us, so we take extra caution on rides like this.

Day 10 – Gobernador Gregores to El Calafate, Argentina - 330km
Still out in the Argentine wild, we tilt back to the west with the Andes in site today. Passing Lago Cardiel and Lago Viedma, the piercing peaks of Mount Fitz Roy and the town of El Chaltén will be seen in the distance. Passing Lago Argentino and nearing the town of El Calafate, a fun town with great shopping, dining, and relaxation potential sets us up for one of the greatest highlights in all of Patagonia the next day.
Day 11 - REST DAY in El Calafate (optional, but strongly encouraged visit to Perito Moreno Glacier: 160km)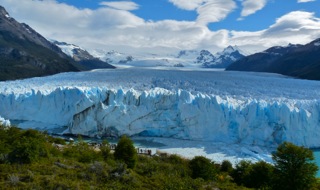 It's important to rest once again, and there might be no better town to do so in. Just a short twisting ride in the morning leads us to yet another incredible site in Patagonia: The Perito Moreno Glacier! One of only 3 known glaciers in the world that is still actually growing, huge chunks of ice will fall off before our eyes, crashing into the bay before us. As if this awesome sight isn't enough, the rumbling sounds of ice cracking throughout the ice field will remain a definite part of Patagonia memories. Enjoy the remainder of the day around the town of El Calafate where shopping, crafts, culture and restaurants all await you.
Day 12 - El Calafate to Cerro Sombrero, Chile - 460 km
Out across the open "pampas" of Argentina and with the Atlantic Ocean in your sites, riders will still want to be careful for the bounty of guanacos bouncing around in this typically windy section. Swinging through Rio Gallegos, the goal is to catch one of the ferries to cross the Straight of Magellan, which means...you've just completed a RIDE to Tierra del Fuego! Such remote territories will again make everyone glad that they have the safety and reassurance of our Support Truck and Guide following behind.

Day 13 – Cerro Sombrero to Ushuaia, Argentina – 414 km
Finally, your ride to Ushuaia at the "Fin del Mundo" or the "End of the World!"
Adventure riders from around the world have dreamt about this moment, and here it finally waits before you. Thoughts about the amazing journey that it took to get this far might sneak into the amazing anticipation that comes with riding to this point, only 1000km from Antarctica.
Wide open wind blasts are likely throughout the day until about 100km before arriving in Ushuaia, at which point the scenery drastically improves while you ride through Parque Nacional Tierra del Fuego. Enjoy a nice evening there in town probably focused on a seafood dinner, and buy the very popular post cards to send to people from "The End of the World." A group dinner is certainly appropriate to celebrate the occasion.
Day 14 - Ushuaia to Rio Grande - 215 km
As we'll be explaining upon your booking, riders have a few options to enjoy on this half-day in Ushuaia. Some will choose to visit the Harberton Island Penguins on a 5-hour morning tour involving a boat/bus ride, while others might choose to ride a little further to Bahia Lapataia in the National Park Tierra del Fuego. Here awaits a photo opportunity at the end of Ruta 3, which is just 17,848 kilometers from Alaska! You can also send a postcard from Southernmost Post Office at the End of the World, or of course just relax around Ushuaia the entire morning. - The afternoon will be spent making a short ride back to the Atlantic Coast and the town of Rio Grande, positioning riders to cross back into Chile the next day.

Day 15 – Rio Grande to Punta Arenas, Chile - 230 km - plus ferry across Strait of Magellan
Back to Chile the RIDE goes, and with perhaps one of the greatest finishes to a motorcycle trip ever. First, make your way across the border, across Tierra del Fuego, and to the ferry at Porvenir. Boarding the enormous vehicle & passenger vessel, a few hours will be spent crossing the Strait of Magellan one more time, just like the Patagonia Explorer that you are. Punta Arenas marks Chile's southernmost (non-military) city, so you'll be able to say you've been "as far south as possible" in both Chile and Argentina on this trip. This fun town on the shores of the Strait is loaded with shopping and dining options, and positions everyone for the ultimate finish ahead.
Day 16 – Punta Arenas to Torres del Paine National Park - 330 km
With the Strait of Magellan to your right, and the southern tip of the Andes Mountains dead ahead, riders should make it to the touristy town of Puerto Natales for refueling and lunch by mid-day. Puerto Natales is a booming small town, largely because it's on the edge of perhaps the greatest highlight in all of Patagonia: Torres del Paine National Park.
We've specifically allowed for at least 2 possible days for everyone to enjoy the sites within the park, as sometimes cloudy weather obscures famous sites like "Los Cuernos" (The Horns) that will never find justice in any photos herein. Spend the afternoon this day riding to Glacier Grey, and around Lago Pehoe before settling down for an evening in the Park.
Day 17 - Torres del Paine to Puerto Natales, Chile - 120 km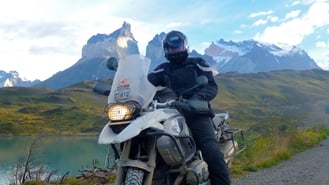 If cloudy weather the day before obscured your views within this stunning National Park, that's okay because clouds one day often means clear skies the next. Riders have the entire last day to enjoy exploring every lake view, waterfall, mountain peak, and guanaco within this truly special preservation of our planet before heading back to Puerto Natales for the finish. Please note, this itinerary is designed to accommodate those with the extra time to spend hiking famous routes like the "W Trek" within Torres del Paine. Also, it allows us some extra time if needed for the skies to clear in the park, and of course let's everyone finish the trip with one of the greatest highlights in all of Patagonia! Enjoy one final night with the great group of fellow riders you've probably made long this journey.
Day 18 - Departures, if you must
Puerto Natales airport will serve as an excellent starting point for your journey home, so start organizing all those photos, and preparing to show those whom you left behind. Or are you returning to Torres del Paine for some trekking, and more exploration? You're not alone if you're not feeling ready to leave Patagonia. Congrats to you all, on an incredible adventure ride successfully accomplished. Thank you for trusting in RIDE Adventures to support you on this adventure ride of a lifetime.
---
---
Minimum Essential Gear for RIDE Training
If you're planning to jump on a guided tour or training with RIDE Adventures, it's essential that you have the right gear. This helps to ensure your safety and the safety of others while on the road.
Not being properly prepared can lead to injuires that could have been avoided. Our guides have created a Minimum Essential Gear Guide if you plan to book a RIDE Adventures. If you don't come minimally prepared there is a chance our guides will prevent you from hopping on a bike. Make sure you're prepared for the adventure.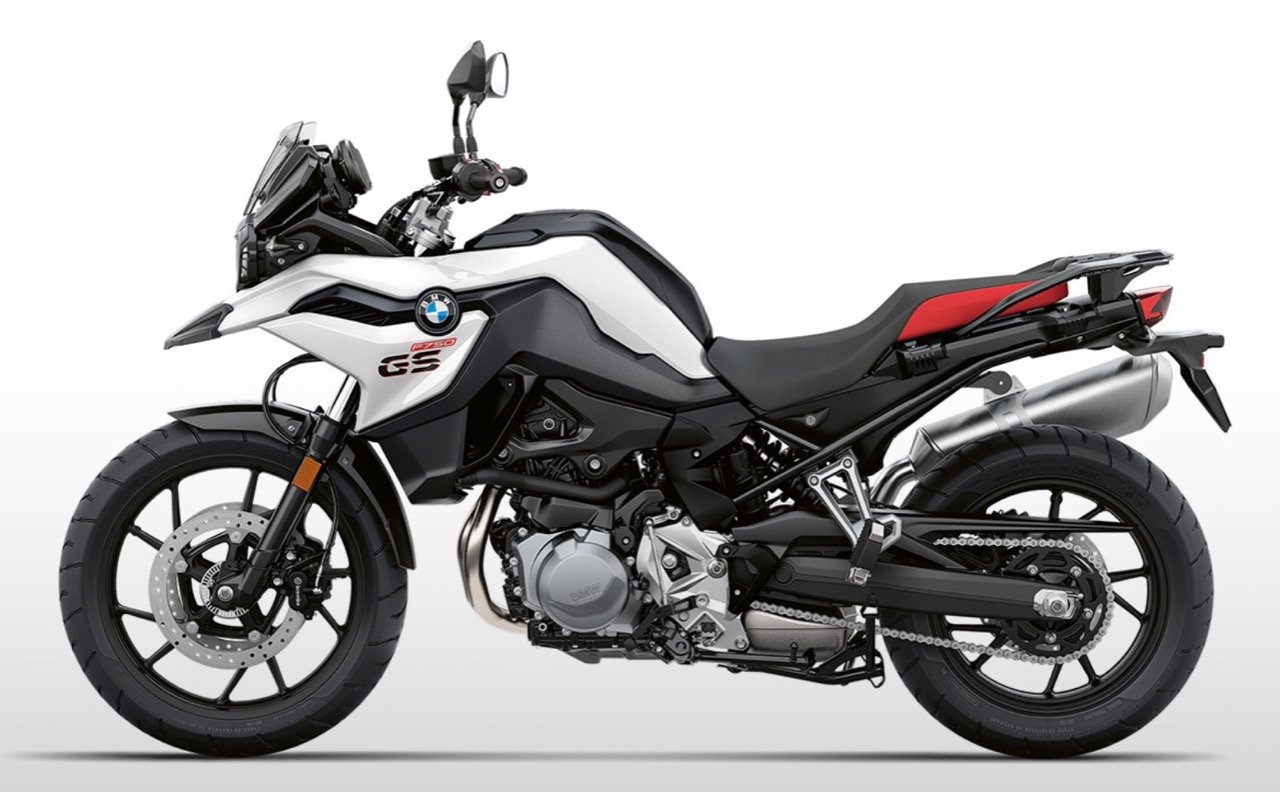 BMW F750GS
Not everyone needs a gigantic adventure bike to have fun, and the BMW F750GS fills that niche of "big enough for the long haul, small enough to have fun." With a power-to-weight ratio similar to the bigger models, 77hp can be used to hang with any other adventure bike on the market and perhaps be even more fun when it comes to the dirt roads and tight switchbacks.
X
Seat Height:
32.1 in
Curb Weight:
493lb / 223kg
Fuel Capacity:
4 gal / 15 L
Displacement:
853 cc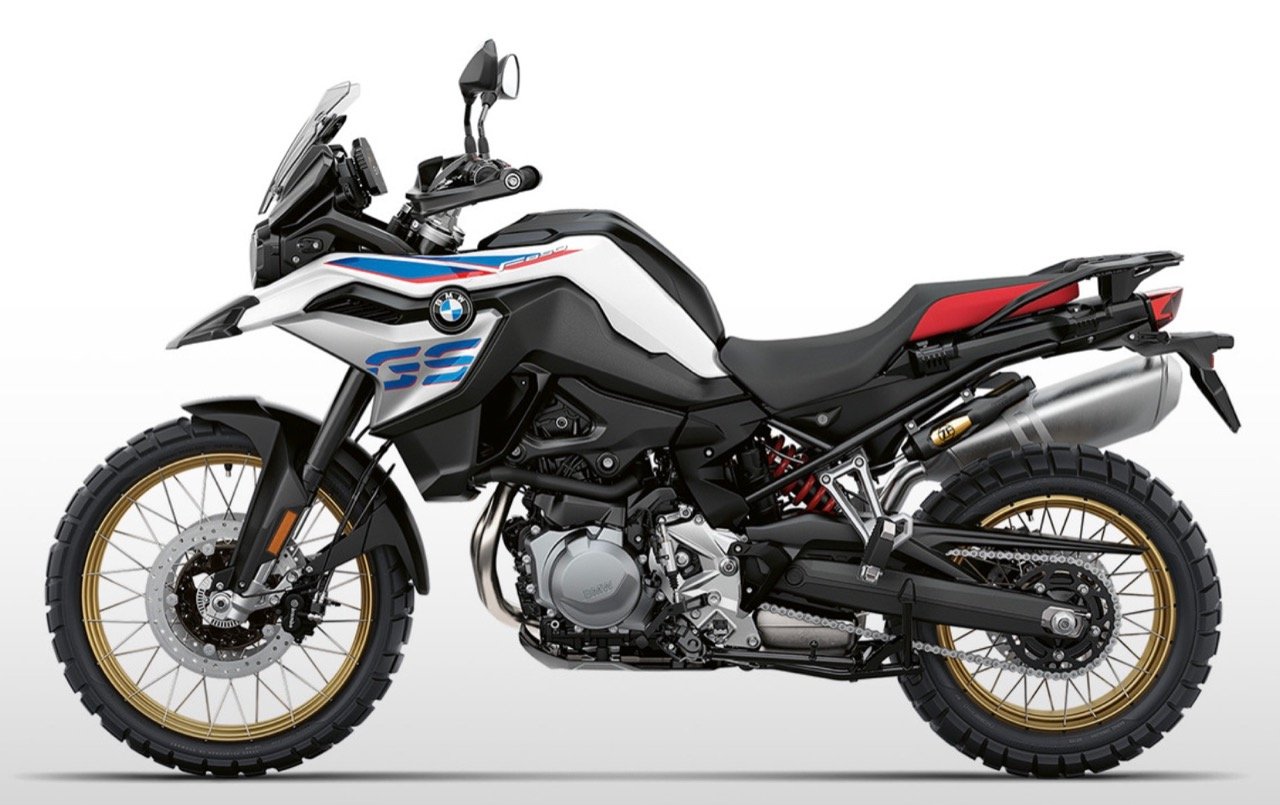 BMW F850GS
When it's predecessor launched in 2009, the world recognized the beauty of a "middle-weight" adventure bike, perhaps most appropriately built to handle it all. The new BMW F850GS builds on a decade of riders trotting the globe on a machine with all the power you could ever need, and agility to go have almost dirt-bike-like fun when the luggage and passenger aren't along for the ride.
X
Seat Height:
33.9 in
Curb Weight:
504lb / 229kg
Fuel Capacity:
4 gal / 15 L
Displacement:
853 cc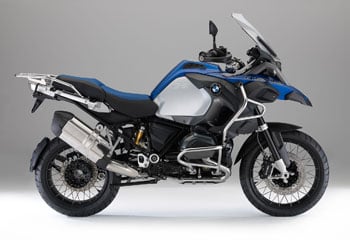 BMW R1200GS Adventure (2014+ Liquid Cooled)
Just a year after releasing the Liquid Cooled R1200GS, BMW's famous Adventure model or "GSA" was introduced, and for all the right reasons. Like its predecessor, the "GSA LC" as we tend to call it boasts 125 liquid cooled horsepower and has the fuel capacity and carrying capability to make the longest and most remote adventures a reality. At the same time, it's still a thrill when in tight mountain switchbacks and twisties!
X
Seat Height:
35.0 in
Curb Weight:
580 lbs
Fuel Capacity:
7.93 gal
Displacement:
1170 cc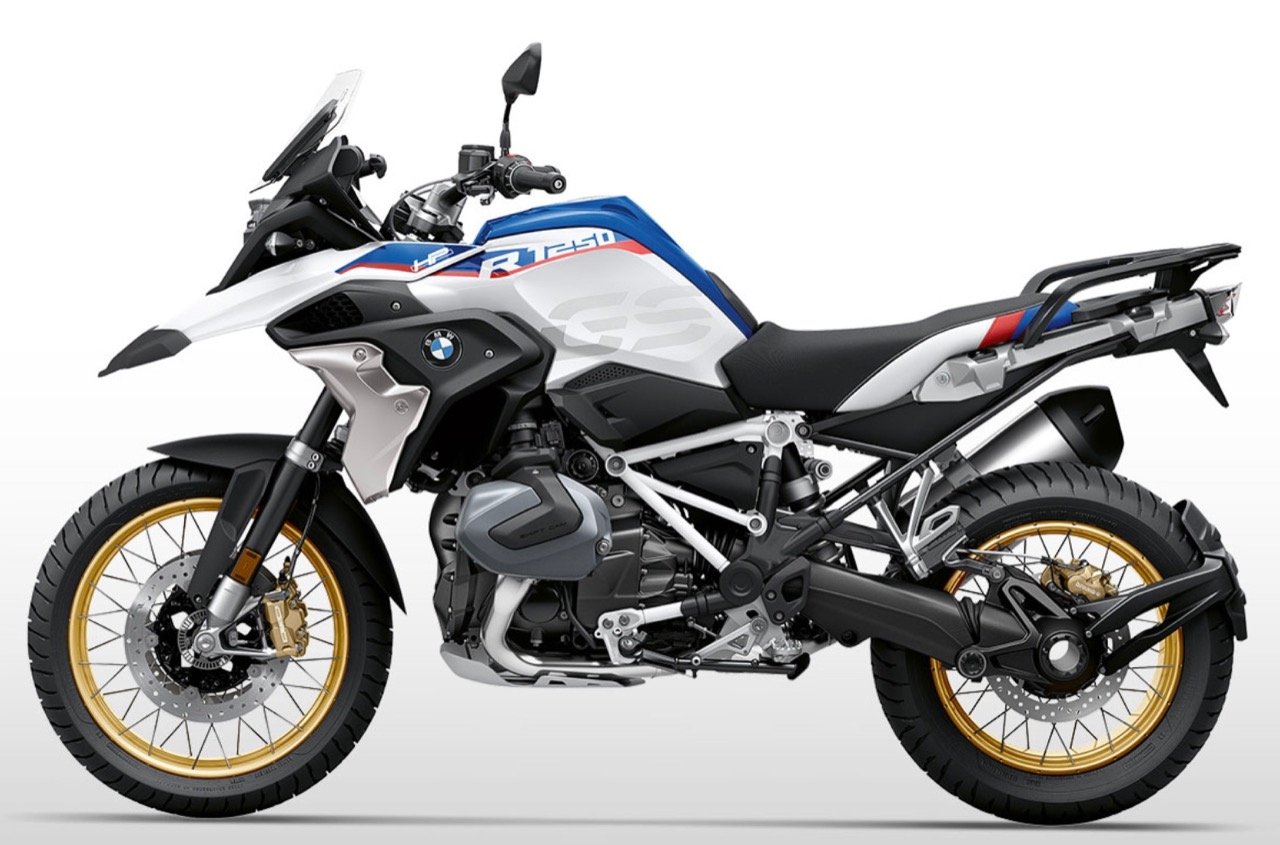 BMW R1250GS
Freshly updated after multiple generations of industry-leading design, BMW's R1250GS is yet another masterpiece coming from the company that many will claim pioneered the thought of adventure riding. Boasting 136hp now, yet still maintaining the "flickability" many of us feel in the GS line, load up the bike or head out solo, and you're sure to have a blast from this high performance machine.
X
Seat Height:
33.5/34.3 in
Curb Weight:
549lb/249kg
Fuel Capacity:
5.3gal / 20 L
Displacement:
1254 cc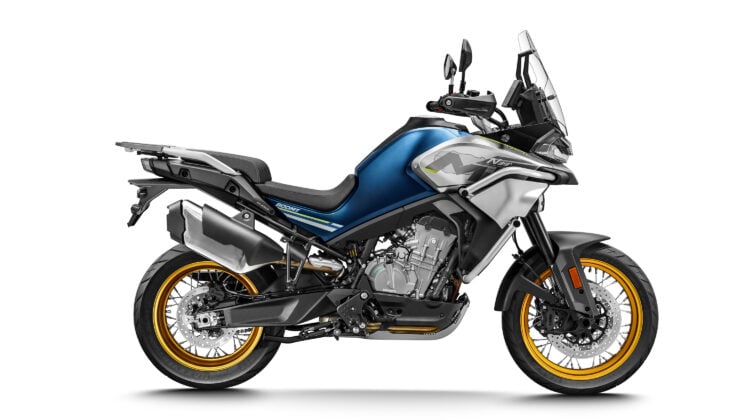 CF Moto MT800
The MT800 is a versatile adventure bike with amazing capabilities both on the asphalt and off-road. The light and powerful frame works with KYB's multi-adjustable suspensions and the powerful 800cc engine with 95hp, giving it a vibrant road and excellent performance. Powerful braking with cornering ABS, slip clutch and Full Led lights with cornering function dramatically increase road safety. But in terms of comfort, the 800MT excels, as it is equipped with Cruise Control, high adjustable windshield and an impressive 7 "color screen with the ability to view Navigation, phone calls, music, and of course a clear display of all information on the instrument panel.
Wet Weight - 509 lbs
Seat Height - 32.5 inches
Fuel Capacity - 5 gal
X
Seat Height:
32.5 in
Curb Weight:
509 lbs
Fuel Capacity:
5 gal
Displacement:
800cc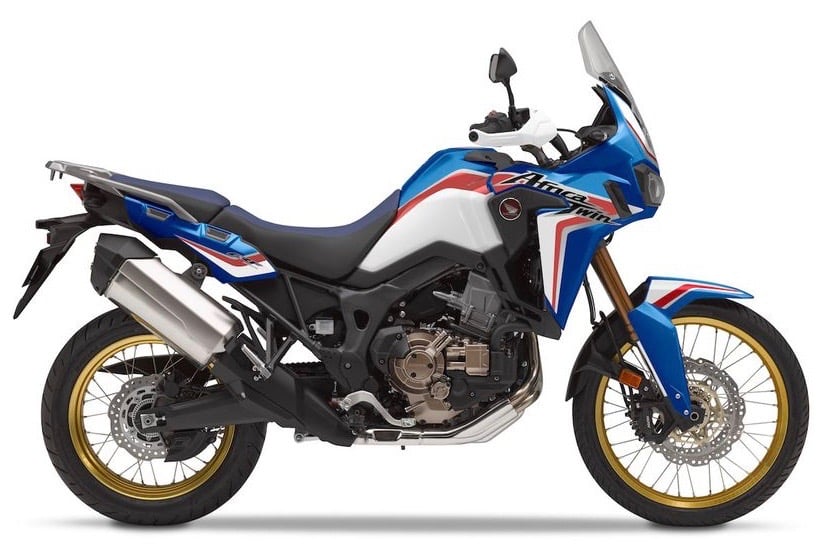 Honda Africa Twin
Finally, the return of a legend! The long awaited, and thoroughly updated Africa Twin by Honda has been talked about for years, finally making itself available in various markets around the world in 2015. With a four-valve Unicam® cylinder head 998cc parallel twin engine, more power than an adventure rider could ever need is available along with suspension travel and ground clearance to handle the most remote and rugged terrains and pathways.
X
Seat Height:
33.5/34.3 in
Curb Weight:
511 lb
Fuel Capacity:
4.96 gal
Displacement:
998 cc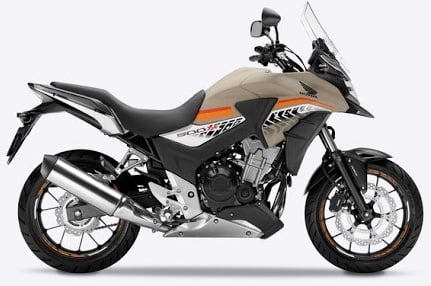 Honda CB500X
Another recent assertion by Honda Motorcycles into the Adventure Riding world, riders seeking a compact-sized adventure bike have been raving about the CB500X. With plenty of power emanating from the parallel-twin engine, and an agile disposition, everything from paved twisties to gravel, dirt, and sand can be conquered with this fun adventuring option.
Wet Weight - 428lbs
Seat Height - 31.8 inches
Fuel Capacity - 4.6 gal
X
Seat Height:
31.8 in
Curb Weight:
428lbs
Fuel Capacity:
4.6 gal
Displacement:
471cc Parallel Twin