The "Top 7 Highlights of Bolivia" Guided Motorcycle Tour Package
Itinerary
Day 1 - The Adventures Begins!
Your Bolivian adventure begins at touchdown when our experienced staff meets you at the airport and leads you to your evening's lodging. Once you've settled in, the group will gather for a large celebration and introduction meal at one of the city's premier steak houses. Depending on the day's schedule, we strive to take riders out for a first-day, shakedown ride through Cochabamba and up to the world famous Cristo de la Concordia (Christ of Peace) statue.
Day 2 - Cochabamba to Comarapa
The long and exiting cross-country trek will be kicked off with a beautiful ride through the rural countryside between Cochabamba and Comarapa. Expect to see picturesque small towns and villages as we ride along roadways comprised of a mix of pavement, dirt, and cobblestone.
Day 3 - Comarapa to La Higuera
Most of the adventurers that book this tour have a passing familiarity with the book and/or film The Motorcycle Diaries. This memoir of the Latin American revolutionary Che Guevara traces his explorations of South America on the back of a single cylinder 1939 Norton 500cc. On this day of the tour, we'll go back in time to visit his gravestone and track the path back to the beautiful little town where he met his end on the wrong side of a firing squad.
Day 4 - La Higuera to Sucre
In the morning, we'll spend all day riding along quiet back roads to the mountaintop Sucre, Bolvia's capital city. This day trek includes following a picturesque river and ascending drastically up through the mountains for some of the tour's most spectacular views. Of course, once we reach Sucre, don't be too quick to put the camera away. This pretty World Heritage site is also known as "the White City" for its multitude of white painted colonial-era buildings.
Day 5 - Sucre to Tupiza
After several days of dirt riding, we'll descend from Sucre on paved roads. This'll give your muscles a chance to relax, while also providing a great chance to enjoy some of the country's newer roads that offer great riding.
Day 6 - Rest Day in Tupiza
In Tupiza we'll take a day's break from the motorcycle tour and enjoy the surrounding sights. This fantastic location offers plenty of entertainment. Enjoy an afternoon horseback riding throughout the surrounding hills and interesting rock formations, get lost along the shops and cafes of this pretty little town, or simply relax with a dip at the hotel's pool.
Day 7 - Tupiza to San Pablo de Lipez
Our motorcycle adventure continues with a trip through the beautiful backwoods of southwestern Bolivia. Here, the roads are rarely traveled and you'll get to see a unique side of the country that is both beautiful and harsh.
Day 8 - San Pablo de Lipez to Laguna Colorada
Today we'll travel to a region that stands as a stark contrast to the remote harshness of yesterday's scenery. By the end of the afternoon, we'll have reached Laguna Colorado, or the colored lake. Located about 14,000 feet above sea level, this shallow saltwater lake is truly one of Bolivia's natural wonders. Other stunning sights we'll see today include fantastic mud geisers and the unique Arbol de Piedra, or the "stone tree".
Day 9 - Laguna Colorada to San Juan
We'll continue are travels through the country's altiplano sand dunes and rock formations. This part of Bolivia is very remote and you can expect breathtaking scenery as we ride along the high altitude roads.
Day 10 - San Juan to Uyuni
It's time to leave the wilderness behind us as we make our way to the bustling town of Uyuni. This gateway town sits at the edge of the region's famous salt plains. The journey to this quaint town will be long and hard, but the excitement of the trek makes this day one of our biggest customer favorites.
Day 11 - Uyuni to Potosi
From Uyuni, we travel upwards on newly paved roads to Bolvia's highest city, Potosi. Located at an astounding 4,060 meters above sea level, this town is best known for being home to Cerro Rico, or Rich Hill. Cerro Rico is the name of one of the Spanish empire's most productive silver mines. Unfortunately, while empires have changed, the process of mining silver her has not. Local miners descend into caves in awful and dangerous conditions with little more than a pick, shovel, wheelbarrow, few sticks of dynamite, and quite a bit of gusto. Feeling brave? Consider taking a real tour into the mines to find out just how this population lives.
Day 12 - Rest Day in Potosi
Enjoying just an afternoon in a UNESCO World Heritage Site isn't enough, so we'll stay here throughout Day 12 to allow guests to really explore the streets of Potosi. Book yourself a tour down into the mines, get a history and culture lesson at the national mint, or simply wander the streets and enjoy the local shops, entertainment, and stunning architecture.
Day 13 - Potosi to Oruro
Say goodbye to civilization and hello to a return to backroads adventure. Today we'll continue with our high altitude riding and curve our own way through the country's spectacular mountain ranges. Towards the end of the ride, we'll skirt along the edge of the beautiful Lake Poopo before resting our engines in Oruro, Bolivia's most indigenous town.
Day 14 - Oruro to Quime
From Oruro, we'll leave the high plains of Boliva and travel through to the other side of the great Andes mountain range. Here, we'll make an exciting descent through one of the world's most incredible ancient glacial valleys and break at the small village of Quime. Quime is known for being a 'city in the clouds' due to its unique location between the Amazon rainforest and the Andes mountains. This is because the hot air of the lower forest rises to condense with the cold air from the mountains to create an eternal state of cloud coverage.
Day 15 - Quime to Chulumani
Today we'll be back on the dirt roads as we adventure through the mystic scenery of the Amazon rainforest. Nothing will prepare you for this trek through this remote and truly unique bio-region. We'll wind our way down narrow roads that abut huge drops into fog and nothingness. After a long day of thrill-testing rides, you'll appreciate kicking back with a cold beer and a hot meal in Chulumani.
Day 16 - Chulumani to Coroico
From Chulumani, we'll stay within the upper sides of the Amazon rainforest and take a less-trafficked back road to the quaint town of Coroico. Along the way we'll pass massive plantations of the globally used coca leaves. Not only is this plant the principal ingredient in cocaine and a number of modern medicines, but it also holds a huge cultural role in Bolivia itself for its importance in traditional medicine. We'll arrive in Coroico early in the afternoon, just in time for a late lunch and a jaw dropping ride on the world's longest ziplines that overlook The World's Most Dangerous Road. What better way to experience the thrills of Bolivia than by by flying over the wilds of the Amazon and the infamous Death Road?
Day 17 - Coroico to La Paz
While yesterday you may have flown over top, today is the day to test our nerves on El Camino de la Muerte, or more commonly known as "The Road of Death!" This stretch of pavement earned its reputation by killing over 300 people each year in vehicle accidents at its peak. The "Death Road" is rough, narrow, and overlooks a sheer cliff side drop into darkness. Once, (and "if") we make it past this stretch, we'll make our way onto the highway and travel through spectacular glacial valleys. Along this stretch, we'll pass by massive cliff drops, picturesque frozen waterfalls, and stunning views of the sprawling La Paz, Bolivia's third most populous city.
Day 18 - Departures, if you must
Don't let the trip end! Riders are clear to leave on this day if they need to, or welcome to stay and explore Bolivia's financial & business capitol city of La Paz. Having seen so many highlights of this beautiful land, be sure to stay and meet more of its friendly people and compliment them on their home country! Airport transfers are included, although we're sad to see this journey come to an end.
---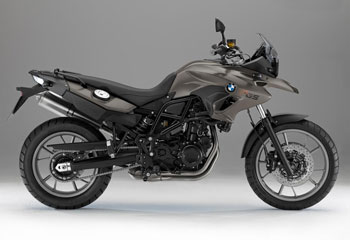 BMW F700GS (twin cylinder)
The new F700GS offers a larger windshield, enhanced braking system, Electronic Suspension Adjustment, Automatic Stability Control, and a handful more horsepower! As if the previous version (the F650GS) wasn't a good enough adventure bike, this mid-weight option continues to be the most versatile and popular motorcycle rental option.
X
Seat Height:
32.3 in
Curb Weight:
461.0 lb
Fuel Capacity:
4.2 gal
Displacement:
798 cc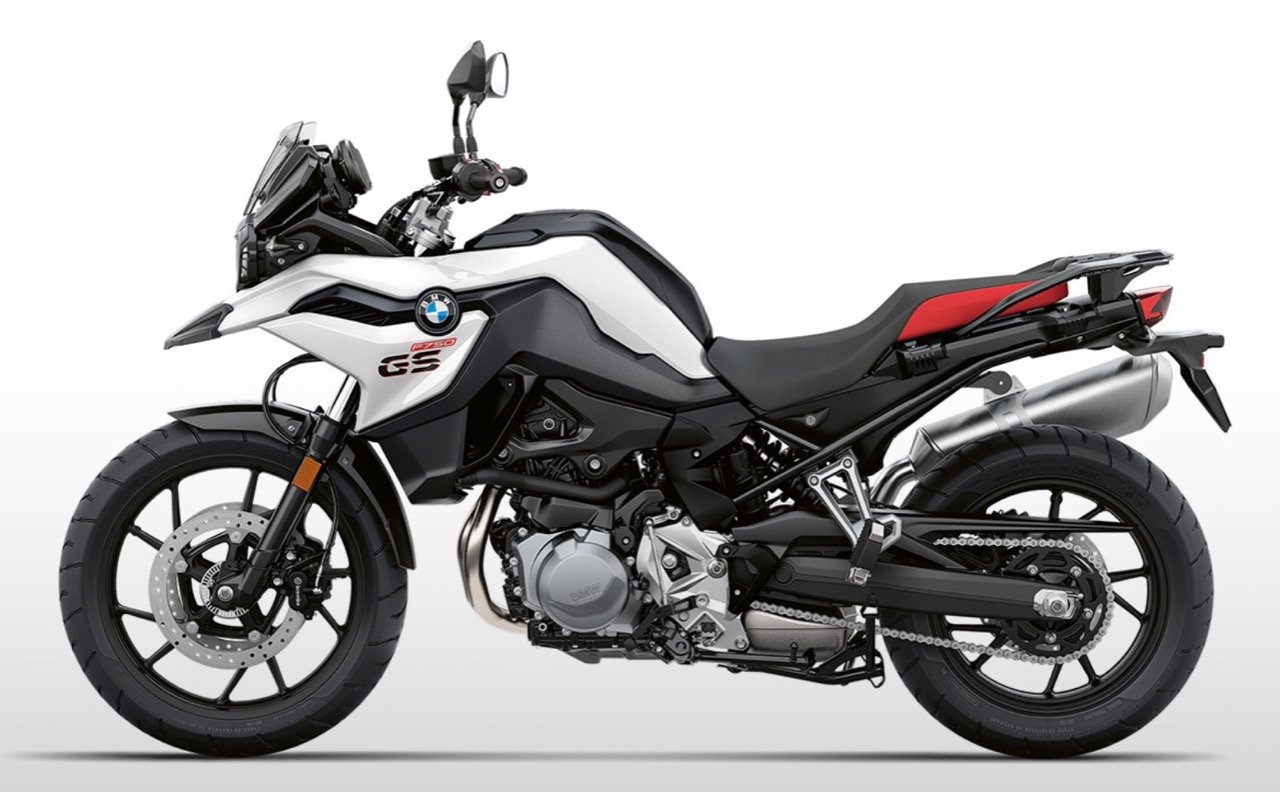 BMW F750GS
Not everyone needs a gigantic adventure bike to have fun, and the BMW F750GS fills that niche of "big enough for the long haul, small enough to have fun." With a power-to-weight ratio similar to the bigger models, 77hp can be used to hang with any other adventure bike on the market and perhaps be even more fun when it comes to the dirt roads and tight switchbacks.
X
Seat Height:
32.1 in
Curb Weight:
493lb / 223kg
Fuel Capacity:
4 gal / 15 L
Displacement:
853 cc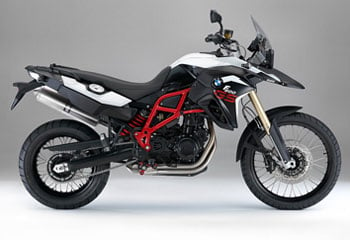 BMW F800GS
Certainly considered the "athlete" of the BMW team, the F800GS can be counted on to carry all your travel gear and still maintain the awesome feeling of a pure off-road machine when you're in the dirt. With over 215mm of suspension travel, the F800GS boasts 85 horsepower from its twin-cylinder engine, and is sure to give an adrenaline rush when you unleash it!
X
Seat Height:
34.6 in
Curb Weight:
472.0 lb
Fuel Capacity:
4.2 gal
Displacement:
798 cc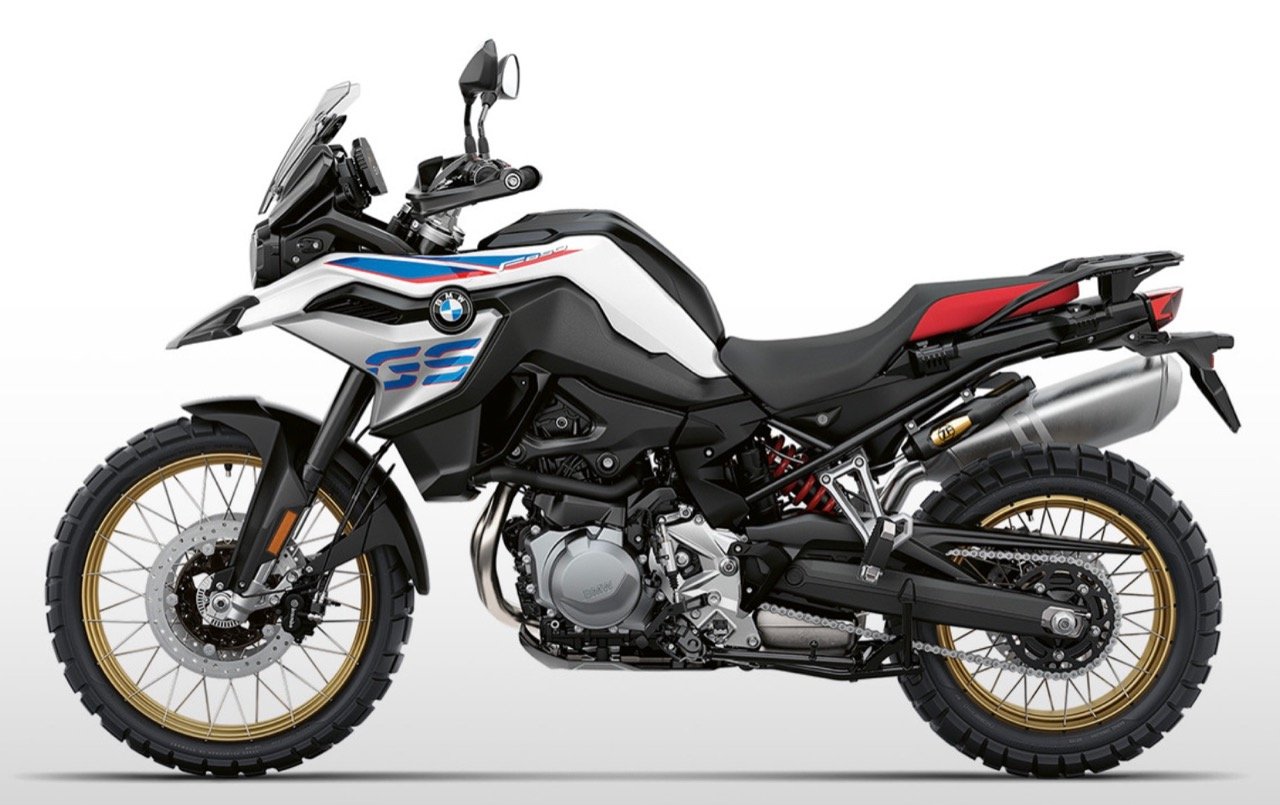 BMW F850GS
When it's predecessor launched in 2009, the world recognized the beauty of a "middle-weight" adventure bike, perhaps most appropriately built to handle it all. The new BMW F850GS builds on a decade of riders trotting the globe on a machine with all the power you could ever need, and agility to go have almost dirt-bike-like fun when the luggage and passenger aren't along for the ride.
X
Seat Height:
33.9 in
Curb Weight:
504lb / 229kg
Fuel Capacity:
4 gal / 15 L
Displacement:
853 cc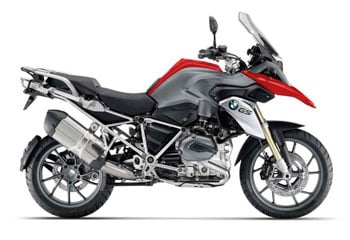 BMW R1200GS - Liquid Cooled
Revised back in 2013, BMW it seems has done it once again in the world of adventure motorcycles. The new liquid-cooled version of the famous R1200GS comes with a more "upright" stance and off-road friendly positioning. Now with a wet clutch, a higher air intake perfect for river crossings, and a 10% horsepower increase over the previous model, BMW has clearly made improvements on what was already a great adventure bike.
X
Seat Height:
33.5.0 in
Curb Weight:
538 lbs
Fuel Capacity:
5.3 gal
Displacement:
1170 cc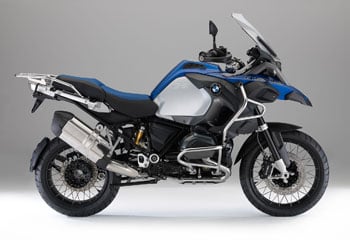 BMW R1200GS Adventure (2014+ Liquid Cooled)
Just a year after releasing the Liquid Cooled R1200GS, BMW's famous Adventure model or "GSA" was introduced, and for all the right reasons. Like its predecessor, the "GSA LC" as we tend to call it boasts 125 liquid cooled horsepower and has the fuel capacity and carrying capability to make the longest and most remote adventures a reality. At the same time, it's still a thrill when in tight mountain switchbacks and twisties!
X
Seat Height:
35.0 in
Curb Weight:
580 lbs
Fuel Capacity:
7.93 gal
Displacement:
1170 cc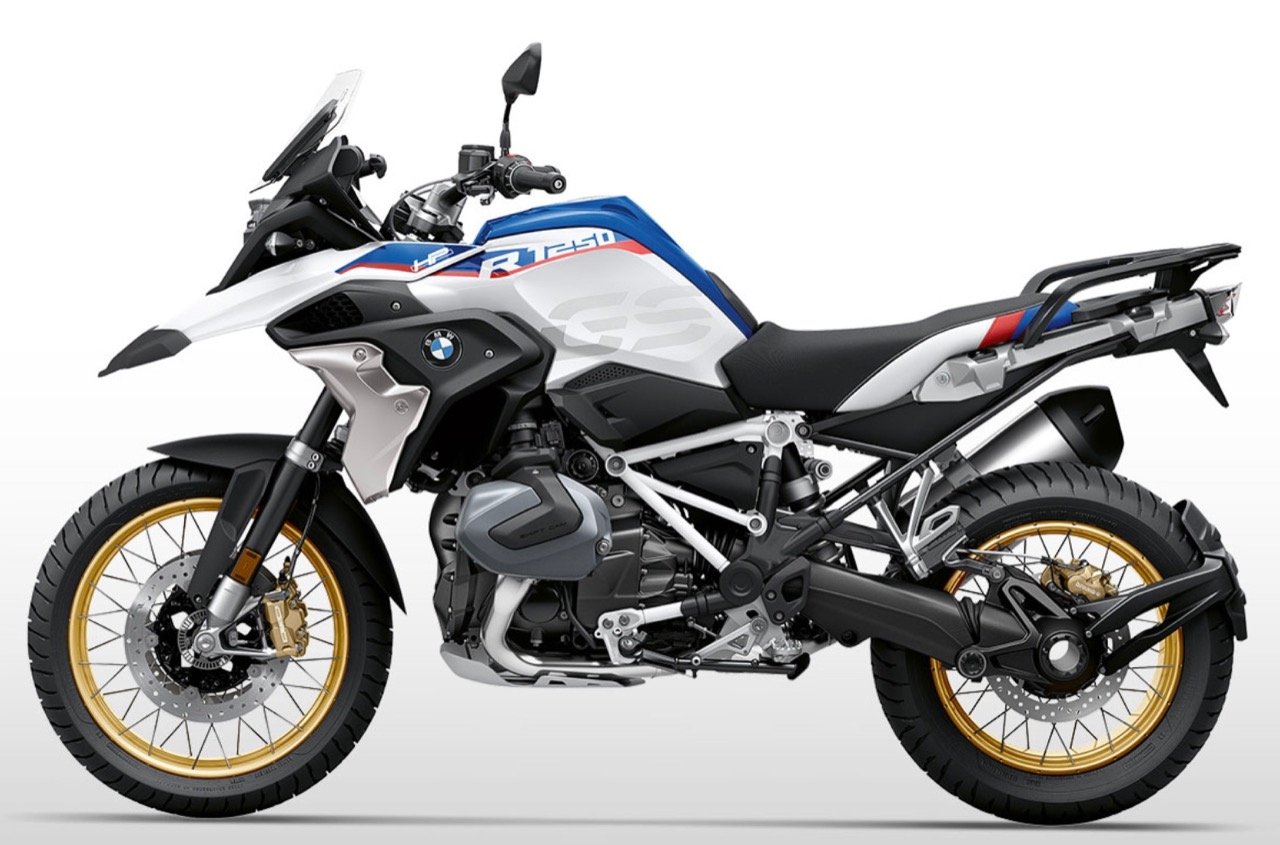 BMW R1250GS
Freshly updated after multiple generations of industry-leading design, BMW's R1250GS is yet another masterpiece coming from the company that many will claim pioneered the thought of adventure riding. Boasting 136hp now, yet still maintaining the "flickability" many of us feel in the GS line, load up the bike or head out solo, and you're sure to have a blast from this high performance machine.
X
Seat Height:
33.5/34.3 in
Curb Weight:
549lb/249kg
Fuel Capacity:
5.3gal / 20 L
Displacement:
1254 cc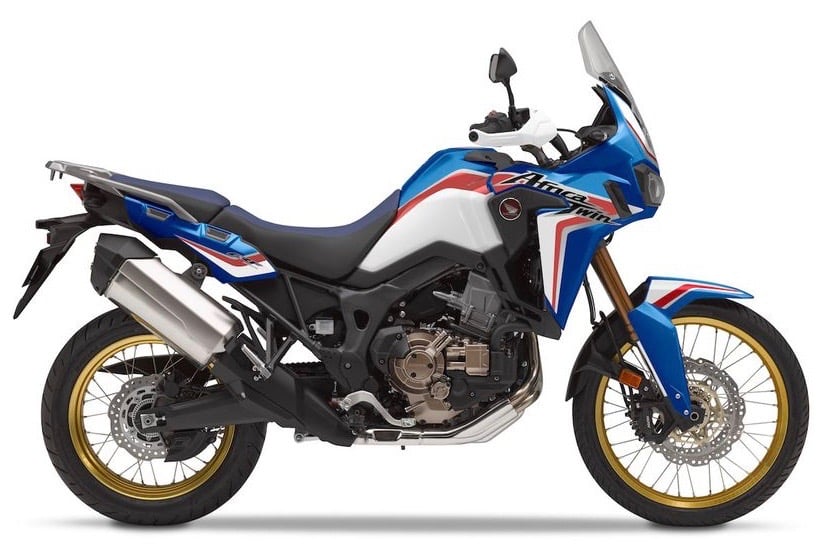 Honda Africa Twin
Finally, the return of a legend! The long awaited, and thoroughly updated Africa Twin by Honda has been talked about for years, finally making itself available in various markets around the world in 2015. With a four-valve Unicam® cylinder head 998cc parallel twin engine, more power than an adventure rider could ever need is available along with suspension travel and ground clearance to handle the most remote and rugged terrains and pathways.
X
Seat Height:
33.5/34.3 in
Curb Weight:
511 lb
Fuel Capacity:
4.96 gal
Displacement:
998 cc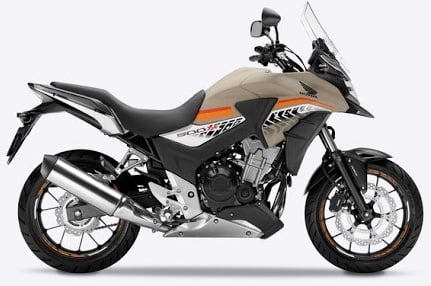 Honda CB500X
Another recent assertion by Honda Motorcycles into the Adventure Riding world, riders seeking a compact-sized adventure bike have been raving about the CB500X. With plenty of power emanating from the parallel-twin engine, and an agile disposition, everything from paved twisties to gravel, dirt, and sand can be conquered with this fun adventuring option.
Wet Weight - 428lbs
Seat Height - 31.8 inches
Fuel Capacity - 4.6 gal
X
Seat Height:
31.8 in
Curb Weight:
428lbs
Fuel Capacity:
4.6 gal
Displacement:
471cc Parallel Twin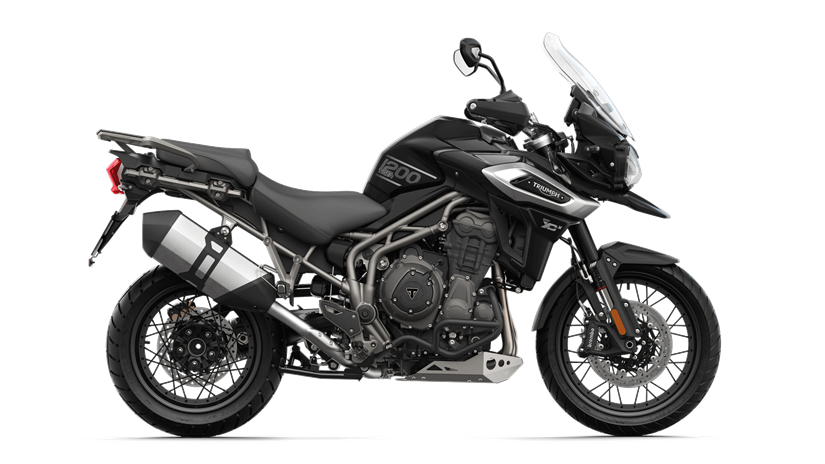 Triumph Tiger 1200 XCx
Triumph continues to charge their way into the adventure riding and sport touring scene with models like the Tiger 1200 XCx. With adjustable riding positions, ride-by-wire throttle control, and a formidible 3-cylinder powerplant, everything from paved twisties to Backcountry Discovery Routes are a rush whether you're riding solo or 2-up!
Wet weight - 570 lbs. (259 kg)

Seat height - 32.9 or 33.7" (837 or 857 mm)

Fuel Capacity - 5.2 gal (20 Liters)

Displacement - 1215cc's
X
Seat Height:
32.8 to 33.6 in
Curb Weight:
572 lb
Fuel Capacity:
5.2 gal
Displacement:
1215 cc