Patagonia, Coast to Coast Motorcycle Tour, Pavement Riding in Chile & Argentina
Itinerary
Day 1: Arrive in Pucón, Chile
Whether you're taking extra time to explore the capital city of Santiago or just flying through, riders need to arrive in Pucón on or before this date, as we'll be departing early the next morning. Your intra-Chile flights can be booked through www.lan.com or www.skyairline.cl - (Flight should be Santiago (SCL) to Temuco (ZCO)
After a one-hour shuttle service from Temuco, we reach Pucón, a charming mountain town nestled at the base of Volcano Villarica in the breathtaking Chilean Lake District. We'll get you acquainted with your bike and sign off on some final paperwork before our group meets for the Welcome Dinner.
Day 2: Pucon, Chile to Pacific coast near Valdivia - 250km (155 miles)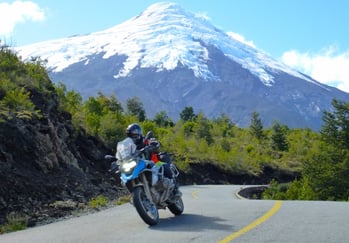 After our morning briefing there at our hotel, it's time to start our RIDE through Patagonia!

Alongside the shore line of Lago Villarrica, we leave the active Volcano Villarrica behind and follow Rio Tolten all the way to the Pacific Ocean where we will enjoy excellent sea food, fresh from the richest waters of the Pacific. Our destination for today is Valdivia, one of the first settlements in southern Chile and a town destroyed in 1960 by the strongest earthquake ever recorded (9.5 on the Richter scale.) Today, the fish market in Valdivia offers the ocean's freshest catches while huge sea lions are usually seen hanging around, hoping for a snack.
Valdivia is also home of one of Chile's first Micro Breweries, founded by German "Herr Kunstmann" should you be thirsty at the end of the day.
Day 3: Valdivia, Chile to Bariloche, Argentina - 340 km (211 miles)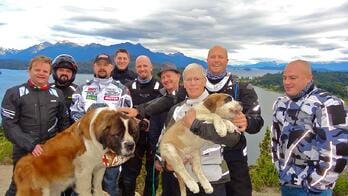 Today we leave the Pacific Ocean and ride the Pan-American Highway for a short distance before lunch and our first Andes Mountain crossing near National Park Puyehue. This allows riders to experience first-hand how nature recovers from the eruption of the volcano Puyehue in 2011, as remnants of ash are still in the area.
Fortunately, a twisting mountain road through the National Park leads to a first encounter with Argentina! Enjoying the lakeside route to Villa Angostura, a cozy little ski resort and vacation town, after lunch will continue along the shore of Lago Nahuel Huapi and yet another ski resort town of Bariloche. Settling down into this bustling town and enjoying a first Argentine "asado" (barbeque) in this lively town puts yet another great experience under our belts (literally in this case.) If arrival is early enough, riders can enjoy the "Circuit Chico," which is a one hour loop through the famous Llao Llao Resort area, with many fantastic view points and a gorgeous sunset over Lago Nahuel Huapi.
Day 4: Bariloche to Tecka, Argentina – 360 km (224 miles)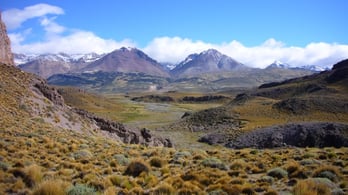 Leaving the fun town of Bariloche, means the ride down the legendary "Ruta 40" begins, as sweeping turns take us through the Patagonia Mountains of Argentina and more authentic adventure riding. El Bolsón, the old hippie town, is perfect for lunch, and sets things up for what may be some strong winds the rest of the day, as cold Andes Mountains winds come hustling down into the pampas in a hurry. The Andes will stay within site the entire day, although the ride is moving further east toward the Atlantic. Tecka is one of the last towns we can stay in before the most open and vast territory of the trip is conquered the following day.
Day 5: Tecka to Puerto Madryn, Argentina & The Atlantic Ocean - 560km (348 miles)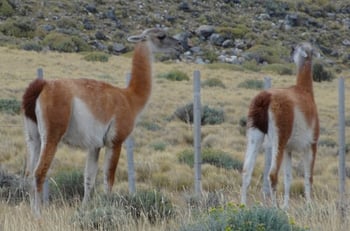 Today we will experience the vast emptiness of the Argentine pampas, an experience that really shows us the incredible contrasts in the natural setting that is wild Patagonia. Strong winds can always be a factor east of the Andes, but in this case the winds will mostly be at our back.

Across these plains regions is where much of the Argentine beef and lamb we have the option to enjoy is raised, so along with the occasional guanaco (like a small llama) bouncing through the area, it's important to keep a steady focus on the road ahead of the motorcycle, and not get caught staring off at the golden scenery. Through Trelew, we reach the Atlantic Ocean near Puerto Madryn, where we enjoy fresh seafood again, directly from the ocean before us and settle down into our hotel for a much-deserved rest day off the bikes.
Day 6: Rest Day in Puerto Madryn, Argentina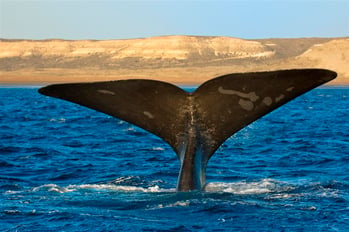 While we all love to ride motorbikes, it's important to rest as well, especially on an international adventure like this where a case of "sensory overload" can get the best of anyone. The abundent sea life around Peninsula Valdez and Puerto Madryn is a welcome setting for whale watching, fishing, scuba & snorkeling, and photography with the sea lions, orcas and penguins seasonally amongst us. It is all here, so have a great day in Argentina!
Day 7: Puerto Madryn to near Neuquen, Argentina - 560 km (348 miles)
Back in the saddle again! Today we ride one of the longest stretches of our tour, from the Atlantic Ocean back along more northerly routes in the Argentine pampas regions. We'll follow the Rio Negro for most of the day and likely meet folks from Buenos Aires, as many Argentine folks choose Bariloche as a vacation spot an need to traverse their country to reach it's westernmost town from back on Day 3 of this trip.
Day 8: Neuquen area to Pucon, Chile - 580 km (360 miles)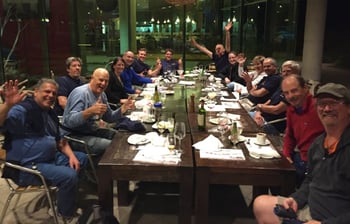 Nearing the Andes Mountains once again! These 580 km will again make for a long day, but with twisting roads through Argentine valleys, nobody seems to mind. Near Junin de los Andes enjoy National Park Lanín and the volcano with the same name measuring 3,728m (12,230ft) at it's peak. With many active volcanoes in the area often making the news around this area of the world, it's best to keep eyes and ears open at all times.
Paso Mamuil Malal leads us back to Chile from near the base of the Lanín Volcano, amongst what is also known as Native Mapuche territory. Passing 1,000+ year-old Araucania trees, the ride continues through National Park Villarrica before descending back into the welcome site and our "hometown" of Pucón. Completing this incredible motorcycle trip means you've crossed the South American continent (almost) twice, and that is a major accomplishment!
Day 9: Departure day, transfer to Temuco Airport, flights if you must leave!
If you absolutely have to leave this day, we do understand you'll be fighting the temptation to skip the flight. Chile and Patagonia has so much more to offer and we have so much more to show you, so we hope you enjoyed it and come back to join us for another Patagonia Trip.
Minimum Essential Gear for RIDE Training
If you're planning to jump on a guided tour or training with RIDE Adventures, it's essential that you have the right gear. This helps to ensure your safety and the safety of others while on the road.
Not being properly prepared can lead to injuires that could have been avoided. Our guides have created a Minimum Essential Gear Guide if you plan to book a RIDE Adventures. If you don't come minimally prepared there is a chance our guides will prevent you from hopping on a bike. Make sure you're prepared for the adventure.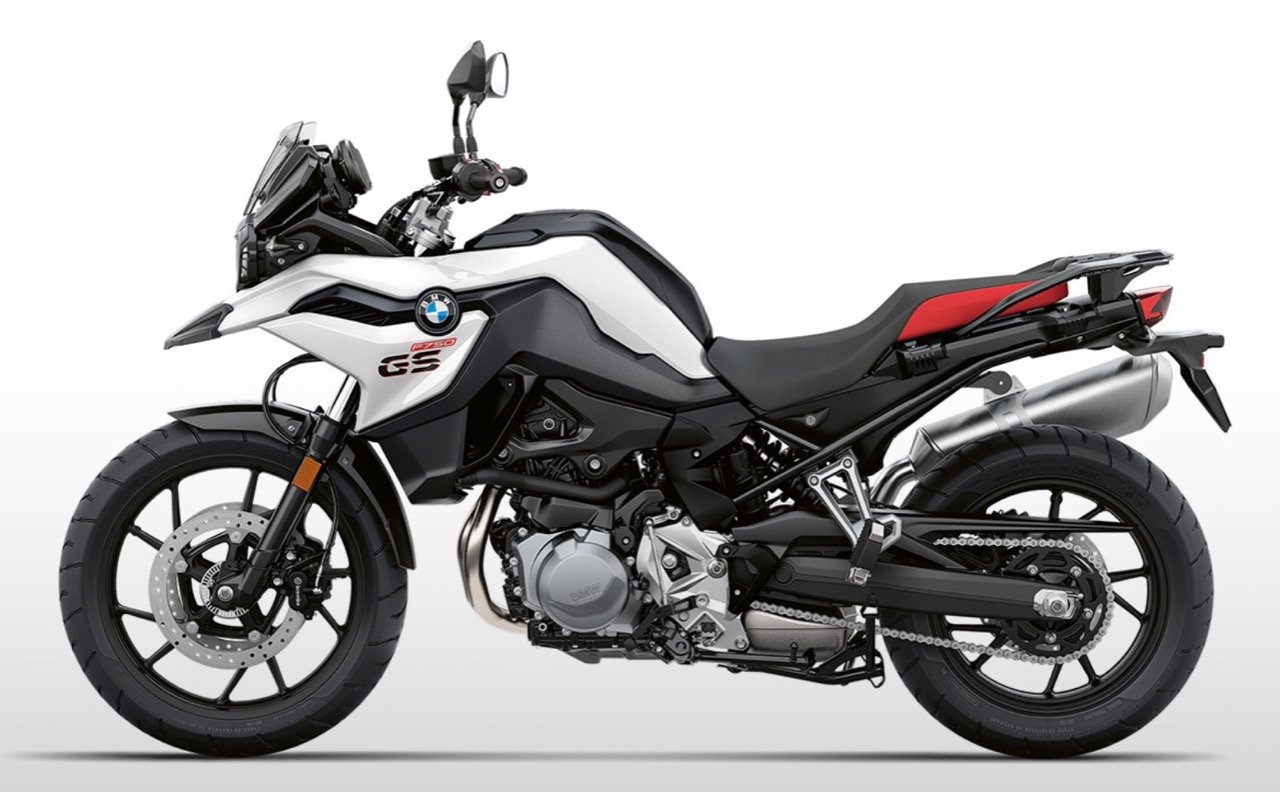 BMW F750GS
Not everyone needs a gigantic adventure bike to have fun, and the BMW F750GS fills that niche of "big enough for the long haul, small enough to have fun." With a power-to-weight ratio similar to the bigger models, 77hp can be used to hang with any other adventure bike on the market and perhaps be even more fun when it comes to the dirt roads and tight switchbacks.
X
Seat Height:
32.1 in
Curb Weight:
493lb / 223kg
Fuel Capacity:
4 gal / 15 L
Displacement:
853 cc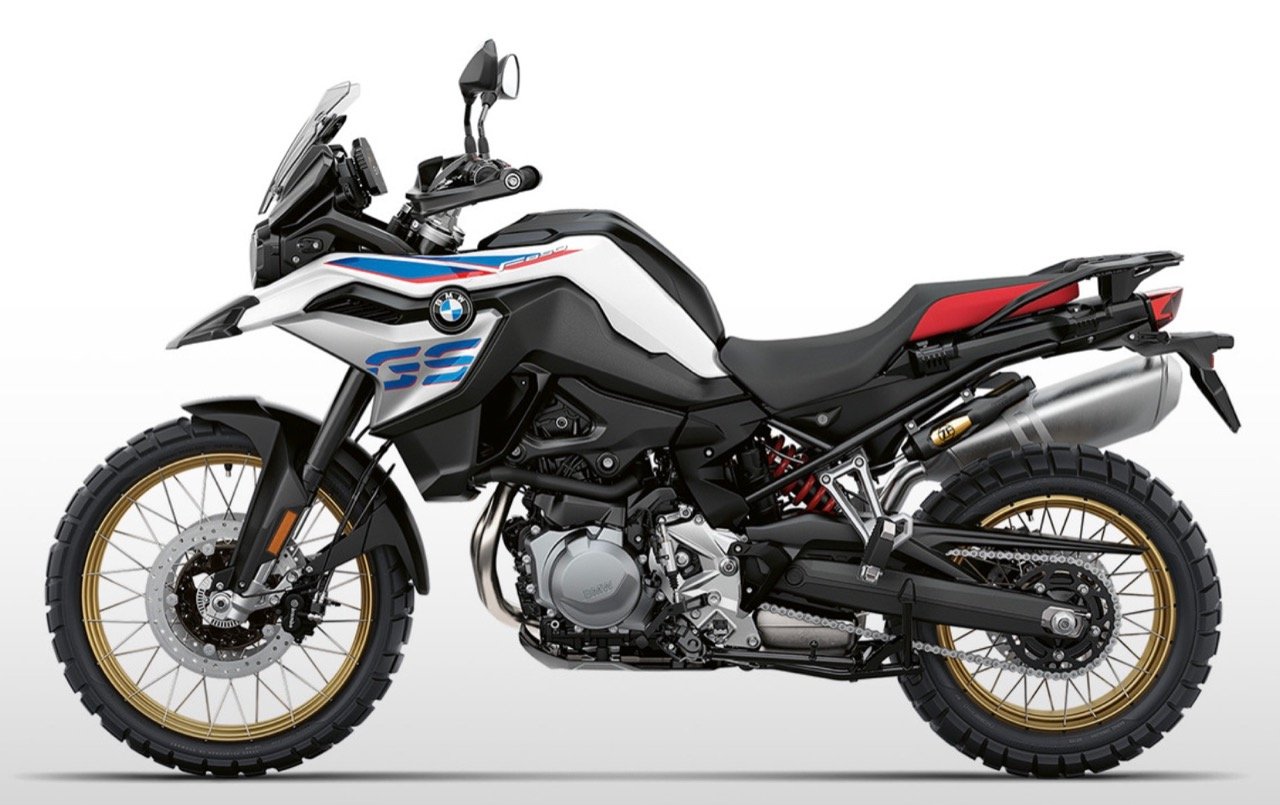 BMW F850GS
When it's predecessor launched in 2009, the world recognized the beauty of a "middle-weight" adventure bike, perhaps most appropriately built to handle it all. The new BMW F850GS builds on a decade of riders trotting the globe on a machine with all the power you could ever need, and agility to go have almost dirt-bike-like fun when the luggage and passenger aren't along for the ride.
X
Seat Height:
33.9 in
Curb Weight:
504lb / 229kg
Fuel Capacity:
4 gal / 15 L
Displacement:
853 cc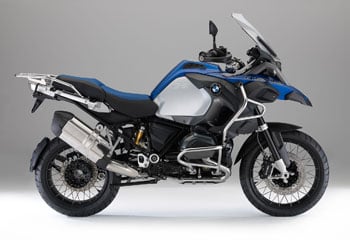 BMW R1200GS Adventure (2014+ Liquid Cooled)
Just a year after releasing the Liquid Cooled R1200GS, BMW's famous Adventure model or "GSA" was introduced, and for all the right reasons. Like its predecessor, the "GSA LC" as we tend to call it boasts 125 liquid cooled horsepower and has the fuel capacity and carrying capability to make the longest and most remote adventures a reality. At the same time, it's still a thrill when in tight mountain switchbacks and twisties!
X
Seat Height:
35.0 in
Curb Weight:
580 lbs
Fuel Capacity:
7.93 gal
Displacement:
1170 cc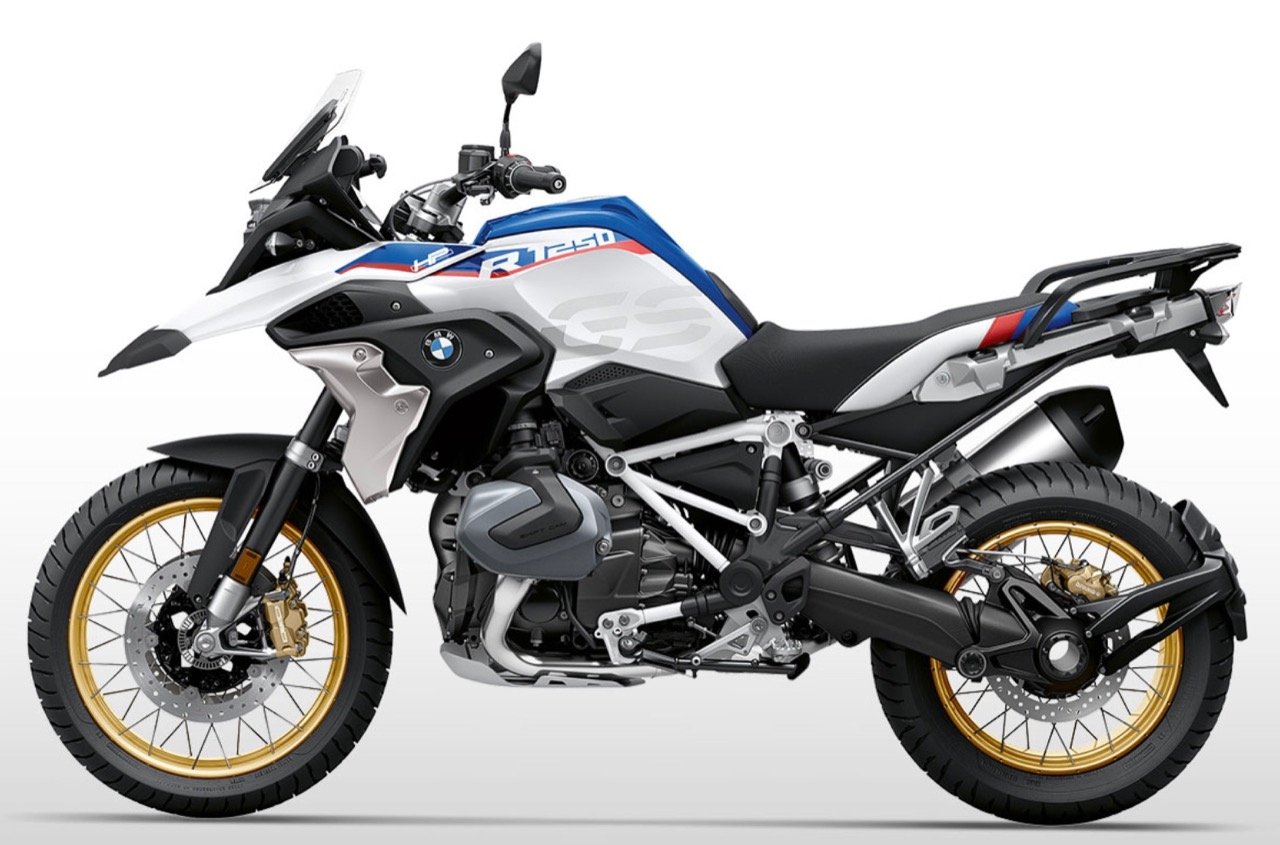 BMW R1250GS
Freshly updated after multiple generations of industry-leading design, BMW's R1250GS is yet another masterpiece coming from the company that many will claim pioneered the thought of adventure riding. Boasting 136hp now, yet still maintaining the "flickability" many of us feel in the GS line, load up the bike or head out solo, and you're sure to have a blast from this high performance machine.
X
Seat Height:
33.5/34.3 in
Curb Weight:
549lb/249kg
Fuel Capacity:
5.3gal / 20 L
Displacement:
1254 cc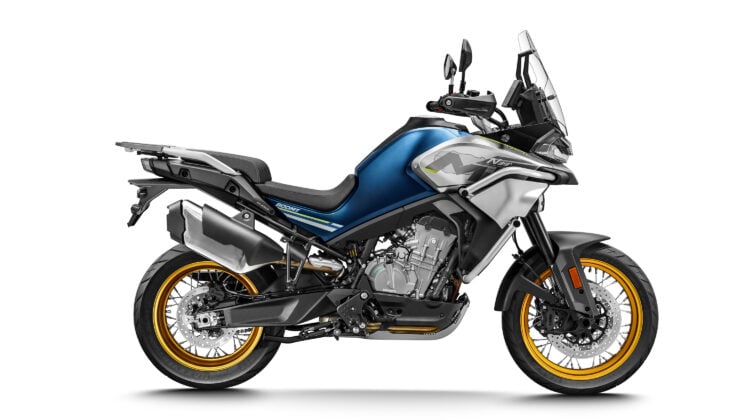 CF Moto MT800
The MT800 is a versatile adventure bike with amazing capabilities both on the asphalt and off-road. The light and powerful frame works with KYB's multi-adjustable suspensions and the powerful 800cc engine with 95hp, giving it a vibrant road and excellent performance. Powerful braking with cornering ABS, slip clutch and Full Led lights with cornering function dramatically increase road safety. But in terms of comfort, the 800MT excels, as it is equipped with Cruise Control, high adjustable windshield and an impressive 7 "color screen with the ability to view Navigation, phone calls, music, and of course a clear display of all information on the instrument panel.
Wet Weight - 509 lbs
Seat Height - 32.5 inches
Fuel Capacity - 5 gal
X
Seat Height:
32.5 in
Curb Weight:
509 lbs
Fuel Capacity:
5 gal
Displacement:
800cc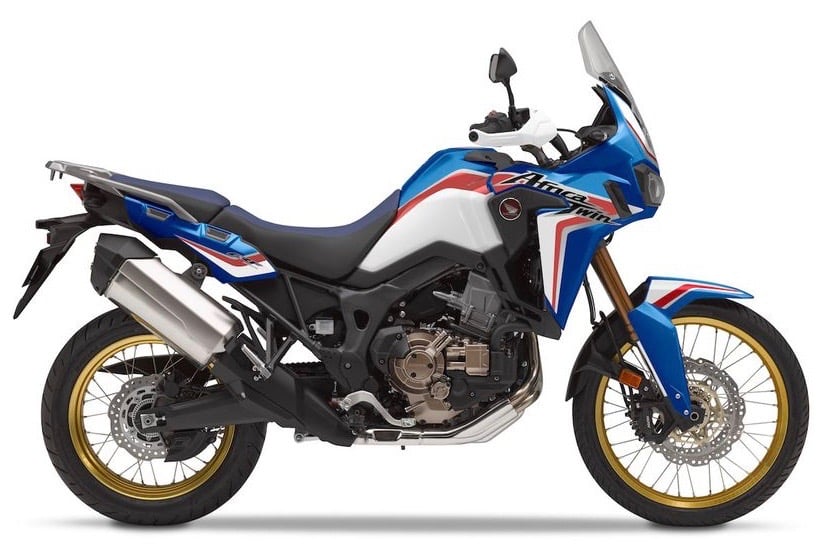 Honda Africa Twin
Finally, the return of a legend! The long awaited, and thoroughly updated Africa Twin by Honda has been talked about for years, finally making itself available in various markets around the world in 2015. With a four-valve Unicam® cylinder head 998cc parallel twin engine, more power than an adventure rider could ever need is available along with suspension travel and ground clearance to handle the most remote and rugged terrains and pathways.
X
Seat Height:
33.5/34.3 in
Curb Weight:
511 lb
Fuel Capacity:
4.96 gal
Displacement:
998 cc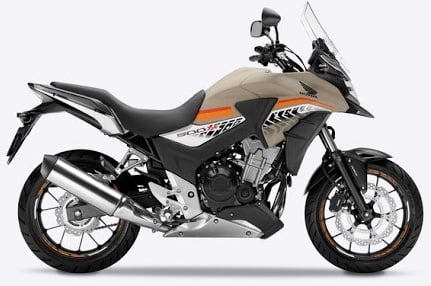 Honda CB500X
Another recent assertion by Honda Motorcycles into the Adventure Riding world, riders seeking a compact-sized adventure bike have been raving about the CB500X. With plenty of power emanating from the parallel-twin engine, and an agile disposition, everything from paved twisties to gravel, dirt, and sand can be conquered with this fun adventuring option.
Wet Weight - 428lbs
Seat Height - 31.8 inches
Fuel Capacity - 4.6 gal
X
Seat Height:
31.8 in
Curb Weight:
428lbs
Fuel Capacity:
4.6 gal
Displacement:
471cc Parallel Twin