Interested in This Tour?
Contact Us About Your Self-Guided Motorcycle Tour in Bolivia!
Tour Specs
Base Pricing: Inquire for Pricing
Days: Custom
Riding Days: Custom
Rest Days: Custom
Countries Visited:
Bolivia
Highlights:
The Salar de Uyuni (Uyuni Salt Flat)
Cities like La Paz, Sucre, Cochabamba, and Potosi

El Camino de la Muerte (The Road of Death)

Traditional Inca culture
Request More Information
Tour Info
SELF GUIDED "FLY & RIDE" PACKAGES: This page and pricing shown is for your own Self-Guided tour package. As such, you can start this package on any date that you've reserved our available motorcycles and hotels for! When you're ready, we just need to know what your arrival date, where you want to start and finish, which motorcycle you want to ride, and how many people you are coming with. Once the reservation is set, just show up, and RIDE!
Custom for Self-Guided

Custom for Self-Guided
Pricing: Custom for Self-Guided
Ride Bolivia: Self-Guided (Lowest Cost) Motorcycle Adventure Tours In Bolivia
If you're excited about riding in the mysterious land of Bolivia, the lowest cost way of having such a motorcycle trip is to do it self-guided!
The expensive world of motorcycle travel sometimes demands that we're careful with spending when possible. So if you're looking to save money, but still experience the very best riding Bolivia has to offer, why not just grab one of our motorcycles and follow an itinerary we put together for you? This "Do It Yourself" approach can mean you'll spend about half of what the guided tours cost, and perhaps add that certain sense of satisfaction that comes with the "Lone Wolf" spirit of adventure. With helpful services from RIDE Adventures, this is actually quite easy to accomplish.
Contact us for more tour information.
Itinerary
How To Experience a Bolivia Motorcycle Trip on a Budget
Step 1: Contact Us and tell us how many days you'd like to travel, what type of riding terrain and scenery you'd like to experience, or any specific famous sites in Bolivia that you don't want to miss, like:
The Salar de Uyuni (Uyuni Salt Flat) which is the largest salt flat in the world, and can be ridden across in the dry season of June through November.
"El Camino de la Muerte" which is "The Road of Death" or commonly referred to as "The World's Most Dangerous Road" due to the high percentage of fatalities that have taken place here over the years. Don't worry though, it's perfectly possible to travel this incredible route safely, otherwise we surely wouldn't even mention it as an option. (It's the crazy and reckless drivers who don't pay attention and drive at excessive speeds who perished here, so certainly you'll be cautious and pay attention to the edge of the road!).
Cities like La Paz, Sucre, Cochabamba, and Potosi are all within reach, and are host to features, architectures and histories well worth visiting.
The Inca culture which is still definitely alive and present in the cuisine, clothing, and lifestyles of some people in this region.
Step 2: Choose Your Motorcycle from this list of options.
Step 3: Choose Add-On Options: We always offer information on the best routes, scenery, etc. if you can tell us more about what you're interested in, and in most cases, we also offer hotel packages, GPS usage, and perhaps some other services like ferry bookings, etc. Be prepared to answer our questions about what else you want included, aside from just the motorcycle rental, insurance, and authorizations that we automatically arrange for you.
Step 4: Reserve everything you need through RIDE Adventures! – Payable to one of our accounts in the U.S., rest assured that you've booked your upcoming trip through an informed, reputable, reliable, and fun provider of travel services.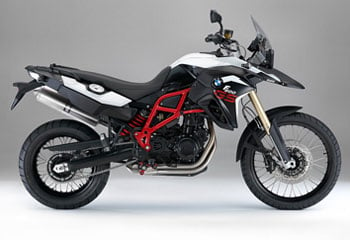 BMW F800GS
Certainly considered the "athlete" of the BMW team, the F800GS can be counted on to carry all your travel gear and still maintain the awesome feeling of a pure off-road machine when you're in the dirt. With over 215mm of suspension travel, the F800GS boasts 85 horsepower from its twin-cylinder engine, and is sure to give an adrenaline rush when you unleash it!
X
Seat Height:
34.6 in
Curb Weight:
472.0 lb
Fuel Capacity:
4.2 gal
Displacement:
798 cc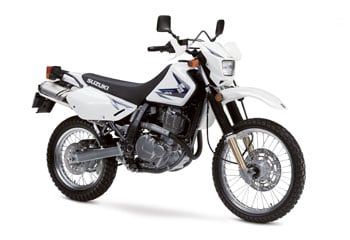 Suzuki DR650
Chosen by adventure riders around the world, Suzuki's DR650, is an excellent bike for adventures rides anywhere. It'll maintain it's power well at altitude, and handle all the dirt and rocks you can throw it's way while still feeling comfortable on those stretches of pavement in between. With a seat height of only 885mm (34.8 inches) its accommodating stature makes this manageable machine easy to handle no matter what the situation.


X
Seat Height:
34.8 in
Curb Weight:
366.0 lb
Fuel Capacity:
3.4 gal
Displacement:
644 cc