Colombia Motorcycle Tour Wild and Rugged in the Andes Mountains
Itinerary
Day 1 - Arrival in Cali, Colombia (CLO)
Welcome to Colombia and this amazing riding and travel experience that so many adventure riders dream about doing! Arrival instructions specific to your trip will of course be communicated in advance, so making your way to the first hotel included in your package will be easy. Appropriate first meetings with our Staff and/or other Riders will take place today, as well as anything else explained as "included." Rest up for some exciting days ahead!
Day 2 - Cali to Salento - 300km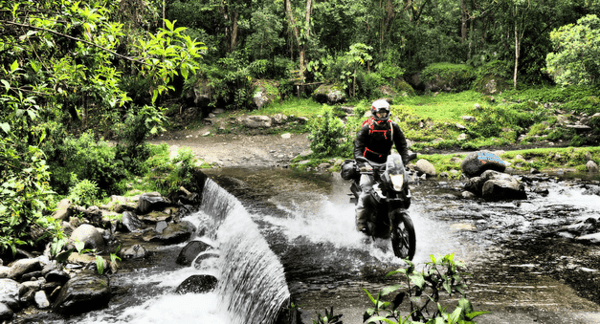 Finally, you're riding in Colombia! An appropriate check-in to your motorcycle takes place, you'll have a safety briefing and questions answered, and then you're off on this adventure!
Just a few minutes into the trip, and the terrain starts switching between pavement and dirt, so this is why we stress this particular route is only for experienced dual sport riders. - Continuing through a perfect first day into the heart of Colombia's coffee region, fantastic views of the surrounding plantations also breed opportunity for a tour of an actual plantation operation. Salento is a great town just for walking around with lots of shopping, dining, and scenic possibilities.
Day 3 - Salento to Jardin - 260km
The day begins with a visit to nearby Cocora Valley with its unique vegetation and tallest palm trees in the world.
Then, it's on to Jardin, one of the most beautiful destinations in Colombia, Along the way, you'll RIDE along the ridges of the Andes Mountains and over dirt roads that only the locals use while they're transporting produce. Plantain fields and small villages along the way bring authenticity to this experience, keeping Riders away from major cities for the most part.
Day 4 - Jardin to Guatapé - 230km
Feel free to scream inside your helmet while riding this 230km stretch to Guatapé. Both pavement and off-road twisties greet you all day long as you make your way to one of the most unique towns that sits by a large reservoir and the world famous geological attraction, El Peñol Rock that towers over the area and allows for climbing to the top for incredible views.
Day 5 - Guatapé to Río Claro - 95km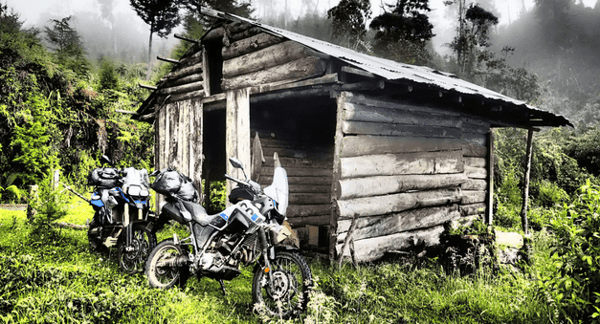 Before one of the shortest rides of the route, make sure you've climbed the magnificent Peñol Rock! (If you're up for it, that is.) The challenging climb of 740 steps up the side is worth every second of effort as the views are astounding and something you won't want to miss!
Finish your day with a jaunt through the rainforests to nearby Río Claro, where the chance to check out the marble river bed that runs by close to your accommodations makes for the perfect finish to another day of riding.
Day 6 - Río Claro to Girón - 400km
Did you rest up? We hope you got a full night of sleep, because yesterday was the shortest riding day, and today will be the longest! This nearly 400km expedition is a challenge well accepted by adventurous riders, and is full of so many inspiring views and thrilling switchbacks that will make you want to do it all over again...
Rest up in the mid-size city of Girón. Enjoy some wonderful cuisine at the local restaurants, browse around the shops, or hit the sack after a long day of fun-filled adventure.
Day 7 - Girón to Barichara - 120km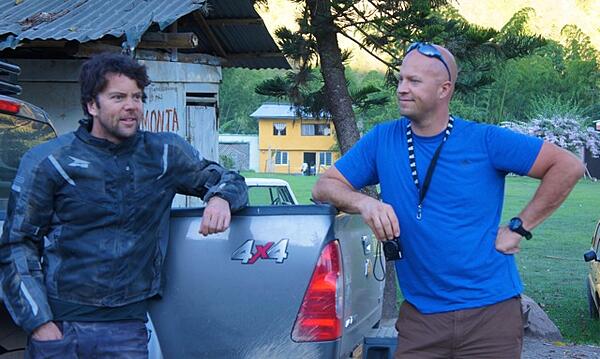 This last riding day before a welcome rest day an easy one, but before you hit your destination of Barichara, how about a stop at Chicamocha Canyon for some paragliding to add to your adventure?
Enjoy heartstopping views of the canyon on a tandem paraglide flight, or, if that's not your thing, start twisting that throttle as you head to your boutique hotel for some relaxtion by the pool with a local beverage in your hand.
Day 8 - Rest Day in Barichara
Rest day! We schedule these as important safety measures, but here's the catch; there are so many outstanding activities in the area that you may not get much rest if you want to go experience things like water rafting, rappelling down waterfalls, or walking around town.
If you'd rather just take the time to relax and recover around the hotel or town, that's okay too. Just soak-up the feeling and pleasure of being in beautiful Colombia.
Day 9 - Barichara to Villa de Leyva - 195km
Today's RIDE is mostly paved and shorter, with an optional detour to a unique river where you can stop and enjoy a swim. Hop back on the bike and head to Villa de Leyva where you can explore the colonial architecture and archealogical sites. Grab some dinner and enjoy the charm of this town.
Day 10 - Villa de Leyva to Girardot - 295km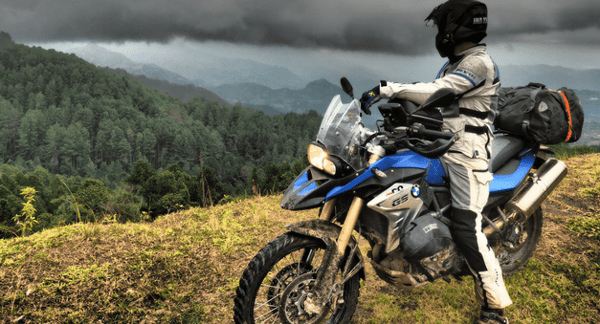 While the ride is a little bit longer today, you'll have plenty of time to take in the awesome views on this fully-paved leg of your journey.
Head past Bogota, the capital of Colombia, and on to Girardot, your stop for the night. It's a popular getaway destination with nice, warm weather and water parks, clubs, and resorts. Girardot is also famous for the quality of its delicious bread!
Day 11 - Girardot to Desierto Tatacoa - 160km
Getting to the Tatacoa Desert is the fun part! Today you'll get to ride across old bridges, through tunnels, and then take a canoe over the Magdalena River just to get to your destination.
A modern oasis awaits you for the evening. Settle in and enjoy the tranquility of the area, and the realization that this beautiful, lush country so rich with vegetation also has a desert like this adding to the variety in this adventure. Photo opportunities galore!
Day 12 - Desierto Tatacoa to San Agustín - 260km
Today's mostly paved journey sets you on a course for San Agustín, a town nestled in the Andes Mountains of western Colombia, known for the San Agustín Archealogical Park, a UNESCO World Heritage Site.
Take your time and soak up the views on this easy, relaxing riding day, just in time to explore everything that the area has to offer on your next rest day.
Day 13 - San Agustín Rest Day
Ready for a Rest Day again? As off-bike experiences help round-out the overall adventure, you have plenty of options to choose from in this charming town. If you'd rather rest up and just walk around town, strolling and relaxing, that's perfectly fine, but for those of us who just can't seem to sit still, choose from horseback riding, swimming in waterfalls, checking out the world famous archealogical sites, or other activities.
Day 14 - San Agustin to Laguna de la Cocha - 290km
One of the most unforgettable stretches of riding on your trip is also one of the longer riding days, passing through the Trampolin de la Muerte or "Trampoline of Death," which has been referred to as the most dangerous road in Colombia. (Don't worry, smart and careful riding makes it perfectly safe to ride through. Every country has a "most dangerous road" statistically, and if it wasn't perfectly possible to complete this safely, we wouldn't suggest it in the first place!)
After an exciting day of riding, enjoy a well-deserved rest and dinner by the gorgeous Laguna de la Cocha, and look forward to even more exploration ahead.
Day 15 - Laguna de la Cocha to Popayán - 280km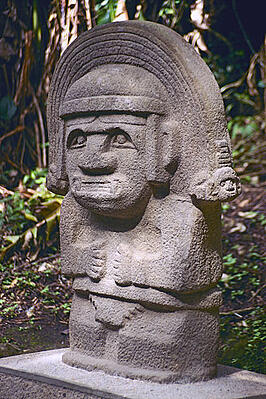 Before heading back to Cali, enjoy this fantastic ride up to Popayán, nicknamed the White City, a location known for its colonial architecture and contributions to Colombian culture and politics. (Popayán has been home to seventeen Colombian presidents!)
The ride into Popayán is a longer but easier, on all paved roads, and is the perfect way to wind down on your second-to-last riding day. Grab some delicious food, a couple of beers, and rest up for the final destination.
Day 16 - Popayán to Cali - 240km
The final leg of this amazing journey is primarily all paved, but there are some options to get in a last little bit of off-roading before heading back into Cali early in the afternoon.
Enjoy these last moments in a city our Staff can inform you about plenty, and smile back upon an incredible riding experience having been completed. Celebrate with the realization that "I have ridden Colombia!"
Day 17 - Return Home
We hate to see you go, but we understand if you have to leave. Different package types will include airport transfers if you're heading home, or our Staff can assist with other travel plans if you can stay longer.
We look forward to seeing you again, and come back for another RIDE in beautiful Colombia any time!
Minimum Essential Gear for RIDE Training
If you're planning to jump on a guided tour or training with RIDE Adventures, it's essential that you have the right gear. This helps to ensure your safety and the safety of others while on the road.
Not being properly prepared can lead to injuires that could have been avoided. Our guides have created a Minimum Essential Gear Guide if you plan to book a RIDE Adventures. If you don't come minimally prepared there is a chance our guides will prevent you from hopping on a bike. Make sure you're prepared for the adventure.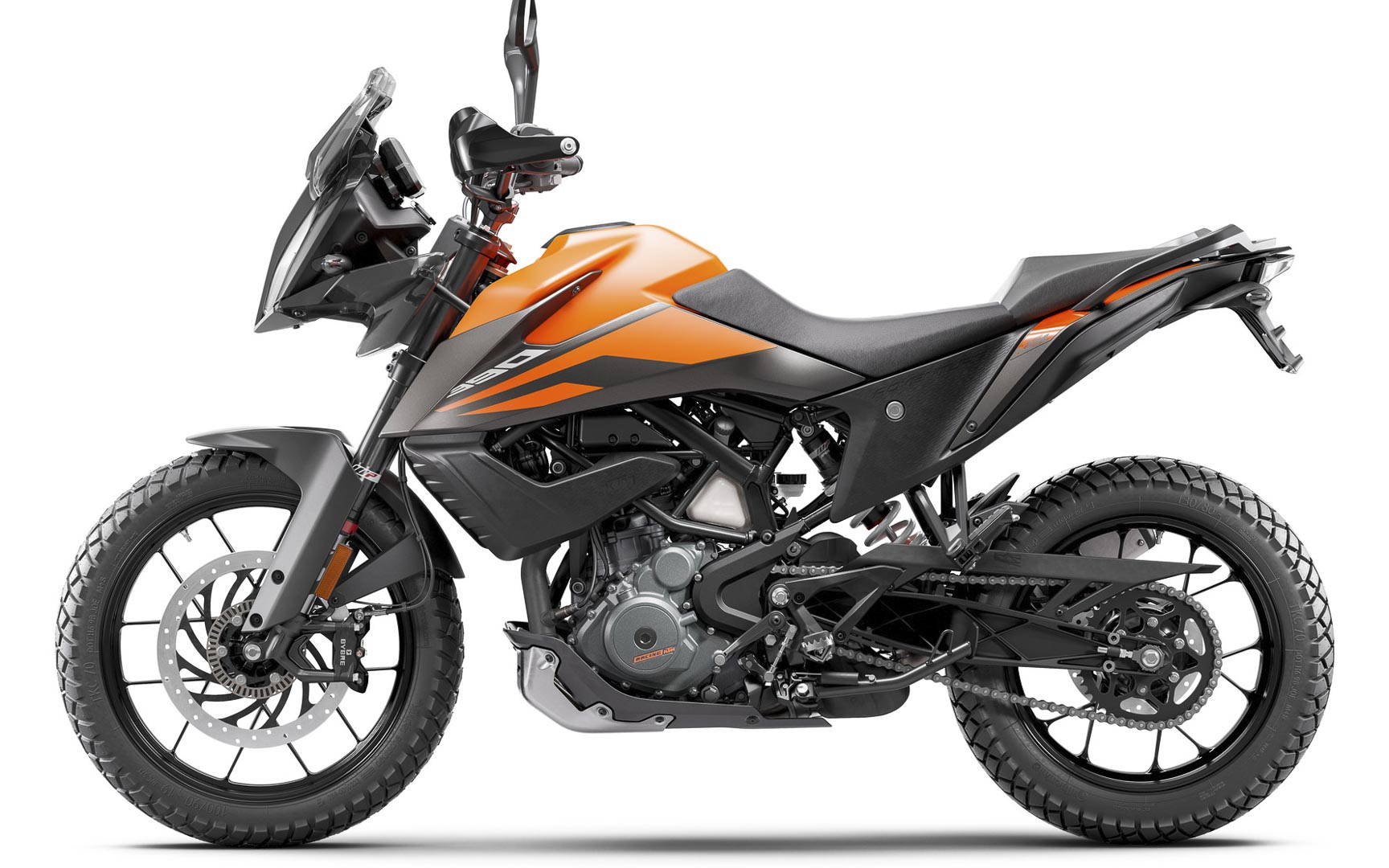 KTM 390 Adventure
Another long-anticipated release by Big Orange, the KTM 390 Adventure may be just what you're looking for in terms of total riding versatility. This single-cylinder fun machine thumps out 43hp, plus features like the TFT display, Bluetooth connectivity, ride-by-wire throttle, switchable ABS, lean angle sensitive Traction Control, and much more. Loaded up with travel gear and supplies, or just out for a day's ride, enjoy a bike with mid-to-small size agility on this great adventure riding option.
X
Seat Height:
33.6 in / 855 mm
Curb Weight:
379 lb / 172 kg
Fuel Capacity:
3.8 gal / 14.5 L
Displacement:
373 cc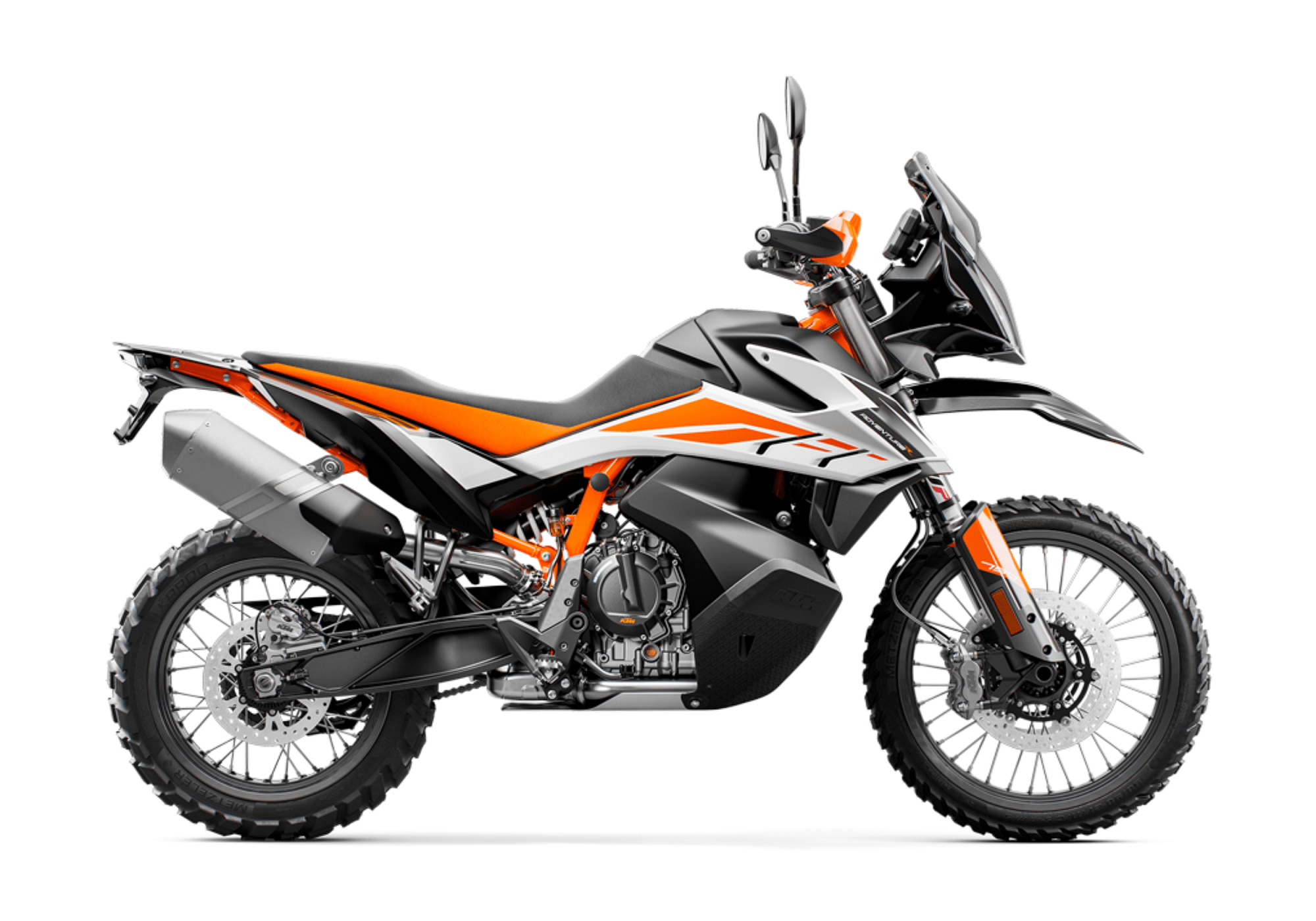 KTM 790 Adventure R
The bike that adventure riders just about couldn't wait to see released, KTM's 790 Adventure R has burst onto the scene and filled a much-needed space as a mid-weight, luggage packable, extremely fun riding option. This "R" version still has 799 cc's of power available from down low to the top end, and also a bit more suspension travel to gobble-up the whoops or uneven terrains riders will come across on their epic voyage. Either pack up for a multi-week adventure ride, or take the luggage off and have a blast in the dirt. Features like the slipper clutch, switchable ABS, and that agility KTM's are so famous for make for one incredible all-around adventure bike.
X
Seat Height:
34.6 in / 879 mm
Curb Weight:
464 lb
Fuel Capacity:
5.3 gal / 20 L
Displacement:
799 cc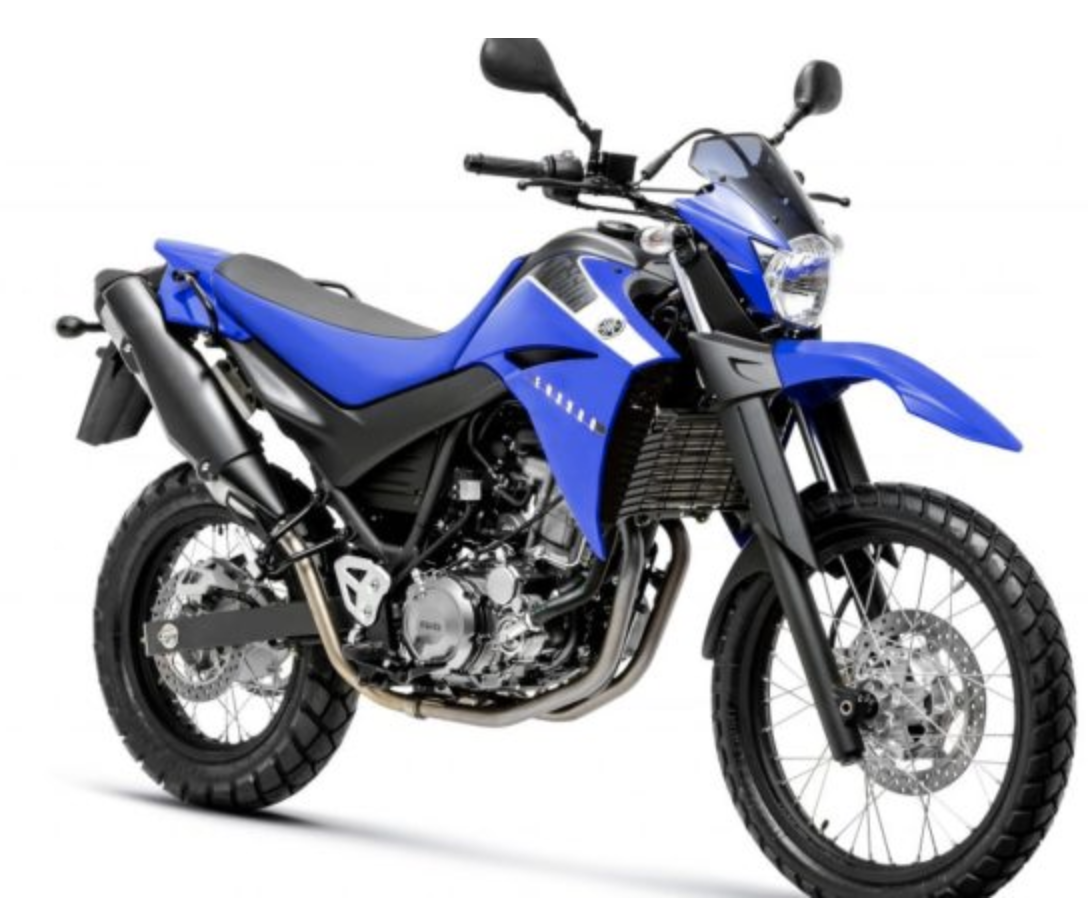 Yamaha XT660R
A famous bike around the world for being in that "middle weight" class with Yamaha's reliability and so much touring potential, the Yamaha XT660R balances so many great features we look for in an adventure bike. Pack it up for a long adventure, or strip it down for some trail riding, it's a bit of a Swiss Army knife of a motorcycle that does well in so many ways.
X
Seat Height:
34 in / 865mm
Curb Weight:
398 lb / 180kg
Fuel Capacity:
3.3 gal
Displacement:
659 cc