Interested in This Tour?
Our Patagonia Specialist is Ready to Answer Your Questions:
Tour Specs
Base Pricing (on Kawasaki KLR 650): $2575
Days: 10
Riding Days: 7
Rest Days: 1
Countries Visited:
Argentina & Chile
Highlights:
Absolutely

fantastic

dual sport motorcycle riding while crossing the Andes Mountains in the northern parts of Patagonia
The "Adventure Capital of Chile" the town of Pucón, right at the base of the active Volcano Villarrica
Ruta 40, the continuous highway that covers Argentina
Ferry rides from Caleta Conzalo to Hornopiren through the beautiful fjords and inlets of Chile
Parque Pumalin, Parque Nacional Los Alerces (tallest trees in South America) Parque Nacional Nahuel Huapi & much more
Carretera Austral, the famous "Highway to the South!"
Panamerican Highway, in appropriate sections needed
8 active volcanoes, crossing the Andes mountains
48 breathtaking lakes & 10 National Parks and Reserves in Northern Patagonia
Rest day Options: Your choice on a self-guided tour! Either stay in Bariloche for the big city, ski-resort town feel, or continue onward to Futaleufú, Chile for whitewater rafting, kayaking, fly-fishing, hiking & exploring!
Request More Information
Tour Info
SELF GUIDED "FLY & RIDE" PACKAGES: This page and pricing shown is for your own Self-Guided tour package. As such, you can start this package on any date that you've reserved our available motorcycles and hotels for! When you're ready, we just need to know what your arrival date would be in Pucón, Chile (ZCO airport) which motorcycle you want to ride, and how many people you are coming with. Once the reservation is set, just show up, and RIDE!

Origin: Pucón, Chile (use Temuco/ZCO airport)
Destination: Pucón, Chile (use Temuco/ZCO airport)
Countries visited: Chile & Argentina
Total distance: approximately 2050km (1274 miles)
Total days of vacation: 10 Days (2 arrival/departure days, 7 riding days, 1 rest day)
Average riding time per day: 6-9 hours (including lunches, rest breaks, photos, etc.)
Terrain: approximately 50% pavement, 50% gravel, dirt, light sand and possible mud
Riding Skill Required: Ability to deal with changing riding surfaces including pavement, dirt, sand, gravel, and a variety of climactic conditions such as rain and strong winds
Rest day Options:

Your Rest Day on this Self-Guided Tour means you can enjoy the big city feel of Bariloche, or continue to Futaleufú for whitewater rafting, kayaking, fly-fishing, hiking, shopping, & exploring!

Motorcycle options:

Kawasaki KLR 650, BMW F700GS, BMW F800GS, BMW R1200GS
Included:
Motorcycle rental of your choice (click "Bikes" or "Pricing" to see options)
9 nights stay in 3 to 5 Star accommodations, ranging from simple, nice, clean & safe hosterias/cabanas to top-end hotels
Road Book & Map to follow the Itinerary easily
9 breakfasts
Basic tool & tire repair kits
Motorcycle crash protection bars
Sidecases & Tank Bag
Use of a 60-Liter Waterproof Duffel Bag for the trip
3rd party liability insurance for motorcycle
Required International Papers for Border Crossings
Not Included:
GPS units (not needed, map & notes included)
Fuel for motorcycle
Optional Motorcycle Damage/Theft Liability Reduction Waiver
Motorcycle security deposit (based on waiver being chosen)
Flights to or within Chile
Visas or personal documentation
Special activities (rafting, fishing, etc.)
Cost of, or ability/option to make changes to itinerary once the reservation is made
Any non-mentioned item or service as "included"
Base Pricing in USD on Kawasaki KLR 650

1 Rider / 1 Room = $3555
2 Bikes /1 Room = $2615 per person
2 Riders /1 Bike / 1 Room = $3767
Upgrade to BMW F700GS: $400
Upgrade to BMW F800GS: $480
Upgrade to Honda Africa Twin 2016+: $640
Upgrade to BMW R1200GS LC: $760

Contact Us Here To RIDE Self-Guided in Patagonia!
Self-Guided "Fly & Ride The Best Of Northern Patagonia" Package
"Fly & Ride The Best of Northern Patagonia" means you just show up with your riding gear and personal documentation, and your motorcycle rental and hotels are already waiting for you!

The BEST OF NORTHERN PATAGONIA motorcycle route is one we developed only a few years ago after further discovery of stunning scenery and routes in northern Patagonia. Basically the same as our Guided tour package of the same name, this dual sport route takes you along 8 active volcanoes, through stunning scenery across the Andes Mountains of Chile and Argentina, via routes along 48 pristine lakes and visit 10 National Parks and Reserves, and a camera-filling motorcycle adventure that is not to be missed. In addition to experiencing all of this, the famous RUTA 40, the Carretera Austral and the Panamerican Highway all make for an adventure riding experience in Patagonia that will have most riders wondering "why didn't I do this before!"
Contact us for more tour information.
Itinerary
Day 1- Arrive in Santiago, Chile then Pucón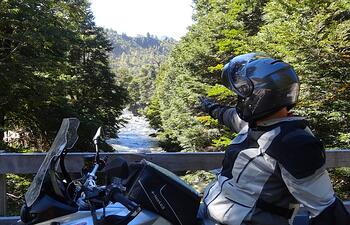 Whether you're taking extra time to explore the capital city of Santiago or just flying through, riders need to arrive in Pucón on or before this date, as you'll be departing early the next morning. (Package can be adjusted if you want more time in Pucón.) Your intra-Chile flights can be booked through www.latam.com or www.skyairline.cl - Flight should be Santiago (SCL) to Temuco (ZCO.)
After a one-hour shuttle ride from Temuco, you'll reach Pucón, a charming mountain town nestled at the foot of Volcano Villarrica in the breathtaking Chilean Lake District. Your hotel is included with the "Fly & Ride" package, so get checked in to your room, and make sure you're in contact with our Fleet Manager about getting set up with your motorcycle either today or first thing the next morning.
Day 2- Pucón, Chile to Curacautin, Chile - 270km
Once you're set up on your motorcycle rental and all questions have been answered, it's time to head out into Patagonia! Leaving the active Volcano Villarrica and National Park Villarrica to the right, the climb into the Andes Mountains begins along the border of Chile/Argentina. Later riding right through National Park Huerquehue to Playa Negra, your camera should be ready to go at this point. Enjoy Lago Caburgua in front, Volcano Villarica in the background, and all the gorgeous forestry around. After lunch in Conco, enter National Park Conquillo with 3 beautiful lagoons await. Riding along old lava flows of Volcano Llaima and through forests that are home to 1000 year old Araucanía Trees, this is a fantastic first day of riding on challenging gravel roads with many photo stops. Settling into the night near Curacautin, the hotel and dinner options await.
Day 3 – Curacautin, Chile to Lago Alumine, Argentina - 180km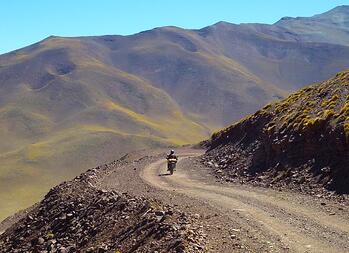 Yesterday was a fantastic day of challenging riding and stunning landscape, but today it gets even better. The ride goes up along the base of the active Volcano Lonquimay and Crater Navidad where we'll follow its latest lava flow from 1988. As if the black-lava landscape isn't surreal enough, crossing the Cordillera Lonquimay produces more stunning views. Along the Sierra Nevada, follow three beautiful lagunas, and reach Paso Icalma for crossing from Chile into Argentina! A short ride then leads to the destination of Villa Pehuenia at the shore of Lago Alumine, hopefully in time to catch a beautiful sunset over the lake.
Day 4 – Lago Aluminé to Bariloche, Argentina - 350km
Leaving Lago Aluminé, the scenery changes dramatically on the ride to the Swiss style town of San Martin de los Andes. Now you'll get a feel for the vast emptiness of the Argentina pampas region seeing see Volcano Lanín (3728m) from a distance and probably deal with some of the typically forceful winds on the Argentine side of the Andes Mountains. After lunch, enjoy the famous "Seven Lakes Route " through National Park Nahuel Huapi, and many photo stops later we reach the ski resort town of Bariloche for the night and the first chance for an Argentine "asado" (barbeque) in this lively town.
Day 5 – REST DAY in Bariloche, Argentina or go ahead to Futaleufú, Chile for whitewater rafting or fly fishing!

Even the most conditioned riders need to rest from time to time, so it's important to have some off-motorcycle time. For those who still want to remain active though, the charming ski resort town of Bariloche offers plenty of local culture, shopping and restaurants with great views of Llao Llao and Lago Nahuel Huapi. Anyone wishing to take a short rider can enjoy the "Circuito Chico", a one-hour loop through the famous Llao Llao Resort with many great viewpoints. Or, look ahead to the town of Futaleufú if you prefer to enjoy your Rest Day in a town that's world famous for whitewater rafting and fly fishing, if you wish! (Tell us at the time of booking where you want your rest day to be.)

Day 6 - Bariloche, Argentina to Futaleufú, Chile - 360km - Ride time 7-9 hours
Leaving Bariloche, first follow the legendary Ruta 40 as sweeping turns take you through rural Argentina. Later, enjoy a detour through "Parque National los Alerces" where sweeping sandy turns through "Fitzroya" trees (cousin to the Redwoods found in California) make for more scenic riding. Beautiful lakes and mountains guides show the path through the National Park, then crossing the Andes again, cross the border back in Chile for the night in the famous whitewater-rafting, kayaking, and fly fishing town of Futaleufú.
Day 7 – Futaleufú to Hornopiren, Chile - 270km - Ride time 7-9 hours – (with 2 ferries)
Today the gravel road follows the whitewaters of Rio Futaleufu and the Sierra la Ventana. Just past Lago Yelcho, you'll reach the world famous "Carretera Austral," and some of the most picturesque scenery in the world. Riding through Parque Pumalin, owned and preserved by the late Doug Tompkins, founder of the North Face clothing company, more interesting history and status of Patagonia will be revealed. After stopping in Chaiten, the town that was destroyed at the 2008 volcano eruption, take the ferry to Hornopiren where suddenly you're on the seawater of the Pacific Ocean! Two scenic ferry rides will take us through the Reñihué and Coman Leprepu Fjords, a major center point of Chilean salmon farming.
Day 8 – Hornopiren to Puerto Varas, Chile - 260km - Riding time 6-8 hours
Today's ride passes through National Park Hornopiren and follow the shoreline of these Pacific inlets to start things out. Across the fjord can be seen Parque Nacional Alerces/Andino near the Cochamo Valley, which many people call it the "Yosemite Valley" of Chile. Pressing on to Ensenada on Lago Llanquihue on your way to Lago Todos los Santos, stop at Petrohue waterfalls and then a fantastic asphalt road (riding paradise) takes you up Volcano Osorno. At the base of the Ski resort there, you can enjoy a beautiful view over Lago Llanquihue before descending to the touristy town of Puerto Varas on the lake shore of Lago Llanquihue for the night.
Day 9 – Puerto Varas to Pucón, Chile - 360km - Ride time 7-9 hours
Wake up with a fantastic view of Volcano Osorno across Lago Llanquihue! Following the lake through Frutillar (where many Germans settled in the late 1800's) and Puerto Octay, finally some moments can be spent on the Panamerican Highway. On your way back to Pucón, follow the shore line of Lago Panguipulli, Lago Neptune, Lago Calafquen and Lago Villarrica, where the Chilean Lake District holds such a simple and pleasant beauty. The ride down into Pucón might bring on a case of mixed emotions as you look back at the amazing trip through Northern Patagonia. Just think: there's still more of Patagonia to be uncovered!
Day 10 - Breakfast, airport transfer, flight home
If you absolutely must leave this day, we do understand you'll be fighting the temptation to skip the flight. Chile has so much more to offer and we have so much more to help show you, so we hope you enjoyed and will return for other Patagonia motorcycle trips, because there's still plenty more to experience!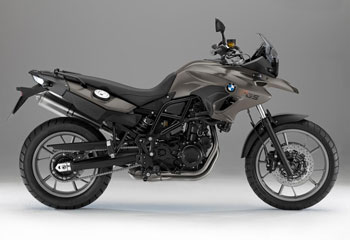 BMW F700GS (twin cylinder)
The new F700GS offers a larger windshield, enhanced braking system, Electronic Suspension Adjustment, Automatic Stability Control, and a handful more horsepower! As if the previous version (the F650GS) wasn't a good enough adventure bike, this mid-weight option continues to be the most versatile and popular motorcycle rental option.
X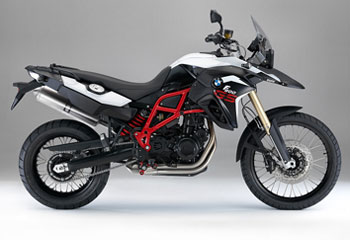 BMW F800GS
Certainly considered the "athlete" of the BMW team, the F800GS can be counted on to carry all your travel gear and still maintain the awesome feeling of a pure off-road machine when you're in the dirt. With over 215mm of suspension travel, the F800GS boasts 85 horsepower from its twin-cylinder engine, and is sure to give an adrenaline rush when you unleash it!
X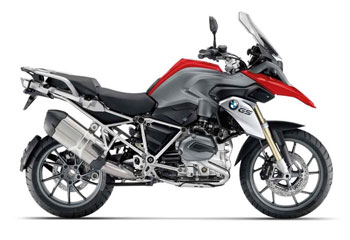 BMW R1200GS - Liquid Cooled
Revised back in 2013, BMW it seems has done it once again in the world of adventure motorcycles. The new liquid-cooled version of the famous R1200GS comes with a more "upright" stance and off-road friendly positioning. Now with a wet clutch, a higher air intake perfect for river crossings, and a 10% horsepower increase over the previous model, BMW has clearly made improvements on what was already a great adventure bike.
X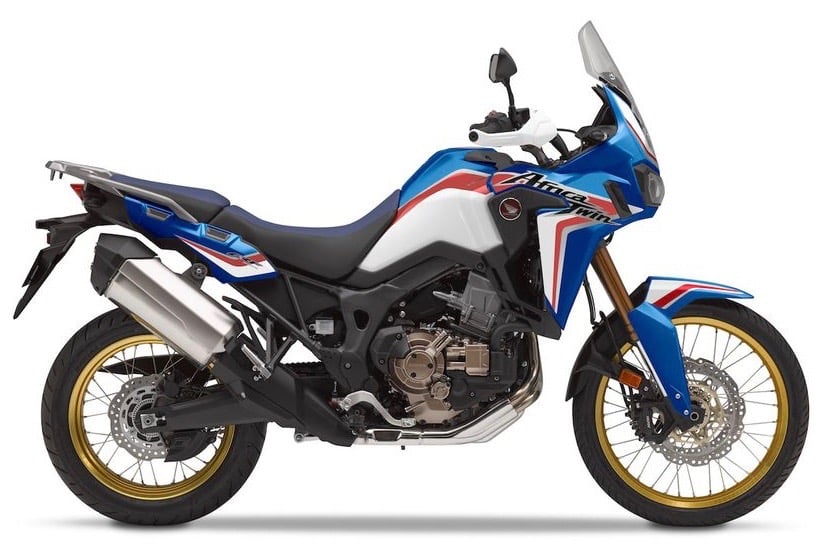 Honda Africa Twin
Finally, the return of a legend! The long awaited, and thoroughly updated Africa Twin by Honda has been talked about for years, finally making itself available in various markets around the world in 2015. With a four-valve Unicam® cylinder head 998cc parallel twin engine, more power than an adventure rider could ever need is available along with suspension travel and ground clearance to handle the most remote and rugged terrains and pathways.
X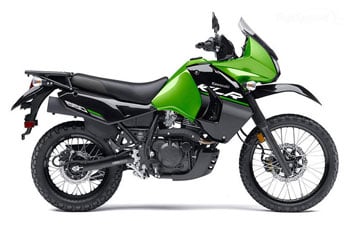 Kawasaki KLR 650
Another famous bike for adventure travelers, the KLR has been tested and proven by riders everywhere. Kawasaki made changes in recent years, making this bike now even more comfortable for the "open road" aspects of travel while not losing any of its off-road ability.
X