Guided or Self-Guided Tour: The Northern Thailand Experience
Itinerary
Day 1 – Welcome to Thailand!
This beautiful country, rich with history and full of friendly, smiling faces awaits you for what will undoubtedly be a motorcycle trip that you'll never forget. A simple 15 minute transfer to your hotel in the Old City of Chiang Mai will remind everyone just how motorcycle-friendly this country is, and that you'll definitely be piloting a much "larger than average" bike throughout the region. Get settled in, and our staff will explain the rest about check-in, bike papers, and such.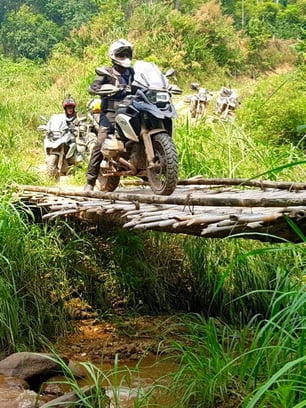 Day 2 – Chiang Mai to Mae Sariang
The much-anticipated riding begins! But only after a proper fitting and familiarization with the motorcycle reserved for your adventure. Leaving Chiang Mai and headed southwest, don't worry if a 2nd cup of coffee is needed as part of your daily routine, as even in the countryside, you'll see just how much the Thai people LOVE having coffee regularly available. With a bit of off-pavement riding en route to the Vachiratharn Waterfall and a climb to the top of Doi Inthanon (highest peak in Thailand at 2,565m) the entire route is designed to be as "rural" as possible without missing some major city attractions. Twisting and turning your way to Mae Sariang along the Yuam River near the Myanmar border, enjoy a relaxing look back on your first day's RIDE, and more great riding ahead!
Day 3 – Mae Sariang to Mae Sot
Heading toward a gateway city to Myanmar, the smallest backroads we know of will bring site to the biggest smiles we know of. Small villages, friendly people, and a simple way of life will remain somewhat of a "theme" for the rest of this trip, so settle in for some "travel nirvana," all by the twist of your wrist. Have you noticed how good the food is here yet?
Day 4 – Mae Sot to Sukhothai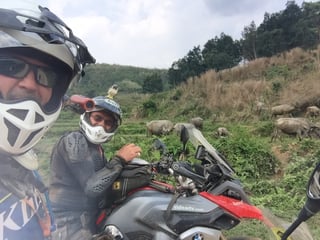 Riding near the Friendship Bridge connecting Myanmar and Thailand, it's possible to walk across to the local markets (if time allows.) Then eastbound through the countryside, long sweeping turns along Route 12 give way to more of an urban setting, and the UNESCO World Heritage Site and Heritage Park that Sukhothai is partly famous for. A sunset stroll through the park gives great photo opportunities for the 26 Buddhist temples that remain with stories of the "whispering Buddha" taking our minds away from the modern world. Relax for an evening in excellent accommodations, and ready yourself for more great riding ahead.
Day 5 – Sukhothai to Nan
A traditional Thai breakfast paves the way for more great coffee stops nestled amongst more twisting and winding roads. By this time in the trip, Riders may actually miss the opportunity to ride on a straight section of road! Witness the largest teak tree in the world in Ton Sak Yai National Park (estimated to be over 1,500 years old with nearly a 10m base circumference) en route to a lunch spot near the Sirikit Dam on the Nan River. A brief ferry crossing adds even more variety to this motorcycle adventure, as more tiny villages, smiling faces and great twisting roads lead you to Nan for a little relaxation.
Day 6 – REST DAY in Nan, Thailand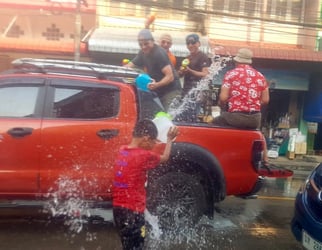 That's right, although some local riding amongst the mountains around Nan is possible this day, it's a good idea to have some rest as well to remain sharp and fresh for the riding ahead. Relax, soak-up and soak-in all the sites and scenery thus far, while enjoying shopping opportunities for local crafts here in Nan. Speaking of "soaking," did you choose our April trip date because of what we said about Songkran? If so, prepare for a day like no other in this world. Walk through a fun small city in Thailand, connecting with relaxed, fun, and warm people in this hottest month of the year. Belief is that, keeping a cool body, we keep a cool mind; therefore we remain peaceful and calm in our demeanor. Enjoy as virtually everyone in your part of the world strives to "keep you cool" in a time-honored tradition like no other!
Day 7 – Nan to Chiang Rai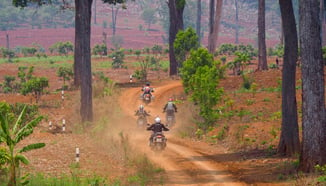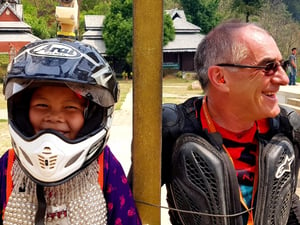 Writhing your way toward the Golden Triangle and fun town of Chiang Rai, did a few route options may exist, but we'll make sure you enjoy the best. Settle down into Thailand's northernmost city for the night, and charge up for the days ahead.
Day 8 – Chiang Rai to Thaton
With the Mekong River just in the distance, the ride heads further inland while remaining in these northernmost spaces of Thailand. With the newly paved "Paradise Road" as part of today's journey (and redefining the meaning of "sweepers") today's ride is yet another that has Riders celebrating the fact that they ride!
Day 9 – Thaton to Pai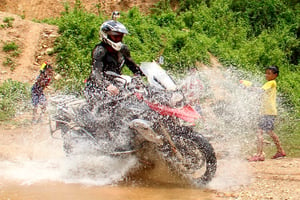 This celebration begins once again as both paved and dirt riding options lie ahead of you're the front wheel on the motorcycle rental included in your package. Choosing a town like Pai gives way to "international encounters," as the overnight plans in this fun town are an attraction to travelers from all around the world.
Day 10 – REST DAY – Pai, Thailand
We choose the best locations for these much-needed rest days, noting that if the itch to twist your wrist still exists, that just exploring the area around Pai will be a welcome experience. Just within this bouncing town though, there will be plenty to keep people busy with shopping, dining, and international faces. Short excursions to nearby caves and geological features are also available, but don't forget to rest-up for the big finish ahead!
Day 11 – Pai to Mae Hong Son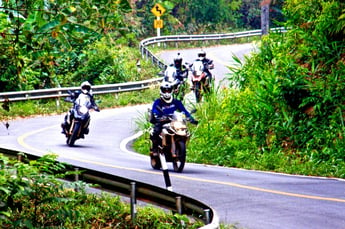 With 1864 curves spread out over the Mae Hong Son Loop, notice on some of the popular travel forums that even non-motorcycle riders recognize that this ride is one of the most exciting riding opportunities in the world. Pick your rhythm, find the apex, challenge yourself to achieve riding perfection, all while trying to focus on the path ahead instead of the surrounding scenery. --- With the end of the day bringing opportunity for a boat ride to see one of a few Longneck people's villages out in the remote countryside, perhaps even near the end of this trip, you're still amazed at the wide variety of experiences and joys this riding experience puts before us.
Day 12 – Mae Hong Son to Chiang Mai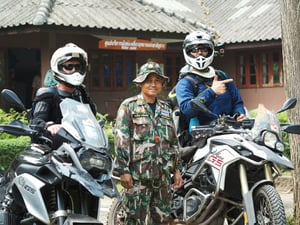 Weather permitting, a wild 80km ride nicknamed "The Elephant Track" over a wide variety of mixed and challenging terrains will make an incredible start to the riding day. Through very remote and isolated villages in mountain settings west of Chiang Mai, not every trip itinerary can be so perfect as this one, finishing with some of the greatest scenery and what is seemingly a "composite" of all the types of riding challenges you've bested up to this point. Pull into the Old City of Chiang Mai once again, raise your helmet to reveal smile wrinkles like no other, and congratulate yourself for having now ridden some of the very best routes in Northern Thailand, or perhaps anywhere in the world!
Day 13 – Departure Day
Stay if you can or leave if you must, but we understand if you're already thinking about a return to Thailand or what other incredibly fun experiences can be had in Southeast Asia on 2 wheels. We congratulate you sincerely on a safe finish, and hope you'll share your thoughts, photos and videos on what it was like for you, riding this Northern Thailand Experience!
Minimum Essential Gear for RIDE Training
If you're planning to jump on a guided tour or training with RIDE Adventures, it's essential that you have the right gear. This helps to ensure your safety and the safety of others while on the road.
Not being properly prepared can lead to injuires that could have been avoided. Our guides have created a Minimum Essential Gear Guide if you plan to book a RIDE Adventures. If you don't come minimally prepared there is a chance our guides will prevent you from hopping on a bike. Make sure you're prepared for the adventure.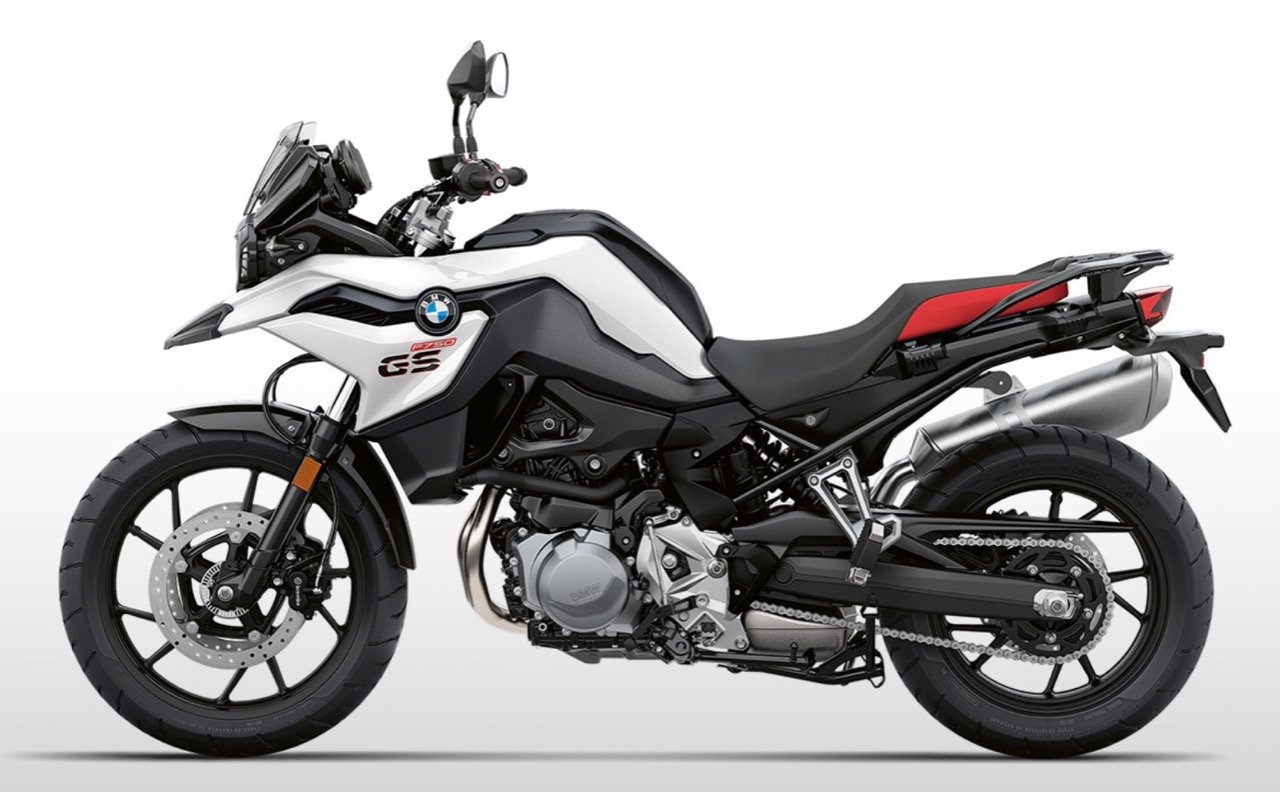 BMW F750GS
Not everyone needs a gigantic adventure bike to have fun, and the BMW F750GS fills that niche of "big enough for the long haul, small enough to have fun." With a power-to-weight ratio similar to the bigger models, 77hp can be used to hang with any other adventure bike on the market and perhaps be even more fun when it comes to the dirt roads and tight switchbacks.
X
Seat Height:
32.1 in
Curb Weight:
493lb / 223kg
Fuel Capacity:
4 gal / 15 L
Displacement:
853 cc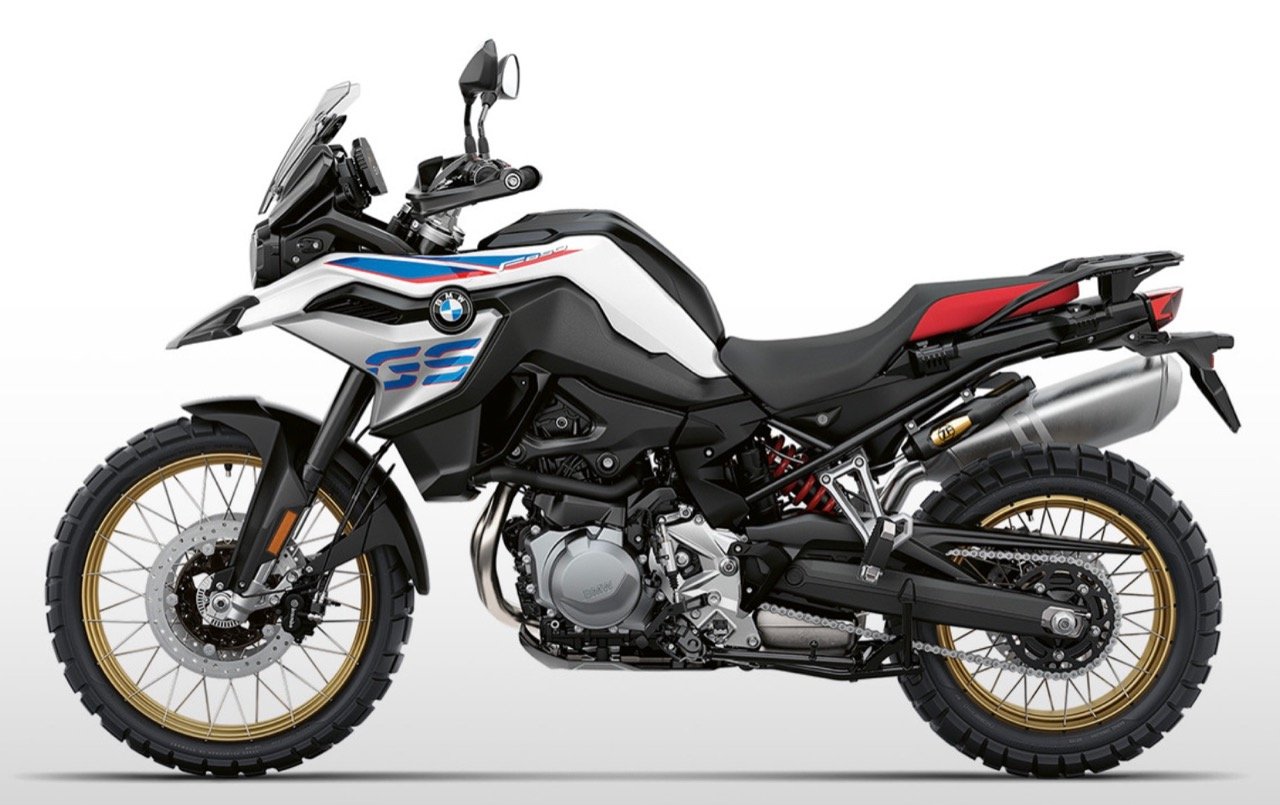 BMW F850GS
When it's predecessor launched in 2009, the world recognized the beauty of a "middle-weight" adventure bike, perhaps most appropriately built to handle it all. The new BMW F850GS builds on a decade of riders trotting the globe on a machine with all the power you could ever need, and agility to go have almost dirt-bike-like fun when the luggage and passenger aren't along for the ride.
X
Seat Height:
33.9 in
Curb Weight:
504lb / 229kg
Fuel Capacity:
4 gal / 15 L
Displacement:
853 cc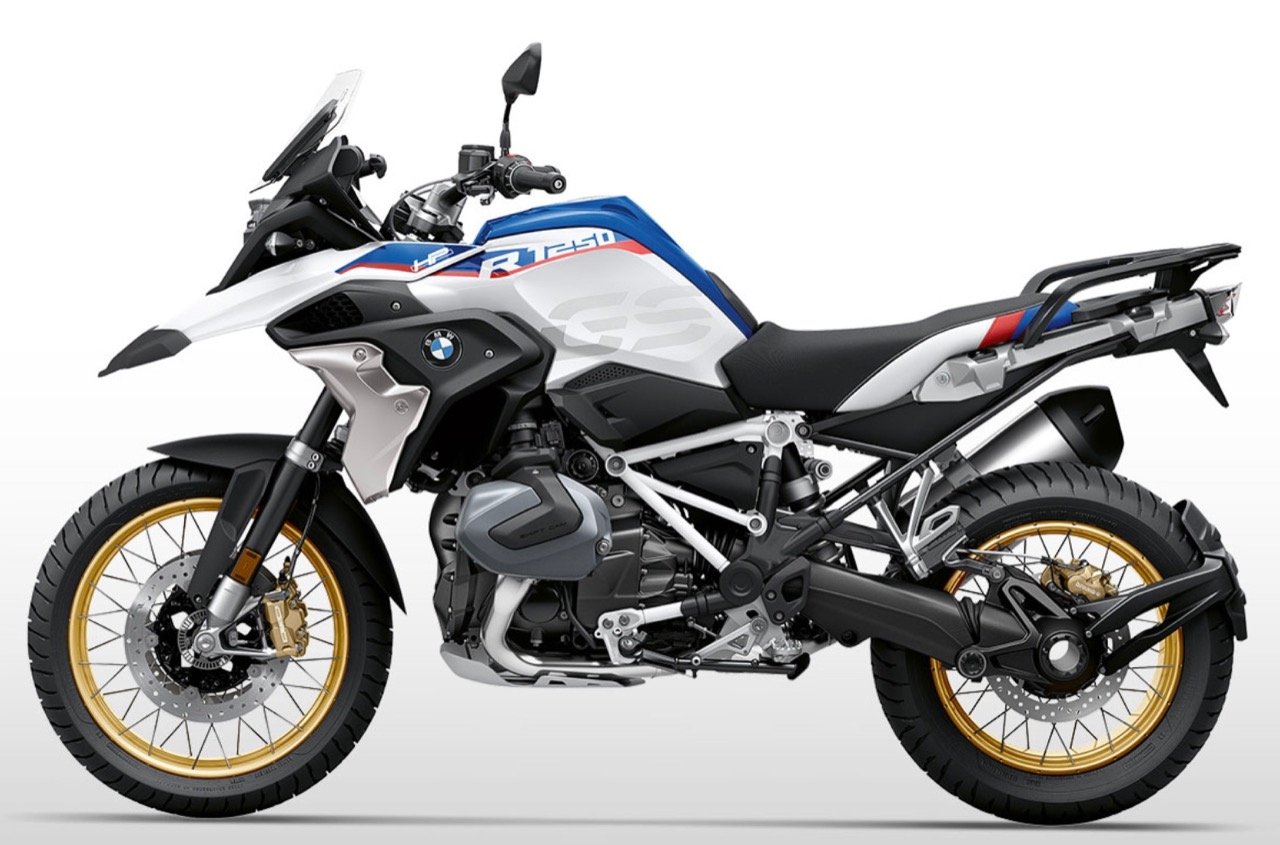 BMW R1250GS
Freshly updated after multiple generations of industry-leading design, BMW's R1250GS is yet another masterpiece coming from the company that many will claim pioneered the thought of adventure riding. Boasting 136hp now, yet still maintaining the "flickability" many of us feel in the GS line, load up the bike or head out solo, and you're sure to have a blast from this high performance machine.
X
Seat Height:
33.5/34.3 in
Curb Weight:
549lb/249kg
Fuel Capacity:
5.3gal / 20 L
Displacement:
1254 cc