Well here it is, another of my best attempts to share with you "What's it Really Like" has been posted on YouTube, this time, for our Northern Thailand Experience route. If it weren't for Garrett's prowess at video production, I'm not sure how else we would get such sentiment out. Folks, no matter what ... neither words nor video will ever do a riding experience like this any justice.
So there I was, getting off the plane in Chiang Mai, Thailand, admittedly skeptical about just how great the riding ahead would be. With so many other incredible routes ridden through over 30 countries on 4 continents this past decade, I actually had very low expectations for how much fun and variety could be realized on a 5th. What I would soon find out, however, was that Thailand isn't only full of OUTSTANDING riding opportunities, but that the year-round possibilities for riding weather (albeit wet sometimes) would fit perfectly into our model of giving Riders plenty of opportunities to twist throttles even in their coldest months back home.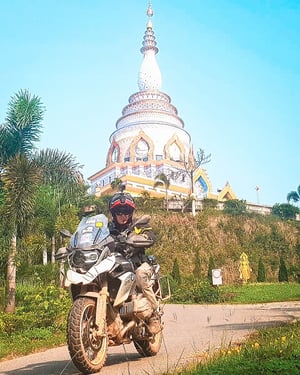 1) The Highlight Reel - Northern Thailand is full of highlights, and this route shows Riders some of the very best riding, like the Mae Hong Son loop and its 1864 twists and turns that have us buzzing with bike-leaning pleasure. The Golden Triangle (opium trade zone), UNESCO World Heritage Sites like Sukhothai full of fascinating Buddhist temples, the long-neck women of the Kayan Tribe, crossing the Mekong River, and a non-stop string of fun paved and off-pavement riding routes will make anyone appreciate one simple fact: That the motorcycle is absolutely the best way possible to travel and explore a country like Thailand. Putting ourselves in such direct contact with these sweet, friendly people and seeing how life is away from the major cities all wrap-up for one incredible travel experience. As the video reminds us, part of our job at RIDE Adventures is to have done the research, riding and exploring the route possibilities to make the greatest highlight reel possible for our Customers. Another part of our service (if you're willing to rely on us) is making sure that you also get to experience the best riding possible while making it quite easy for Riders to enjoy a "turnkey" service for heading over there to explore.
2) Trip Formats - Because this trip stays within Thailand, we're able to offer it as either a Guided Group or a Self-Guided package. (See Pricing section for details.) The fact that we don't cross any borders also helps keep the price low for such a trip, as we're avoiding having to create all sorts of extra paperwork and insurance and such. Keep in mind that whether your wish is for a Guided Group or a Self-Guided package, this trip is also available as a Private Group trip for those who prefer familiar faces or want to organize a corporate retreat, etc.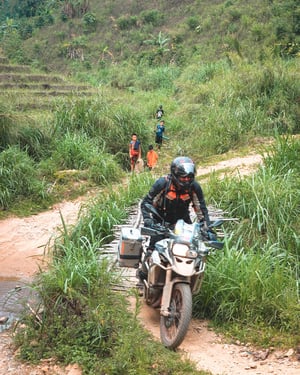 3) Seasonality & Songkran! - May and June mark the start of the rainy season, where yes, it's still possible to enjoy this trip ... if you're okay getting wet. The best and busiest months for us will be November through April though, when we get to enjoy one of life's greatest highlights by experiencing Songkran, the 3-day Thai New Year celebration. I personally can't look back at that footage from the country-wide water fight without beaming a huge smile out. This celebration, one that I was admittedly skeptical about participating in, will forever rest in my mind as one of the greatest experiences I've ever had in my life. (Right up there with Oktoberfest at the Wiesn in Munich, and my first time riding through Patagonia.) Yes, April is extremely hot in Thailand, so this may not be the time for everybody to try riding there, but that heat all plays into the tradition of dousing each other with water to keep cool, to relax, and to celebrate life. Such joy, so many beautiful smiles and pleasant demeanors, I cannot put it into words. You need to experience it yourself and see why it chokes me up.
4) Terrain - Like so many of our other routes, RIDE Adventures wants to celebrate the option to ride both on and off-pavement, and such is perfectly possible on this Northern Thailand Experience route. Tiny dirt roads through small villages that sometimes appear pleasantly lost back in a simpler time, and challenging, winding tracks that roll through valleys and over ridges all make for totally fun variety. Depending on weather conditions though, enough rain could make it necessary to skip some of the dirt sections of the trip, as we're only offering these big Adventure Bikes (and not dirt bikes or scooters as of yet.) However it works out for your particular trip, there is no shortage of fun riding to be had, as long as you don't prefer riding straight roads ... because there's only about 5km total of straight roads on the entire route!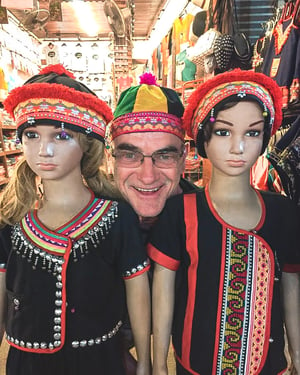 5) Experience Needed - This route is marked as a Level 4 on our Tour Route Difficulty Grading, and as such, only Riders of this level should register for such riding. As previously mentioned, enough rain/mud could require some last-minute adaptations to the route making it more of a Level 3, but still, not a trip that is meant for Riders without significant experience dealing with constantly changing elevations, twists, and turns. We sometimes get the question, "can new Riders join these trips?" Of course "new" can mean a lot of things, and at the very minimum, a valid motorcycle license is needed to ride any of the trips on bikes we offer. All that said though, it's best to consult with us and explain your riding background in detail, so we can best help you determine if you're ready for such an adventure.
6) Want to Reserve? - The Northern Thailand Experience trip is one that again, I simply can't do any justice by spoken or written words. Plenty about the trip is explained on that page including an Overview of the trip, the Highlights, Bike Options, and Pricing. Please have a look around, and note that ultimately we'll need to know if you're coming alone, if you want a Shared or Single room, and of course, which bike you want to have reserved and waiting for you. Once that's done though and you're in a position to look forward to such an experience, I promise ... if you enjoy Thailand, the routes, cuisine, sites, scenery, and friendly people the way the rest of us have, this will be one of the best travel decisions you've ever made : )