Dave Diamond went from being a motorcycle touring customer in Patagonia a couple of years ago (where he rented the BMW F800GS) to the guy that came home and almost immediately bought the KTM 990 Adventure Dakar Edition. You can see a
previous blog post here
about how Dave's bike now turns 15% more horsepower than it did originally, and below are his thoughts about the bike and necessary add-ons overall. Really though, is this commentary about a bike, or the motorcycle industry as a whole?
-RIDE Adventures, LLC
---------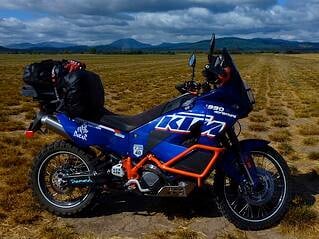 I own a 2011 KTM 990 Adventure Dakar Edition & I love it. However, I've wondered why the Austrians never made some simple design improvements that were "discovered" by the aftermarket parts community years ago. I'm a normal adventure rider not a paid professional tester, so how is it that it only took a 3000 mile ride up from Los Angeles to the 9th annual KTM Rider Rally in Bend, Oregon to discover some of these flaws for myself ?
Let me first start with what I consider to be the most clever improvements you can make for the 950/990:
frame mounted handle to help raise the bike onto the center stand
bracket to relocate the side kickstand off the gearbox & onto the frame
bolt-on larger footprint for the side kickstand
racetrack worthy clutch slave cylinder for improved feel
bracket to relocate the right side mirror off the fluid reservoir onto the handlebar
KTM Foot Pegfolding mirrors
larger foot pegs
steering damper
12vlt. power supply in the "glovebox"
adjustable hand levers
tubeless rear tire
rear swing arm sliders
12vlt. battery tender breakout cable & maintenance charger
hand grip warmers
metal radiator guard
heavy duty bash plate
rear brake reservoir guard
folding rear brake pedal
These modifications will both improve your riding experience & make your bike better. **The only downside is all this will cost you a bloody mint !!
I'm fairly certain that if one of the major Teutonic car makers like Porsche or Mercedes found out about a design flaw they would certainly fix it in the next model year or recall the vehicle. So what gives?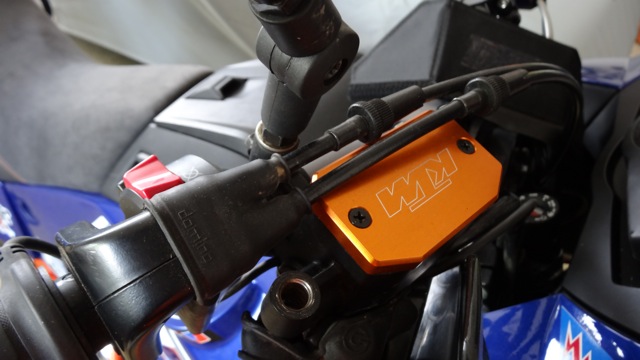 KTM 990 Mirror Bracket: I believe there are several factors at work here. It could be that the factory thinks why "give" stuff away with the bike when they can make extra money selling accessories a la carte? Or maybe they believe the bike to be fully tested & at a price point which is good enough for the average rider? Is it that they see the importance in nurturing the aftermarket community because independent suppliers help spread brand awareness. Perhaps they were too concerned with the future 1190 model to address any of the problems on the old 950/990? Or maybe they feel that the Adventure is a bit of a cultish type bike anyway & that KTM customers just really like to customize?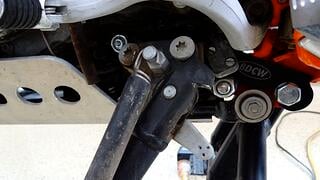 KTM Kickstand Relocator: In my opinion, it's probably a little bit of all of the above. I wanted to talk about it with corporate at the Rider Rally, but to my chagrin there was no representation from Austria. Considering their racing pedigree I'm surprised they don't fit some of these parts standard. My 990 model cost almost as much as the BMW, but bone stock it's relatively pedantic by comparison.
Don't get me wrong folks. I'm not writing this article to be a "hater". I'm a big KTM fan & identify myself as a true orange-man through & through. I just feel like there are a lot of potential customers who would prefer to pay a little more for their new bike to be totally decked out when it leaves the showroom. Let's face it, with several choices of good Adventure motorcycles now available I think it would be wise for KTM to really go for it & make a true uber bike as a way to separate themselves from the other brands.
-Dave Diamond