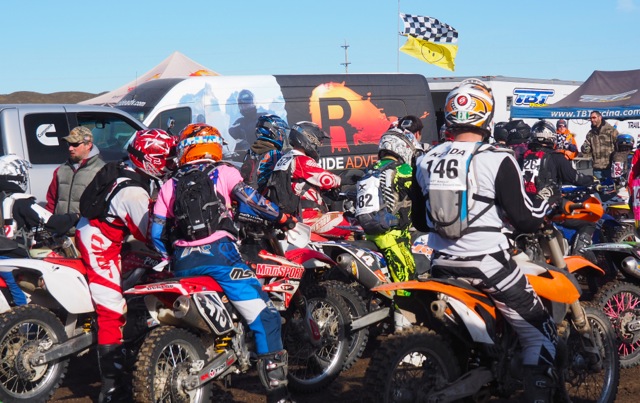 If you've either purchased, or are planning to buy the perfect dual sport motorcycle for some much needed adventures, how about a little list of events and ideas to help get you 2016's rally planning started? (Can you we're excited about the nice springtime weather?!!?)
Over the past 6 years, we've enjoyed meeting fellow riders at some of these events, although admittedly, there are quite a few on this list below that we haven't been to yet. Whatever it takes, RIDE Adventures will have staff out at as many of these rallies as possible, hoping to be there and meet you in person.
While we tend to get busy answering questions at rallies, the hope of course is that we'll get a chance to actually RIDE with you while we're there! Be sure to seek us out if you're interested in any of our tours, but are perhaps unsure about whether your riding skills are appropriate for any of our Guided Tours or Self-Guided Packages. We know all these routes and road conditions, but are you sure you're ready to handle something like our new Self-Guided, Truck Supported "Full Patagonia Adventure" package? Be sure to check with us at your next opportunity, and see you at the dual sport rallies this summer!
| | | | |
| --- | --- | --- | --- |
| Rally Name | Dates | Venue | Website |
| High Desert 250 Dual Sport | Jan. 29-31 2016 | Ridgecrest, California | http://www.usdualsports.com/2013/12/high-desert-250-dual-sport.html |
| Death Valley Rally Dual Sport | Feb. 13-15 2016 | Ridgecrest, California | http://www.usdualsports.com/2013/02/death-valley-ralley.html |
| Anza Borgego Desert Dash Dual Sport | Feb. 20-21 2016 | Julian, California | http://www.usdualsports.com/2012/07/2012-anza-borgego-desert-dash-dual.html |
| Devil's Creek Dual Spor | March 5-6 2016 | Dade City, Florida | http://www.usdualsports.com/2012/07/2012-devils-creek-dual-sport.html |
| Death Valley 350 Dual Sport | March 12-13 2016 | Ridgecrest, California | www.usdualsports.com/2013/02/death-valley-350-dual-sport.html |
| Tucson Dual Sport | March 19-20 2016 | Tucson, Arizona | http://www.usdualsports.com/2013/07/tucson-dual-sport.html |
| Lake Hope Dual Sport/Adventure Ride | 5/21/16 | Lake Hope State Park, Ohio | http://www.usdualsports.com/2016/01/lake-hope-dual-sportadventure-ride.html |
| Desert Daze Dual Sport | March 24-27 2016 | Southern Arizona | http://www.usdualsports.com/2013/05/desert-daze-dual-sportadventure-ride.html |
| Ride For Kids Dual Sport | 4/9/16 | Glen Helen Raceway, California | http://www.usdualsports.com/2012/07/2012-ride-for-kids-california.html |
| Hoot Owl Dual Sport | 4/17/16 | Putnam, Connecticut | http://www.usdualsports.com/2014/12/hoot-owl-dual-sport.html |
| Hi-Mountain Dual Sport | 4/24/16 | San Luis Obispo, California | http://www.usdualsports.com/2012/07/2012-poly-penguins-dual-sport.html |
| Renfro Valley Dual Sport | April 30-May 1, 2016 | Renfro Valley, Kentucky | http://www.usdualsports.com/2012/07/2012-renfro-valley-dual-sport.html |
| Green Ridge Dual Sport | 5/3/15 | Little Orleans, Maryland | http://www.usdualsports.com/2012/07/2012-green-ridge-dual-sport.html |
| Flint Hills Dual Sport | June 3-5 2016 | Kansas | http://www.usdualsports.com/2012/07/2012-flint-hills-dual-sport.html |
| Show Me 200--Midwest Trail Riders Assoc. | June 4-5 | Bixby, Mo. | https://www.facebook.com/events/948981148528083/ |
| Reliability Run Dual Sport | 6/4/16 | Cable Creek Campgrounds, Ohio | http://www.usdualsports.com/2013/03/reliability-run-dual-sport.html |
| Black Dog Ride--Northwest Tour & Trail | | | |
| The Hooch Dual Sport | June 11-12 2016 | Suches, Georgia | http://www.usdualsports.com/2012/07/2012-hooch-dual-sport.html |
| Nevada Mystery 250 Dual Sport | June 11-12 2016 | Nevada | http://www.usdualsports.com/2012/07/2012-nevada-mystery-250-dual-sport.html |
| Big Bear Run Dual Sport | June 25-26 2016 | Big Bear, California | http://www.usdualsports.com/2012/07/2012-big-bear-dual-sport.html |
| Minnesota 300 Dual Sport/Adventure | June 25-26 2016 | Walker, Minnesota | http://www.usdualsports.com/2014/03/norseman-dual-sport.html |
| Flint Ridge Dual Sport | 6/26/16 | Brownsville, Ohio | http://www.usdualsports.com/2012/07/2012-flint-ridge-dual-sport.html |
| Topaz 600 Dual Sport | June 17-19 2016 | Topaz, California | http://www.usdualsports.com/2013/02/topaz-600-dual-sport.html |
| 2016 Adventure Rally --Rockies Edition | July 14-17, 2016 | Gunnison, CO | http://www.cycleworld.com/adventure-rally-sierra-edition/ |
| 6 Days of Michigan Dual Sport | July 23-30 2016 | Grayling, Michigan | http://www.usdualsports.com/2012/07/2012-6-days-of-michigan-dual-sport.html |
| Cumberland Covered Bridge Dual Sport | 7/31/16 | Matthews, Indiana | http://www.usdualsports.com/2012/07/2012-muddobersmatthewsupland-dual-sport.html |
| Moose Run Dual Sport | July 31- Aug. 2, 2015 | Walden, Colorado | http://www.usdualsports.com/2012/07/2012-moose-run-dual-sport.html |
| Quarry Run Dual Sport | August 1-2 2015 | Hancock, New York | http://www.usdualsports.com/2012/07/2012-quarry-run-dual-sport.html |
| ZTR Bootleg Dual Sport | 8/7/16 | Zanesville, Ohio 43701 | http://www.usdualsports.com/2012/07/2012-big-muskie-dual-sport.html |
| Reliability Run Dual Sport | 8/6/16 | Cable Creek Campgrounds, Ohio | http://www.usdualsports.com/2013/03/reliability-run-dual-sport.html |
| Buffaloe 500 Dual Sport | August 13-14 2016 | Columbus, Indiana | http://www.usdualsports.com/2012/07/2014-buffaloe-500-dual-sport.html |
| LBL 200 Dual Sport | September 10-11 2016 | Cadiz, Kentucky | http://www.usdualsports.com/2012/07/2012-lbl-200-dual-sport.html |
| Baby Burr Dual Sport | Sept. 10-11 2016 | McArthur, Ohio | http://www.usdualsports.com/2012/07/2012-baby-burr-dual-sport.html |
| Monkey Butt 100 Dual Sport | 9/11/16 | Newark, New York | http://www.usdualsports.com/2012/07/2012-monkey-butt-100-dual-sport.html |
| Ride Reno 200 Dual Sport | September 16-18 2016 | Sparks, Nevada | http://www.usdualsports.com/2012/07/2012-ride-reno-200-dual-sport.html |
| Nutcracker Dual Sport/Adventure | September 17-18 2016 | Logan, Ohio | http://www.usdualsports.com/2012/07/2012-nutcracker-dual-sport.html |
| Triple B Dual Sport | 9/18/16 | Tolland, Massachusetts | http://www.usdualsports.com/2015/12/triple-b-dual-sport.html |
| Somers Fun Dual Sport | 8/21/16 | Somers, Connecticut | http://www.usdualsports.com/2012/07/2012-somers-fun-dual-sport.html |
| 2016 Adventure Rally-- Sierra Edition | September 22-25, | Lakeshore, CA | http://www.cycleworld.com/adventure-rally-sierra-edition/ |
| WFO Dual Sport | 9/24/16 | Geneseo, Illinois | http://www.usdualsports.com/2012/07/2012-wfo-dual-sport.html |
| Triple B Dual Sport | 9/18/16 | Tolland, Massachusetts | http://www.usdualsports.com/2015/12/triple-b-dual-sport.html |
| Yosemite Dual Sport | Sept. 24-25 2016 | Groveland, California | http://www.usdualsports.com/2012/07/2012-yosemite-dual-sport.html |
| TCTR Dual Sport | September 24-25 2016 | Huntersville, Minnesota | http://www.usdualsports.com/2013/12/tctr-dual-sport.html |
| Extreme Run Dual Sport | 9/25/16 | Royalston, Massachusetts | http://www.usdualsports.com/2013/01/2013-extreme-run-dual-sport.html |
| Bishope 3 Day Dual Sport | Oct. 7-9 2016 | Bishope, California | http://www.usdualsports.com/2012/07/2012-bishope-3-day-dual-sport.html |
| Noble Woods Dual Sport | 10/9/16 | Acton, ME | http://www.usdualsports.com/2012/07/2012-russ-henry-dual-sport.html |
| Lake Vesuvius Dual Sport | 10/16/16 | Ironton, Ohio | http://www.usdualsports.com/2015/01/lake-vesuvius-dual-sport.html |
| Fall Foliage Dual Sport Ride | 10/18/15 | Tiger, Georgia | http://www.usdualsports.com/2015/09/fall-foliage-dual-sport-ride.html |
| Howlin At the Moon Dual Sport | Oct. 22-23 2016 | Payson, Arizona | http://www.usdualsports.com/2012/07/2012-howlin-at-moon-dual-sport.html |
| Ride In The Pines Dual Sport | October 22-23 2016 | Tuckerton, New Jersey | http://www.usdualsports.com/2012/07/2012-meteor-ride-dual-sport.html |
| King Philip Dual Sport | 10/23/16 | Wrentham, Massachusetts | http://www.usdualsports.com/2015/12/king-philip-dual-sport.html |
| Hammer Run Dual Sport | November 5-6 2016 | Port Elizabeth, New Jersey | http://www.usdualsports.com/2012/07/2012-hammer-run-dual-sport.html |
| Bitter End Dual Sport | 11/6/16 | Sterling, Illinois | http://www.usdualsports.com/2012/07/2012-bitter-end-dual-sport.html |
| Leaf River Dual Sport | 11/12/16 | Leaf River, Illinois | http://www.usdualsports.com/2012/07/2012-leaf-river-dual-sport.html |
| PSTR Toy Run Dual Sport | 11/13/16 | Assonet, Massachusetts | http://www.usdualsports.com/2015/12/pstr-toy-run-dual-sport.html |
| Barstow 2 Vegas Dual Sport | Nov. 25-26 2016 | Palmdale, California | http://www.usdualsports.com/2012/07/2012-barstow-to-vegas-dual-sport.html |