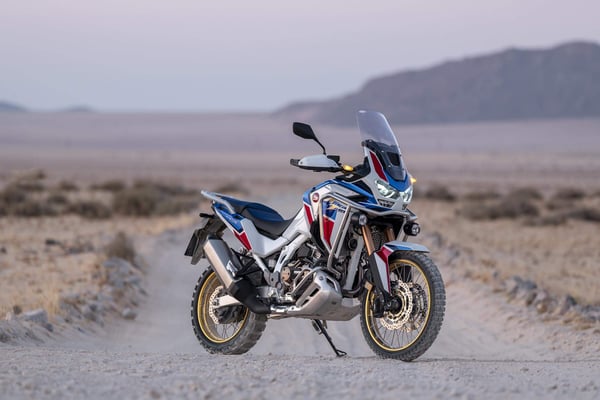 The explosion of the big-bore adventure bike segment over the past decade has brought us new releases from nearly every major manufacturer, but few bikes caused the stir that Honda's CRF1000L Africa Twin did upon its announcement and introduction in 2016.
A Brief History of the Africa Twin
The name itself needed no introduction; Honda's original XRV650 Africa Twin debuted in 1988 as a street-legal version of the NXR750 desert racer that earned four straight Paris-Dakar Rally victories from 1986-1989, growing to 750cc in its definitive XRV750 form.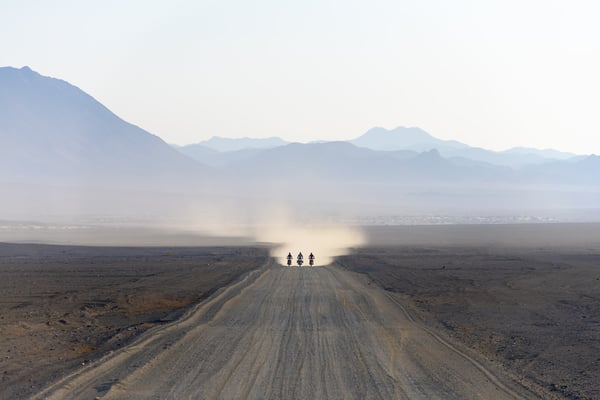 The XRV750 helped jump-start the big-bore adventure bike trend as one of the first true competitors to the legendary BMW R80GS, and gained an immediate reputation for bombproof reliability, long range, and the ability to take nearly any rider down nearly any road, anywhere in the world. The original Africa Twin enjoyed a 13-year production run, bowing out in 2003, and was never sold new in the United States, though many grey market imports have made their way over in recent years.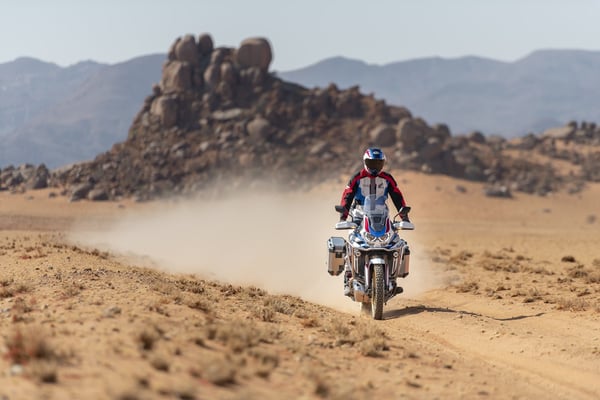 When Honda unveiled the heavily disguised "True Adventure" concept in 2014, followed by a series of teaser videos highlighting the previous bike's history, few in the adventure riding world doubted that a new Africa Twin was in the pipeline. A year of rumors was confirmed with the much-hyped announcement and release of the CRF1000L Africa Twin in late 2015.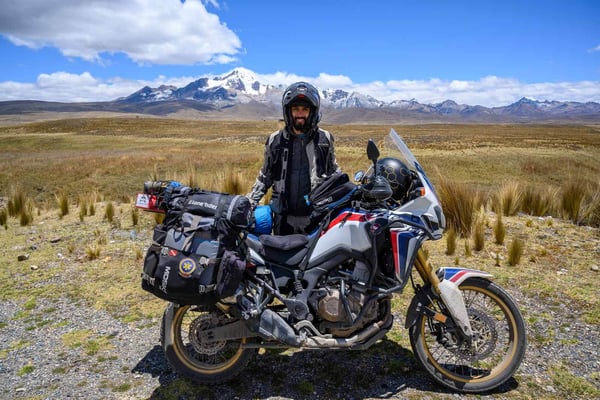 Where the ADV bikes of the moment, such as BMW's R1200GS and KTM's 1290 Super Adventure were trending towards more power, electronics, more accessories, larger size and more weight, Honda took a decidedly different tack with the Africa Twin, emphasizing its off-road, go-anywhere ability and ease of riding, made clear by its dirtbike-writ-large styling, comfortable rider triangle, and optional Dual-Clutch Transmission, a first on a top-class adventure bike.
Indeed, the new bike's external dimensions very closely matched those of the final XRV750 models, but the CRF1000L's 998cc parallel-twin, long-travel suspension, and rugged design promised durability worthy of the Africa Twin name, and performance that far exceeded its predecessor.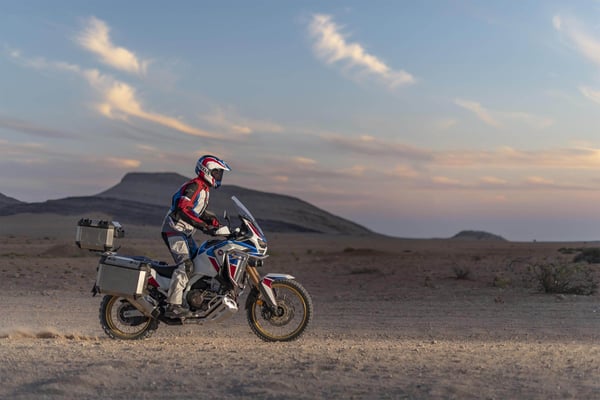 The combination proved to be a smash hit, with the reborn Africa Twin flying off dealership floors and quickly gaining a reputation as a reliable and capable traveler, as well as one of the most capable off-roaders in the 1000+cc class. Though its peak power and accessory suite could not match those of its European competitors, the reborn Africa Twin was more than a match for them on rough roads and trails, and proved to be one of the most accessible platforms for riders new to the big-bore ADV bike class.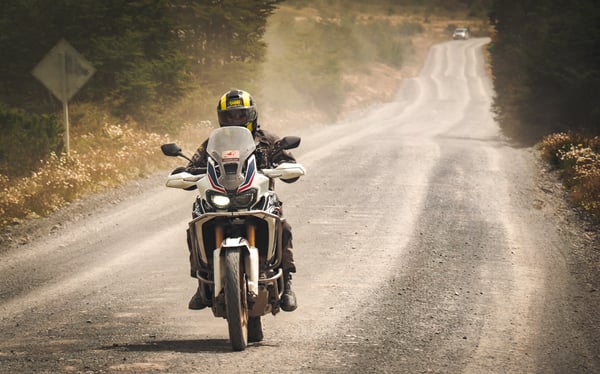 Honda brought out a mid-cycle refresh for the 2018 year, making updates to the electronics, minor tweaks to the suspension, and introducing the Adventure Sports model with a larger fuel tank, better crash protection, and more suspension travel to the base platform. For 2020, however, Team Red has brought out an all-new and much improved adventure tourer to continue the Africa Twin's stellar record: the CRF1100L.
The 2020 CRF1100L Africa Twin Lineup
Honda retains the same Africa Twin lineup as seen in 2019, with Base and Adventure Sports models available with either a six-speed manual, or a refined version of Honda's six-speed Dual-Clutch Transmission (DCT), still an exclusive feature in the 1000+cc ADV class. Underneath the slightly massaged bodywork, however, things are all-new.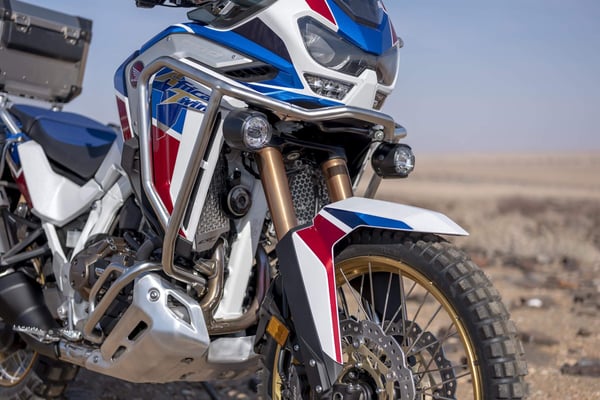 The first clue to the new AT's changes comes from the name, as a 6.4mm increase in stroke increases the water-cooled SOHC parallel-twin's previous 998cc displacement to 1,084cc. Lighter cylinder sleeves, an all-new cylinder head, and a redesigned intake with 46mm throttle bodies not only reduce weight, but more importantly, ensure compliance with stringent Euro 5 emissions standards.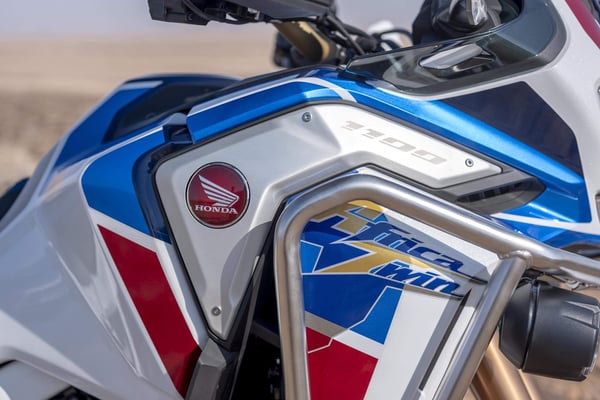 Peak horsepower and torque have increased by 6% and 7% respectively, to 100 hp at 7,500 rpm and 78 lb-ft of torque; though still well short of the most powerful big-bore adventure bikes on the market, the Africa Twin has always prioritized ease of riding over peak power, and the 2020 CRF1100L looks to only improve in that area.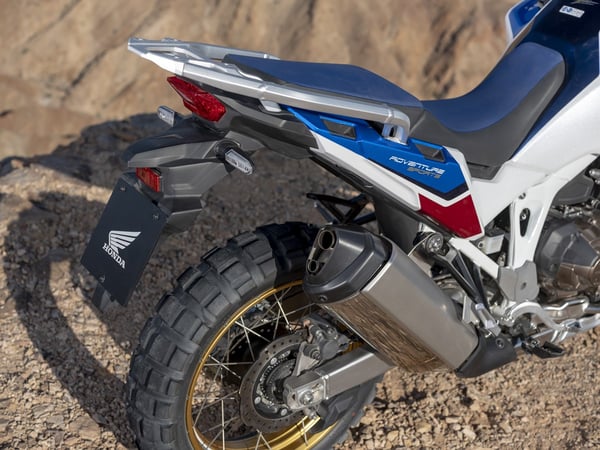 A completely new, lighter exhaust system and muffler now feature what Honda calls a Variable Exhaust Control Valve, to both spread that increased power over a wider RPM range and improve the bike's exhaust sound. Further down in the engine case, Honda have revised the manual transmission's ratios, addressing a common complaint from owners frustrated by a tall first gear and wide gap between 1st and 2nd.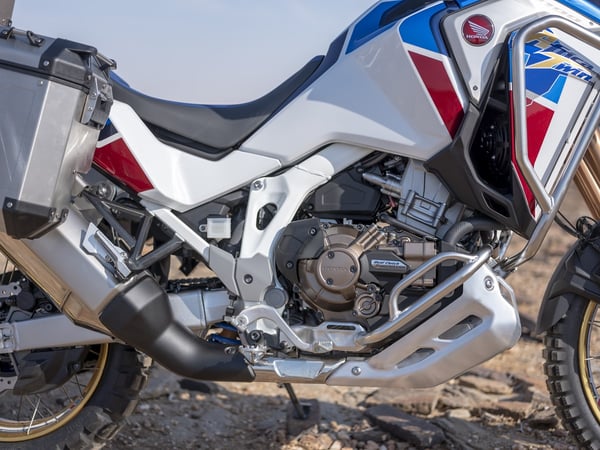 A revised steel double-cradle frame wraps around the new engine, with Honda claiming a 4-lb reduction in weight over the 2019 model, along with increased rigidity. The subframe is an all-new aluminum unit, saving significant weight over the previous welded-steel model, and is now detachable for easier maintenance. The aluminum swingarm is an all-new CRF450R-style design, adding both rigidity and simplicity while further reducing weight; total weight savings are claimed at 11 pounds for both the base and Adventure Sports models.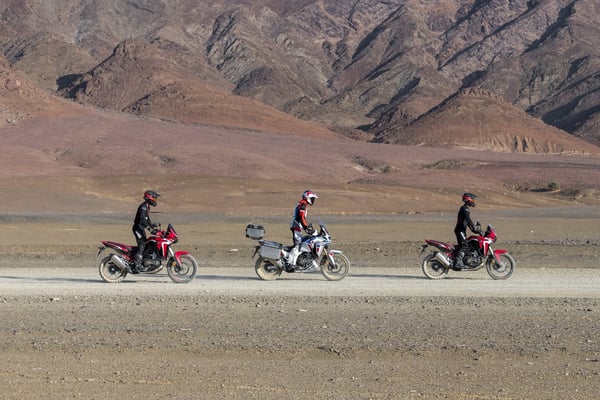 Suspension at both ends remains the same on the base model, with a 45mm fully adjustable Showa fork at the front, and fully adjustable Showa monoshock at the rear; suspension travel sits at 9.1" front/8.7" rear. Honda have not released any specifics on internal changes to the suspension, but prospective buyers will be hoping that the problems with excessive internal fork tube wear encountered by many owners, particularly on the 2016-2017 models, have been resolved, and that the suspension's overall "floatiness" has been tightened up somewhat. Brakes also remain unchanged, with 4-piston Nissin radial calipers clamping 310mm discs up front, and a single-piston floating caliper with 256mm rotor out back.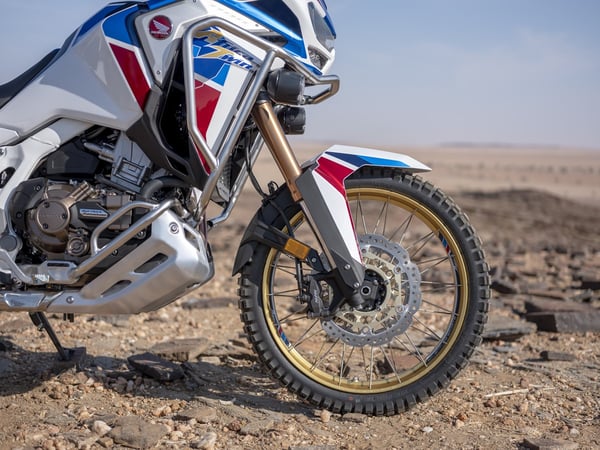 Riders will notice the most obvious changes to the new Africa Twin in the all-new electronics package. The 2018 mid-cycle refresh brought a larger LCD dash and ride-by-wire to the Africa Twin, offering increased traction control and ride mode options over the 2016-2017's basic three-level TC, though with the glaring omission of cruise control.
For 2020, however, Honda have all but started from scratch with the Africa Twin's electronics. A six-axis Bosch Inertial Measurement Unit (IMU) lies at the heart of an all-new electronics suite managing traction control, cornering ABS, wheelie/stoppie control, engine braking, power delivery, DCT control, and six selectable riding modes, two of which can be customized by the user.
Honda have been quiet on exactly how control of the dual-clutch transmission will be managed by the new electronics suite, but we speculate that it will work to reduce mid-corner shifts and other transmission behavior with the potential to upset the bike. Cruise control is, thankfully, standard on every new CRF1100L, a long overdue and welcome addition.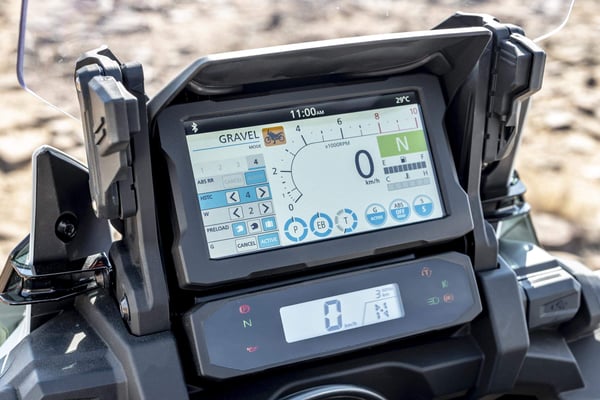 All of this newfound computing firepower is controlled through a 6.5" TFT touchscreen display and set of switchgear on the left handlebar. Besides allowing access to the Africa Twin's new and expanded ride mode options, the new screen offers Apple CarPlay connectivity through an integrated USB port. Previously limited only to the 2020 Goldwing and a handful of Harley-Davidson touring models, the addition of CarPlay is a huge deal for the ADV-touring segment, allowing for heads-up navigation for iPhone users and control of phone functions directly from the Africa Twin's dash and handlebar controls.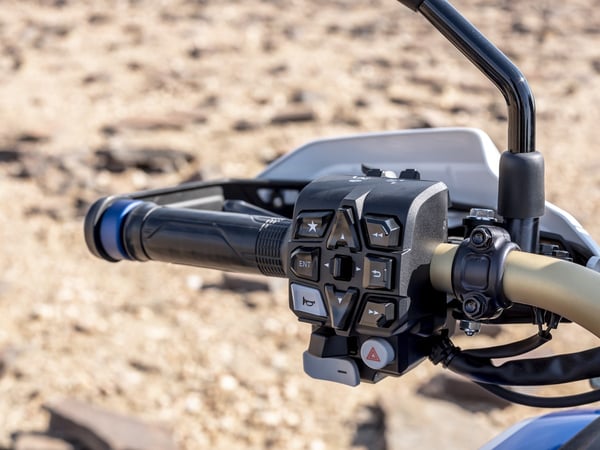 There has been no word on whether Android Auto will make its way into the Africa Twin's brain, but Android users can still enjoy wireless Bluetooth connectivity with both smartphones and helmet-integrated headsets. Underneath the fancy display, Honda has retained a small, single-bar dash, similar to those found on their smaller dual-sport models, ostensibly to allow riders using the navigation functions to keep an eye on their speed and status. Rounding out the rider-focused revisions, a narrower height-adjustable seat and slightly raised handlebar make for a more comfortable cockpit and an easier time flat-footing the bike on rough terrain.
What's New in the 2020 CRF1100L Adventure Sports
Honda's changes to the 2020 Africa Twin have also served to greater differentiate the base and Adventure Sports models. The base model now has a clearly off-road focus, retaining the previous model's 5.0-gallon fuel tank in the interest of weight savings, and shipping with a cut-down, rally-style windscreen atop the slightly revised fairing. New headlights light the way with halo-style LEDs serving as running lights, and all-LED dual high-beams.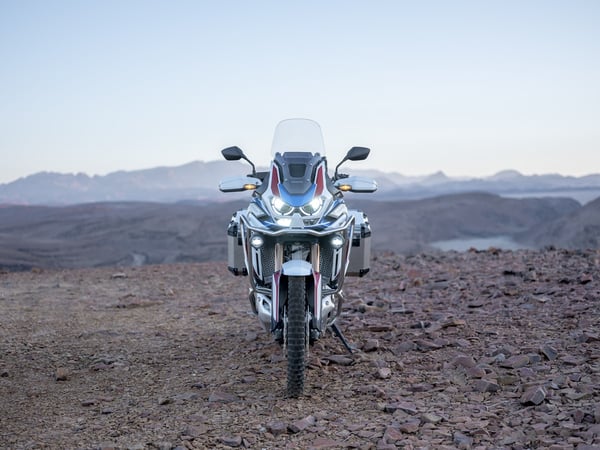 Wheels are 21" front/18" rear tube-type, assumedly aimed at those of us who tend to air down significantly when riding dirt, gravel, and trails, and. Curiously, the base model appears to not include any form of rear luggage rack, likely another sacrifice at the altar of weight savings. The Adventure Sports ES model, on the other hand, aims squarely at the long-distance adventure rider, adding a taller, 5-way adjustable windscreen and air deflectors on the fairing for improved wind protection, heated grips, a 12V plug, aluminum rear luggage rack, tubeless cross-spoked wheels matching the base model's sizes, and adding 1.5 gallons to the base model's fuel capacity, for a total of 6.5.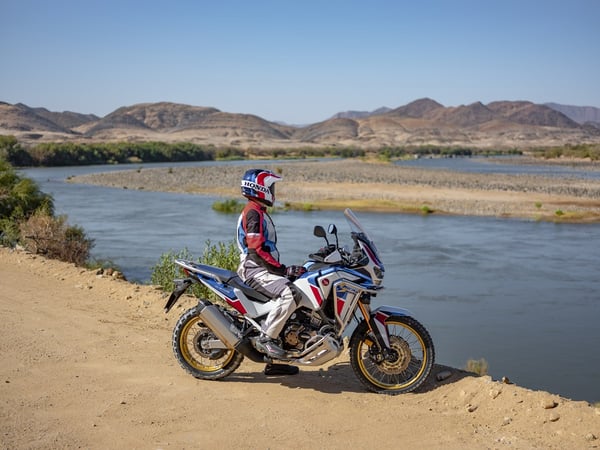 With owners of the previous model enjoying average fuel mileage in the 40-45 mpg range (and the author having neared 60 mpg over a tank at times on his 2017 model), this should give the Adventure Sports ES a single-tank range in excess of 250 miles. The most obvious external changes setting the Adventure Sports apart are the unique color scheme, minor tweaks to the fairing to better integrate the wider tank, and the integrated, lean-angle-dependent cornering lights built into the front fairing underneath the headlights. The previous generation Adventure Sports's larger skid plate carries over to the 2020 model, but Honda appear to have ditched the included crash bars; they will no doubt be available through the manufacturer's extensive accessory catalog.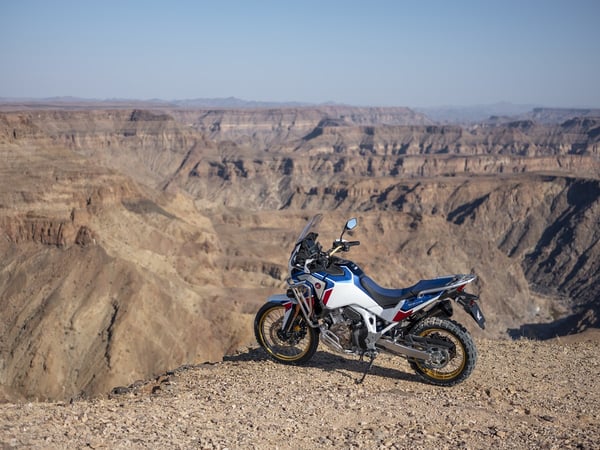 The biggest change to the Adventure Sports ES model comes in the form of its Showa Electronically Equipped Ride Adjustment (EERA) suspension, offering electronic adjustability for the first time on an Africa Twin. The EERA allows for on-the fly adjustment of compression and rebound, adjusting for road conditions in as little as 15 milliseconds, and reportedly integrates with the Africa Twin's IMU to allow the suspension to adjust for such actions as landing from jumps.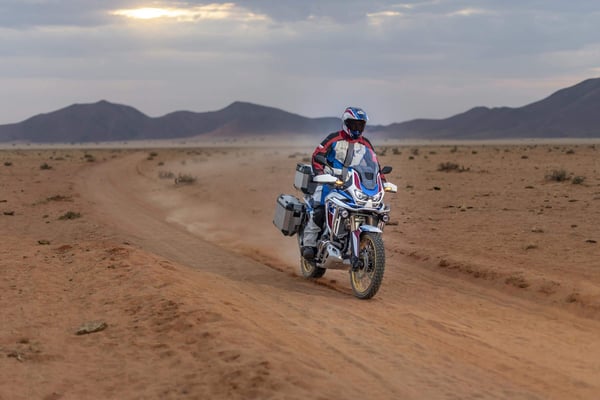 Five suspension modes can be accessed through the dash: soft, mid, hard, off-road, and a customizable "user" mode, and preload is electronically adjustable to compensate for luggage and/or passengers. Honda's foray into the realm of electronic suspension may have come later than its competitors, but the Showa system looks to be every bit as sophisticated as those from BMW and KTM, and positions the Africa Twin as a strong alternative to the European tourers.
2020 Honda CRF1100L Africa Twin Pricing and Release Dates
The new 2020 CRF1100L Africa Twin models are already on sale in Europe and should be hitting American dealership floors in early March 2020. Pricing starts at $14,399 for the base model in Matte Black Metallic with manual transmission, jumping to $17,199 for the Adventure Sports ES in Pearl Glare White/Blue; the DCT transmission is an $800 premium for both models, bringing a maxed-out 2020 Africa Twin into the $18,000 range.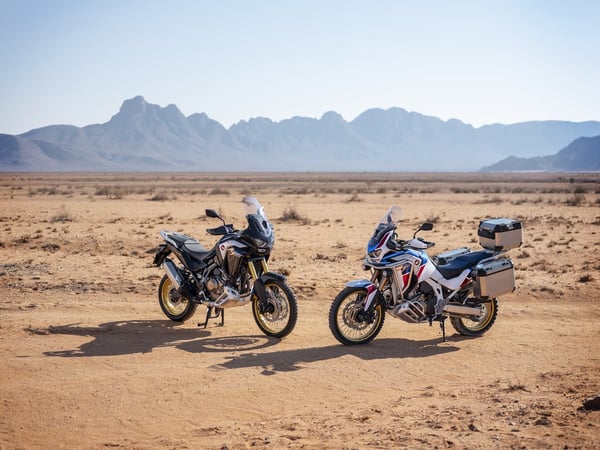 An intermediate model sold in Europe, pairing the Adventure Sports ES platform with the base model's non-electronic suspension, has not been announced for the U.S. market as of now. Honda have already announced branded aluminum luggage manufactured by Touratech, as well as a range of add-ons through the Honda Accessories catalog; one can assume that the extensive aftermarket built up around the previous model will quickly adapt to the 2020 as well.
So how is the 2020 Honda Africa Twin put together?
Let's take a closer look at its specs.
Standard 2020 Africa Twin Specs
Engine
Engine Displacement: 1084cc
Type: Parallel-Twin
Max power: 100hp @ 7500 rpm
Maximum torque: 77.4 ft/lbs @ 6250 rpm
Cooling: Liquid cooled
Valve train: SOHC (8 valves)
Fueling: PGM-FI
Bore x stroke: 92mm x 81.5mm
Compression ratio: 10.1:1
Drivetrain
Transmission: Six-Speed Manual/Six-Speed Dual-Clutch Automated Manual
Clutch:

Slipper

Final Drive: Chain
Front wheel: 21M/C x MT2.15 wire spoke, aluminum rims
Rear wheel: 18M/C x MT4.00 Wire Spoke, aluminum rims
Front Tire: 90/90 x 21M/C 54H, tube
Rear Tire: 150/70R18M/C 70H, tube
Chassis Suspension Brakes
Front Suspension/Travel: Showa 45 mm fork/9.1 in. (230mm) Stroke
Rear Suspension/Travel: Monoblock Aluminium swing arm with Pro-Link with Showa gas-charged dampener/8.7 in. (220mm)
Rake: 27.5 degrees
Trail: 4.4 in. (113mm)
Front Brake: 2x 310 mm ABS
Rear Brake: 256 mm single disc ABS
Dimensions
Fuel Tank Capacity: 5 gallons (18.8 liters)
Fuel Consumption: 48 mpg (24.4km per liters)
Seat Height: Adjustable

33.5/34.3 inch

Wheelbase: 62 in. (1575 mm)
Ground Clearance: 9.8 in (250 mm)
Wet Weight: MT 498.2 (226kg), DCT 520.3 (236kg)
2020 Africa Twin Adventure Sports Specs
Engine
Engine Displacement: 1084cc
Type: Parallel-Twin
Max power: 100hp @ 7500 rpm
Maximum torque: 77.4 ft/lbs @ 6250 rpm
Cooling: Liquid cooled
Valve train: SOHC (8 valves)
Fueling: PGM-FI
Bore x stroke: 92mm x 81.5mm
Compression ratio: 10.1:1
Drivetrain
Transmission:Six-Speed Manual/Six-Speed Dual-Clutch Automated Manual
Clutch: Slipper
Final Drive: Chain
Front wheel:

21M/C x MT2.15 wire spoke,aluminium rim

Rear wheel: 1

8M/C x MT4.00 wire spoke with aluminium rim

Front Tire: 90/90R 21 M/C 54H, tubeless
Rear Tire: 150/70R 18M/C 70H, tubeless
Chassis Suspension Brakes
Front Suspension/Travel: Showa 45 mm fork/9.1 in. (230mm) stroke
Rear Suspension/Travel: Monoblock Aluminium swing arm with Pro-Link with Showa gas-charged dampener/8.7 in. (220mm)
Rake: 27.5 degrees
Trail: 4.4 in. (113mm)
Front Brake: 2x 310 mm ABS
Rear Brake: 256 mm single disc ABS
Dimensions
Fuel Tank Capacity: 6.5 gallons (24.8 liters)
Fuel Consumption: 48 mpg (20.4km/L) MT, 49 mpg (20.8km/L) DCT
Seat Height: Adjustable

33.5/34.3 inch

Wheelbase: 62 in. (1575 mm)
Ground Clearance: 9.8 in (250 mm)
Wet Weight: 524.7 lbs (238kg) MT, 546.7 (248kg) DCT
So has Honda produced another winner with the 2020 CRF1100L Africa Twin?
Prospective buyers looking at the off-road-oriented side of the ADV spectrum will likely consider the base model a strong contender for a do-it-all bike in any environment, while the Adventure Sports ES continues to provide strong competition to the likes of the R1200GS and KTM 1290 Super Adventure for long-distance touring. Current Africa Twin owners may consider an upgrade, particularly those interested in the potential of the electronic Showa suspension on the Adventure Sports ES or 2016-2017 owners looking for an overall electronic upgrade, but price may prove to be a sticking point.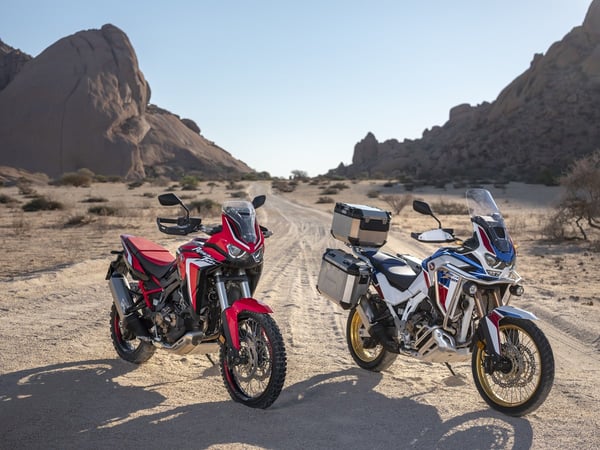 The base model is already priced higher than such competitors as the lighter and equally powerful KTM 790 Adventure R, and the Adventure Sports ES exceeds the price of a loaded BMW F850GS and flirts with certain trims of the KTM 1290 Super Adventure. The Africa Twin has proven to have a personality all its own, however, and that has kept owners coming back to it for years. The 2020 CRF1100L looks to be a motorcycle more than worthy of carrying the iconic Africa Twin nameplate forward.