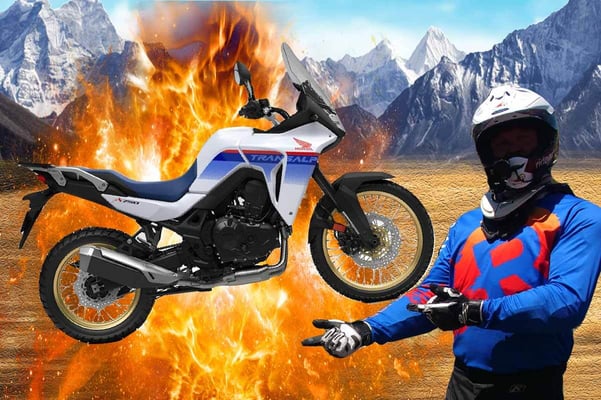 Disclosure: RIDE Adventures is a participant in the Amazon Services LLC Associates Program as well as other affiliate programs, designed to provide a means for us to earn fees by linking to Amazon and affiliated sites at no extra cost to you. Please see our Disclosure for more details.
The Honda Transalp has always been something of a unicorn in the US. You might see one pop up in the classifieds once in a blue moon, and if you're really lucky you may even see a survivor out in the wild, but Big Red's V-twin adventure bike never really caught on in the states as it did overseas.
That's an important fact to note, because although we've had limited exposure to the Transalp, this year's announcement of the all-new Transalp 750 at EICMA is generating some serious buzz in the States.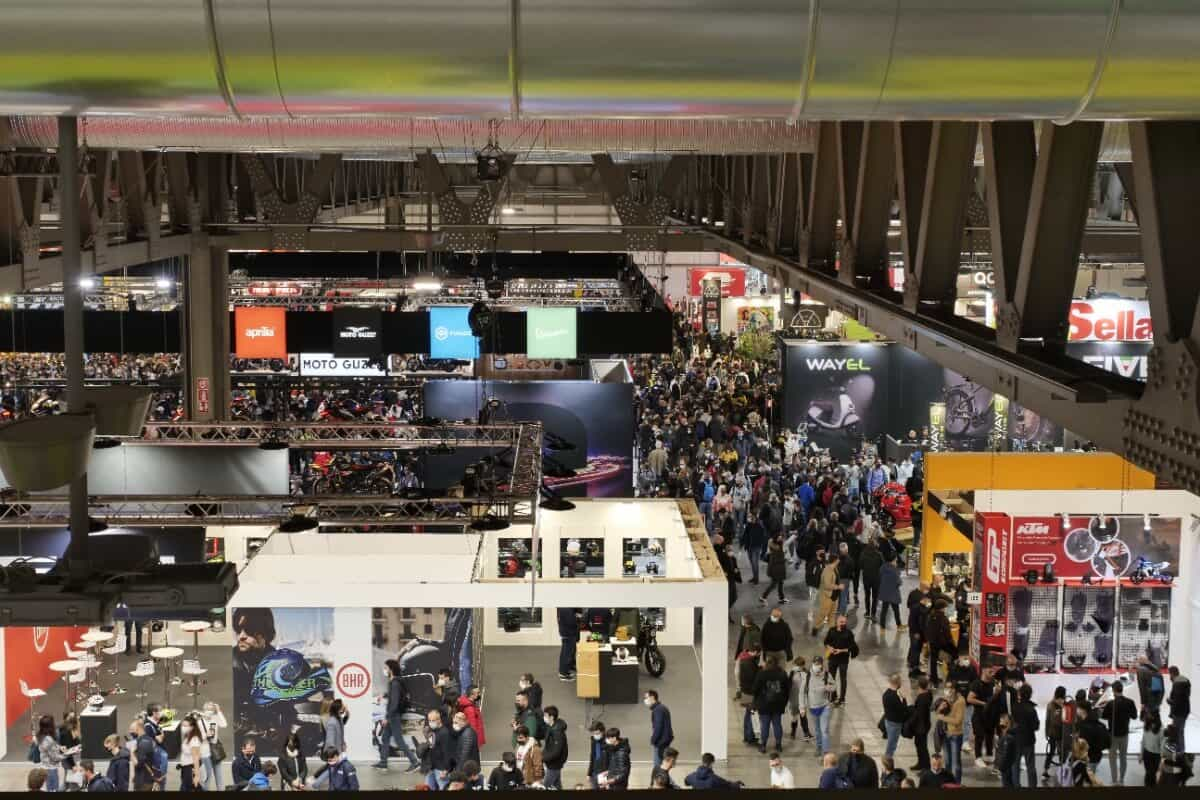 To understand where this excitement is coming from, we're going to take a quick look back at the history of the bike to understand why the name carries so much weight.
We'll also take a look at the bike's confirmed specs to give you a better idea of what to expect when the 2023 Honda Transalp 750 hits our shores next year.
The History of the Honda Transalp
The Transalp traces its lineage back to 1983 and the introduction of a short-lived dual-sport called the Honda XLV-750R. The XLV was a bit of a singularity: From the outside it looked like an XR650L with an identity crisis, sporting big dirtbike styling, a V-twin engine, and a shaft final drive.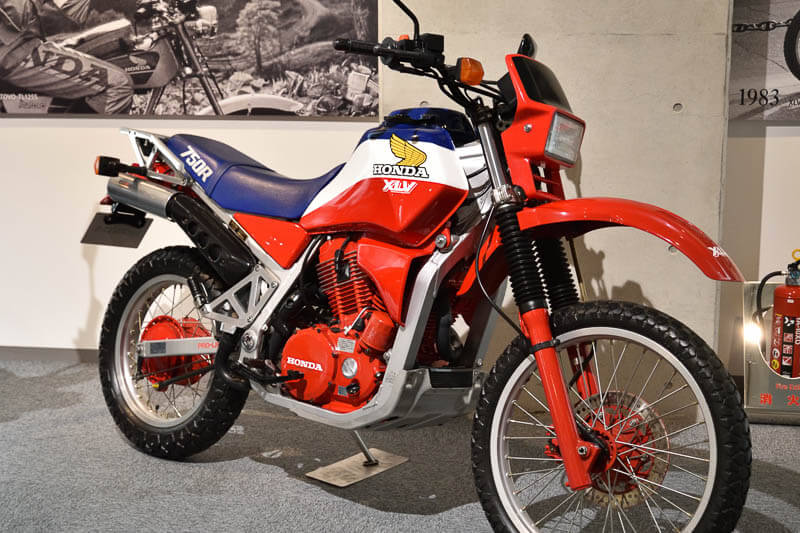 "The infamous 1983 Honda XLV 750R dual sport motorcycle in all her glory"
The model never made it into the states, but even in the European and Japanese markets it was built for, people didn't know what to make of it.
Whether the XLV was ahead of its time or just a certified flop is tough to say (we would own one in a heartbeat), but for whatever reason the bike only saw three years of production and fewer than 10,000 total units built worldwide.
Around that same time, Big Red had been working on a prototype called the Transalp, which borrowed heavily from the XLV's dirt-focused design and layout.
After seeing the lukewarm reception of the XLV play out, the decision was made to take the Transalp prototype back to the drawing board, and in 1986, a finished product was introduced to the public.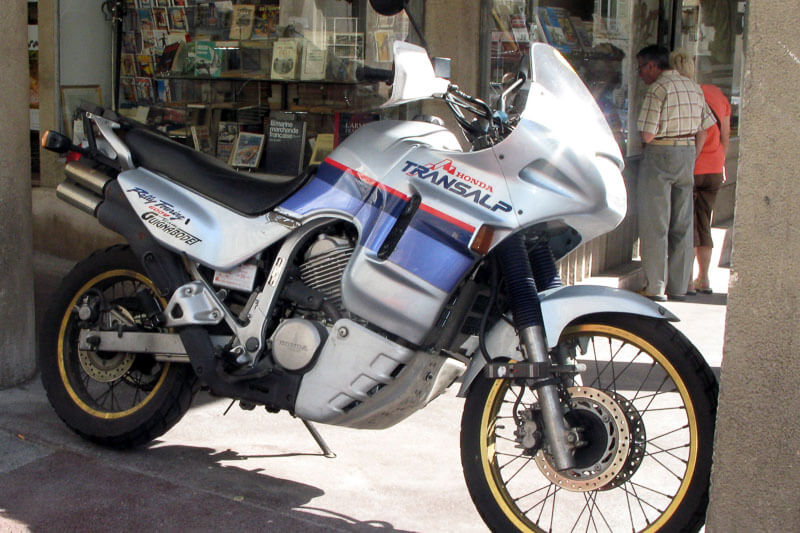 "New and improved with a new name and focus on touring"
The new design leaned more clearly into the motorcycle's intended touring bias, with a protective fairing, tall windshield, and more pillion-friendly seat. The machine was a hit in Europe, and in 1989 the decision was made to bring the Transalp to the US.
The American honeymoon was short-lived, as the Transalp was only sold here for two years (1989-1990). Honda continued to build and develop the Transalp overseas until 2012, but for the last decade, the badge hasn't graced a gas tank anywhere in the world.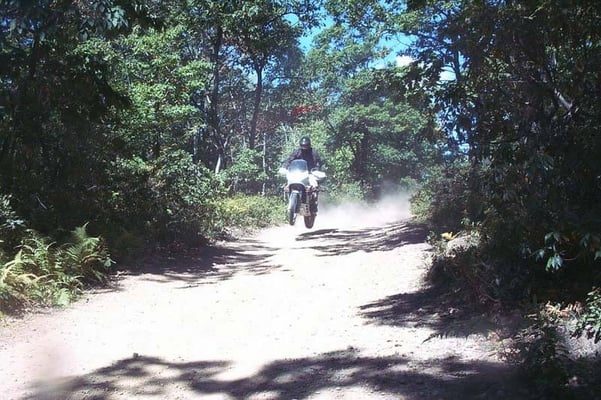 "Yet still very capable off pavement as seen here"
During that 26-year run, the Honda Transalp was known for two things: An extremely user-friendly and low-maintenance 52-degree V-twin engine, and serious touring prowess that wasn't scared to tackle dirt roads when called upon.
The newly announced 2023 Honda Transalp 750 marks a clean break from the traditional mold, but as you'll read below, much of the Transalp's character remains in tact.
2023 Honda Transalp Overview
If you've been following the middleweight adventure segment, chances are you've noticed a trend in recent years: Develop a new 270-degree parallel twin engine, shoehorn it into a street bike, then tweak the formula for adventure use.
You've got Yamaha with Tenere/MT-07, Aprilia with the Tuareg/Tuono 660, and Suzuki even joined the party recently with the new V-Strom 800 and GSX-8S roadster.
Honda is notoriously conservative and slow-moving when it comes to new designs, but their all-new 755cc engine appears to be well worth the wait.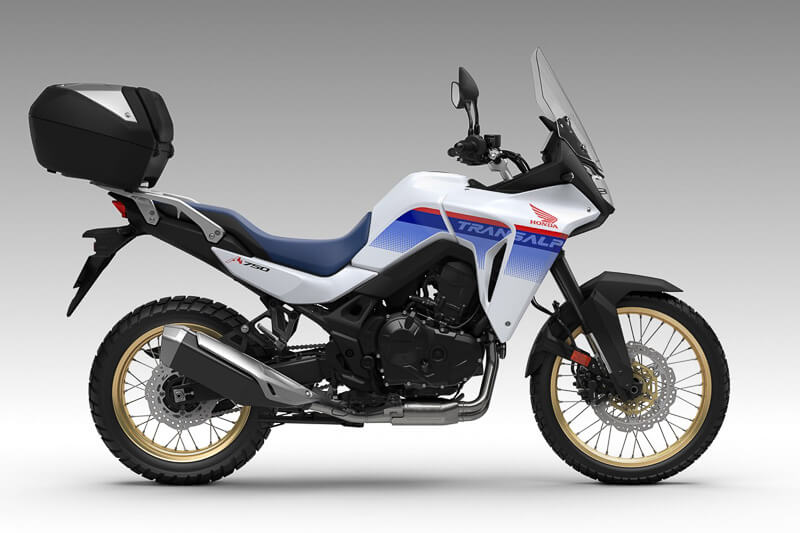 That's because with 90 claimed peak horsepower, the new Transalp's engine stands to outclass all of the above by a healthy margin. Torque figures are similarly impressive, and the new p-twin's 55.3 claimed lb-ft exceeds all but Suzuki's claimed 57.5 lb-ft.
The Honda Transalp 750's new engine also benefits from a modern electronics suite. Riders will have their pick of five available riding modes including standard, sport, rain, and gravel, as well as a fully customizable option similar to KTM's "rally mode" on their ADV offerings.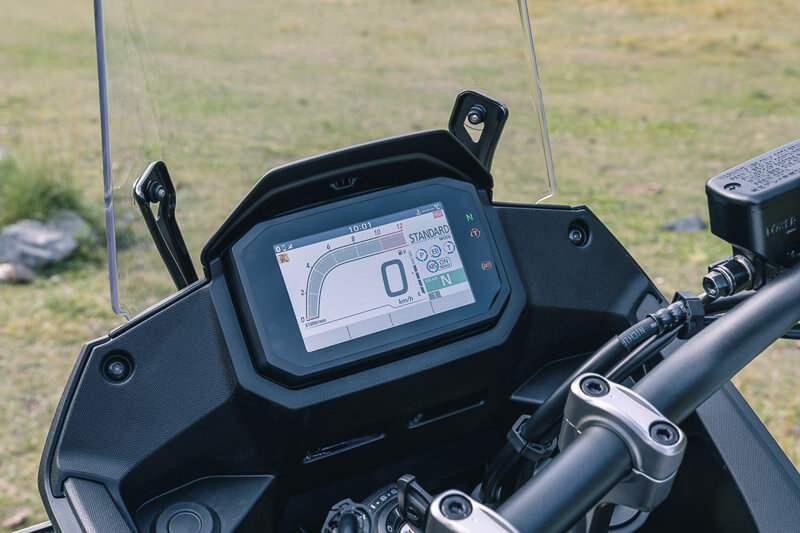 Each of these modes offers optimized power output, traction control, wheelie control, and engine braking characteristics for the chosen conditions.
The custom map will allow dealer's choice between four available power maps, five levels of traction control, and three different engine braking levels.
Honda also includes ABS as standard on the new Transalp, and the rear can be disengaged on the fly for off-road use. Riders will also get a full-color TFT display as standard, a feature that is notably lacking on the competition from Yamaha.
2023 Honda Transalp 750 Specs
MSRP: TBA
Engine
Engine: 4-valve Unicam 270-degree parallel twin
Displacement: 755cc
Bore x stroke: 87mm x 63.5mm
Compression: 11.0:1
Transmission: 6-speed manual
Final drive: Chain
Horsepower: 90.5 hp @ 9,500 rpm
Torque: 55.3 lb-ft @ 7,250 rpm
Redline: 10,000 rpm
Fueling: Electronic injection
Clutch: Wet/slipper assist
Chassis, Suspension, and Brakes
Frame: Tubular steel
Front suspension: Showa 43mm SFF-CA, preload adjustable
Front travel: 7.9"
Rear suspension: Showa remote reservoir, preload-adjustable
Rear travel: 7.5"
Front brakes: Dual Nissan 2-piston calipers, 310mm rotors
Rear brakes: Single Nissan 1-piston caliper, 256mm rotor
ABS: Yes
Wheels: 21/18", wire spoke
Tires: Metzler Karoo Street, 90/90-21 x 150/70-18
Dimensions/Capacities
Rake: 27-degrees
Trail: 4.4"
Wheelbase: 61.4"
Seat height: 33.5"
Ground clearance: 8.3"
Fuel capacity: 4.5 gal.
Weight: 459 lbs (with fuel and fluids)
Our Take on the 2023 Honda Transalp 750
While Honda has yet to confirm that the Transalp 750 will be sold in the US, there's little reason to doubt it will make its way to dealerships in the spring.
Honda has invested some serious money in their new middleweight platform (the Transalp shares its engine and the majority of its underpinnings with the new Honda Hornet CB750), and considering the size and popularity of the middleweight adventure market here in the states, this one feels like a no-brainer.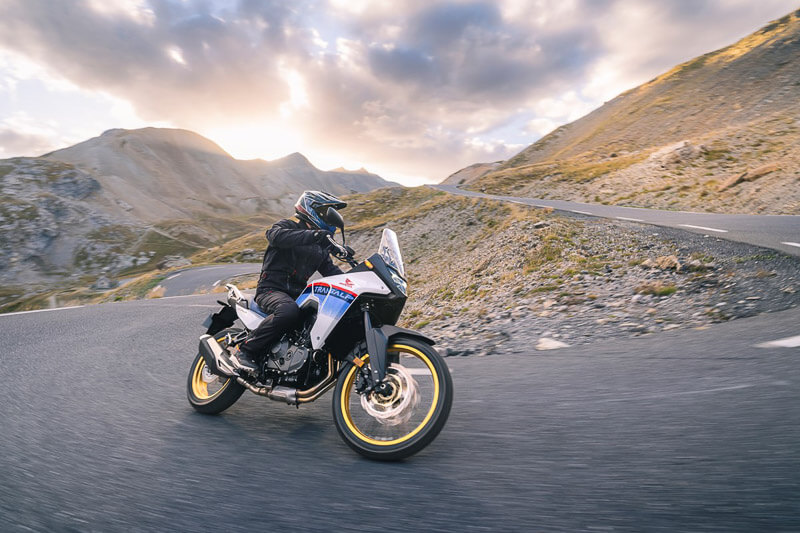 We're looking forward to adding a Transalp to our fleet and putting some serious miles in the saddle.
You can expect a full review once we've put it through its paces, but for now here are our thoughts on Honda's long-awaited entry into the segment.
Pros
New engine boasts best-in-class power
Finally gets a six-speed gearbox
Modern electronics package
Proper 21/18" spoked wheels
Expected to sell for slightly less than the Tenere
It's clear Honda is making an effort to include some real off-road features here, and we're looking forward to seeing how it handles in the dirt.
With a 21-inch front and 18-inch rear wheel setup, riders will have the full suite of off-road tire options at their disposal once they burn through the Metzer Karoo Street rubber that comes from the factory.
The first and most obvious pro to us here is performance, and the new parallel twin engine absolutely spanks the outgoing V-twin's conservative 59 horsepower.
The new short-stroke engine is also a bit more rev-happy than the competition, hitting its peak power at a claimed 9,500rpm, which should make for an exciting ride.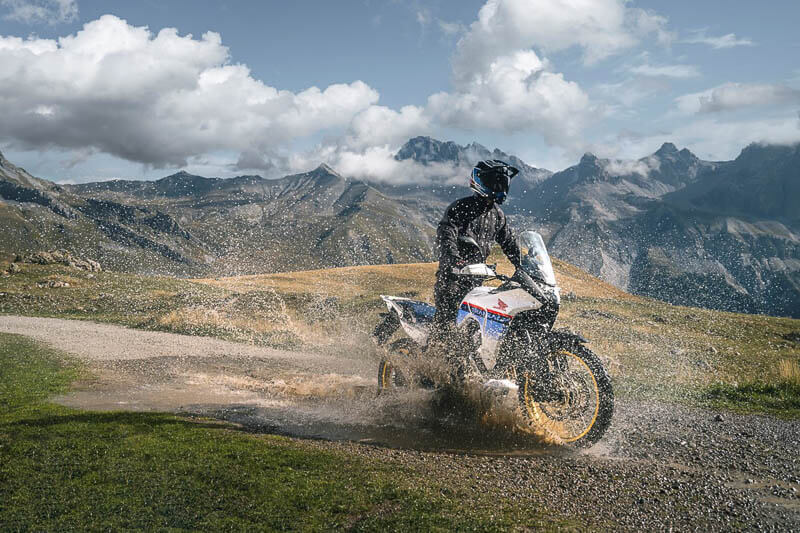 The second major update here is the Transalp's six-speed transmission. As beloved as the old V-twin models were, they were always limited to five gears, which was a common complaint among owners.
The Transalp has always been considered a great touring bike, but five gears and a lackluster engine left them feeling somewhat underpowered at freeway speeds, especially when riding two-up or loaded down.
This new setup should position the Transalp 750 as an absolute joy on long stretches of pavement, which is where most owners will spend the majority of their time.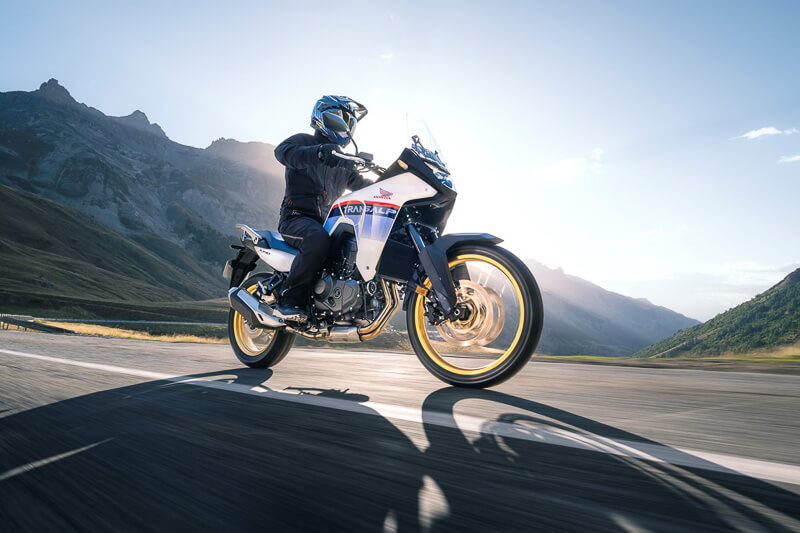 Finally, we'll point out that although Honda has yet to confirm MSRP for the 2023 Transalp 750, we're expecting it to deliver outstanding value.
Honda intentionally set the initial MSRP for the 2023 Hornet CB750 to undercut Yamaha's popular MT-07, so we should be looking at a 90-horsepower adventure bike for right around the $10,000 mark.
Cons
Can't help but want a V-twin
Suspension travel isn't the best
Adjustability limited to preload only
Budget-focused styling, fit, and finish


While we understand the appeal and utility of a parallel twin, we can't help being a little disappointed that Honda is discontinuing the V-twin Transalp.
Since its inception in 1986, every Honda Transalp from the little XL400V up to the final XL700V has used a V-twin engine.
No, it wouldn't make sense from a cost standpoint, and yes, there are some clear advantages to a parallel twin, but it still feels like a missed opportunity for Honda.
Big Red has been struggling for some time to deliver something new and exciting, and a middle-weight V-twin with a 21" front and some retro-rally style seems like a chance worth taking.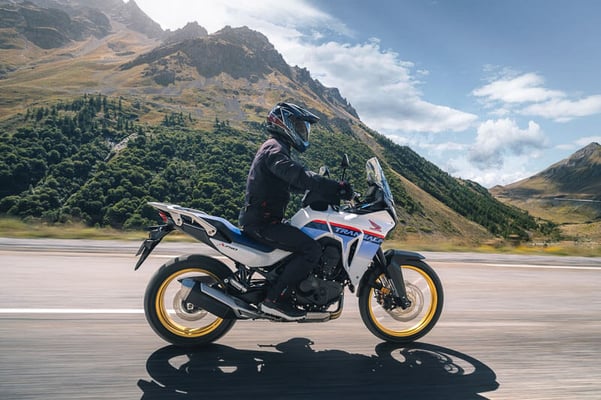 Our other main complaint is suspension, which falls short on two fronts in our opinion.
First, the total travel (7.9" and 7.5" respectfully) is lacking compared with the current competition, first among them being the wildly-good and wildly-affordable Yamaha Tenere 700.
Second, the suspension lacks adjustment. Both the front and rear Showa units are adjustable for preload only, while the Yamaha Tenere boasts fully adjustable forks and a rear shock with clickers for both preload and rebound damping.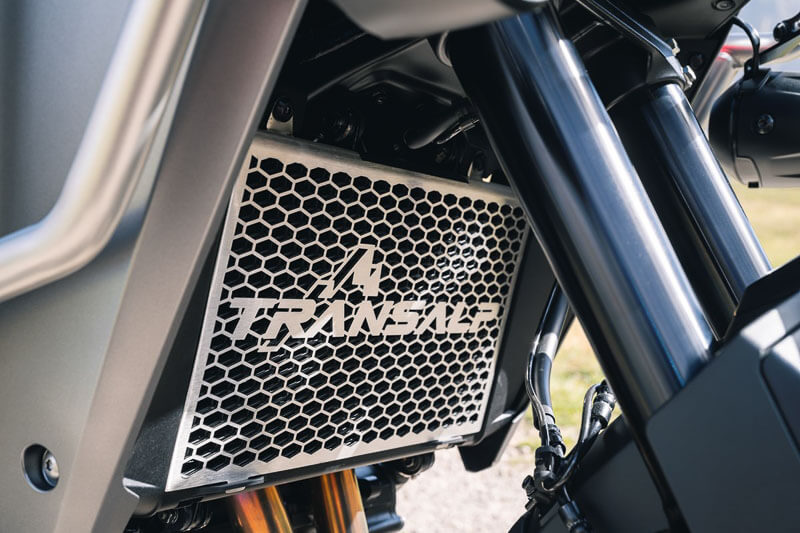 Our final complaint is with the overall styling of the new Honda Transalp 750. Don't get us wrong, there are parts of the new design we like, particularly the retro red, white, and blue paint job and handsome gold spoked wheels.
The rest of the bike looks a little too budget-friendly though, and the acres of non-descript black plastic combined with the parts-bin headlight (the same one found on the new Hornet and existing CB500 models) simply lack the curb appeal of middleweights like the Tenere 700, Tuareg 660, or KTM Adventure 890.
Final Thoughts On the 2023 Honda Transalp 750
The Honda Transalp has always been a reliable, low-maintenance, do-anything kind of bike since its inception. It's also always had a pretty strong pavement bias, and the new 2023 Transalp 750 appears to be sticking to its roots in both regards.
While we're not thrilled with the lackluster suspension components specced on the new Transalp, we have no doubt it will find a sure footing here in the States.
Honda has been missing a proper middleweight adventure bike from their lineup for way too long, and the Transalp looks like a promising stepping stone between bikes like the CRF300L Rally and the full-sized Africa Twin we all know and love.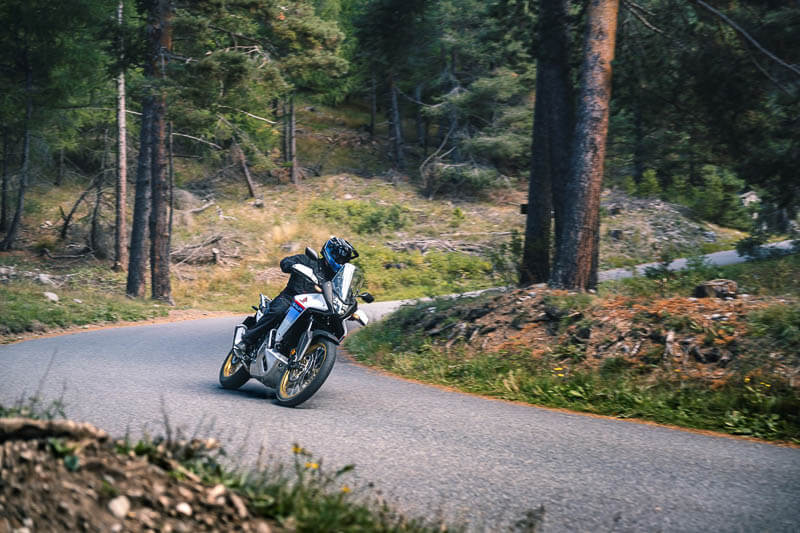 Different riders want different things out of an adventure bike, and the Transalp brings modern performance and modern electronics to the table at a price that's sure to impress.
Suspension can be upgraded or replaced fairly easily, but performance always comes at a premium and aftermarket electronic aids are virtually non-existent, especially for adventure bikes.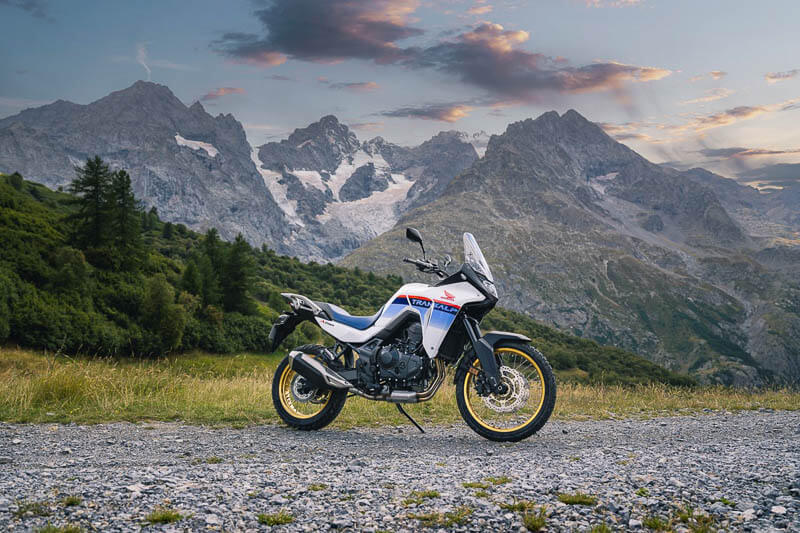 We feel that the new parallel-twin platform has a bright future, and we're looking forward to getting our hands on a few to offer for our tours and rider training courses.
It's not every year you get an all-new engine from the folks at Honda, and it's nice to see they're really coming out swinging in the performance department on this one.
→READ MORE: 2021 Yamaha Tenere 700 Review: The Good and the Bad and The best (and Worst) Times to be Standing on a Motorcycle.