On the heels of our recently announcement of these great new service offerings for riding motorcycles in Colombia, it's time to share some of "why" we would bother to offer trips here in the first place.
What wasn't explained in that eNewsletter was that, indeed, RIDE Adventures did have Colombian operations in place back in the first few years of business from 2010-13. Sadly, but as can happen in any situation, our working relationships with the people previously involved came to an end, so it's only now about 4 years later that we've been able to reestablish a team worthy of taking care of our Customers in Colombia. This means great things for adventure riders from around the world who might have never thought they would ride in a country like this.
So here we go, 5 Top Reasons:
1) BECAUSE "YES," IT'S SAFE TO RIDE IN COLOMBIA!!!
That's right! This mysterious country, once saturated with horror stories and violence, is nothing now like the war-plagued country it was in the past. Much like the once dangerous Balkans region of Europe, it's now completely inappropriate to think that conditions in Colombia today are anything like they were 20+ years ago. (For this, I'd like to say "Congratulations, Colombia!")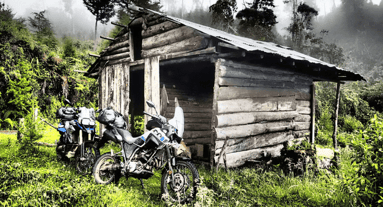 Since Álvaro Uribe was elected President of Colombia in 2002, the FARC, ELN, and other narcotic-trafficking forces that once ruled the country have all but disappeared and are practically unheard for anyone not involved in their operations. Because of their being so "pressed back" into places we don't even ride in the first place, this country once riddled with kidnappings, murders, and violent crime is now perfectly safe to explore. Colombia's reputation has changed such that tourists and our Customers repeatedly report about perfectly safe travel experiences there.
Being smart and using basic common sense in Colombia is enough to keep motorcycle Riders plenty safe and in no more danger than they would be in certain parts of just about any other country in the world. (Let's face it, trouble can be found just about anywhere in the world, right? Name a city or country where there isn't crime!) The same rule applies in Colombia as it does in your own home country: If you don't go "looking" for trouble, chances are pretty slim that you're going to find it.
The summary of this point is that you can now enjoy travel in a country we would have never thought to visit just 15-20 years ago, and that makes for an exciting experience, a true feeling of pioneering and exploration. The RIDE Adventures Team wouldn't even be traveling in Colombia ourselves if it wasn't safe, so please keep that in mind!
2) COLOMBIA IS BREATHTAKINGLY BEAUTIFUL!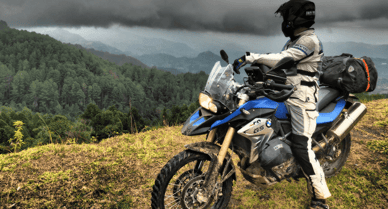 With endless twists and turns through bright green valleys, indigenous floral species, waterfalls, and rock formations, Colombia is a motorcycle rider's paradise. Even the Pan-American Highway, which is typically considered a characterless stretch of pure "utility" is absolutely gorgeous in Colombia. Everywhere you go you'll be stretching your camera's batteries to the limit as you fire away at your surroundings, and amazed at what lies ahead (even though those photos will never compare to being there!)
3) VARIETY…THE ENDLESS TYPE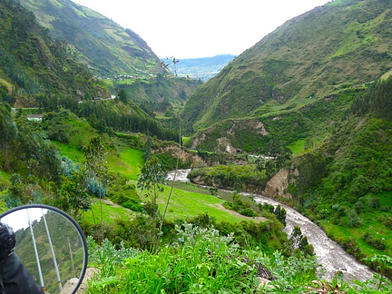 How many places in the world allow you to ride along the beach, through rainforests, across deserts, and amongst mountains all in the same trip? Colombia has it all, and either our Guided Group motorcycle tours or your own Self-Guided trip in Colombia allow you to enjoy this incredible variety. What might be the perfect combination of dirt, gravel, mud, pavement, and sand can be incorporated into one motorcycle trip, so make sure to inquire with us about which ones are best for your riding ability and interests. There are plenty of routes to enjoy for couples riding 2-Up, and Support Trucks are included in our Guided Group tours for friends or family members who may not want to be on a bike.
4) NIGHTLIFE & CULTURE
Between great riding adventures in the daytime, your evenings are best spent enjoying the Colombian nightlife. Surrounded by seawater on both sides and jungle foliage throughout, fresh seafood and great varieties of local fruits make for excellent culinary experiences. Wash it down with some Andean wines or "aguardiente," but remember what that may feel like in the morning : )
Many trip itineraries will include a night in Medellin, where the patio bars, drinks, salsa dancing and camaraderie found at the unforgettable Parque Lleras will be tough to leave behind. Guided tours or your rental should be scheduled with a late departure from this city in mind!
5) PROUD PEOPLE
As explained in Point #1 above, the people of Colombia have overcome a brutally dangerous past and regained control of their country. As such, they are proud of what they have accomplished, and are excited to show you where they live. Quite literally, there was a time when citizens could not safely explore the countryside of their homeland, but fortunately, much has changed.
You're sure to find open arms and welcoming smiles from Colombians, as it's just part of their culture to be warm people. Add the fact that you're a motorcycle rider, and you'll be treated like a hero amongst this motorcycle-friendly community. (For example, toll booths that collect fees from other vehicles are not only free for motorcycle riders in Colombia, but we have a special "moto lane" that allows us to zip on through without stopping!) The excitement of events like "Red Bull de Los Andes" and the Dakar Rally have brought extra moto-excitement to all of South America, and you'll be feeling the love in Colombia for sure.
In Summary, this is barely an overview of some the highlights and delights that come with adventures in this gorgeous, northernmost country in South America. Like with many things, you have to experience it yourself understand what I've been saying here. Good news is, experienced Riders can Contact Us now and start making plans for exploring this year-round motorcycle riding paradise.